NFL week 3 and 4 review
A view of the NFL from the UK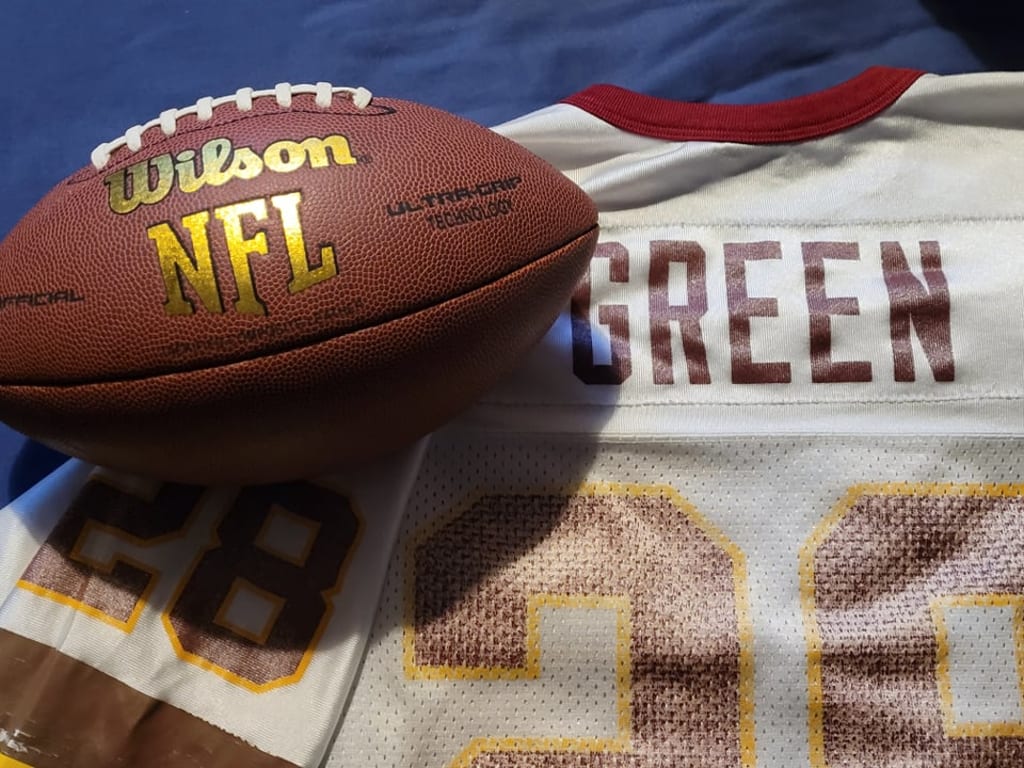 Week 3
Fantasy Football is a joke. Pathetic. Totally waste of time. Completely down to luck.
As you might have guessed my team lost this week. I was beaten by Jess. Beaten is nowhere near a strong enough word for the trouncing she gave me. After umming and ahhing all week about which quarterback to put in, I went with Herbert over Tannehill, going against their 'projected scores'. Turns out that was just about the only thing that went right for me this week. Herbert scored over thirty points, well more than Tannehill. Problem was that was not all that far off being half my whole team's total. Kelce was reliable as always scoring twenty or so, the rest had a bit of a shocker. The less said about that the better. As it happened Jess' team had a big week and sored over a hundred and fifty points, so I am not sure if it would have been worse to have wasted a good hundred and forty point week and still getting beat.
Moving swiftly on to the real league, it was a good week for me in terms of the two teams that I have my bets on. Tennessee comfortably beat the Colts, the team most likely to keep up with them in the AFC South. That moved the Titans to 2-1 and left the Colts on 0-3, hopefully for the sake of my bet the Titans can runaway with that division and get a good seeding in the play-offs. My other bet the LA Rams are looking even better. They handed the defending Champions Tampa Bay their first defeat of the season, whilst moving to 3-0 themselves and to the top of some 'power rankings'. Tampa are struggling a bit with injuries in their defensive backfield, and LA to face a Rams team coached by McVey and with Stafford at quarterback is the wrong place to be having those kind of issues. The Rams looked like they could move the ball and score almost at will, whilst their defence stood up to Brady and the Bucs well enough to clinch the 34-24 win, that felt a bit more comfortable than that score suggests.
Elsewhere in the NFC Green Bay look to be getting back to being one of the top teams again, with a win in San Francisco. Whilst the Cardinals and the Panthers continued their one hundred percent starts to the season. It will be interesting to see how long those two teams can keep going, in particular the Panthers young defence and Cardinals superstar young quarterback Kyler Murray. Dallas won their second game in a row, this time a comfortable win at home to the Eagles, maybe they will be at least a contender for the play-offs this season. Minnesota finally got a win after a couple of incredibly close loses.
Over in the AFC the Buffalo Bills are starting to justify their favourites tag that many had given them at the start of the season. They crushed my Washington Football Team this week in a similar fashion as they had done to the Dolphins the week before. In Las Vegas the Raiders kept up their perfect start to the season with a thrilling over time win over Miami. Denver joined them on 3-0 with a rather more mundane 26-0 victory over the lacklustre Jets. Led by my fantasy quarterback Herbert the Chargers pulled of a bit of an upset win by beating the Chiefs in Kansas City, a defeat that saw the Chiefs slump to 1-2 and the bottom of the NFC West.
The only teams left without a defeat now are the Rams, Panthers and Cardinals in the NFC and the Raiders and the Broncos in the AFC. Right now I am pretty happy that my fiver is on one of them, and that it is the Rams. Incredibly long way to go but they are starting to look like the class of the league, if key players can stay healthy then they look capable of giving me a great run for my money.
Week 4
Week four was all about the return. Brady was coming back to play against the Patriots in Foxborough. This was like Luke Skywalker return to play against a team coached by Yoda. After twenty years at the Patriots, with nine Superbowl appearances and six wins, we need a word bigger than legend to describe Brady's Patriots career. This would be the first time he would play against them, and the first time Belichick would coach against him. Brady having won the Superbowl last year in his first season at Tampa only added to the epic nature of the story of him returning. It was a fascinating contest with the coach who knows him better than anyone doing all he could to make it difficult for Brady. Of course the game ended with a chance for him to manipulate his team into position to kick a winning field and of course he and the kick was successful to clinch a 19-17 win. His New England legend had started with that Superbowl winning drive against the Rams, as the New England fans watched that Tampa drive, they must have felt that it was a film they had seen many times before, just with one cruel difference for them.
Elsewhere the Cardinals shocked me and doubtless plenty of other people with the ease in which they dismissed the Rams 37-20. With the Raiders, Broncos and Panthers losing to the Chargers, Ravens and Cowboys respectfully, that left the Cardinals as the only unbeaten team in the NFL at the end of week four. The Chargers with their second-year quarterback Herbert look like they could be a dangerous team in the AFC this year. Whilst the Ravens look to be establishing themselves in the same way they have done for the last few years, so it remains to be seen if that style of a strong reliance on their running game will be good enough to go deep in the play-offs this time.
After two consecutive defeats the Chiefs got a much needed win against the Eagles, their 2-2 record still has them in last place behind the Chargers, Raiders and Broncos who have all won three games. Buffalo got another crushing win against a weak opponent, this time 40-0 against the Texans. We will find out more about how good they are when they face the Chiefs next week. The Titans flakiness continued when they lost to the Jets, to drop to 2-2, they remain on top of the AFC South, but missed the chance to establish a clear lead.
Washington produced a thrilling come from behind 34-30 win in Atlanta, with McKissic scoring a late winning touchdown, one of the best winning touchdowns I have seen for a while, showing electric pace as he tore down the touchline then dove for the endzone and cross the plane whilst about four foot off the ground to beat the two covering defenders by the barest of margins. That got them to 2-2 and stayed just one game behind the Cowboys. The Seahawks won an important divisional match up in San Francisco. Green bay beat Pittsburgh to establish themselves at the top of the NFC North. Tampa's win and Carolina's loss left them both tied for the lead of the NFC South.
Almost a quartre of the way through the season already and most of the teams we were expecting to be in with the best chance of winning the Superbowl have kept themselves in contention at least. None of them look like the perfect package though, every team has something that they will want to improve, and their opposition will want to exploit. A few teams are looking better than expected and that is making for an exciting start to the season. In particular the Raiders, Broncos and Chargers all getting off to good starts has put the Chiefs under pressure and made it look like they will not have it all their own way in the West this year. Whilst Arizona and Carolina look like exciting prospect in the NFC and Dallas look like they might at last be back to being as good as people feel they should be.
That I have not mentioned Fantasy Football yet will leave you suspecting that my team lost again and you would be right. When your kicker gets injured in the warm-up, misses the game and scores no points, you cannot help but think that it is a bad sign. There were a few decent performances, from Herbert again, St Helaire and Mixon at running back and Devonta Smith at wide receiver, but nobody lit it up and even Kelce had a quiet week. Altogether that resulted in a disappointing total of 115.58 and a loss to Jeremiah whose team scored 129.52. I decided it was time to ring a few changes. Obviously I needed a new kicker and was happy to pick up Prater from the Cardinals. Shepard at the Giants was having some hamstring issues so I released him and picked up Crowder, the veteran slot receiver at the Jets who is having a good season so far. At running back I have released Mitchell from the 49ers who also seems to be struggling with injuries and Williams from the Ravens who is getting steady but unspectacular numbers. In their place I have brought in Hubbard who is filling in for McCaffrey at Carolina and Pollard who many observers think should be taking over as first choice running back from Elliott at Dallas. It is definitely more fun when my team is winning, but admit it does brighten up my Sundays getting updates from the app to see how my players are doing. Every week so far, my team has been down to win on the predicted scores, I guess that just proves that the people doing those predictions are not much better than me at this game. There is a long way to go though, and I have definitely not given up on finishing top of the league, let alone clinching a top four play-off spot.
football
I love writing, and I love sport. So many of my stories will be about sport. But I also love writing fiction too, so there will be short stories, extracts from novels and maybe some scripts and even some poems too.