Minnows No More...
Are the impressive performances by Curaçao, Haiti, Bermuda and Martinique something of a one-off? Or are they signs of things to come in the CONCACAF qualifying region?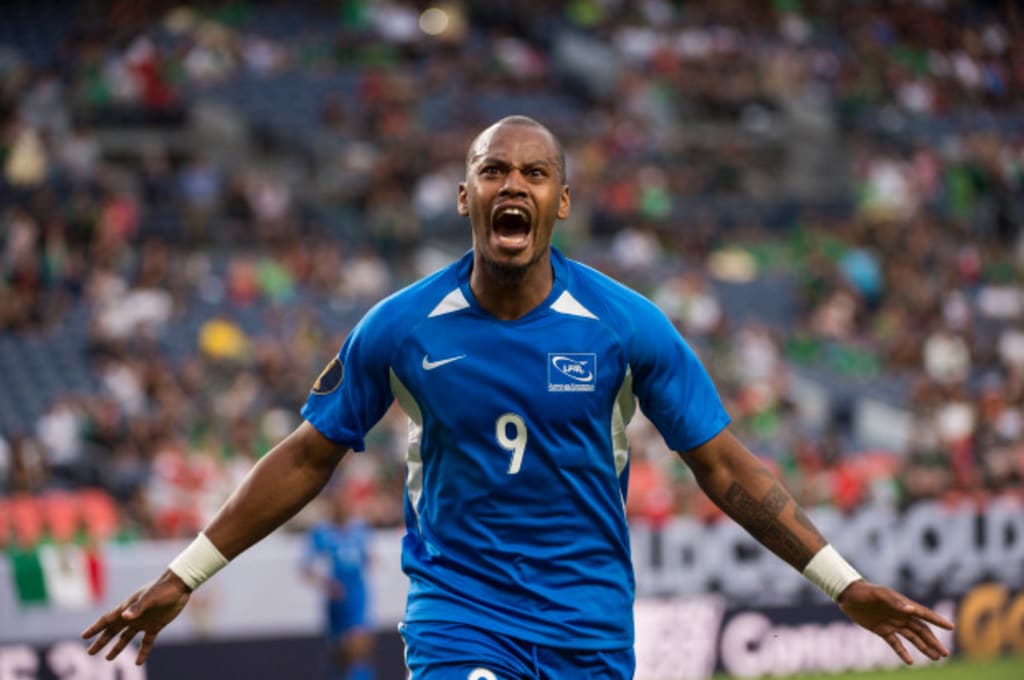 (Photo credit to denverpost.com)
Mexico. Costa Rica. The United States. Panama. Honduras. These are household names in terms of being perceived as the footballing powers of CONCACAF, both in terms of the regions biannual tournament (the Gold Cup) and in representing the region at the World Cup. Yet, the waves of change are being made this year by teams not even ranked within 50 positions of FIFA'S world ranking system. Maybe it's still early to call the recent results waves, rather they are ripples across the water of what we all know as the established hierarchy of CONCACAF. Regardless, those at the top and elsewhere might want to take notice, because even the biggest waves started as ripples.
If you don't know what I'm talking about, let me introduce you to the nations I have pegged to make names for themselves long after this tournament comes to a close. Bermuda, Curaçao, Haiti and Martinique are my picks for this years CONCACAF Gold Cup. Diamonds in the rough. Some of you might be rolling your eyes at this point but hear me out as I break down each team and why I think they deserve your attention (at the very least.)
Let's start off with my favorite of the these teams I mentioned: Bermuda. To some, Bermuda might seem like a complete joke in terms of having made the tournament this year. Those of you who share this sentiment might be somewhat forgiven for feeling this way. In prior years of Gold Cup qualifying, the way to qualify had been based on how you finished during the previous World Cup qualifying round known as the Hexagonal. However, at the end of 2017, this system all changed. The CONCACAF leadership decided that an inaugural tournament called the CONCACAF Nations League would be established, which was comprised of 34 teams. The teams then played four games spaced out between September 2018 and March 2019 with the top ten teams attaining a spot in the Gold Cup. Fast forward to present day and the three nations have qualified. Of the three, Haiti and Martinique qualified with maximum points taken. Even more impressive, Haiti topped the group qualifying table with a plus 17 goal differential, having scored ten and conceded only two. Bermuda wasn't far behind. They finished fifth with nine points and a plus 13 goal differential only behind Curaçao. It should be said that Curaçao did finish above Bermuda in qualifying. In short, they have not been as dynamic as the other three teams I mentioned or as dominant.
The reason Bermuda has captured my imagination is because of their improved style of play and improvement technically with the ball. In their past three games, there has been a notable improvement with their passing and build up play, which historically was not something that was not there in their repertoire. This is probably in large part due to the countries football federations involvement and co-operation with the FBT International Football Academy, which is an organization based in the United Kingdom. This partnership is paying dividends, as Bermuda looks more assured in their ability to make the passes under pressure. Their improvements in the pass game is what gets me excited about their future since the ability to accurately pass the ball is crucial to any successful team in international contests.
The future is bright for Bermuda considering that the majority of their players are in the prime of their careers. Stars of this years Gold Cup like David Eve, Willie Clemons, Reggie Lambe and Jonté Smith should further this progress in years to come.
Then there is Curaçao. Curaçao is an interesting team on this list and has a similar story to Martinique in regards to the pool of players it can call up. Both Curaçao and Martinique share the same distinction of being autonomous departments of "Old World" countries. Curaçao is an overseas possession of the Netherlands and classified as a constituent county. Martinique has a similar classification as an overseas country of the French nation. As a result, both Curaçao and Martinique are now able to call on players with ties to, or born in, France or Holland.
However, this does have one great drawback for both in that they are unable to officially participate in World Cup qualifying because of the islands being officially part of either Holland and France. However, this link to the old world has been a huge benefit for these tiny island nations. This allows them to greatly expand the number of players able to suit up for their respective national teams and create much-needed depth to their player pools which was non-existent before the past few years. In the case of Curaçao, their players in the national pool share links to major clubs in Holland, thereby exposing them to some of the best training facilities in all of Europe. It could be argued that without players like Leandro Bacuna, Cuco Martina, and Eloy Room, much of this success would most likely not have been possible. Each of these players mentioned come from a Dutch Footballing Academy renowned for their quality of play that was not there in past years.
The inclusion of players of this caliber can only mean good things going forward for the nation. Also, the fact that players with the ability to choose a high profile nation like Netherlands have ended up choosing to play for Curaçao can only be taken as another positive for the Curaçao football association, the likes of which outplayed the USMNT in their semifinal engagement. Curaçao was able to registe 53% possession in a contest many assumed would be a thrashing by the USMNT. Yet it was anything but, and had Weston McKennie not scored in the 25th minute, there was a very good chance that Curaçao could have claimed another scalp in their impressive run into the knockout rounds. While this was disappointing for the fans of their nation, they made history this Gold Cup and should be considered among the many bright spots of this years Cup.
Speaking of bright spots, let's not forget the small island nation of Martinique who has been in my opinion the brightest revaluation of this tournament. They play a beautiful style of attacking football much like Curaçao. They are fearless going forward and even more impressive in their abilities to defend considering their ranking in the world (92nd). Martinique exhibit a great organization from top to bottom. Martinique's roster has also surprised with how much untapped talent there is within their ranks. Many of their wingers have shown their technical abilities to be approaching or on par with whatever opposition they faced in group play. Of those players who have been fielded, the most impressive contributions have been by players likeGrégory David Pastel, Jordy Delem, Kévin Parsemain and Kévin Fortuné. All of them have been indispensable. Another important point of interest is the amount of players plying their trade in leagues outside their home country. Of the twenty three players called up to play in the Gold Cup, seven of them play outside the Martinique domestic league—a significant amount considering the population is no more than Cleveland (2017 est). Unfortunately, many of the players are towards the tail end of their careers, and while this would be an issue for most international teams, they have the advantage of only being able to play in the Gold Cup, which takes place every two years. Therefore, the the core will only be two years old and more than capable of replicating or improving on this years performances.
The feel-good story of the Gold Cup has been the Haitian National Team. The island nation, as I'm sure many of you reading already know, has been plagued by disaster after disaster. In 2010, a devastating earthquake hit, which was subsequently followed up by a cholera and dysentery outbreak that further increased the death toll on the island, and the situation there has not improved much since. However, nine years removed from these atrocities, Haitians have something to smile about. Against all odds, the Haitian National Team has done the unthinkable and reached the Semifinals of the CONCACAF tournament, a feat never done before by Haiti in the history of their soccer team.
Even more impressive was the manner in which they did it, beating Bermuda, Nicaragua, and regional giant Costa Rica in group play. Then going on to the quarterfinals and dispatching a high-flying and heavily touted Canadian team after going down 2-0 early in the first half before roaring back to a statement win; 3-2. However, the fairytale came to an end once they met Mexico with a forced overtime. If it wasn't for a penalty in extra time, Haiti, not Mexico, could have been playing in the Gold Cup Final. In short, Haiti was the better team, dominating play and looking more dangerous as a whole unit in attack. However, they too have the misfortune of being a side with many of their starting players near or at the age of thirty. This may not be a nail in the coffin for those players around this age as it once might have been due to advancements in recovery methods. It should be a concern if they have intentions on making the World Cup, but with the changes made in qualifying for the World Cup, they might have more of a chance than most would think.
In the end, the future of soccer for these nations may not be clear, and age may very well become a factor for some rosters going forward, but if they can continue to produce players with even half the talent of their aging stars, there is no doubt that the future will be theirs for the taking. My bet is that silverware will be aplenty for whichever of these nations continues the momentum they have made this tournament. Even if it is silverware from an "insignificant" tournament like the Gold Cup, as Steve Nichols tries to make it out to be. The glory and adulation they will receive from their people will wash away all criticism and "insignificance" like the crystal clear waters that surround their beautiful and vibrant nations.