Mesut Özil: World Cup Hero and German Scapegoat
Politics and football mix too often, with Mesut Özil bearing the brunt this time.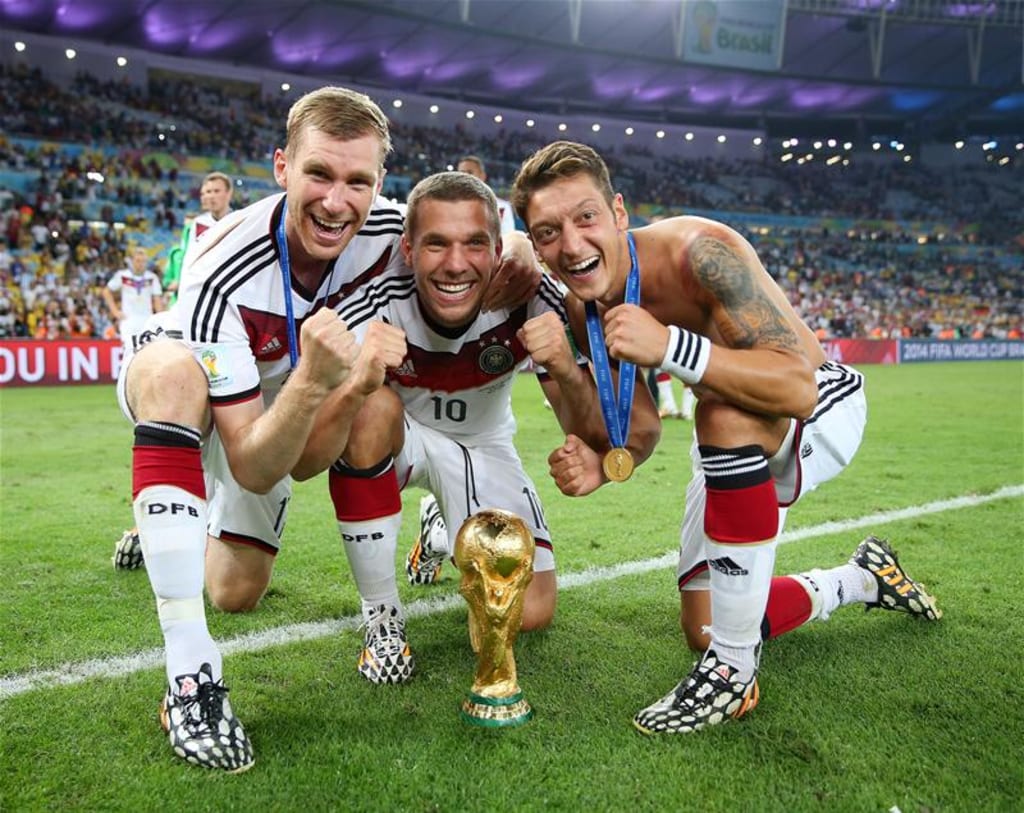 Mesut with Arsenal club mates and fellow German World Cup winners Per Mertesacker and Lukas Podolski, 2014.
Lambasted by the German media and DFB (German Football Association) President Reinhard Grindel over his Turkish ancestry, Mesut Özil has retired from International football.
After being named German National Teams' player of the year five times and winning the World Cup with Germany in 2014 Özil has opted not to play whilst his Turkish ancestry is used as political ammunition and excuse for Germany's collectively below-par performance at the 2018 World Cup in Russia.
Football is full of controversies. The involvement of a certain two Escobars in Colombia's 1994 World Cup and the rivalry between Glasgow Celtic and Glasgow rangers due to their Catholic and Protestant followings are two of the most well-known controversies in football. Athletic Bilbao has a historic Basque-only policy with their players, and when Handsa Rostock play FC St. Pauli, it's termed the political derby, with radical left coming up against hard right. The aforementioned, whether one-off phenomena or part of a clubs season, go further than football and are influenced by a greater meaning whether that be political or religious. This time Mesut Özil is at the centre of a storm.
Football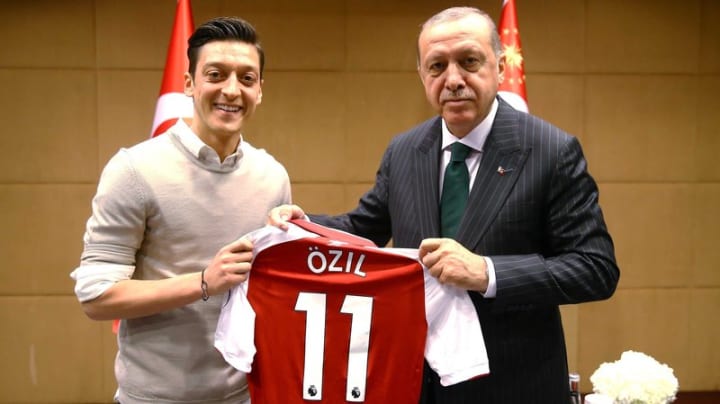 Football can be incredibly divisive and we are seeing Mesut Özil being made the scapegoat for Germany's poor World Cup. A picture of him and fellow German Ilkay Gündoğan alongside Turkish President Erdoğan sparked debate in Germany, a political affair football wants no involvement in. Due to his Turkish ancestry and previous meetings with President Erdogan, usually at football matches and always talking about football, the photo was not a political endorsement, opposition, or even inference. After past meetings to snub the Turkish president would've been disrespectful.
Not everyone agrees with President Erdoğan's political stance, as can be said about LITERALLY ANY POLITICIAN in the world, the whole idea of democracy and granting the candidate most voted for the authority to make decisions based off of their policies and personality suggests this. Özil will have different views to that of Erdoğan but the photo was a representation of something he should be proud of, his ancestry. I will not pretend to be a Turkish political correspondent but this article should help to clear up some of the power imbalance, corruption talk, and dictatorship suggestions.
It is the treatment of Özil from such powerful bodies (DFB, German media, active politicians) which I find so uncomfortable, it's clear they are using his Turkish heritage as an excuse to criticise him. It goes beyond any sort of professional critique a pundit may have, German officials are actively against Özil because he is part Turkish. Other parties getting involved too, Bayern Munich president Uli Hoeneß has come out and said Bayern targeted Özil in Champions League clashes with Arsenal as he was their weak link—also saying he has been sh*t for many years now. Coincidentally, this came out just a few days after Mesut announced his international sabbatical. Why is Uli Hoeneß getting involved? Does he think his comments justify the abuse Mesut is receiving, that it's purely professional criticism? Does he not realise how poorly timed and clearly racially motivated his comments are?
I don't find it so surprising that old White men have such racially motivated opinions, as wrong as they are. What I do find so crazy is that these high profile officials feel so comfortable in expressing their opinions publicly. It makes me question the world we're living in when politicians and media feel it's OK to publicly abuse an individual based on their race. I could imagine derogatory comments being made from old White men being made in private amongst other old White men, not to say that's OK. Racism is never acceptable and it cannot be condoned, but it's the boldness of such controversial opinions from DFB officials, media, and politicians which is so shocking. Racism in private between White elitists wouldn't massively surprise me, the public condemnation of a national sports star based on their race is startling.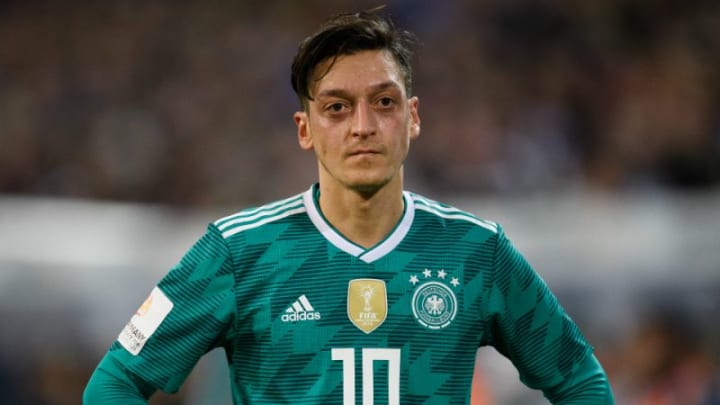 The reason Mesut has removed his shirt in the cover photo (which has come into question over recent days on social media) is because esteemed attacking midfielder and UEFA president at the time, Michel Platini (three-time Ballon d'Or winner), had asked for his shirt after the tournament's final. It IS NOT because he isn't proud of his German heritage or that he values his Turkish roots more, he was asked by one of the best players to never win the World Cup for a World Cup-winning shirt. Mesut and Michel both played as attacking midfielders or "number tens" so the respect from such a legend of the game is high praise, overwhelming even for a World Cup winner.
To criticise Mesut for his lackluster style of play is an opinion and one we see commonly, to blame the slow tempo of the German team would be a credible point to make—maybe they could've done with more pace in the team, someone who would run at people like the German-Senegalese winger Leroy Sané. To outrightly criticise his ancestry is a personal attack based on race.
Adored Germans like Lukas Podolski and Miroslav Klose hail from Poland whilst current players Mario Gomez, Jerome Boateng, Sami Khedira, and Antoine Rudiger were all eligible and could've played for other countries but were proud to choose to represent Germany. Angela Merkel, current German chancellor, has Polish ancestry and runs the country.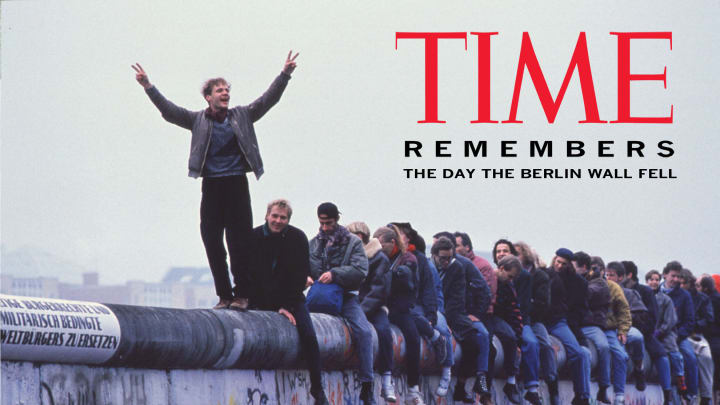 The break up of the Nazis and the fall of the Berlin Wall were massive points in German history, the country has benefitted from the diversity and community both provided. I hope this is remembered and people have a bit more common decency than to hound a footballer and his family over a game where a sack of air is kicked around a field.
Mesut Özil has made a brave decision, he'll be very aware it could affect his career as a footballer and the way he's viewed by the German people. Those who view Mesut Özil based on his ancestry and use it to fuel their agenda are narrow-minded and selective in whose semi-national status they scapegoat.
I hope his career and personal life are not affected negatively by this decision, I'd like to think DFB personnel will change and their thinking will be more 21st century.
At this point in life his he'll find out who holds his best interests at heart by those who support and surround him.