Manchester United Grapples with Allegations Against Star Striker Antony: A Delicate Balancing Act
As Assault Claims Surface, Club Navigates Player's Absence and Prioritizes Safeguarding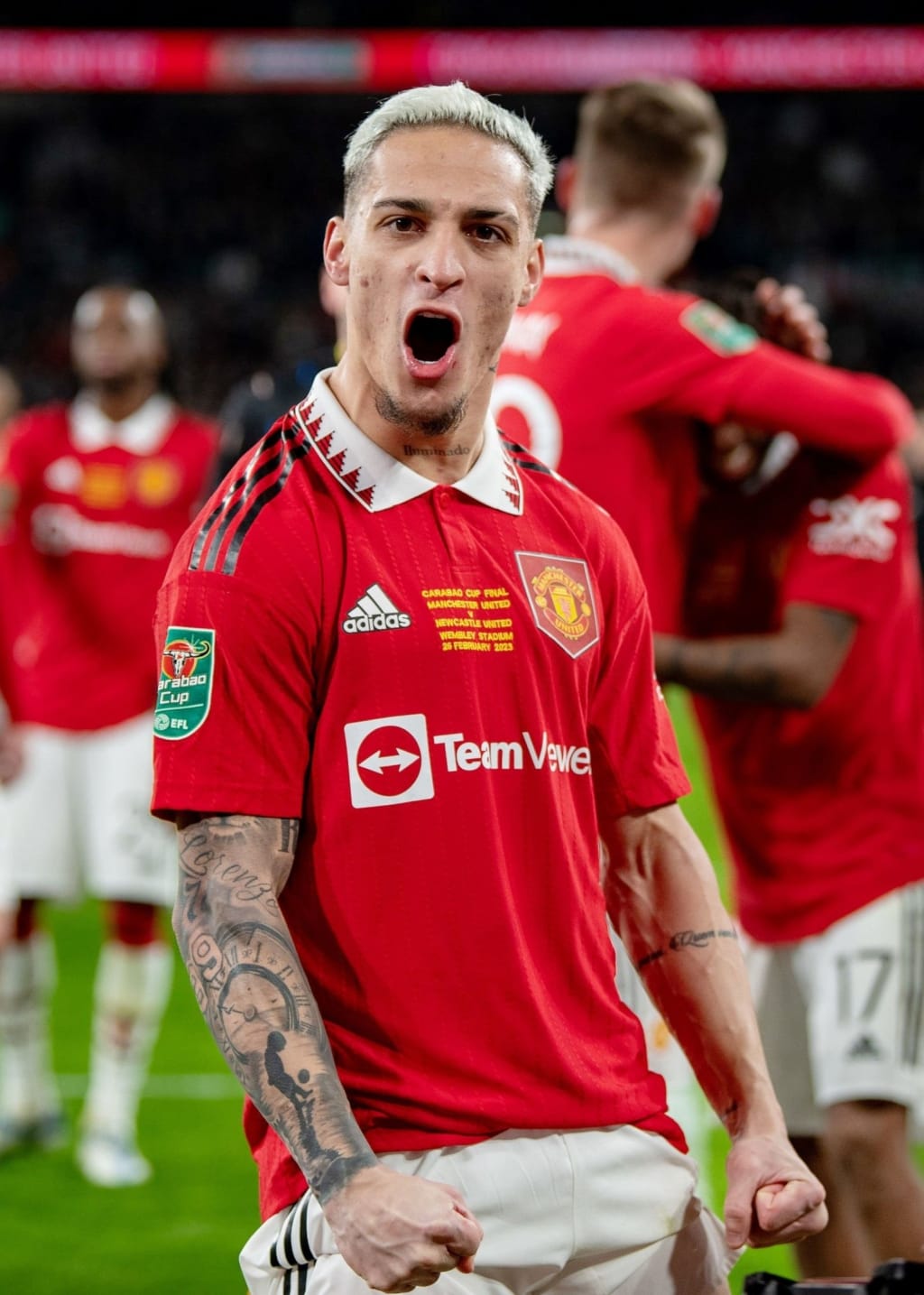 Antony's absence raises crucial questions for Manchester United.
Manchester United has announced that Antony, the Brazilian striker, will not be immediately returning to the club while he addresses assault allegations against him. In a concise statement released on Sunday, the English Premier League club acknowledged the allegations made against Antony and outlined their course of action.
"Players who have not participated in international matches are due back in training on Monday. However, it has been agreed with Antony that he will delay his return until further notice in order to address the allegations," the statement read.
Antony had been withdrawn from Brazil's squad for two critical World Cup qualifying matches as local law enforcement agencies investigated allegations put forth by his former girlfriend, Gabriela Cavallin. The player has categorically denied any wrongdoing.
Taking to Instagram, Antony shared his perspective on the matter, stating, "I have agreed with Manchester United to take a period of absence while I address the allegations made against me. This was a mutual decision to avoid distraction to my teammates and unnecessary controversy for the club."
The allegations have sparked investigations by both Brazilian authorities and the Greater Manchester Police. Since the initial claim, two more women have come forward asserting they were subjected to physical assault by Antony. As of now, Antony has neither been arrested nor charged, and he maintains his denial of these additional claims.
Manchester United, in a clear and emphatic stance, stated, "As a club we condemn acts of violence and abuse. We recognise the importance of safeguarding all those involved in this situation, and acknowledge the impact these allegations have on survivors of abuse."
This incident comes on the heels of another concerning case involving the club, as Manchester United recently decided to part ways with Mason Greenwood. The 21-year-old striker had been facing charges including attempted rape and assault. However, in February, prosecutors announced that the case was dropped due to key witnesses retracting their statements and new evidence coming to light.
Reports emerged suggesting Manchester United's intention to retain Greenwood following a six-month internal investigation. This sparked public outrage, ultimately leading the club to announce in August that Greenwood would be given the opportunity to rebuild his career elsewhere. Consequently, Greenwood embarked on a loan move to Spanish side Getafe.
Antony, a winger who joined Manchester United from Ajax just over a year ago in a monumental 85-million-pound ($107m) deal, has made a notable impact during his tenure. The 23-year-old has notched up 48 appearances for the Red Devils, finding the net eight times. He was also a pivotal part of the squad that clinched the English League Cup this year.
While this tumultuous situation unfolds, Brazil is actively engaged in their 2026 World Cup qualifying campaign. They kicked it off with an impressive 5-1 victory over Bolivia on Friday and are set to face Peru next.
Manchester United, on the domestic front, currently occupies the 11th spot in the Premier League standings, tallying six points from four games. Their next challenge will be against Brighton, with the fixture scheduled for the upcoming Saturday. The club, no doubt, faces a critical period in managing both the immediate impact of Antony's absence and the broader implications of the allegations.
Reader insights
Be the first to share your insights about this piece.
Add your insights