If There's a Kane, There's a Way
Fulham 0 - 1 Tottenham Hotspur: A relieved Lilywhite's post-match thoughts.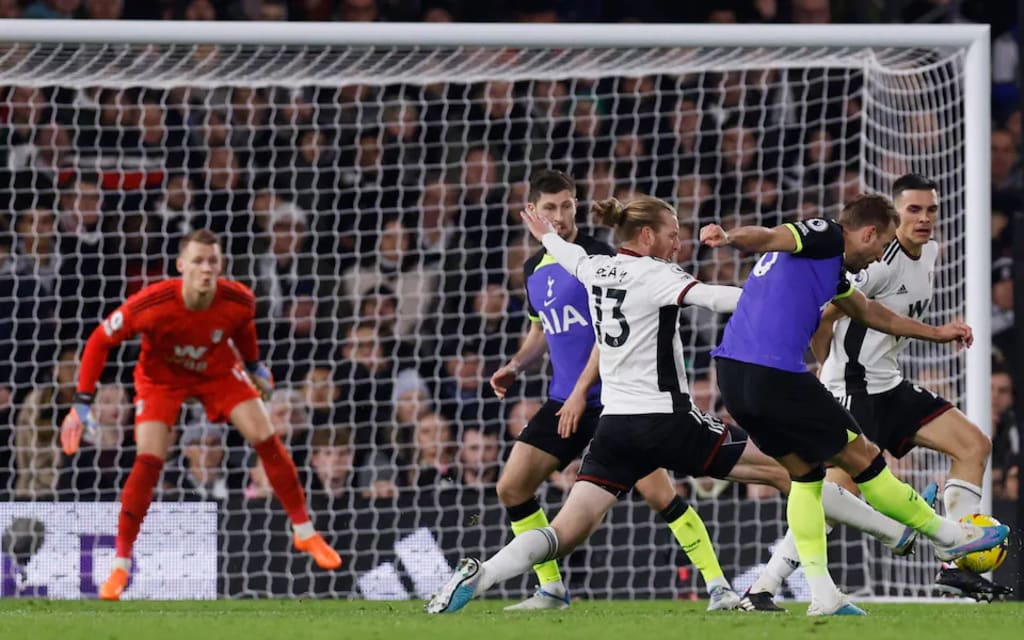 CREDIT: Action Images via Reuters
Its a win. A win is a win, that's what people say in times like these, right? That the end justifies the means. I'll leave all that to the #In/#Out debaters.
What have we learned? That the team functions somewhere beneath the level of Newcastle United and above Fulham? That's nothing new. That Tottenham are equidistant between almost good and almost bad? Also not a revelation. That Harry Kane is the best player the club has ever had at its disposal? Well... nearly...
But it was a win. A much needed win. A, dare I say, impressive result against a home side that has hosted Chelsea and Brighton this season and taken all three points against both. A defeat would have seen them leapfrog us down to 6th. I'd have taken a draw this morning.
The first half was a typically tasteless dish, but this time one spiced with the surprise inefficiencies of a certain Rodrigo Bentancur. I could not count on one hand how many errant passes he sent into the abyss of pressing white-shirts. Hojbjerg too struggled, but not as egregiously as his Uruguayan team-mate. It was a nightmare performance from a midfield partnership that had me daring to wish for the sight of Yves Bissouma on the touchline with only half an hour played. Lloris deserved credit, making a handful of required yet expected saves, and one very smart save with only 8 yards of thinking time.
The Spurs fans had started more brightly than their team, chanting both in support of Antonio Conte and in opposition to Daniel Levy in equal measure. Yet even they, who's chants of yid-army were loud and repeating, waned, subsided and fell silent and bored watching this Spurs team wrestle with the basics of the sport. Their next chant came 20 minutes later - more disapproval of Daniel Levy's stewardship of the club. It felt like defeat in the making (to their credit, they soon found their voice again and were recognised with a '10/10' rating from Alistair Gold at full time).
But it wasn't all bad. The Emerson Royal road to redemption will be long and weary to tread, but more performances like tonight will keep all our feet steady. The team weathered a relatively hazardous West-London storm and came out of it in-tact. Better than in-tact even, as Harry Kane once again proved to be a game-changer. He received a ball from Son on the edge of the Fulham box, spun, touched and struck, transforming before our eyes a half-chance convenience into a half-time advantage. What a way to go level with the legendary Greavesy. It was trademark Harry Kane; power, precision and what he has been for the last 8 years, permanent prominence.
The second half brought with it further signs of small promise. There were more of Cristian Romero's marauding runs, Perisic and Dier playing more accurate cross-field passes, a stronger midfield two than the first 45, and wide triangles of football between full-back and winger that have simply been missing for weeks. If nothing amazing, it was more of the old Tottenham. The this-time-last-year Tottenham. The closer we can inch to that, the better. Still there were chances that could and should have been squandered before fruition and the need for a creative spark in the middle of the pitch is as stark as ever. But tonight leaves me with more positives than negatives.
Bernd Leno denied Kane the goal-scoring record outright before the hour-mark and Richarlison made another cameo appearance on his way to meeting the pace of the starting 11. In truth, not much else occurred over the 90 minutes, but for once it was a comfort to Lilywhites, not a downright frustration. The second half had a safe feel to it. Fulham simply could not break the Spurs defence down and at times I was surprised to see the graphic in the top left of my screen reveal a scoreline as tight as 1-0.
Will tonight's performance be enough to gain revenge over City? Very unlikely. I suspect that even the black-magicks of malaise that seems to strike City every time they visit our stadium may lose their potency. But before that comes a match of much greater significance; the FA Cup at Preston. Its more important than beating City and tickling the feet of United in 4th. I want a trophy more than I wish to observe Tottenham floating harmlessly between UCL qualification and 6th.
A win is a win, but an unwelcome elephant takes refuge in the room; when the star players struggle, the ones we've relied on the last 2-3 years to drag us up the league, the Kanes, the Sons, the Hugos, even the newer names, the Dejans and the Bentancurs - when they should falter, there is no one to step up to the plate. Thankfully, Kane was there to upgrade the event from a bore-draw 0-0 to an away win. Thank the Gods that rumours are beginning to circulate about his openness to extending his stay with the club. Where we'd be without him, I shudder to imagine. After Summer's heavier investment, the bench still has a sickly, weak look to it. Even Antonio Conte, once the embodiment of passion and energy in the technical area, strikes a very sombre figure. Regardless of tonight's result, I'm sure most would agree that the club needs an injection of life into it - a January like 2022's - but whether that can happen given Fabio Paratici's current state of affairs...
About the Creator
Queen Margaret University graduate (Theatre and Film studies).
Currently trying to write a book.
Lilywhite, Pokemon master, time-lord, vampire with a soul, Virgo.
Likes space and dinosaurs. And Binturongs. I'm very cool.
Reader insights
Be the first to share your insights about this piece.
Add your insights