Doing Things Differently
Playing the Game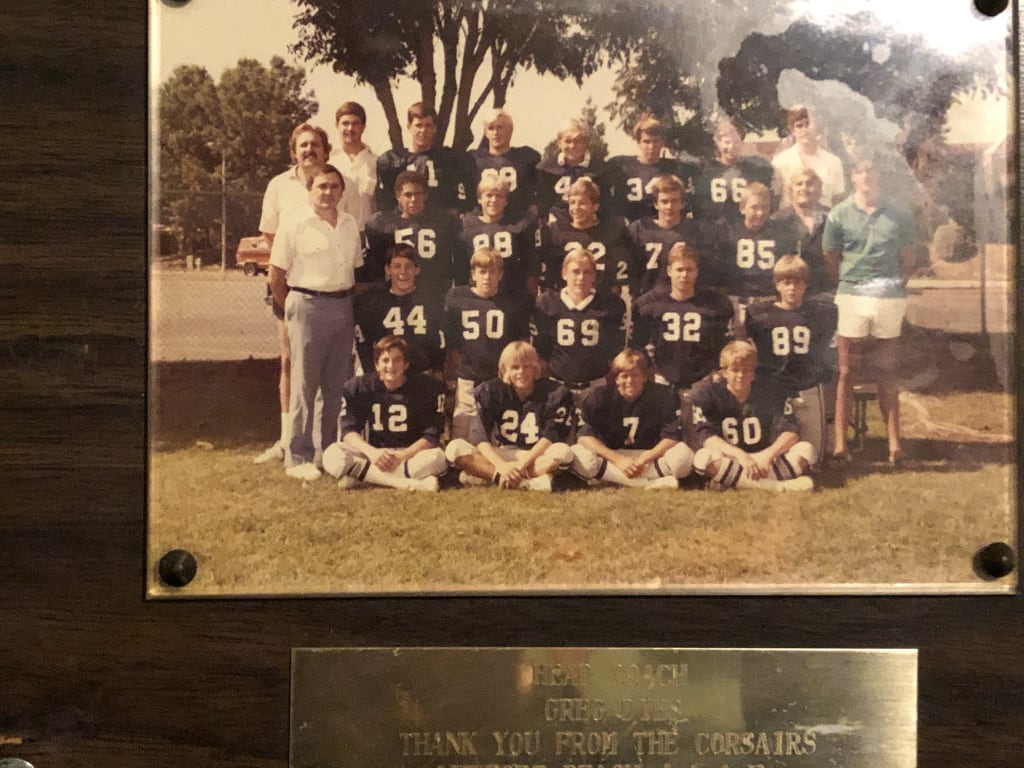 The 1982 Corsairs
Doing Things Differently
I have a tendency, fuck it, a need, to see something and change it, so it fits my terms of easier. I believe some call it 'looking at the big picture' and I just like changing the norm. Most every team I've ever coached has been undermanned, but we always played with a passion that other teams grappled with. We played differently, especially on offense, where I'd try anything to put points in the board. That is the name if the game, just score more than the other team.
My first head coaching gig was the Newport Mesa Corsairs, a squad that lacked experience but played with their hearts and the brains. We weren't the fastest, the biggest or the strongest, but we played with tenacity and a feeling we could beat any team we lined up against. I was in my early twenties coaching kids that were thirteen and fourteen and there was a fine line between being the leader and their friend, I walked that line carefully. The players lived to hit and every practice, we hit, constantly. Matt and I could if played in the league, at least weight wise, so we took turns in practice letting the kids hit us, I still have a few bruises. Some coaches will say I chanced fate, injuries happen in practice, but my philosophy was simple, get every player ready to play, we did, and all those kids chipped in.
I was the offensive coordinator, brother Matt the defensive coordinator, Stan Miller coached both sides of the line and Chris Ferrara worked with the quarterbacks and assisted me on offense, we had our own style, which was no style, we'd run any play at any time, from any spot in the field. We were unconventional at best, but that means unpredictable for the other teams. Our players bought into our lack of convention, they realized football was fun, and they call it 'playing' football for a reason.
In the last month or so I've connected with a few of these guys, Chris McDonough, John Dale and Kirk Fritz, all now in their fifties but with great memories from that year. If you noticed a pattern here, you collect a bonus point, as this was our team with kids who had first names as last names including, Paul Casey, Jeff Jacob's, Peter Angel, Barry Williams and Rodney John's. Twenty five percent of our players had those monikers.
Yes, those Corsairs were different alright. The best game we played all year was against an undefeated team from La Mirada, they were 6-0 and we were 2-3, we fought like hell, running weak side all day. Our TE was getting covered by a slow LB and he too had a huge game. With less than a minute left we set up for a thirty six yard FG and missed it by a kittens whisker, we lost 8-6 and never lost another game. The boys finished there season 7-4 and after La Mirada they believed in themselves.
As a coach I always remember the tough losses and this one stuck with me for thirty five plus years, we could taste the upset, but it wasn't to be. I don't believe in moral victories, but those Corsairs learned something that day. They stood toe to toe with the champs all day and I'd never been prouder of a team. They took the lessons they learned in defeat and applied them the rest of the season.
We should all strive for that, flourish in our defeats, emphasis on the lessons learned and always get back up stronger than when you went down. Now that they are all fifty or so, I believe we should have some beers, some laughs and reschedule La Mirada, I think we will whoop them this time!
Crack Egg Out
football
I've been around the block a time or two but due to a bad left hip I never get far, I just keep walking in circles. I'm an old rusty merry-go-round that will leave you cut and in stitches.
Receive stories by Gregory Dolan Dies in

your feed