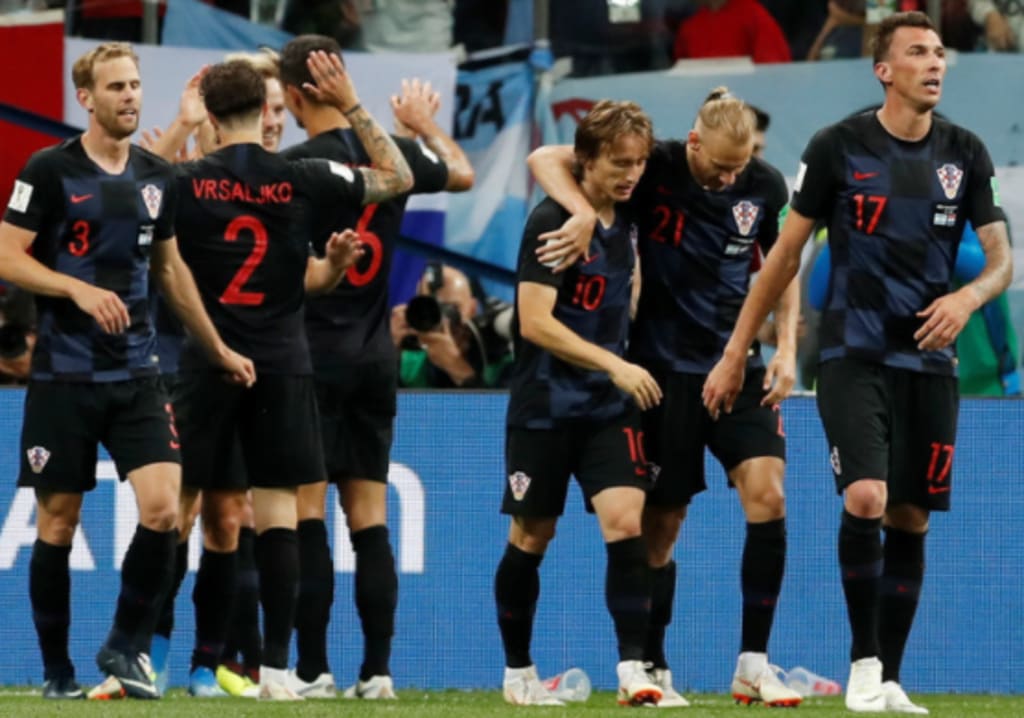 It's sad. Croatia, a tiny country with a population of 4.3 million making it to the World Cup Finals, only to lose. I was certainly rooting for Croatia and sad to see them defeated. Here is a recap of their magical run throughout the Fifa World Cup. It all started with a 2-0 win versus Nigeria, with Oghenekaro Etebo scoring an own goal and the captain Luka Modric scoring in the 71st minute to seal the victory. Their next game was against Lionel Messi and Argentina. Croatia came in swinging and completely destroyed Argentina 3-0. Ante Rebic, Luka Modric, and Ivan Rakitic all scored for the Croatian team. In their final group stage game against Iceland, once again, Croatia ended on top with a score of 2-1 with Milan Badelj and Ivan Perisic both scoring. And just like that, Croatia had won its group and was moving onto the knockout stage for the first time since 1998.
Croatia's first game in the knockout stage was against Denmark. Mathias Jorgensen scored in the first minute for Denmark but Mario Mandzukic answered in the fourth minute to tie the game at 1-1. The game remained tied until Croatia won 3-2 on penalty kicks, with Andrej Kramaric, Luka Modric, and Ivan Rakitic all converting for Croatia. The next game for Croatia was against the host nation, Russia. Both Russia and Croatia traded goals in the 31st and 39th minute. The game remained 1-1 for a while after that. In the 101st-minute, Domagoj Vida scored for Croatia putting them up 2-1 with just under 20 minutes to play. Fast forward about 15 minutes, with just under five minutes to play, Mario Fernandes scores for Russia to even the score at two apiece, and sending the game to penalties. Croatia made four of their five penalty shots, advancing to the World Cup semifinals.
Croatia was to meet England in the semifinals, and they showed Croatia that they were there to win, scoring in the fifth minute. Croatia answered in the 68th minute thanks to a goal by Ivan Perisic. With the game tied at 1-1, both teams headed into extra time. Finally, in the 109th minute, Mario Mandzukic sealed the win for Croatia, sending them to their first World Cup final. Having played three straight games of 120 minutes or more the Croatian team needed to dig deep in order to win. They showed flaws at first, awarding France a goal through an own goal. But 10 minutes later, Croatia fired back with a goal of their own, leveling the score at 1-1. Later, they had another flaw, awarding France a penalty kick off of a handball, which France converted into a goal, making the score 2-1. France came out swinging coming into the second half scoring two goals from Paul Pogba and Kylian Mbappe that sealed the game indefinitely. Mario Mandzukic scored for Croatia in the 69th minute but that wasn't enough. As the final whistle blew, France was the champion and Croatia was going home as the runner-up. It was a magical, entertaining run for Croatia, but it had to end somewhere.
It's amazing that a nation of fewer than 5 million people can make it to the final over teams such as Spain, Germany, Portugal, Argentina, and Brazil. A team that was overlooked at the beginning of the World Cup, going so far, taking down teams one after another. I applaud your effort Croatia, and I am sad to see you lose. I am Looking forward to seeing Croatia in 2022, where they have a chance at redeeming themselves. Anyway, Croatia put up one hell of a fight. It was a valiant effort Croatia, a valiant effort indeed.