Best Gear for Liverpool Fans
If you like the Reds, then you're going to LOVE the best gear for Liverpool fans.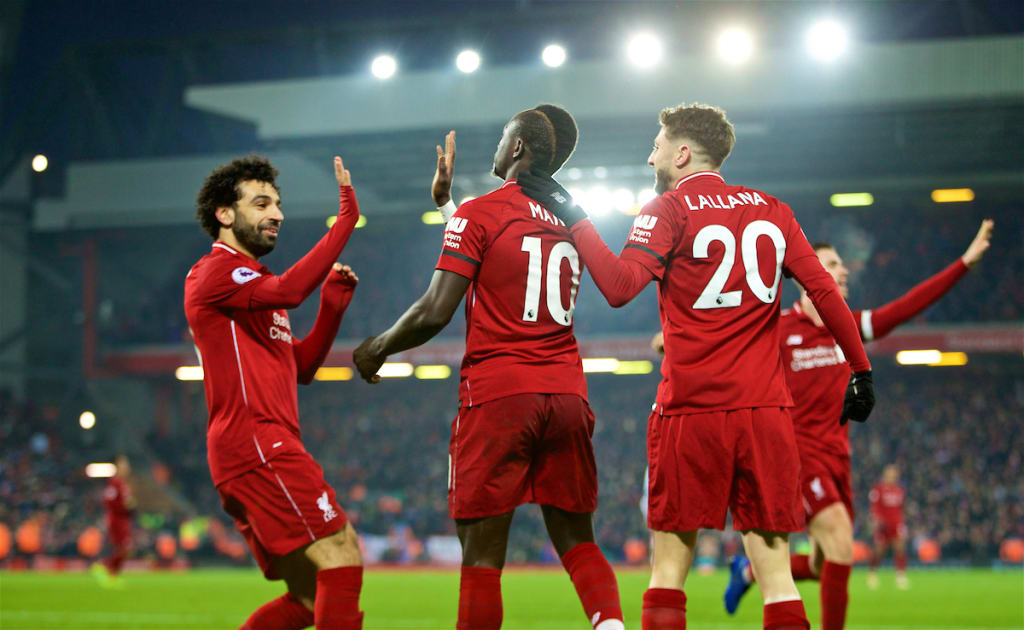 I'd be lying if I said that Liverpool football wasn't on my mind all day, every day. As a former soccer player with bad knees, I can't get on the field as much as I once did, but I still have to get my soccer fix one way or another. I've opted to do this by literally watching as many Liverpool FC games as humanly possible. Being that I'm from the United States, it's difficult to see them live, but on the weekend I'll get up bright and early just to catch my favorite team in action.
However, I'm planning a trip to the U.K. soon, and now that I plan on watching a TON of games. Preferably, in a bunch of local pubs.
If I'm going to show off my fanhood, though, I definitely have to get the best gear for Liverpool fans. The fact that I consider myself a diehard, yet own no apparel whatsoever, is troubling in itself. But that is about to change, as I've outlined some prospective gear to take with me on my trip.
Hopefully I don't get jumped by any Manchester fans in the process...
For casual wear, there is nothing like a vintage-style tee. What I personally like about this Liverpool FC shirt, is the fact that I can wear it to kick the ball around outside, or even just wear it out. Considering that the Liverpool club is one of the oldest in history, it's kind of cool to have their founding year—1892—right on the shirt. Soccer fanhood, for the most part, is a pride thing, so wearing a shirt like this will make me feel extra proud of my team and its illustrious history.
Chilly weather and I don't necessarily get along, so I'm also going to need something a little warmer than a basic tee. I'm not necessarily someone who likes a cumbersome jacket, however, so I figured that this fleece hoody would do the trick instead. With the logo on one breast and the team initials on the other, I don't think anyone will be mistaking me for one of those Arsenal fans anytime soon...
A soccer player is basically nothing without his or her bag. I mean, how can you possibly lug around all the equipment it takes to be a soccer player without one? Although I no longer play competitive soccer, I have gotten into the habit of carrying all my things around in a drawstring bag. Unfortunately, my cat peed on, and ultimately, defiled my old bag, so I'm in the market for a new one. This Liverpool F.C. official gym bag is the perfect replacement for my old Nike drawstring bag.
Nothing says "I used to play soccer and also love Liverpool lolz" more than this training sweatshirt from New Balance. This 100 percent polyester shirt is great for the colder temperatures—especially if you're using it to practice. With fleece lining and New Balance heating technology, it is definitely a great piece of gear for Liverpool fans and for those who can't help but to flex their fanhood. You know, like me.
How can you possibly be a true fan without a couple of Liverpool jerseys? Well you really can't, so I'm going to have to do something about my lack of Liverpool attire ASAP. This Red Pepper home jersey is the perfect item to kick off my jersey collection. The best part is—there is no name on the back, so I don't to choose between my favorites. I might just write my own name on the back if I'm being honest...
Training in shorts—especially in the winter—is the recipe for an unpleasantly cold soccer experience. Luckily, you don't have to opt for almost-full leg exposure, thanks to these New Balance Liverpool FC training pants. However, these aren't your regular sweatpants—they are a 3/4 cut, so you don't have to worry about any intrusive baggage on the bottom when you're kicking around the ball. In a sense, they serve as the best of both worlds, not to mention some of the best gear for playing soccer in the cold.
For something more in line with what actual Liverpool players wear, this New Balance Coach Training Jersey is the way to go in terms of gear for Liverpool fans. Granted, it's the 2015-16 iteration, but any true Liverpool fan knows that their look hasn't changed all that much over the past few years. Regardless, wearing any type of Liverpool gear is a no-brainer. At least in my opinion.
If you're a fan of Liverpool, then that almost automatically makes you a fan of Mohamed Salah, the club's star forward. The 26-year-old forward is a rising star in the premier league, so it's not surprising that one of the marquee Liverpool jerseys managed to make this list. The thing I'm most looking forward to, however, is watching Manchester City vs. Liverpool in this thing. Gonna be friggen' sweet.
There are only two real reasons why I wish I lived in the 80's—Mullets and track suits. Considering I'm already growing out a luxurious mane in the back of my dome, there is only one reasonable thing else to do, which is buy a dope track suit. If I'm going to shell out all that money to look like the man, I might as well get one of my favorite club, Liverpool FC. Since I already have some black and red sweatpants, I really only need to buy the jacket, and this one is certainly a good choice. I can't wait to flaunt this thing around Liverpool...
With all of the Liverpool Jerseys, pants, and shirts I'm about to cop, I'm clearly going to need a few pairs of socks to go with them—a glaring need in my burgeoning Liverpool-themed closet. These particular socks—which are from the official Liverpool FC store—are actually dress socks, but for me, that's a pretty ambiguous term. I plan on wearing these socks for a multitude of reasons, making them a clear cut choice as some of the best gear for Liverpool fans out there. There is no such thing as too much gear, considering the year the club is having, which also begs the ultimate question: Is Liverpool actually going to win the Premier league this year?
Hopefully, that's a yes. And I'll have the swag to truly enjoy the ride.