Atlanta United: 2021 Outlook
This is Part 1 of 27: An overview of the team, it's brief history, players to watch and predictions for the season.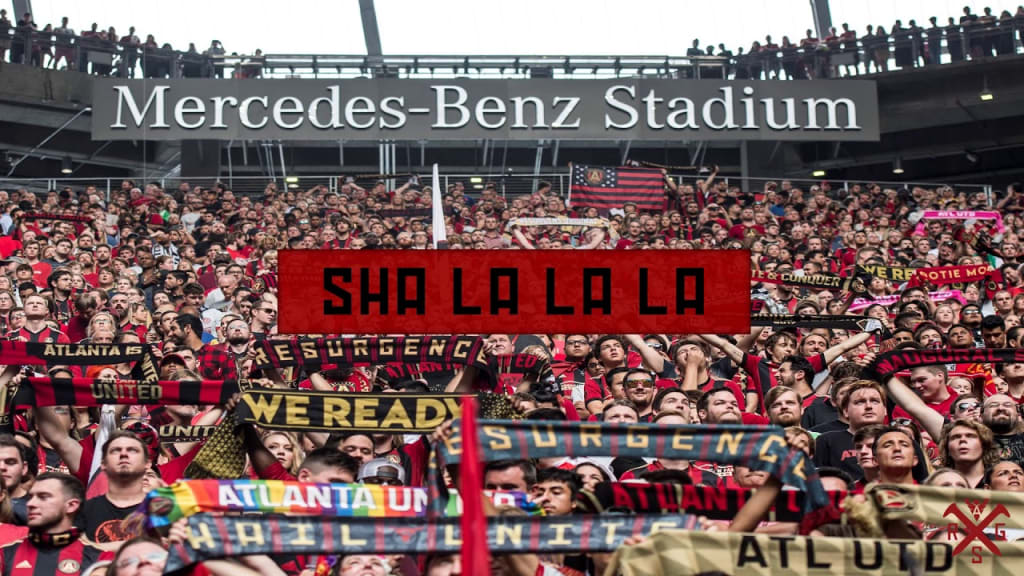 (Courtesy of www.ajc.com)
Welcome to the ATL! Let me briefly go over the details of this young but already storied franchise in the first article in my series about MLS clubs.
The Club
Full Name: Atlanta United FC Nickname: The Five Stripes Founded: April 16, 2014 Location: Atlanta, GA, USA Stadium: Mercedes Benz Stadium Capacity: 42,500 (expandable to 71,000)
Silverware
U.S. Open Cup: 2019 MLS Cup: 2018 Eastern Conference Champions: 2018 Campeones Cup: 2019
History
The franchise is relatively young in regards to the global game and to MLS itself. Having only come to fruition in 2014 (started playing in MLS in 2017) it could be said it doesn't have a history worth noting but you'd be wrong. Already the club has secured 4 trophies and its followers rival any supporter group found in Europe. From the get-go the fans of ATL United made their presence felt with the opening crowd for the club's very first game topping out at 55,297 at the then temporary home of Bobby Dodd Stadium. It was a 2-1 loss to the well-established NY Red Bull's but the game left a lasting impression on all who watched. This was a club with a rabid fan base. And with the then appointment of Tata Martinez as the manager. The message was clear. Atlanta was out to claim scalps and silverware.
And Atlanta didn't stop there. In the very same inaugural season, they secured the services of Miguel Almirón (Lanús $8.25m), Josef Martínez (Torino $4.95m), Hector Villalba (San Lorenzo $2.75m), and EPL/Championship travel man Kenwyne Jones (Cardiff City Free Transfer). Showing they were shrewd businessmen when later on Almirón would be sold to Newcastle United ($26.4m) as Martinez's value would soar (currently $15.4m).
All in all Atlanta United FC has become synonymous with ambition, forward-thinking planning, and a dynamic brand of soccer. But how are they set up today? What players do they have to fill the shoes of the dynamic players of seasons past? Let's dive in and take a look!
Players to Watch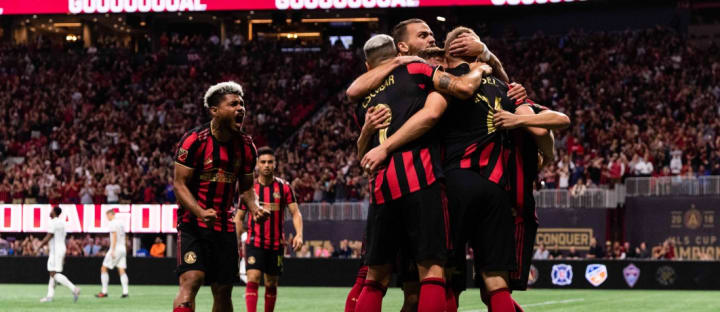 It's been a crazy 18 months to say the least. And teams could be forgiven for being slow out of the gate. Yet, Atlanta United seem to be more lackluster than their usual selves. Their style of play in the opening weeks of the season is nothing like we are accustomed to seeing. The spark of yesterday is a flicker of a flame that once burned or rather torched the league. But with the departure of Almirón and Villalba so to went their creative element.
So the current roster in 2021 may not be the same as 2018 but it still has talent a plenty. The Five Stripes still have their prolific talisman Josef Martínez. And so far this year he's picked up where he left off last year. Before an ACL injury derailed what looked like another monster goal scoring year.
There's other talent in this roster to keep an eye on as well. Players that come to mind are the young Argentinian Ezequiel Barco (RM), Miles Robinson (CB), Emerson Hyndman (CAM/CM), Santiago Sosa (CM), Erik López (FW) and George Bello (LB). Each one with much to prove under new boss Gabriel Heinze.
The oft overlooked defense remains in tact for the most part since the days of Tata Martinez (current Leeds United manager). The key in defense will be how much has Miles Robinson matured/developed since last year. And will his pairing with Englishmen, Anton Walkes, prove to be the bedrock on which this team leans on this year. So far both have proved invaluable in defense.
George Bello also deserves credit in stabilizing an already injury hit back line. He has been a bright spot at left back. Providing sound defensive qualities as well as blistering pace when going forward. And so far he has shown to be more than capable of handling the starting role. He will definitely be one to watch going forward as we all watch with eager eyes at what he might blossom into.
Next up on the roster is Emerson Hyndman. He had a successful loan stint with Rangers F.C. of Scotland before crash landing back in The States through no fault of his own. At only 25 years old there is still plenty of football left in his future. However, last year was supposed to be his breakout year. Especially after Atlanta United splashed the cash to retain his services after his loan spell from Bournemouth was set to expire. But he never seemed to be able to replicate, with any consistency, a string of performances like he had when in the UK. If he can form a solid pairing with Sebastian Sosa, The Five Stripes might be in for one hell of a season.
Sosa is especially important considering the amount of money Atalanta threw down to capture the highly sought after talent. He comes highly rated from famous Argentine club River Plate where he gained immeasurable experience playing in the Copa Libertadores. Atlanta VP & Technical Director Carlos Bocanegra described Sosa saying that "[He] is a holding midfielder who understands and reads the game exceptionally well for someone his age,". High praise for someone who is only 22 years old.
The other two players who round out the list are Ezequiel Barco (injured), Jürgen Damm (waiting on a Visa) and Erik Lopez. They all will play a major role in helping carry some of the attacking creative load that currently sits solely on Josef Martinez's shoulders. Since each one of them plays in a wide role it will be crucial for them to gell quickly with the squad.
Only six weeks into this young season and already the attack seems desperate for some spark. Hopefully, when called anyone of these three players can become the catalyst for an offensive charge. After all that is why they were each brought in to the team.
Season Prediction
At last we come to the end of the line. Will Atlanta United make the playoffs? Or will this be more of a rebuilding year? Focused on developing the younger talent within the squat. I don't think this has to be overly complicated as an assessment. The fact remains that through the same stretch of six games in the 2020 Season, ATL had scored three more goals than what they currently have put in the back of the net during this period. Which isn't reflective of the struggle it has been offensively this year to create chances.
For this season to be successful in the way in which this fan base expects I don't believe this team has the staying power to do it given the current performances. Now the are without a few key pieces like Barco and Franco. But my real worry is the lack of consistency and quality behind Josef Martinez. Cubo Torres is the only player who even sings at providing a lethality that Josef provides. And even then it is too sporadic to be routinely counted on.
The key in all of this will be the level of play from the midfield. Should the pairing of Sosa and Hyndman generate the telemetry that I and others believe it will and be able to stay healthy? Then there's no reason why Atlanta United shouldn't or can't make their traditional deep run into the playoffs. But we won't know until the final rail road tie has been hammered home. Till then I plan on watching intently to see how this young but promising side fairs in navigating the tumultuous waters of MLS.
football
About the author
Avid traveler. Father. Weekend hiker. I enjoy almost every sport but football is #1. My other passion is to write historical fiction. So be on the lookout for my book. Thanks for reading!
Reader insights
Be the first to share your insights about this piece.
Add your insights