Rachel Reviews: The Corset by Laura Purcell
Dorothea Truelove visits female prisoners condemned to death, but when she meets Ruth Butterham, she is told a story of murder which is beyond belief
Imagine that you could inflict pain on your enemies without having any actual contact with them; imagine that you could imbue items with a supernatural power which would make them itch or fester or shrink; imagine if this was possible and that you could do this without it being traced back to you.
This idea is part of the story of Ruth Butterham, the prisoner who Dorothea Truelove, a privileged young woman, visits in prison, ostensibly to measure her head. That needs explanation: Dorothea has an interest in phrenology and the idea that the shape and size of our head has a bearing on the way we act and that by assessing this part of our anatomy, certain predictions can be made about our behaviour. Specific areas of the skull have been denoted to have a significance tied to individual personality traits and so, with some careful feeling with fingers and a tape measure, you would be able to tell if someone had empathy, for example, or whether they were prone to obstinacy, as another. Whether or not there is any truth behind the theory is not important; however, Purcell uses Dorothea's deductions to make suggestions about how we should view certain characters and I think this is a great authorial device.
Ruth is someone who Dorothea is interested in assessing this way and so, they meet and the narrative deals with both Dorothea's and Ruth's stories with them running alongside each other. Ruth describes her life and what has brought her to this point and Dorothea relates changes that are currently happening in hers.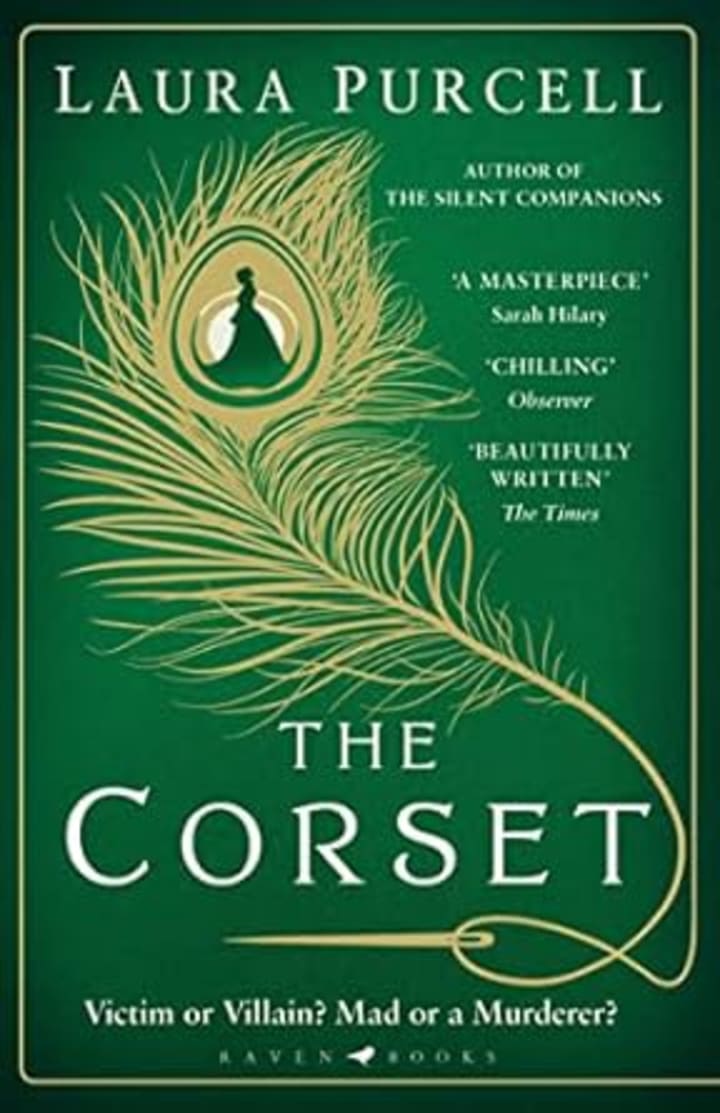 Ruth's story revolves around her being a talented seamstress and when her family hits hard times and an income needs to be eked from somewhere, she finds herself with a new mistress, Mrs Metyard, whose shop supplies some of the best in society with fashionable garments, crafted by the women in her employ.
Having a roof over her head is something, at least, as well as food to eat but at what price? Metyard's houses other girls in its depths but it is not a happy place and Ruth finds out to her detriment that it is not somewhere friendships can be cultivated to replace the human affection she has lost - here, it is every woman for herself.
Ruth and Dorothea are both at the heart of this novel and there are parallels between the two women's lives which I will not reveal here, although they are from very different backgrounds. They both have to deal with the tragedy of losing loved family members although Ruth's story is by far the most tragic and it is fair to say brutal. Set in Victorian England, The Corset takes us into a world where people have few opportunities and that getting on in life is more dependent on the family into which you have been born rather than how hard you work. Saying that, Dorothea is also, to some extent, trapped by her circumstances and the novel shows women having very little autonomy to decide their fate, their main means to independence arriving by an advantageous marriage or an inheritance.
What is also key to this book is that all is not what it seems: people appear to be one thing but may actually be something quite different so knowing who to trust is difficult. Purcell uses this to twist and turn the narrative culminating in a great and satisfying ending, which is surprising and leaves you questioning exactly what is truth and what is belief. She warps the idea of who you think is right and wrong in this book, leading you this way and that into character loyalties that you think are sure in your mind but are they?
The novel is dark, gothic even in what it depicts and being set in Victorian times, the dark underbelly of society, as in works by Dickens. provides much fodder and shows how appearances were everything to the Victorians and that the shiny veneer was only in place to hide the grime and darkness underneath.
This was a book with clear characterisation, distinct female voices and a plot that revealed itself at the right pace. There were also, for this jaded reader, a few genuinely surprising moments which is always the sign of a good book as you have been taken well away from the realms of predictability.
There is no question that I will read works by Laura Purcell again.
Rachel Rating: 4/5 stars
Parts of this review have previously been published on my bookshelf at Reedsy Discovery here:
Thanks for stopping by. If you have read the book, please let me know your thoughts on your reading of it. And, of course, if you've read this review, please do leave a comment as I love to interact with my readers.
About the Creator
Mum, blogger, crafter, reviewer, writer, traveller: I love to write and I am not limited by form. Here, you will find stories, articles, opinion pieces, poems, all of which reflect me: who I am, what I love, what I feel, how I view things.
Reader insights
Outstanding
Excellent work. Looking forward to reading more!
Add your insights