Your Search for the Holy Grail is Over: My Extensive Beauty Bible.
A holy grail product for each of your beauty needs :)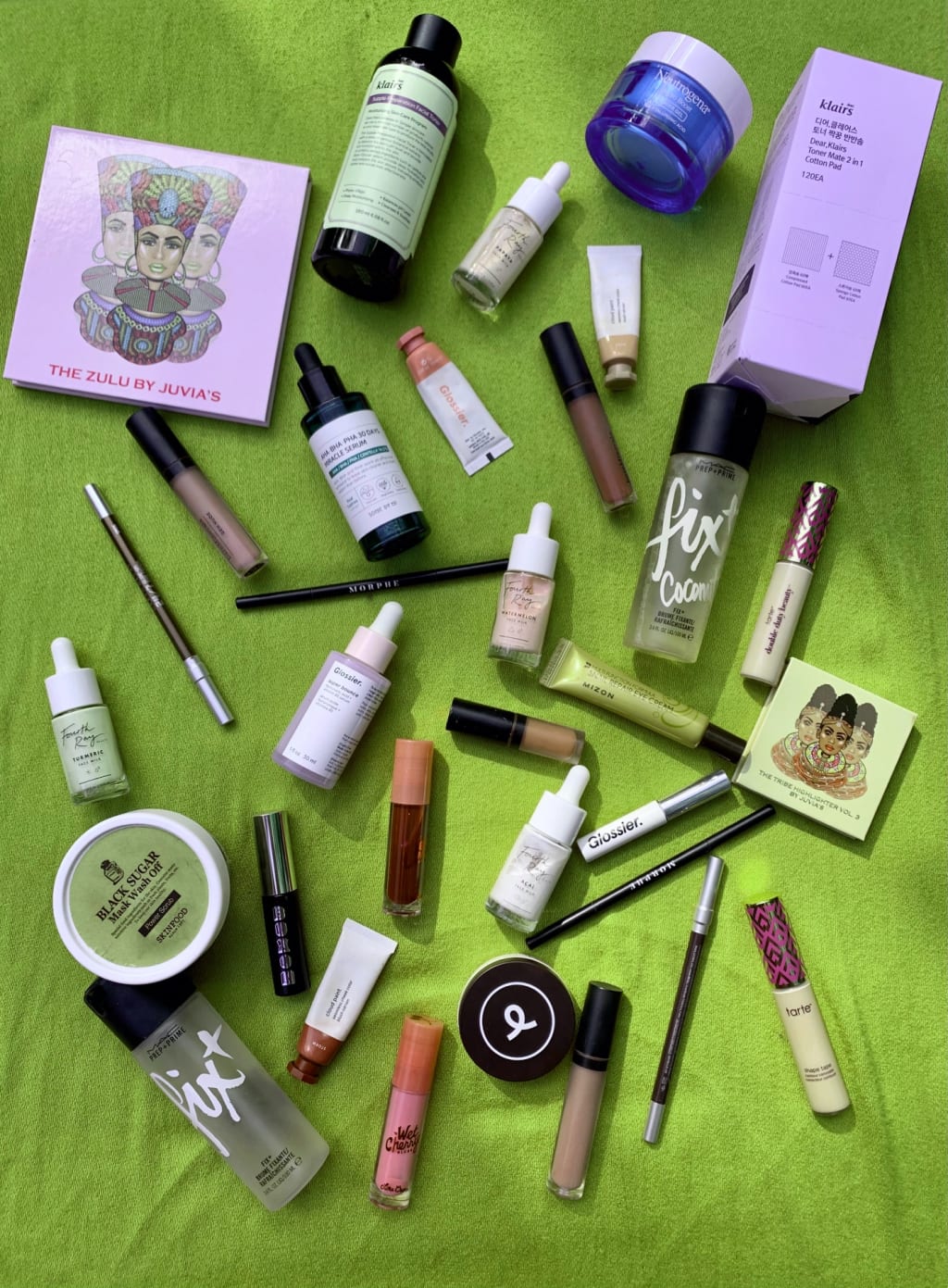 Handpicked Holy Grails
I'm going to be honest. I'm bad at makeup.
I'm good at baking cakes, but not at baking my face. By the end of the day I'm beat, but my makeup is certainly not on fleek. But that doesn't stop me from having fun with beauty products. And I can proudly say, at 28, I have finally found a makeup and skincare routine that works for me. It only took about a decade of trial and error.
My roommates can attest to my obsession with beauty products, and they only harbor a mild annoyance that I take up five shelves in the bathroom. I'm a diamond member on Ulta, and I started getting Ipsy bags when they were still invite only. I think that's proof enough that my passion for makeup and skincare may veer towards unhealthy.
But can you blame me? I know I'm not the only one that gets an instant dopamine boost when I take a fresh, dolled-up selfie. Sometimes the thought of doing my morning skincare routine is the only thing that gets me out of bed. In light of the pandemic, and losing my job; makeup and skincare have been one of the daily habits to keep me going.
When it comes to choosing new makeup and skincare products, I go full detective mode. My 'Type A' personality shines when searching for the absolute best product to fit my needs. I consult Youtube videos, Ulta & Sephora reviews, and endless google image searches for swatches. So when I say that these are my capital 'H' holy grail products, I'm deadly serious.
Anyone infatuated with beauty knows it's a struggle to find that perfect asset to their routine. Makeup junkies understand the let down of trying terrible product after product; and the thrill when they find the 'one'. These are my 'I do' products, the holiest of holy, 'till death do us part. Strap in, for my extensive beauty bible.
Makeup Holy Grails: Let Your Flaws Shine!
My makeup style leans towards easy, natural, soft beat looks, with pops of color. I'm all about this new movement of letting your natural face shine underneath your makeup, a migration away from the caked-on, contoured, full-face glam. I have nothing against how anyone wants to express themselves, but like I said, I'm bad at makeup.
The soft beat look works best for me, because it's hard to mess up. I've tried winged liner with shaky hands enough times to know that it will never work for me. And I can't buff out bronzer to save my life, so I stick with simplicity. I'm going to outline my holy grail products along with describing my everyday makeup routine. Then I'll take it all off, with my must-have skincare faves.
First I start with moisturizer. You can use a primer if you want, but I've tried all sorts: mattifying, pore-blurring, hydrating; and nothing works as well as my go-to moisturizer.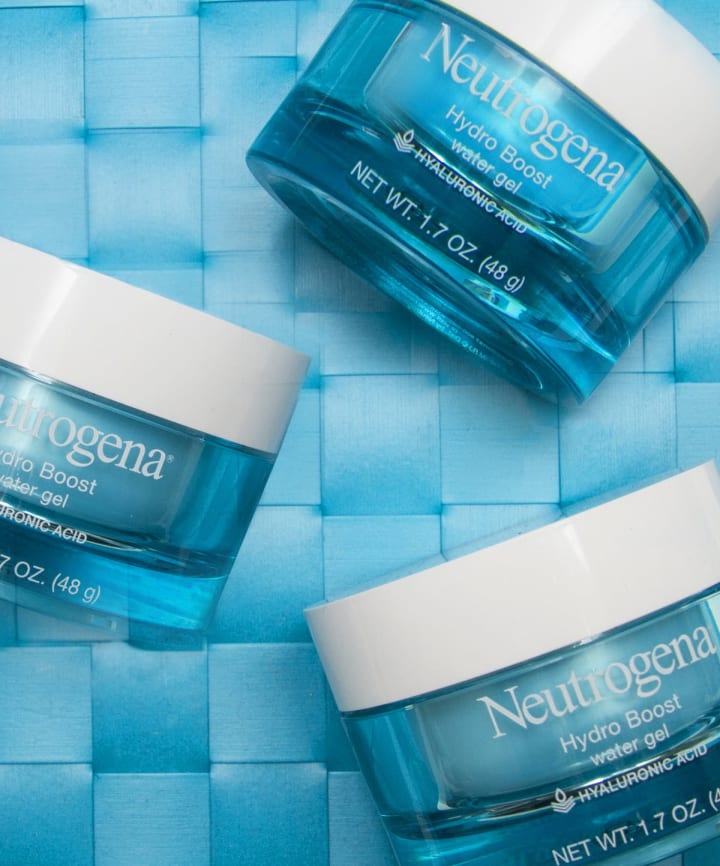 Water gels have been taking the beauty world by storm, and I've tried plenty of them since. This is the best one I've found with the nicest price-point. It's a great dupe for the Murad Nutrient Charged Water Gel. Neutrogena's Hydro Boost Water Gel works wonders on my dry skin. It's oil-free, alcohol-free, and doesn't clog pores. It has a pale blue color, and a pleasing light scent. The best part is the infusion of hyaluronic acid, a natural hydrator that locks in moisture. This moisturizer works better as a makeup base than any primer I've tried. You can find this product at many retailers, but the cheapest I've found is 16.97 at Walmart.
After moisturizing, I lightly dust my face with setting powder, or any kind of loose powder, tinted or translucent. Lately I've been using Juvia's Place I Am Magic setting powder in the shade white sand. Then I mist on setting spray.
This is a trick I learned from Tik Tok for a flawless makeup base, and I'm obsessed. Now I use this method every time before applying my makeup; it lightly conceals any blemishes and dark spots, locks in moisture, and gives you an even slate to apply the rest of your look.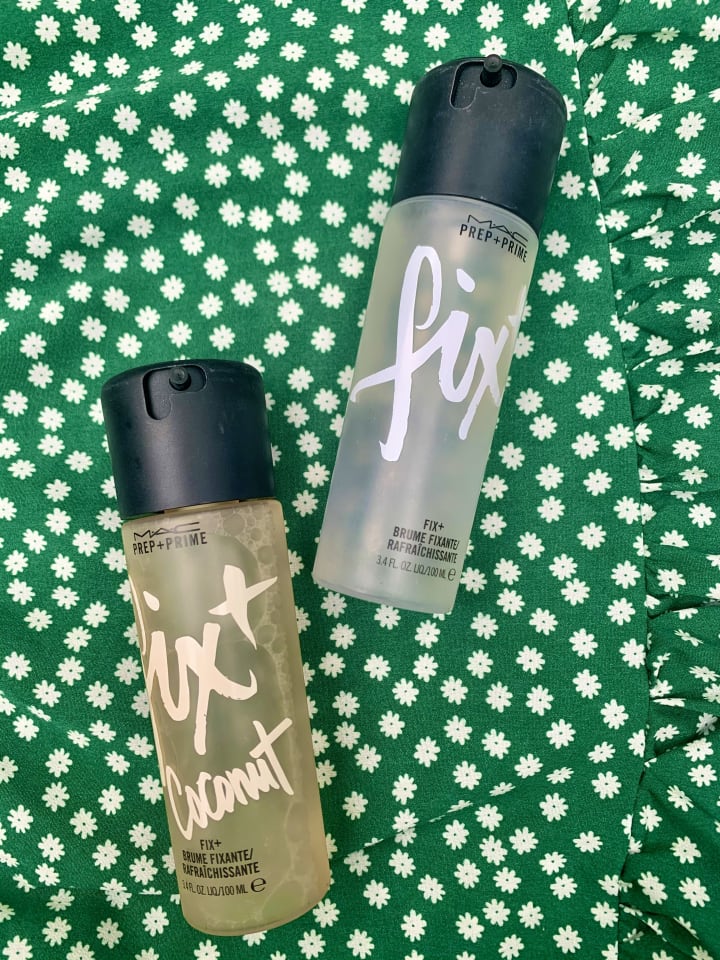 MAC's Prep + Prime is my go-to setting spray. It's versatile, hydrating, and comes in many pleasing scents. This refreshing setting spray is packed with vitamins and minerals that soothes irritated and dry skin. You can use it as a primer, setting spray, or a revitalizing facial mist. My favorite scent is coconut, but the original herbal is the most popular. You can buy the full bottle for $29, or the mini for $16.
After prepping my face, I reach for my favorite concealer. Tarte's Shape Tape. This concealer already has a cult following, and if you've never used it, the hype is legit. I can't even count the amount of concealer's I've tried, but this one always wins out. It's creamy with a faint scent, gives extreme coverage, and is easy to work with. I usually just conceal under my eyes, but feel free to conceal any areas that need some TLC.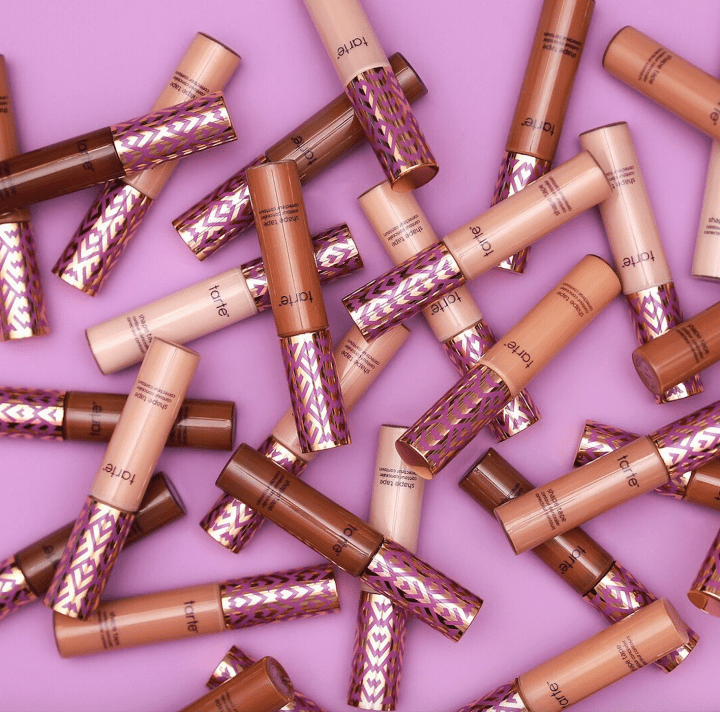 I use the shade 12N (Fair Neutral), but Tarte offers a wide range of skin tones. You can purchase the full-size for $27, or the mini for $10.
After concealing, it's time for the brows baby! Fixing my eyebrows is the most enjoyable part of my beauty routine. It's amazing how a little shaping and definition can drastically change the look of your brows. Sometimes I go natural and bushy, sometimes sleek and defined. Regardless of what brow-style I go with, there are two products I can't live without.
For defining, and drawing I use Morphe Micro-Brow Pencil. The price for this eyebrow pencil CANNOT be beat. This pencil cost $5, and comes in an impressive shade range. I use Biscotti & Latte. This formula is velvety and glides on with ease. On the other end is a spoolie used to smooth and comb the product through your brows. You can use this pencil to define and shape, to fill in your brows, or draw realistic hairs. Some of my friends even use this product to fill in and define their mustaches.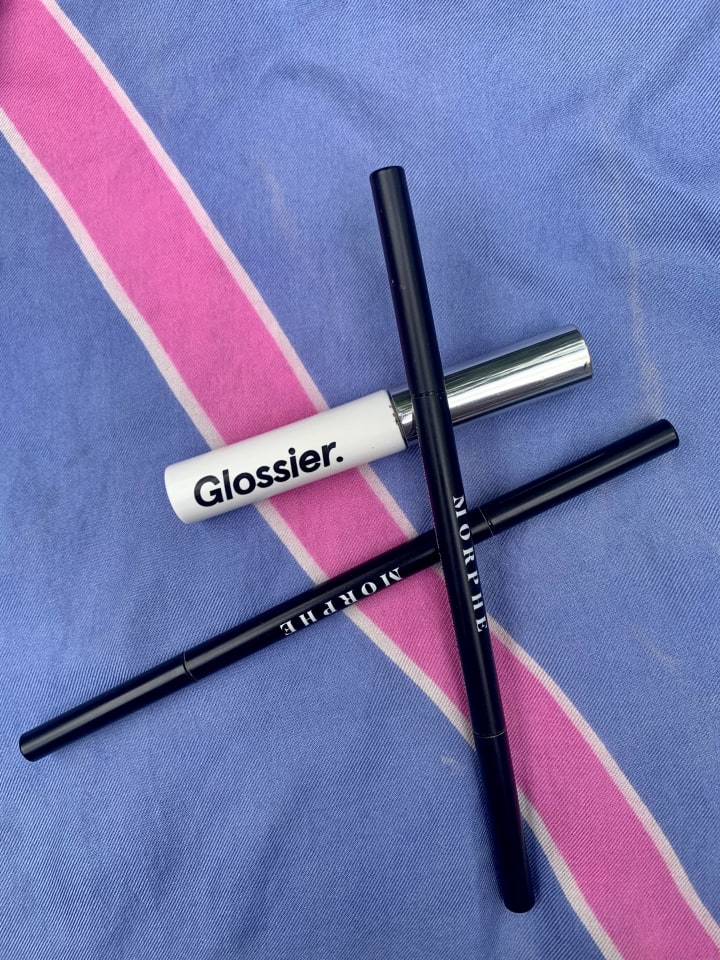 My other go-to brow product is Glossier's Boy Brow. A holy grail for brows with a notable cult following. This game changing product shapes, fills in, & grooms brows into place. The top review on Glossier states that this pomade kept someone's eyebrows on point through a sweaty festival, and getting hit by a car. Talk about a convincing testimony. This product makes it so easy to just fluff & fill your brows and go. You can purchase for $16 at Glossier.
After concealing, and shaping my brows, I use my MAC Prep + Prime to set my face before moving on to the next stages. This is where the pops of color come in to play! I begin with this angelic gem of a palette, Venus by Lime Crime.
Inspired by Botticelli's famous painting "The Birth of Venus", this is Lime Crime's original iconic eyeshadow palette. A must-have for staple for anyone obsessed with eyeshadow. The palette includes a range of grungy neutral colors with four different finishes. The colors are super pigmented and unique. Purchase for $38, but check the site often, they have great sales.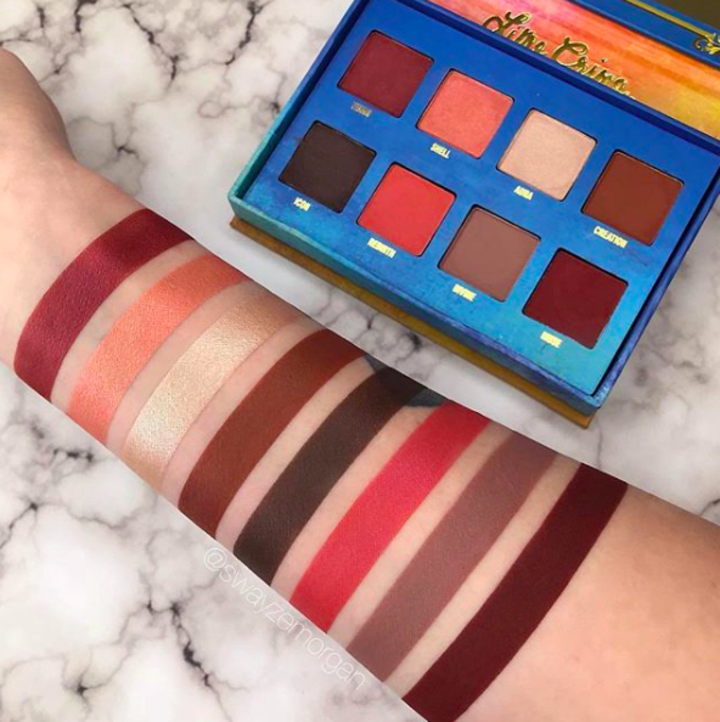 Because I'm not great at cutting and creases, along with having very hooded eyes, I tend to stick with one or two eyeshadow colors. I usually do a pop of color on the base of my lid, then blend out towards the tail of my brow. The rich earthy brown, and deep burgundy in this palette also make a great eyeliner in a pinch. After eyeshadow, if I'm feeling frisky, I'll use some mascara, my favorite is Buxom's Lash Volumizing Mascara.
Onto the cheeks. Drumroll please. If I had to choose one makeup product from my excessive list of holy grails, this would be it. Glossier's Cloud Paint.
If you try anything from my extensive beauty bible, please let it be this.
Using this product, is literally like painting with watercolors on your face. The formula is light, and easily blendable and buildable. You can go for a natural tint, or an all out flushed cheek. The fun doesn't stop there, you can use Cloud Paint for more than just cheeks, try it as a soft-blur eyeshadow, or a light bronzer; you can even use as a lip tint.
The best part: this product will last you FOREVER. When I say a little goes a long way, I mean you better only use the tiniest amount, or you'll end up with a lot of leftover product on your fingertips. I've had three tubes of Cloud Paint for over a year, and I've barely made a dent in the product. You can buy this for $18 at Glossier, or 2 for $30.
Brows, check. Flushed pink cheeks, check. Pop of eyeshadow, check. Last, but not least, lips.
I love lip looks so much, I had to give two holy grail products for the lips. Sometimes I want glossy, sometimes matte, don't ever ask me to choose between the two!
First up to bat, Lime Crime's Wet Cherry Lip Gloss.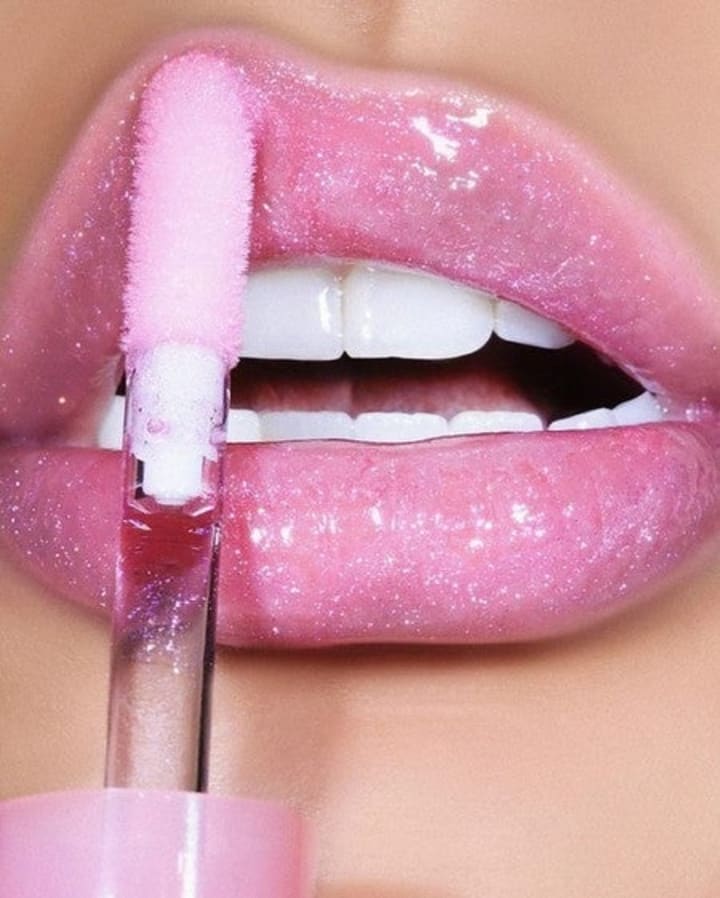 I can not do proper justice in describing the smell of this lip gloss. It's the scent of decadent buttercream and sinful black cherries. Literally everything you want in a lip gloss. It's juicy, glossy, smells incredible, and is not sticky at all. Also this lip gloss comes in almost every shade imaginable. My favorite shade is Baby Cherry. Find your shade at Lime Crime for $18.
Now for my go-to matte lip, Bare Minerals Matte Liquid Lipstick.
Believe me, I have been through the ringer with matte liquid lipsticks. I hopped onto the bandwagon early, and became obsessed with finding the perfect one. Most were too drying, made my lips chapped, or smelled awful. Some were so 'all day' that I had trouble getting it off with makeup remover. A few Christmases ago my mom got me a Bare Minerals box-set with mini liquid lipsticks, and I was shooketh.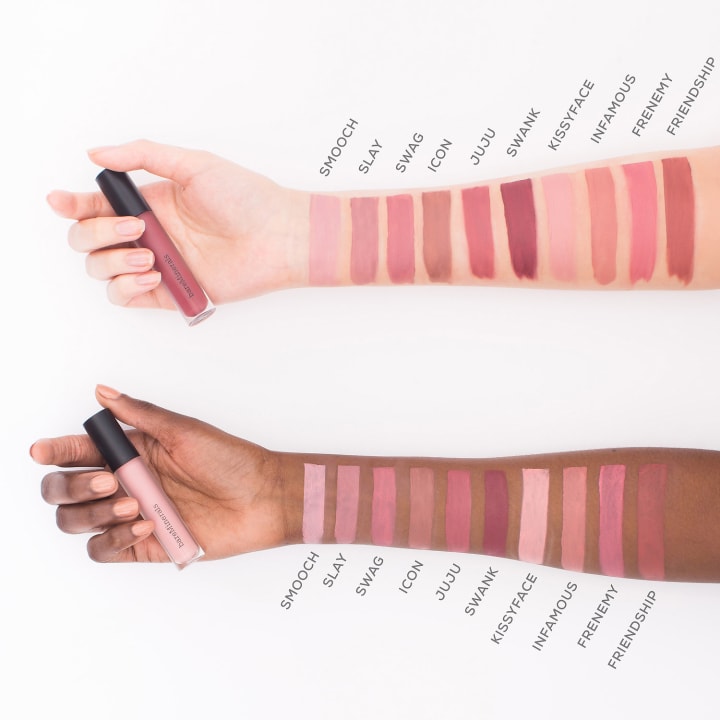 This cream-to-matte lipstick is moisturizing, full coverage, and comes in a wide variety of shades. It is infused with primer, and dries to a silky soft consistency that lasts all day. Not to mention it smells like chocolate. Find the whole collection at Bare Minerals for $20 per lipstick.
Okay, that was A LOT. But like I said, I'm obsessed with makeup, and these truly are my holy grail products, that I couldn't live without. I tried to pare down the list, but who am I kidding? I finish my face with a little highlighter on my cheekbones, and cupid's bow. For highlighter today, I used Juvia's Place Tribe Vol. 3.
A final spritz of setting spray, and here's the final look!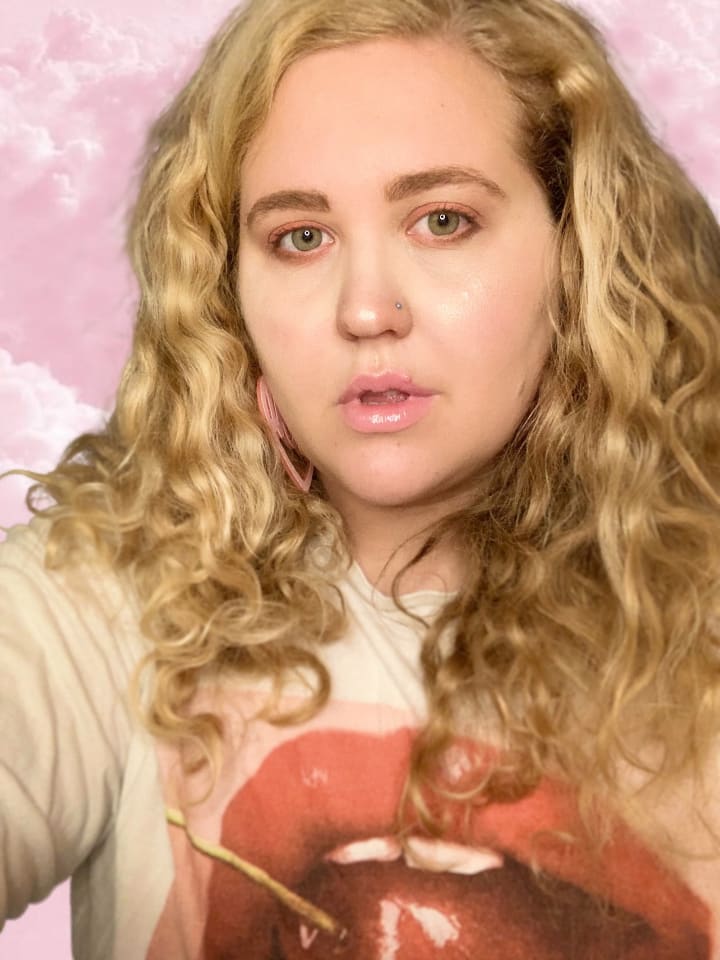 Now, time to take it all off...
Skincare Routine for the Gods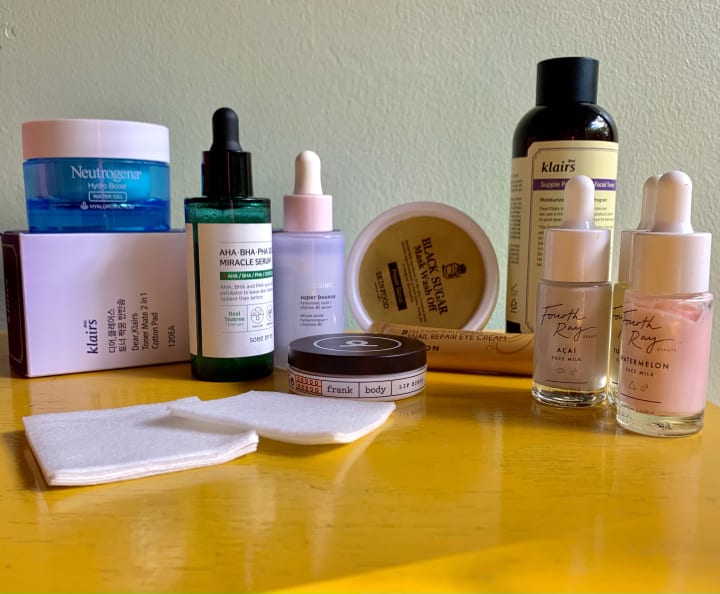 Is it weird that I have as much fun taking my makeup off, as I do putting it on? This year I have become full-on obsessed with my skincare routine. When the pandemic started, it added so much structure to my daily life, that I desperately needed to feel sane.
We all have target issues personal to our own skin journey, so I picked holy grail products that can be used on any skin type, with a bias towards dry-combination skin. Okay, turning on the tap, and grabbing my makeup eraser, time to get soft and clean!
First I start with my all-time favorite face wash, Real Chemistry Fresh-Start Foaming Cleanser. Not pictured above, because I just ran out, sad face. That shows how much I love this cleanser, because I have about nine other face washes sitting around, that I've barely touched. I recieved this as a sample in my Ipsy bag a few years ago, and I've never found a face wash that I like better.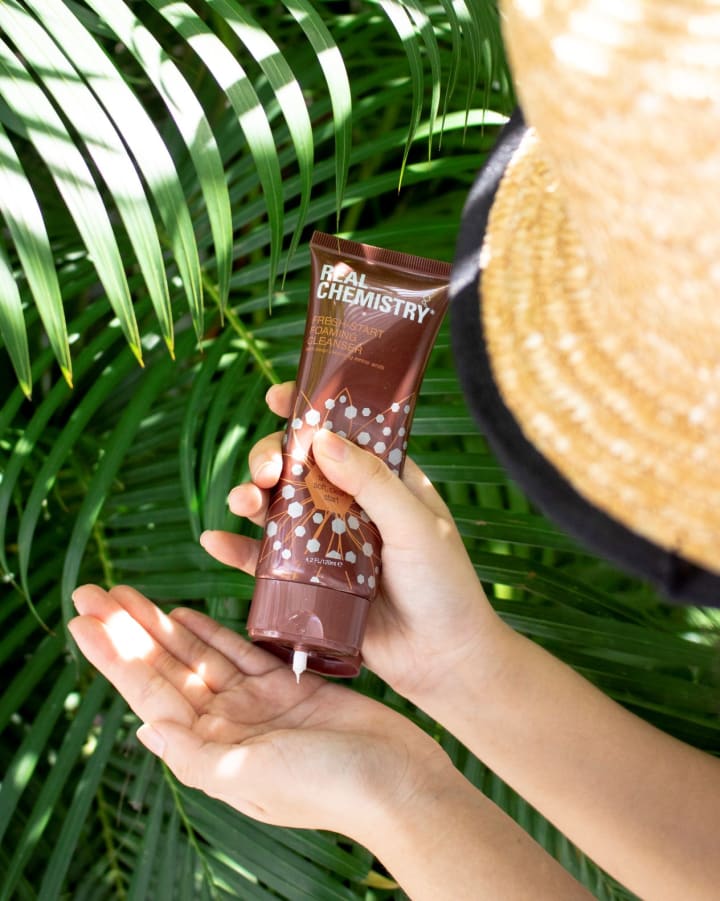 You can probably tell by now that I'm obsessed with products that smell appealing. I'm a sensualist, what can I say? This cleanser has a fresh light grapefruit scent, and leaves my skin feeling as clean as the day I was born.
Next up are two scrubs that you'll be dying to use on your skin as a treat once or twice a week. Exfoliating your skin is important for removing dead skin cells and allowing pores to absorb nutrients. Not to mention it makes your skin radiant, and baby-soft.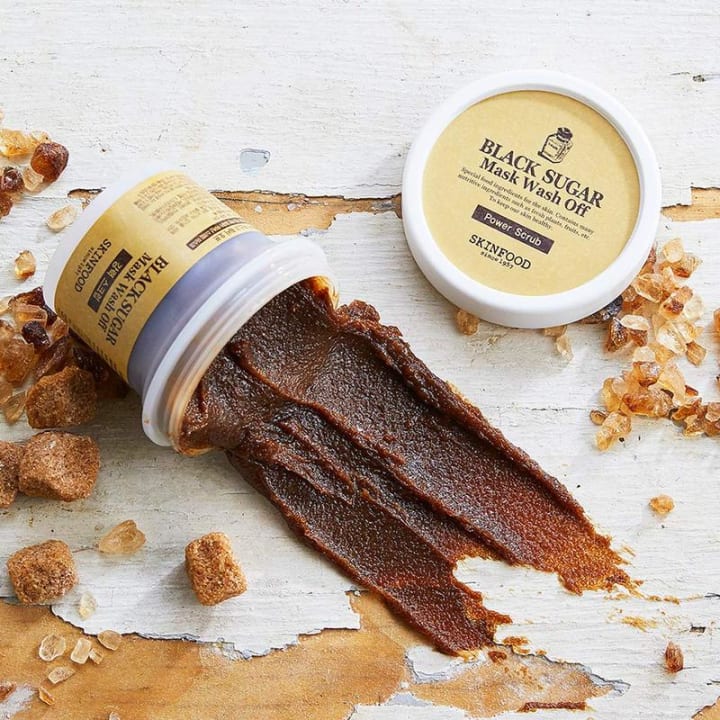 After I've washed my face, and patted it dry. I massage a thin layer of SkinFood's Black Sugar Mask, and let sit for 10-15 minutes, then gently scrub and wash off. Great for sensitive skin, this gentle molassess scrub always leaves my face petal soft and glowing. You can find this face mask at Soko Glam for $10, along with many great Korean beauty products.
We can't forget about the lips though. That's where Frankbody's Lip Scrub comes in. A little goes a long way with this sugar coffee scrub, and it smells like warm buttery caramel. I'm dying to try their new cherry scent. Purchase for 14.95 for smooth kissable lips.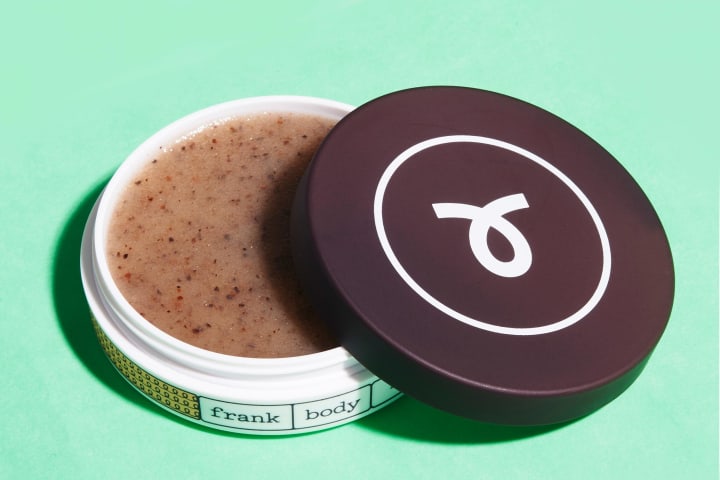 After exfoliating, I apply my trusty Klairs Supple Preparation Facial Toner. Korean beauty saves the day again! This refreshing vegan toner removes excess dirt and sebum, balances the pH of your skin, and prepares your face for serums. For toner application, I swear by Klairs Toner Mate 2-in-1 Cotton Pads. These pads are highly absorbant, and extend the life of your Toner. Purchase both of these at Soko Glam, the toner is $22, and the toner pads are a steal at $6.50.
After toning, I apply my daily serums. The first serum I apply is Some By Mi Miracle Serum, this serum includes AHAs, BHAs, & PHAs that work to gently exfoliate your skin. The formula is packed with soothing tea tree leaf water, and centella asiatica to sooth inflamed skin. Make sure to shake bottle before using. Get this miracle serum at Soko Glam for $27.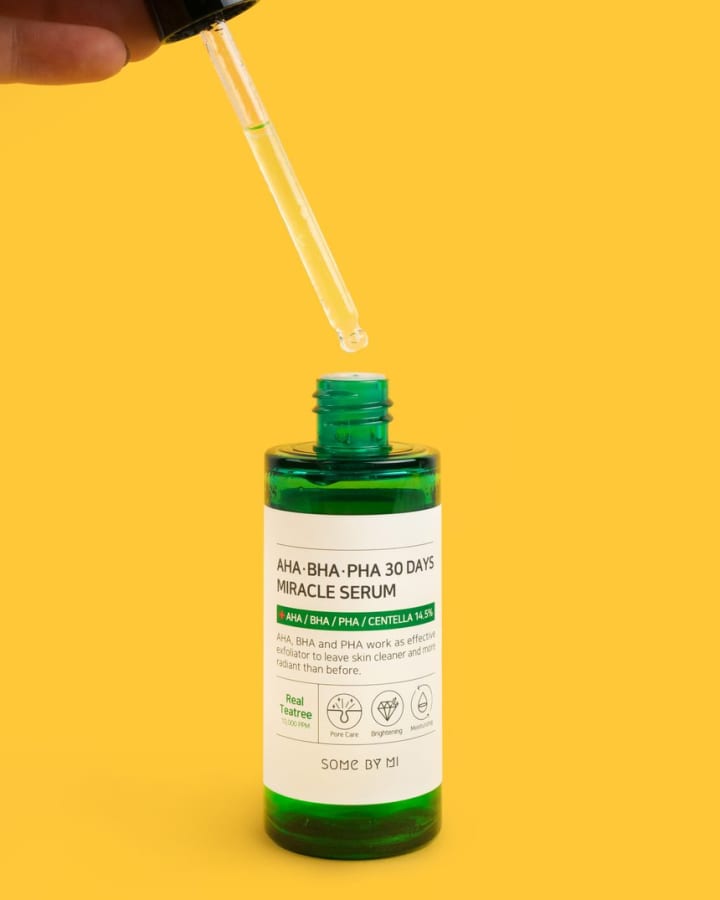 Next, I apply Fourth Ray Beauty's Face Milk. Fourth Ray's line of facial serums is incredible, each one is based on the natural healing properties of a plant. The soft pastel colors and pleasing fragrances are an added appeal, but the formula itself is hydrating, light-weight, and can also be used as a primer under makeup. Purchase them individually for $14 at Fourth Ray Beauty, but they also have great deals on sets. My favorites are Strawberry, Turmeric, & Watermelon.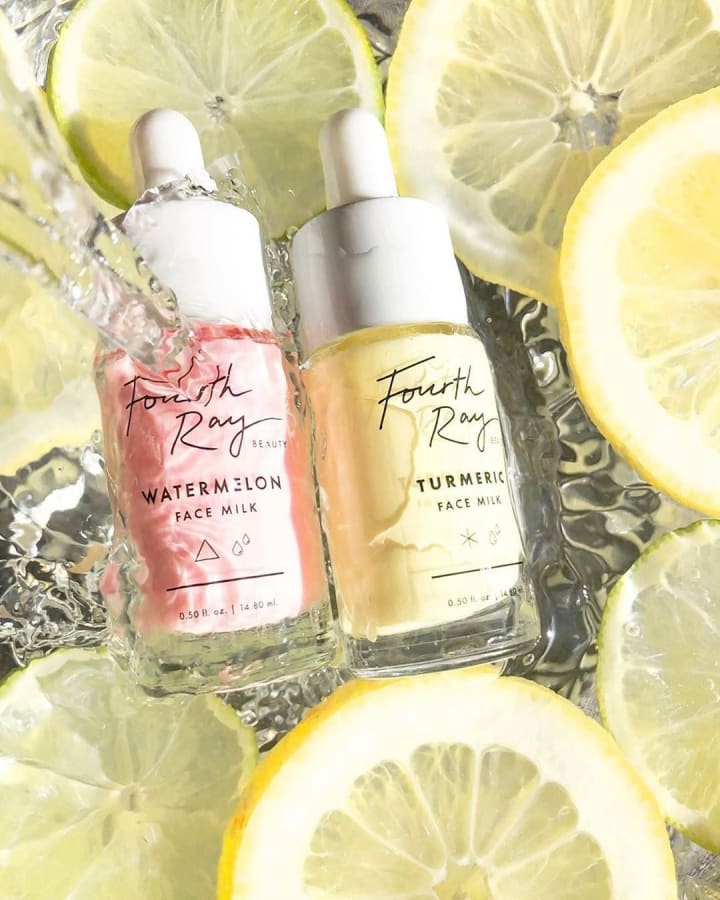 The final serum I swear by is Glossier's Super Bounce. This serum is formulated with hyaluronic acid and vitamin B5, leaving your skin hydrated, soft, and bouncy. I use this in my evening skincare routine to lock in moisture, and soothe my very dry skin. Purchase at Glossier for $28.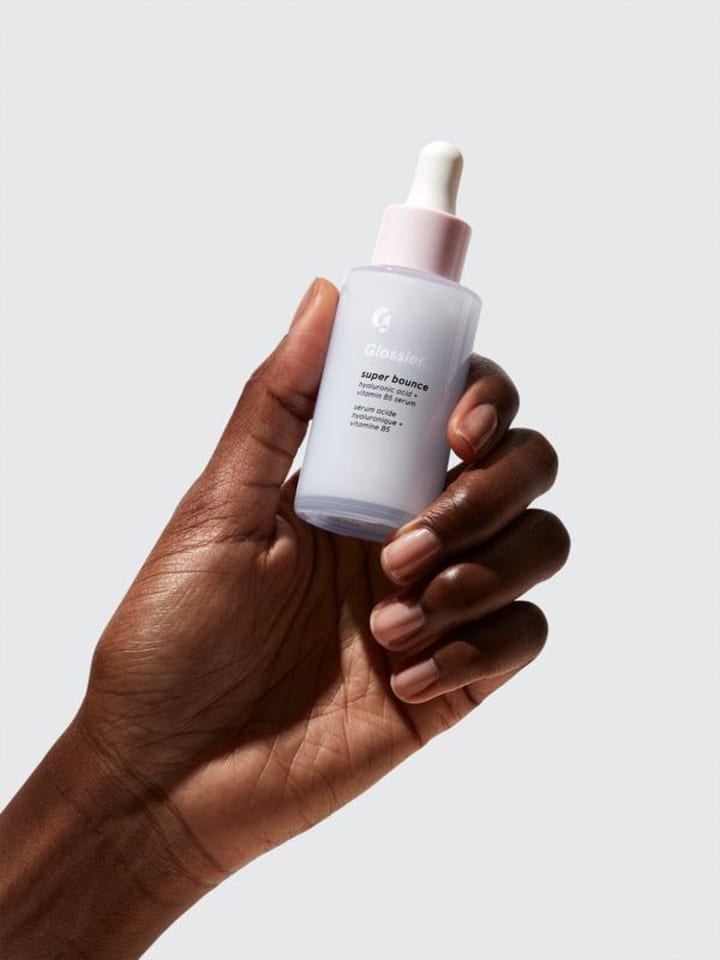 We made it to the final step! And once again K beauty finds its way into my holy grail skincare routine. This time in the form of snails? It sounds weird, but MIZON's Snail Repair Eye Cream is a godsend for my recurrent dark circles. I'm not kidding, I noticed an improvement almost immediately, and I've had crows feet since I was a child. Purchase a small tube to try out for 7.90 at Yesstyle, a discount Korean beauty shop. Get it while you can, it's out of stock on several websites.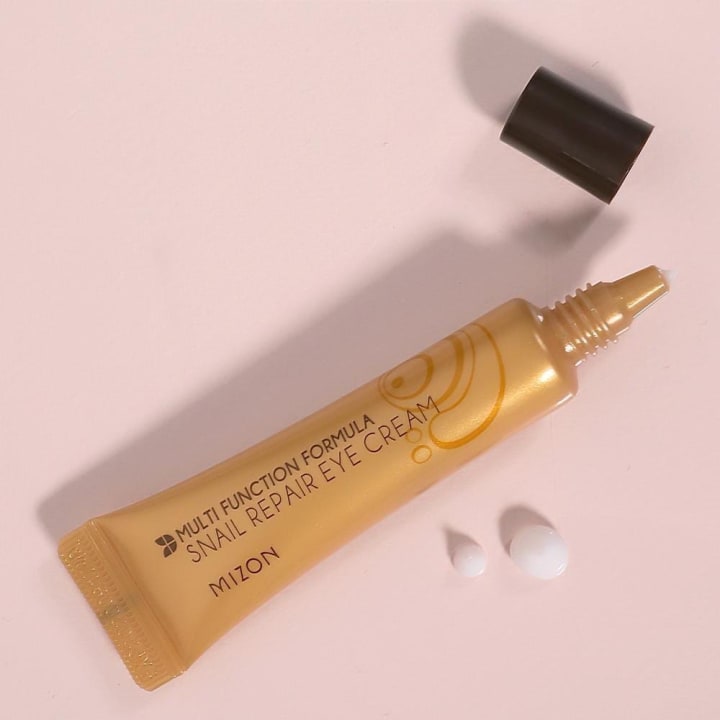 We made it! The final bow of my extensive beauty gospel. After applying my snail eye cream, I finish with my previously mentioned Neutrogena Water Gel, and my face is angelic dewy soft. If you don't have a skincare routine in place, I highly recommend it. Taking care of my skin has improved my confidence and given my ambiguous pandemic lifestyle some much needed structure.
I hope that some of these products become your new holy grail, and if anyone knows a must-have product for minimizing large pores, please hit me up.