World's first black supermodel
Third marriage to rock star Bowie
In 2016, 60-year-old supermodel Iman was photographed walking her dog on the street.
At the time, she was dressed in black, gaunt and unkempt. The dog beside her was very photogenic, with a pair of heterochromatic pupils, blue on one side and brown on the other, sharing similar features with Iman's late husband David Bowie.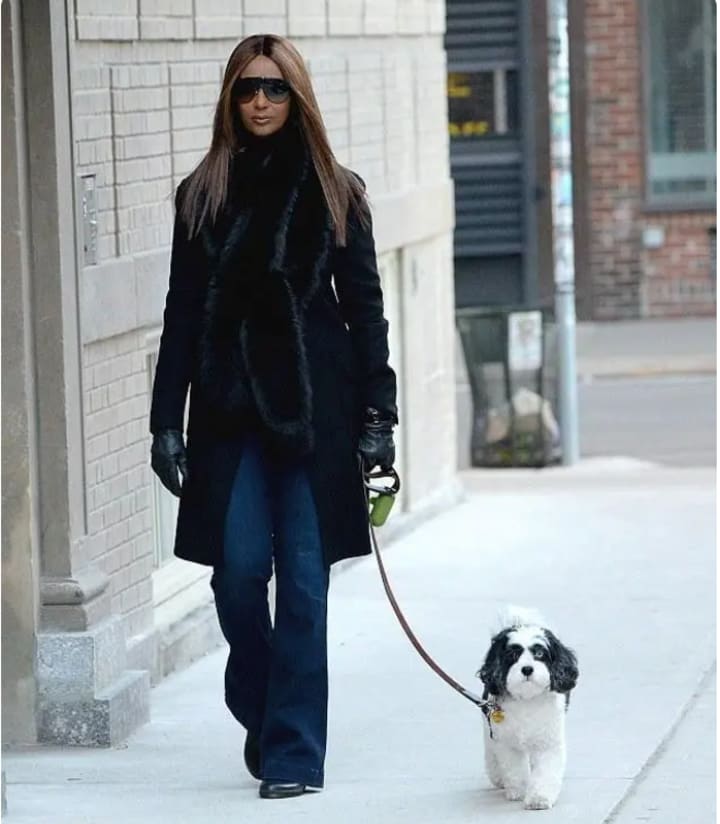 Perhaps, Bowie never left, but just changed his way to accompany her.
Iman is the world's first black supermodel, she started an era belonging to the "black beauty", she was 36 years old when she took a set of white hair photos passed down, is still regarded as a classic by many people.
Iman's lover, Bowie, is a legendary American rock musician.
His beauty is a kind of androgynous beauty, but also once triggered a new trend of "siren" beautiful men. The love story between Iman and Bowie is so legendary from the time they met to the end.
Iman was born in 1955 to a Somali diplomat family, and she grew up in a turbulent environment in the harsh situation of East Africa at that time.
In 1973, at the age of 18, Iman was walking down the street when she was spotted by 35-year-old photographer Peter Bird. Peter paid $8,000 to take several rolls of film photographs of her.
Fate is sometimes so coincidental, Iman waited for the most suitable for her: Peter is a Yale University graduate brand-name photographer, he likes the Danish author Karen's work "out of Africa", so many times to Africa to pick up the travel, shooting the African Savannah many wildlife and landscape photos, in the photography industry is very famous.
Peter was good at photographing wild animals, and Iman was the first human model he met.
When Peter realized that Iman was a "once-in-a-century genius model", he was so impressed that he spent 4 months persuading Iman to fly with him to the other side of the ocean to the United States, vowing that Iman would be able to shine on camera!
Peter knew the essence of packaging beautiful models and claimed that this beautiful black model was from the African royal family, which undoubtedly gave a layer of gold to Iman's identity.
Gradually, the American fashion industry has discovered another side of Iman.
She can not only play the role of an "African princess", but her features are very foreign, in addition, her dark skin tone, she meets the standard aesthetic under the white system, with big eyes, a high nose, and a sharp chin, eyebrows than much white beauty is also exquisite.
So the photographer tapped into the wild and versatile beauty of her body and opened up a variety of styles for her.
Dyeing her hair white, she can be a black pearl beauty that glows in the dark; wearing jazz clothes, she can also be a unisex-style jazz girl.
In 1994, Iman, who had made a name for herself in the American fashion industry, used the income she had saved to create her beauty brand.
Because she found in her work, the foundation on the market is very unfriendly to dark-skinned women, completely unable to modify the skin tone of black women, and may also spoil the glow of the skin itself.
Most of the makeup brands on the market at that time were for white women.
Iman's makeup for black audiences, however, sparked a cult following upon its launch, with sales of $12 million a year, far exceeding expectations.
Iman stubbornly made her way in the fashion and business world, and her love quietly came.
At a Los Angeles dinner party in 1990, the 35-year-old Iman met Bowie, "the greatest rock singer of the 20th century," at a gathering of celebrities.
At this time, Iman had already been through two marriages and was a single mother with a daughter, while Bowie, 43, was also a single father.
As the saying goes, "good wine is not afraid of late". Although both Iman and Bowie are not young anymore, they still see true love in each other's eyes.
Since the public relationship, the two have always shown their love on various occasions.
When Bowie was interviewed, Iman would suddenly come out from behind and hug his waist, happily pampering him in front of the camera, while he would also smartly put his hand behind and hug Iman with his backhand, boyfriend power.
Iman and Bowie often wear "couple clothes", the contrast and contrast are very strong. When Iman wears a tight black leather jacket, Bowie wears a loose light gray suit.
When Iman put on a white shirt, Bowie changed into a dark blue round-neck T-shirt. The two had one black and one white complexion and one black and one white outfit, so matching that they seemed to be a natural pair.
After two years of passionate love, they got married in an Italian church in June 1992.
At that time, Iman wore a long ivory dress, this long dress does not meet the choice of many people for the wedding dress, most people's eyes of the wedding dress fairy gorgeous sarong, but Iman's wedding dress, simple to the extreme, if there is a trace of excess fat, this wedding dress will not play its natural effect.
At the same time, Iman matched this wedding dress with vintage long gloves, so that modern trends and classical beauty collide, but also to add color to this wedding.
In 1999, Bowie spent $3.8 million to purchase a duplex apartment in a prime location in New York.
The apartment has four bedrooms with bathrooms and toilets, as well as a private outdoor bar with a total area of over 92 square meters. He used it as his and Iman's love nest for the birth of their new baby.
In 2000, Iman and Bowie welcomed their "millennial baby" Lexi, and they appeared on the cover of a magazine with their daughter, with a stark difference in their skin tones but the same big smile on their faces.
However, Iman and Bowie's love life came to an abrupt end in 2016, when their love was not lost to any scandal, but the disease.
In 2016, after years of secretly fighting cancer, Bowie died at the age of 69, his death felt rushed as he had previously concealed his cancer condition from the public
Compared to the world's shock, Iman, who had been by Bowie's side in his final moments, suffered even more from the cut-throat pain, but she swallowed all her grief in silence
The love myth was ostensibly over, but Iman chose to spend her life remembering Bowie as if the love had never stopped.
Iman also worked hard to raise her daughter, and now Levi has grown into a 22-year-old girl who has given herself a nose ring and looks full of personality.
Time has passed and Hollywood has seen the emergence of many black beauties, singer Bey once, black pearl Naomi, Rihanna, and others have gradually come into the public eye, but even if there is talent in the mountains and rivers, Iman's beauty has not been worn out and the fashion world cannot find a second substitute.
Perhaps, Iman's beauty is a kind of heavenly accident, just like her love for Bowie, which can be praised and praised, but it is difficult to replicate as if in a moment became eternal.
Reader insights
Be the first to share your insights about this piece.
Add your insights