Created with Hairstory
Why I Swear By Trying A Shampoo-less Haircare Routine
Have you ever found yourself washing your hair only to have it only feel like a tangled mess?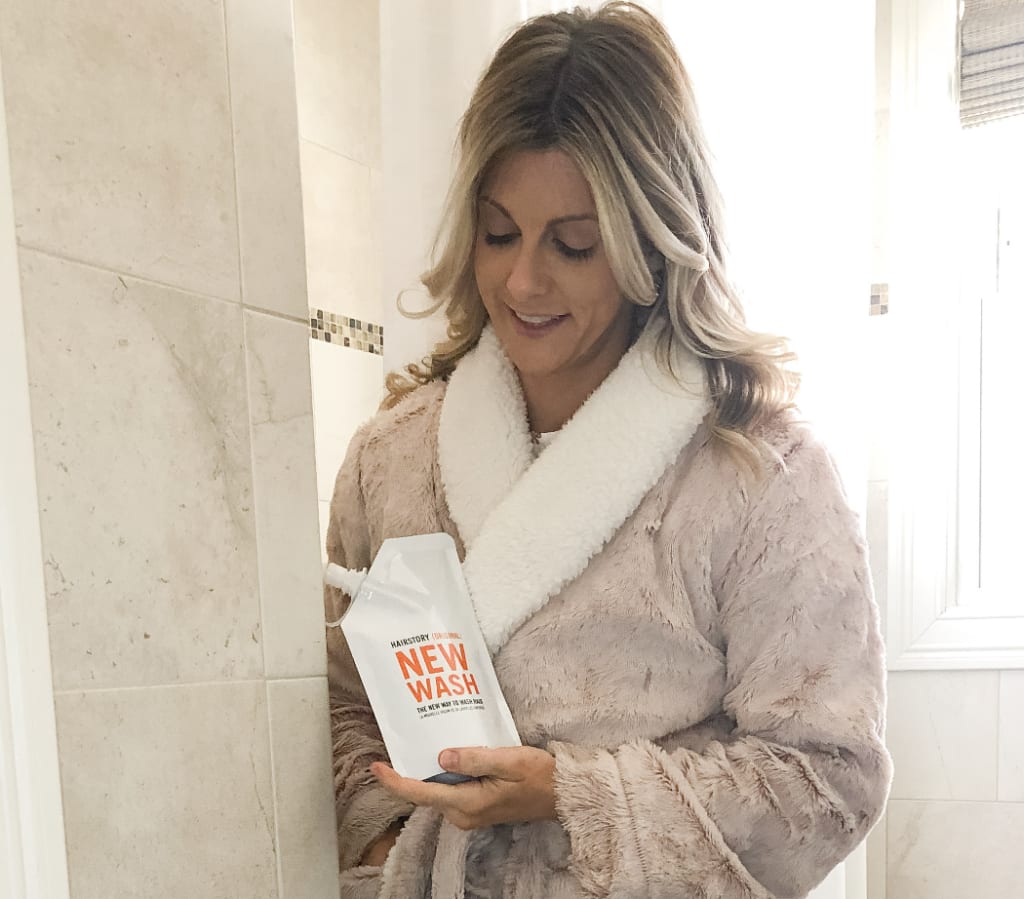 Then you have to use a ton of conditioner to make your hair feel soft and smooth again. Detergents found in shampoo are just stripping your oils. We all despise being mid-wash to realize we're out of conditioner, or going to our local drugstore and contemplate the countless shampoo-conditioner combos that are all shouting the same things.
When you're a busy mom, the time for either of those is not okay!
This is just one of the many reasons that I chose to change over to Hairstory and it has since transformed my life.
For me, I would find myself spending so much time researching the latest products on the market only to be left disappointed. I would wash and condition my hair in the shower after using handfuls of conditioner to finally make my hair smooth, only to come out and have my hair feel brittle. I would then need to add significantly more product to my hair to get it to be smooth. Later that day, my hair would feel very greasy and I would need to wash my hair again. I was so happy to find Hairstory and a product that worked for my hair type.
The first step to better hair for me was taking their Quiz, which allowed me to create my own custom starter kit. I answered several questions about my hair type and my daily routine. They then found the perfect combination of products that completely transformed my hair. The quiz will go into detail about how often you wash your hair, at what stage it begins to get oily and how much time you spend on your hair routine. Then they will want to know specifics about your hair: the texture, length and thickness. What other products on the shelves offer such customized recommendations to this degree? Only Hairstory for me.
Say so long to having to stock up monthly or even weekly on hair care products. Hairstory is super convenient as they also offer a refill club. The more you buy, the less you spend. With the Refill Club, you will receive amazing perks such as a free refillable travel container, a free refillable shower container (with a 20-32oz purchase) and free shipping. It is estimated that people go through an average of 16 bottles of shampoo and conditioner a year. Refill Club members use an average of 3 pouches of New Wash a year to wash while conditioning the hair. When you stop using shampoo and conditioner and switch to refill pouches you will use 91% less plastic. To begin the club, select your Hairstory New Wash formulation--(rich), (original) or (deep)--and the size you would like. You can be charged and shipped in increments of 10 weeks, 12 weeks or 14 weeks. For my delivery, I chose the original New Wash 20 oz, every 14 weeks and received the aluminum pump bottle and travel bottle. I am only paying $90.00 every 14 weeks and while I am saving $5 per shipment with the Hairstory refill club, I am saving hundreds of dollars by no longer spending money on the products I used to purchase that were damaging my hair.
New Wash is a family of all-in-one cleansers that clean, condition, detangle, and repair your hair. No conditioner is needed. This product is made with a combination of natural essential oils and gentle saturated cleansers including Sunflower Seed, Jojoba Seed, and Evening Primrose Oils. New Wash is completely safe and gentle so that your color will stay longer; curls maintain their shape and you can combat frizz. You are then left with shiny, smooth, soft and healthy hair.
New Wash Original is found to be the best for most people who do not have very oily or very dry and damaged hair. New Wash Deep offers deeper cleansing and a way to combat oiliness with apple cider vinegar and argan oil. Talk about natural ingredients! The added benefit with this is that it gives those who like the Original New Wash an option for occasional use; I read in some of their reviews that some people switch between Original and Deep. New Wash Rich performs extra conditioning for those that are moisture challenged. This product also feels like you have actually washed your hair.
It definitely takes some getting used to when first using New Wash. It is unlike other products as it doesn't have any detergent and it doesn't foam, but instead it feels like a conditioner. You need to coat your hair and scalp evenly with every application and rinse thoroughly. To get the best application, it needs to be evenly distributed so it can do its job appropriately. Give your scalp a good massage to activate the cleansing ingredients. The big job is rinsing your hair well and then rinsing it again and then again just for quality control measures. Don't think the job is done? It's ok to use more! You can wash your hair daily, but most people use New Wash every two to three days.
The Hairstory journey gets even happier with their Happy Hair points program; the program is used to reward loyal customers. Points are accumulated through each purchase on the total amount spent. The points can then be redeemed on any future purchase or you can save them. Make sure you create an account on Hairstory's website;this is how you will earn Happy Hair Points on every order. If you are a subscriber, your points will never expire. You will be asked at checkout if you would like to redeem your Happy Hair Points and you will see this denomination as a discount.
Ultimately, Hairstory is the only product that works for me. I am now able to combat my frizz and have smooth hair that I am proud of. I wash my hair every 2 days (or every day since I exercise) and then when it is still wet, I run the Hair Balm through it. It's that easy! That's my Hair Story.
hair
About the author
Reader insights
Be the first to share your insights about this piece.
Add your insights