What to know about curly and frizzy hair?
How the hairs should be straightened?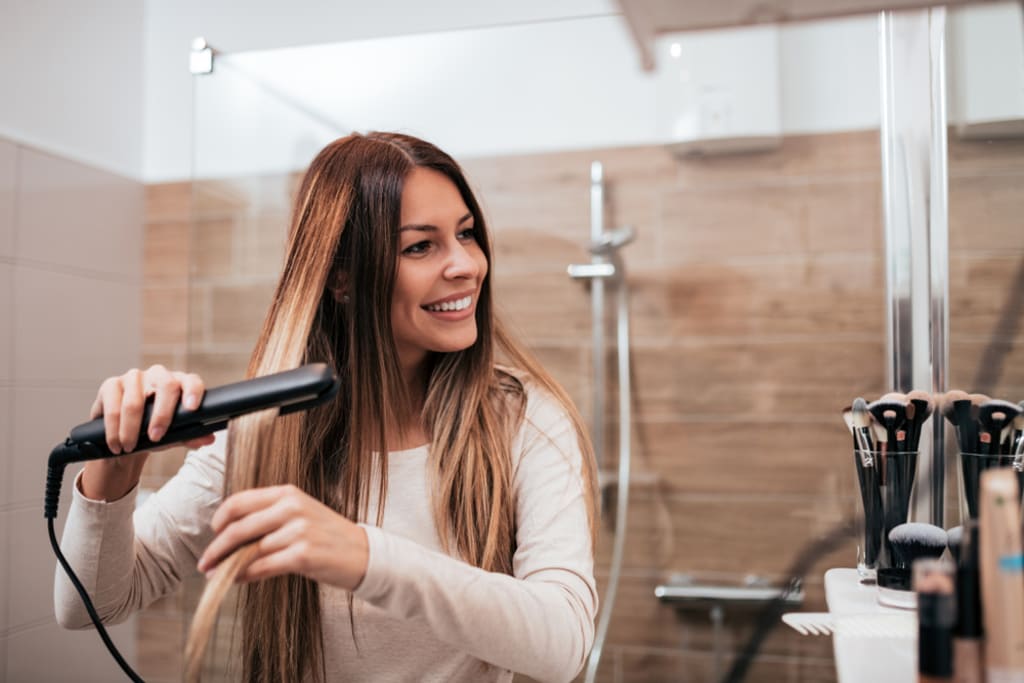 If your hairs are naturally curly, you might be aware of the different heating tools and hair-styling products to go from curly to straight hair. While using the best iron for curly hair that can work for you, it shouldn't be the only method to straighten your natural hair.
After all, a proper technique is needed to get the perfect straight hair. Keep reading to learn how hair straighteners can be used the right way and common mistakes that need to be avoided at any cost.
What to know about curly and frizzy hair?
Before knowing about going from curly to straight here, few things need to be kept in mind. Not all the textures of curly hair are the same. There are three kinds of natural textures – curly, wavy, and coily – that determine and differentiate between tight or loose curl patterns. So, learning how to straighten the hair naturally in a proper way is a must to get that salon finish. You might need to take another route while straightening the hair to achieve desired results.
Mistakes To Avoid While Straightening The Hair!
For the sake of your hairs, before straightening your natural hair, check again and ensure you don't make any mistakes while doing the procedure.
1- The straightener doesn't have temperature control.
The simplest mistake you can make while straightening is using a hot tool that doesn't have anything to adjust the temperature. Every individual's hair texture differs – so while a universal temp might look great on someone else's hair, it might be too low or high for yours.
Look for the best straightener brush having multiple heat settings and use the lowest degree of heat that can be used possibly. Only pass the heat tool 1-2 times, which can also help to keep the damage away.
2- Blow-dry in the wrong direction.
There's a reason why stylists keep your hair straight at the salon. You are not at any fancy show – instead, the direction upwards helps to create the volume at the roots.
Instead of focusing on everything, focus on blowing the roots upward. After the roots are dried, blow-dry the rest of the part so that everything goes straight on your shoulder.
3- The sections are too large.
If you think that the hairs are not getting straightened as they need to be, consider the sections' size. You might think that taking the large sections will cut your time, but it will only make the process longer.
Take one section at a time and do it. With this, you would be able to straighten easily, and you can do so at a lower temperature.
4- Too many products are used before straightening.
Straight strands and greasy hair will not work together. Ensure not to load your hairs with different products if you don't want this situation to come. Use the heat protectant and apply section-wise before using the straightener. You can still use the hair spray or leave-in product after you are done with straightening.
5- You apply a lot of products after straightening.
After finishing with the blow-dry and hair straightening, you might get excited to try different styling products so that the look remains in place and adds shine.
But when talking about styling products, a little would go a long way. If you want to apply a serum, use only the small amount of it from the middle to end.
Make sure not to apply on the roots as they will look unclean and greasy. Also, applying to the roots might get them down and will waste all your efforts.
How the hairs should be straightened?
Now that you know about the mistakes when straightening the hair, it's time to know about the main thing. Follow the routine to make your strands look silky.
1- Wash hairs
2- Detangle them
3- Prepare the strands
4- Blow-dry
5- Get your straightener
6- Depend upon the chase method
7- Finish the process by setting your hairs with a hair spray
If you don't want to make your hairs look dirty, go with the different range of best hair straighteners from Bekind and make your hair look free from freeze and shiny.