Ways Get Pink Lips
There are many natural way that can help you to get pink lips.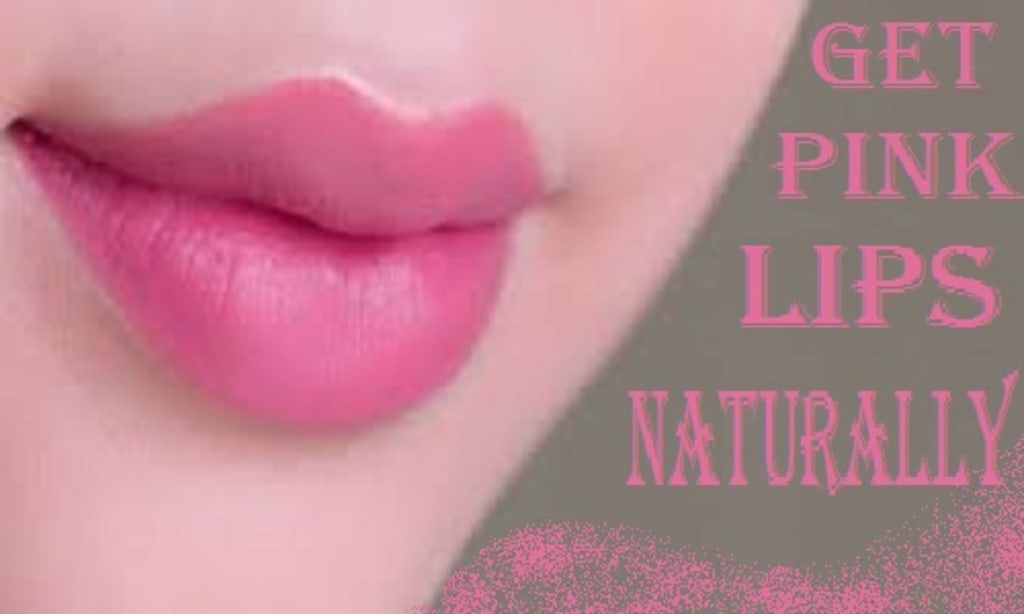 Get Pink Lips Naturally
Lips are considered to be the main attraction of the face. On the other hand, if the lips are pink, then the beauty of the face increases many times. This is why everyone wants to have pink lips. However, despite millions of attempts, this wish of many people is not fulfilled. There are many easy home remedies to get pink lips.
The skin of the lips is quite sensitive and thin. Therefore, the lips need special care. Keeping the lips moisturized can help keep them soft and healthy. However, there are many reasons for lip discoloration and cracking, which we are talking about here.
Having the wrong lifestyle such as smoking, not eating right and being stressed
Dehydration due to not drinking water properly or lack of water
Caffeine overdose
Using the wrong beauty product i.e. bad or expired lip product
Due to cheap beauty or lip product
Because of not removing makeup at night
Due to harmful sun rays and dust
Due to anemia
Due to Vitamin B12 Deficiency
Easy Home Remedies To Get Pink Lips
Now is the time to know the easy home remedies to get pink lips. So here we are going to tell you some tips, in which the materials used will be easily found at home or in the market.
Caution: Be sure to do a patch test once before using the following lip pink remedies, as some people may be allergic to any of the ingredients used in these home remedies.
Hydrate Your Hair by Natural Remedies.
Lip Balm: Just as the skin needs moisturizer, the lips need lip balm. It can act as a moisturizer for the lips. There are many benefits to applying a thick layer of lip balm before bed. Applying lip balm before going to bed at night will make the lips look soft and supple in the morning.
How beneficial: Lip balm contains petroleum jelly, which can help in overcoming the problem of dry lips While lip balm can also help in curing the problem of chapped and inflamed lips. On this basis it can be assumed that lip balm is one of the many effective ways to heal chapped and chapped lips. Especially if lip balm is applied before going to bed at night, it can achieve good results.
Pomegranate Seed Mask: Take a pomegranate and take out their seeds and crush them. Now prepare a paste by mixing these crushed grains with cream. Then apply this paste on your lips and leave it for 10 minutes. After a while, wash with lukewarm water.
This lip mask can be applied two to three times a week. It can help in brightening the lip color.
How beneficial: Pomegranate juice is also one of the ways to get pink lips. In fact, pomegranate contains a compound called punicalegans, which inhibits the production of melanin and can prevent your lips from turning black. While the cream included in this remedy can deeply hydrate the lips and make them soft and shiny. The bleaching properties present in it can help in brightening the natural color of the lips as well as relieving the stubborn spots formed in the corners of the lips. On this basis it can be assumed that this fruit is not only beneficial for health, but can also be useful for the skin and lips. This recipe of pomegranate and cream mixture can enhance the beauty of the lips.
Mask of Lemon and Honey: Put half a teaspoon of lemon juice and a teaspoon of honey in a bowl and prepare the mixture well. Now apply this lip mask on your lips and leave it for 10 to 15 minutes. Then wash it with lukewarm water and apply lip balm.
You can apply it every other day. It can also be used regularly for better effect.
How beneficial: Almost everyone knows about the benefits of lemon and honey. If both are found, it may be more effective in getting pink lips. In fact, honey moisturizes the skin. At the same time, it can also help in relieving the problem of chapped lips. Also the use of honey with lemon can help in removing the roughness of the skin. On the other hand, lemon acts as a natural bleach, which can help brighten the natural complexion of the skin. On this basis, it can be considered that the mixture of lemon and honey can also prove to be beneficial for the skin and lips.
how to
Stay tuned for the latest health and beauty information. Our responsibility is to take care of your daily life.
Receive stories by Your Daily Care (Daily Beauty Tips) in

your feed