Try Cedarwood Essential Oil To Treat Hair Loss Problem
Reap the benefits of cedarwood essential oil for hair loss treatment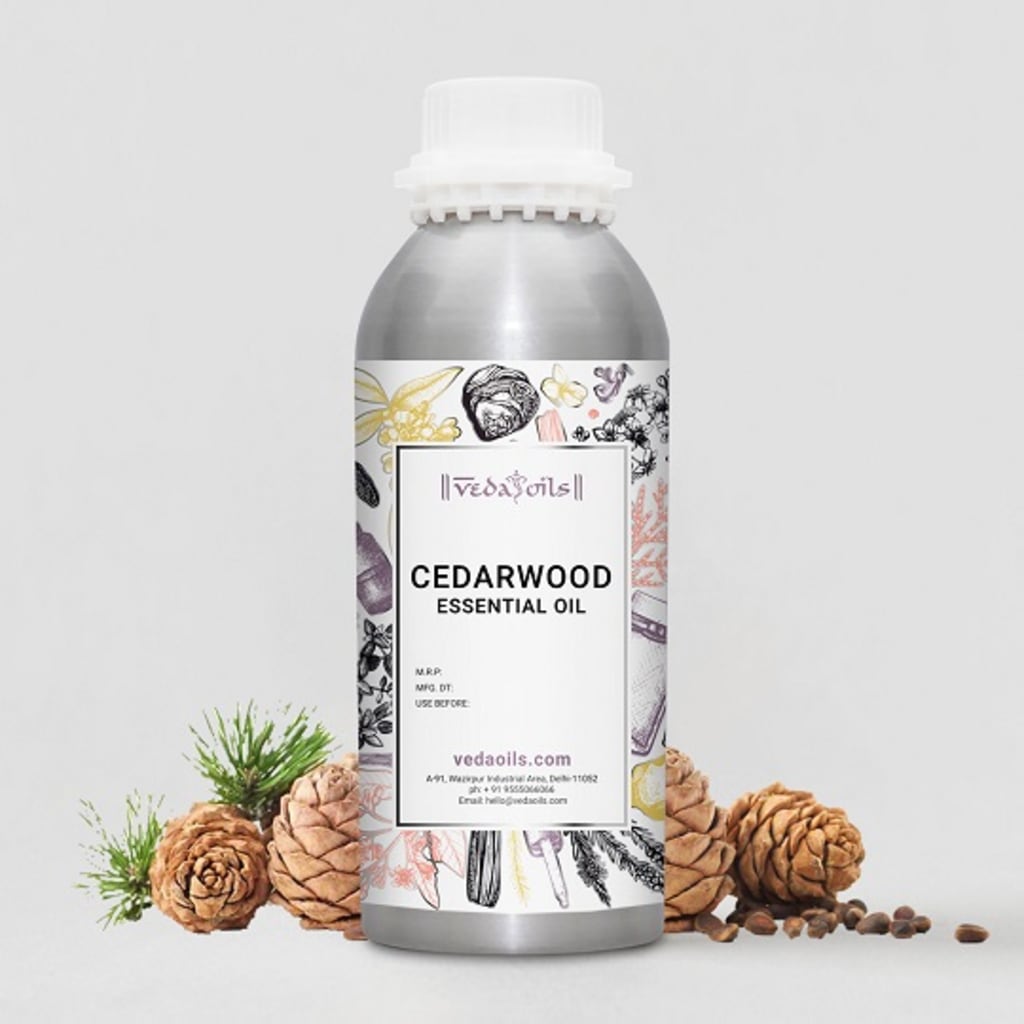 cedarwood essential oil
Are you familiar with cedarwood oil? If you haven't heard about it, you're missing out. Cedarwood Essential Oil, while not as well-known as lavender, eucalyptus, or tea tree oils, is effective for hair loss. It can also be used as an insect repellent, a sleep aid, or even to help with focus.
Cedarwood oil is obtained through distillation, which entails applying pressure and heat to plant material (such as bark and cedarwood) in order to extract the rich amber oil. When properly prepared, cedarwood oil has a complex chemical composition (without too much heat).
Why Cedarwood is Good For Hair?
Cedarwood essential oil for hair loss has some astonishing properties when it comes to hair. Cedarwood oil is an excellent hair tonic, providing advantages such as increased shine, reduced dandruff, and improved scalp health. Perhaps its most important (and amazing) benefit is its ability to prevent hair loss. Due to the presence of sesquiterpenes, a molecule that stimulates oxygen delivery, applying cedarwood oil to the scalp improves circulation and blood flow to hair follicles.
Cedarwood oil has been known to relax and calm the nervous system, so smelling cedarwood in your locks all day could help you relax. According to a study, when you're under a lot of stress, neurotransmitters in your body interact with hair follicles, which may help your hair. This is why, during times of extreme stress, people may experience significant hair loss.
Cedarwood Oil Benefits For Hair Loss
Prevent Scalp Fungus and Dandruff - To treat itching and flaking, massage your scalp with a mixture of cedarwood oil and a carrier oil. It may be effective in the treatment of dandruff and scalp eczema as a result of this. Alternatively, you can add four to five drops of cedarwood oil directly to your shampoo or conditioner.
Relaxing and Sedative Effects - Cedarwood Essential Oil is utilised in aromatherapy because of its sweet, woody perfume, which has been described as pleasant, comforting, and relaxing, naturally reducing stress. Nature's energising qualities are known to enhance brain activity, while its relaxing qualities are known to soothe the body, and the combination of these attributes helps to improve attention while lowering hyperactivity, allowing for the start of restorative and reparative sleep.
Increase Blood Circulation - This oil is known for giving off a pleasant, warming sensation when applied. It also contains antioxidant components that aid in waste elimination and inflammation reduction in the body. When these two acts are coupled, blood circulation can be improved. Ginger essential oil is commonly applied to the skin for swelling extremities and sore muscles.
Strengthening of Hair Follicles - Alopecia aerate is a condition in which the immune system attacks hair follicles, resulting in hair loss. Cedarwood is one of the essential oils that can help with hair growth. Alopecia aerate patients who received a daily scalp massage with cedarwood, thyme, rosemary, and lavender essential oils mixed with a carrier oil experienced significant hair growth.
Balance The Production Of Sebum - Several factors can have an impact on the health of our skin, causing it to become imbalanced. Cedarwood Essential Oil reduces breakouts, pimples, and even pigmentation by controlling sebum production in the epidermis.
Uses Of Cedarwood Oil for Hair loss
Direct Massage
Warm oil massages are regarded to be more beneficial than cold oil massages because heat enhances blood circulation and thus nourishment delivery to hair follicles. When hair is heated, it absorbs oil more quickly. Just be careful not to overheat the oil because it could burn your skin; heat just enough oil to feel warm without burning it. The nutrients may be damaged if the food is overheated.
After dampening the hair with water, apply oil to both the scalp and the hair. Leave on for as long as you want. To clean your hair, use a light shampoo. Cuticle scales that are elevated absorb oil quickly. If you're oiling your hair after it's been washed, avoid the roots because it'll weigh it down. If you're short on time, mix a few drops of hair oil with conditioner and massage it into your strands.
Topical Application
Topically using essential oils is the most popular method. It's simple, quick, and effective to apply oils topically, and once you get the hang of it, you'll be hooked! Most people prefer topical applications because they allow you to apply essential oils to specific places of your body. This allows users to customise their essential oil routine and apply it to specific areas to get desired results.
The majority of essential oils, including cedarwood oil, are safe to use topically, but proceed with caution if you have sensitive skin. Essential oils can be applied to practically any part of the body, including the crown of the head, behind the ears, the neck, and the temples. It's crucial to dilute! If you discover that essential oils are sensitising your skin, we recommend diluting your essential oil product with a carrier oil before applying topically (or if you already know you are sensitive to specific products).
Hair Wash Treatment
This treatment only requires a few drops of essential oil. One or more types can be combined in a shampoo or conditioner. Alternatively, mix 2 ounces carrier oil with the drops. Be mindful that using essential oils directly to your scalp may irritate your skin. When diluting oils, always follow the packaging guidelines and never use more than the recommended amount. If you're allergic to ragweed, test the oil on a small area of skin or the top of your head to see if you're allergic.
Cedarwood, clary sage, and lavender are good combos.
After applying the oil combination to your head, cover it with a towel or shower cap. It can be washed out after 30 minutes, left on overnight and shampooed the next morning, or used as a leave-in conditioner. Examine your hair texture to determine what suits you best.
Hair Serum
In various investigations, essential oils were discovered to be effective in stimulating the scalp in hair loss scenarios. Cedarwood essential oil is just as effective as other topical hair loss treatments after six months of use. Shake 10 drops cedarwood and 5 drops rosemary oil into an 8-ounce shampoo or conditioner container. Massage it into your scalp every time you wash your hair.
For a stimulating massage, use this cedarwood hair serum on your scalp once a week. Apply with your fingertips to the roots of your hair, pressing firmly into the scalp. Allow it to sit on your hair overnight before washing it out the next day.
How VedaOils Can Help You?
VedaOils is one of the leading Wholesale suppliers, manufacturer, and exporter of Cedarwood Essential Oil in India. We offer the purest forms of essential oils to our customers. Buy Cedarwood Essential Oil Online from VedaOils online according to requirements at the best competitive prices in the market.
You can order Cedarwood essential oil for your daily purposes such as dark circles, skin lightening, hair growth, arthritis, digestion, and better oral health. Check out cedarwood oil price per Kg, and even you can purchase this essential oil in bulk quantity.
hair
About the author
Hi, this is Nikhil Sharma. Brother of two beautiful sisters and one amazing brother. An Electrical Engineer turned Planning Engineer. Now turned into a passionate Digital Marketer and Copywriter.
Reader insights
Be the first to share your insights about this piece.
Add your insights