The Red Dragon
Mythical Creatures Hair Competition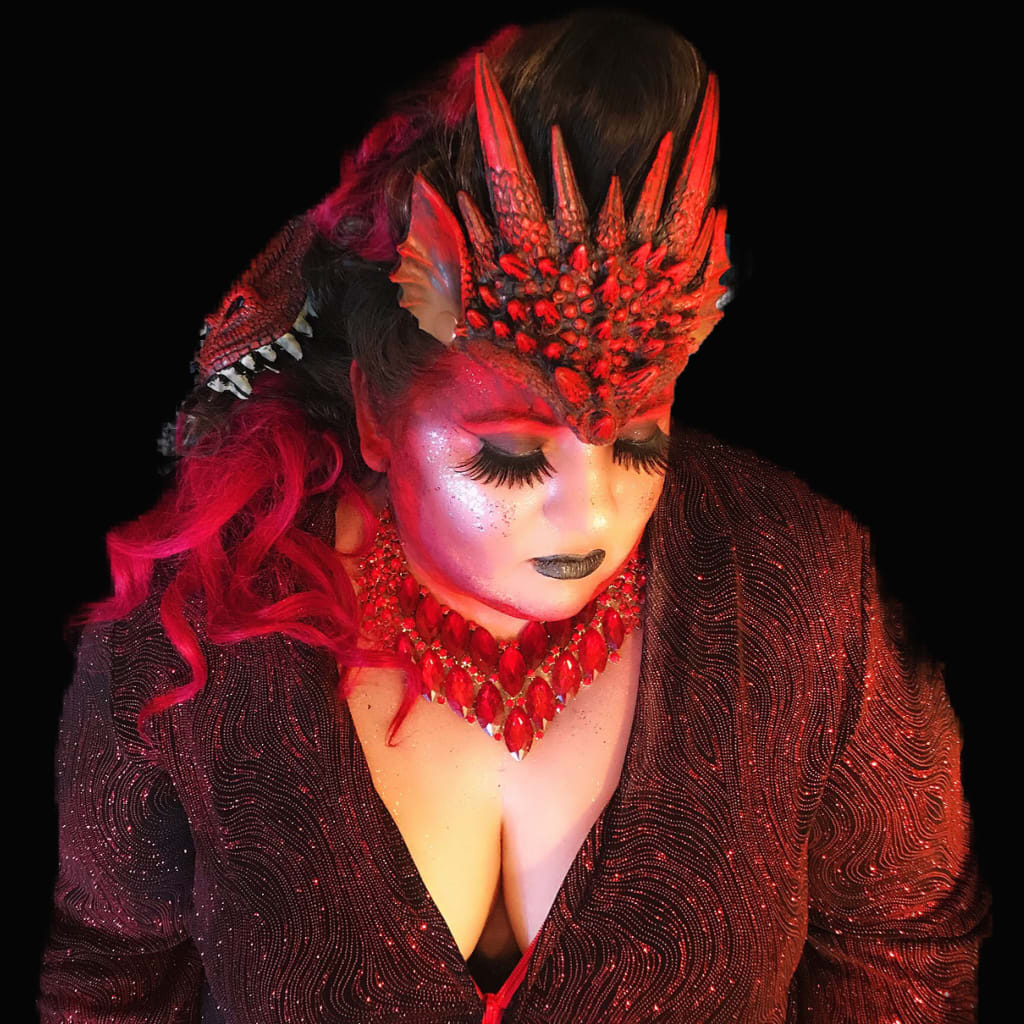 The Red Dragon
I am Fantasy Hairstylist from buffalo NY and I love Fantasy Hair, My friend Stephanie and I enter our County fair every year, for there Hair and Makeup Competition. We've won it in 2019, the theme was "Super Villains" and She won dressed up as "Evil Enchantress Tic Toc" and we've been competing for ten years now. We love it, we have a blast transforming her from head to toe into something, out of this world, it's spectacular every time. In 2017 the theme was super hero's at the Erie County Fair, and she won for "Queen Supernova", it was marvelous.
This year unfortunately the Erie County Fair will not be coming to Western New York. I was Devastated, and so was my model, they had to cancel it do to Covid-19 and all of the State regulations would completely forbid it. Absolutely heartbreaking. But that wouldn't stop us from living are fantasy for Body art and hair.
So we decided to give back to Buffalo NY, since the Erie County Fair wasn't coming this year, and we love what we do, we wanted to give back to the community, and do a virtual Internet competition. This time I could do hair and makeup on volunteer models and have people vote on head shots. And award the top three with ribbons and trophies, my model Stephanie and I decided to call it the, 2020 Mikeover hair and makeup competition. Just like my Instagram Mikeover86.
My first volunteer was my friend Tina Burton from our alma mater of Buffalo Traditional high school, the theme my friend Stephanie and I decided on was "Mythical Creatures" we wanted to do a transformation that was out of this world, and bring you right into a universe , of well, let's say, "Game of Thrones." Something people would relate too. And that was current of today.
The Red Dragon, first we've previously colored her hair black at the salon with Carmel highlights, we inserted red exstentions to represent fire, coming out of the dragons mouth. Looking at the picture, I can feel the heat. If you look, the dragons mouth is attached to the back of her head to look like it's actually breathing fire, it's mesmerizing.
When applying the head piece, in the front, we used white weave glue because it dries clear and doesn't leave a hard residue, same technique for when we were applying the lashes. The we go over it in black eyeliner and blend it in for a Smokey presence. Stunning.
The body makeup is a professional brand theater makeup by mehron. It's a red pan stick, along vegan setting powder. Couture first with the red, then I drew on the scales, used a sponge with black eyeshadow for texture, then some silver highlight on her face to transform her complexion, then some rockaholic body glitter from "Urban Decay" to spice it up on finishing touches. I love anything that has a little shimmer. And it added to the dragon like presence.
We wanted to do a Five week run with models, Tina is model number one, she chose her own creature, and we did a photo shoot of about 25 pictures, and she chooses one of her head shots for votes, just to make it as fair as possible, then it's to be put on Facebook and Instagram. Out of the Five models the top 3 will get trophies and ribbons, Due to the Covid-19 virtual reality world, it makes a picture worth a thousand words. And hopefully a Thousand likes.
Every volunteer gets assigned a mythical Creature and transformed on a Sunday, then I edit the "shot" they choose for votes, I'm excited to do all five of my models, to me a virtual transformation Hair and makeup competition is amazing and keeps people engaged, and looking forward, and ahead in these troubling and uncertain times. Too the new normal, but a better future. Of Body art, and Fantasy hair. Maybe if the outcome is good I can do another Fantasy body art and hair transformation in the year 2021.