Suave Professionals: Leave in Conditioner for Natural Hair
Haircare Reviews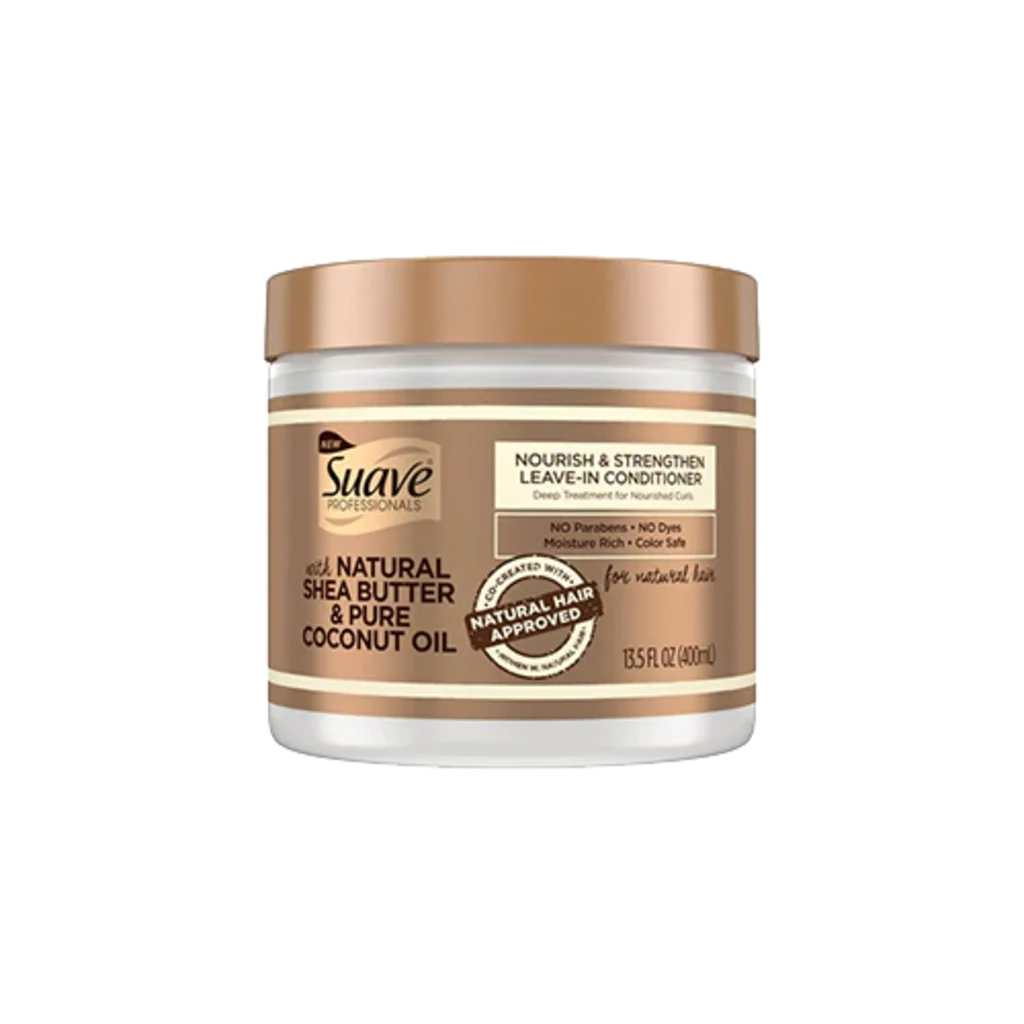 Name: Natural Shea Butter and Pure Coconut Oil Leave-In Conditioner
Brand: Suave Professionals
Purpose: A leave-in conditioner infused with coconut oil and shea butter to help reduce breakage, help fight frizz and add shine and moisture.
Hair Type: All hair types, Curly to Coily
Ingredients: Inactive; Water (Aqua), Cetearyl Alcohol, Dimethicone, Stearamidopropyl Dimethylamine, Glycerin, Behentrimonium Chloride, Fragrance (Parfum), Cocos Nucifera (Coconut) Oil, Phenoxyethanol, Dipropylene Glycol, Lactic Acid, Caprylyl Glycol, Potassium Chloride, Petrolatum, Amodimethicone, Vp/Dimethylaminoethylmethacrylate Copolymer, Disodium Edta, Peg-7 Propylheptyl Ether, Cetrimonium Chloride, Butyrospermum Parkii (Shea) Butter, Coumarin, Hexyl Cinnamal, Limonene, Linalool
Rating: 5/5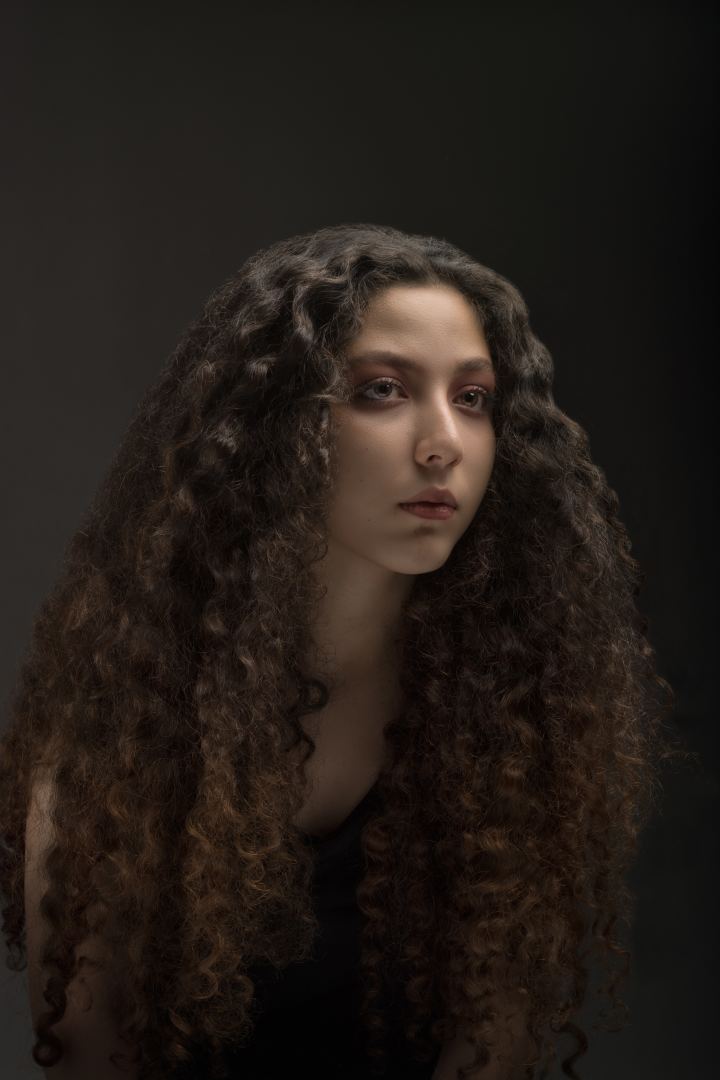 The hair care industry has blown up recently in the curly hair product department. From brands such as Dove and Garnier Fructis, to Schwarzkopf and Suave. Curly hair is definitely more accepted now more than ever. And what better way to embrace your natural curls than with products that give TLC to your locks?! Suave Professionals are a well known drugstore brand that a lot of us are familiar with. When I saw that they were coming out with a hair care line dedicated to natural hair and co-created with women who have natural hair, I just had to try it out.
My hair type is 2c, as I've mentioned before. It's a mixture of curly and wavy hair, which of course comes with a lot of frizz and tangles, especially if it's longer than shoulder length. The maintenance of it alone is overwhelming. Fret not my curly haired friends! I found another holy grail product that is not only budget friendly, but it actually works.But before we get into this review, I'd like to talk to you guys about leave-in conditioners and what the benefits are of using them on naturally wavy, curly and coily hair.
Leave-in conditioners are specifically designed to be left in your hair for the single purpose of providing extra moisture, softness and frizz control. Depending on your hair type, you may need to find thinner or thicker formulas within the leave-in conditioners so that your hair can soak up as much of the benefits as possible.
Speaking from personal experience, I used to struggle with finding the right kind of products that would help tame the two types of curls in my hair. Now that I've gotten more acquainted with my hair needs, I can finally say, I'm not as overwhelmed and frustrated as I used to be.
Okay, let's get to this review.
Review
When I first came across the Suave Professionals Natural Shea Butter and Pure Coconut Oil Leave-In Conditioner, I saw a promotional post of it on before it came out on Instagram and I have to say I was skeptical at first. Especially because of the price! It's just under five dollars in Target and five dollars at your local Family Dollar. I thought to myself, what's the catch?
Like most conditioners, or leave-in conditioners, it does contain Dimethicone, which is a hot topic within the natural hair community. Some hair care experts say the ingredient is bad for your hair in the long run because it tends to weigh down the hair and it can also prevent the absorption of water, thus not providing much help in the frizz department. Others say nothing works for their hair unless it has silicones like Dimethicone in it, so again, it all depends on what works for you and what your hair responds to or not.
And let me tell you, my hair responded amazingly to this product. Keep in mind, my hair type is 2c, which isn't super coily at all. Most of the time 3a-4c hair tends to need thicker formulas to fully absorb the moisture and nutrients the leave-in conditioner provides.
How I Used This Product
I did my normal hair coloring routine and followed the instructions on the after-coloring maintenance, which included using their conditioning treatment and left it on for two minutes. Once that was done, I was free to continue with my normal curly hair routine.
I removed the excess water from my hair first with a towel, using the scrunching method.
I applied the Suave Natural Shea Butter and Pure Coconut Oil Leave-In Conditioner next, making sure to part my hair down the middle, and combing the product through my midshaft first on each side, followed by my ends and finally my roots.
I followed with a blackseed and coconut hair oil mixture to seal in the leave-in conditioner and moisture, placing the oil on my ends first, then continued to the midshaft, and applied only a minimal amount near the roots.
I took more hair oil to scrunch my hair to its desired effect.
I pinned my hair and left it underneath a satin headwrap for about four hours and then left my hair to air dry.
Here are my results: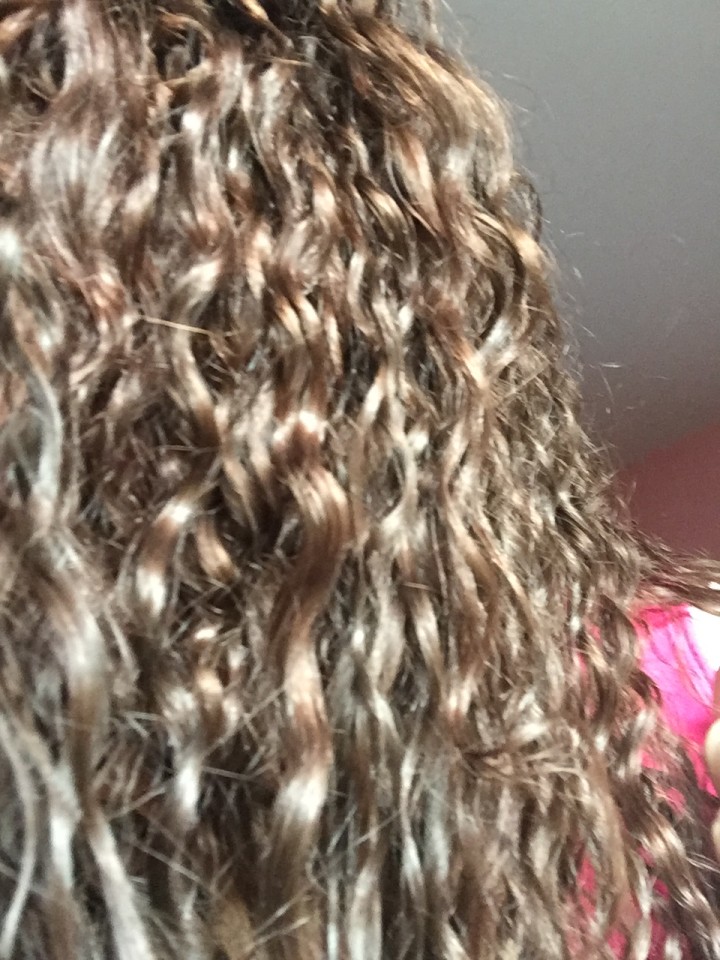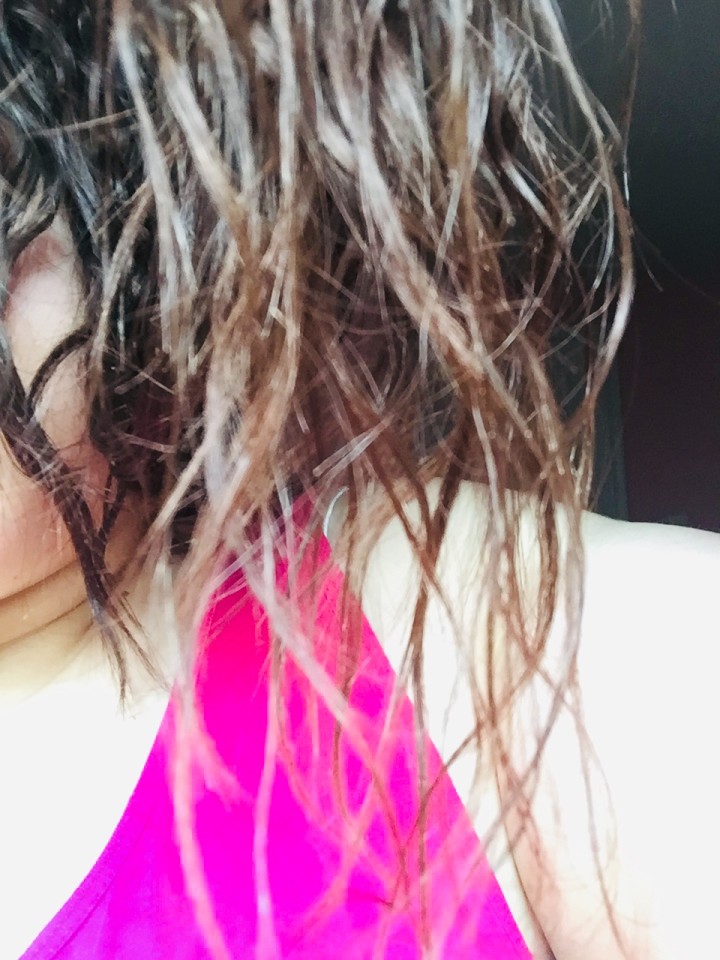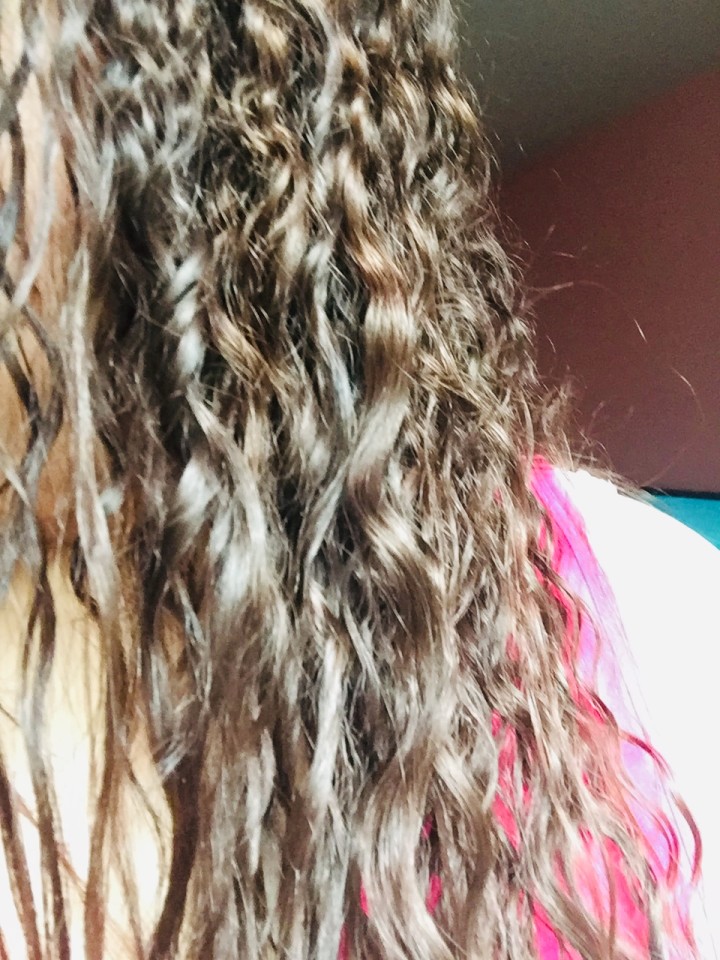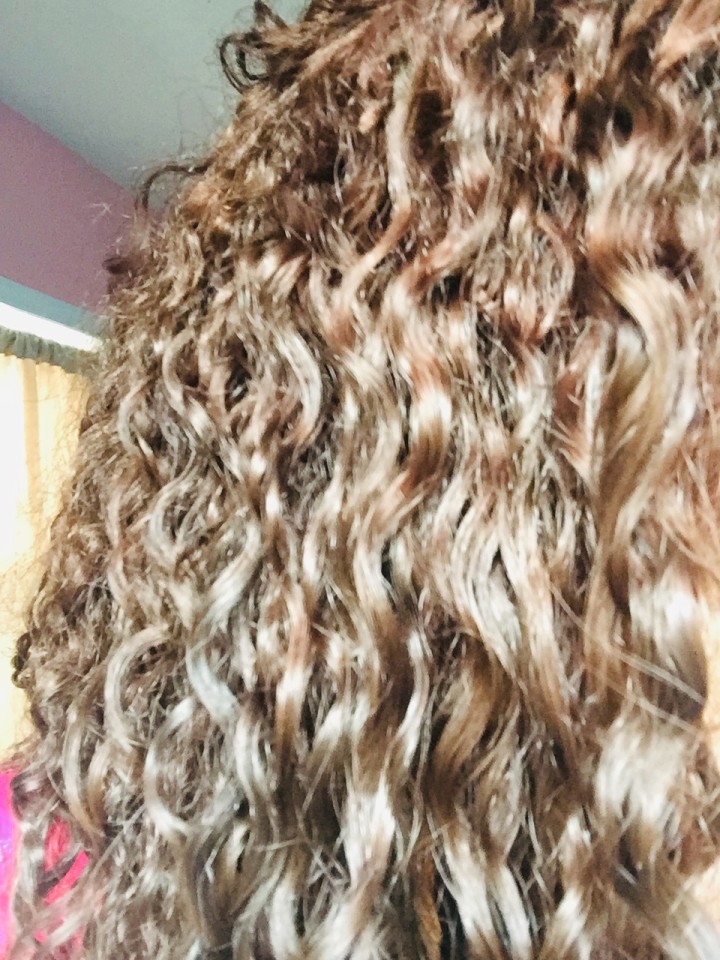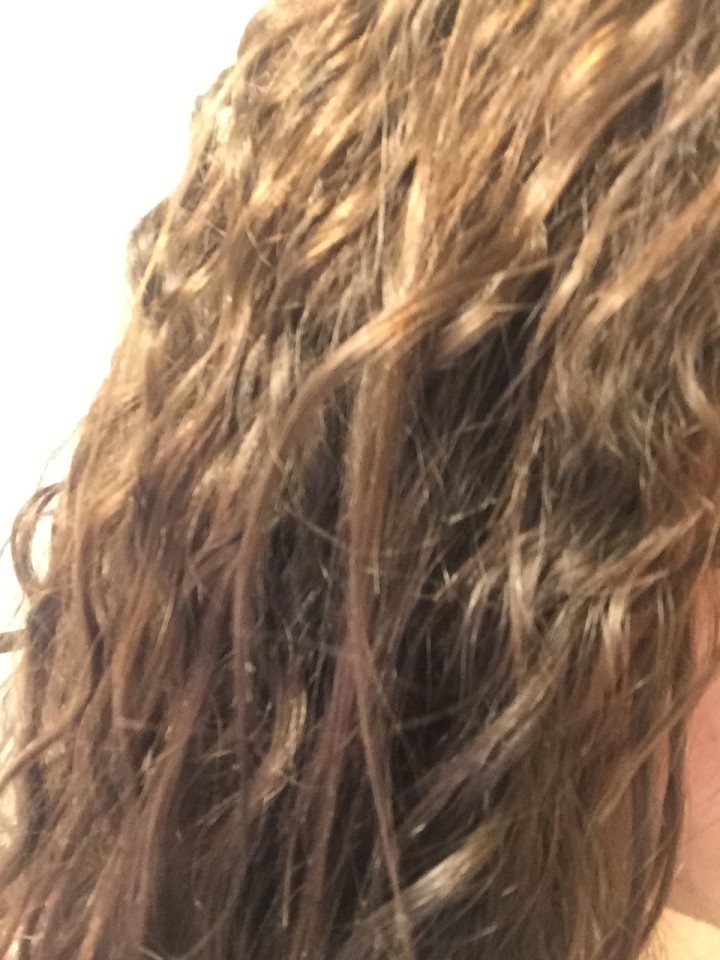 hair

Sharlene Alba
Full of raw and unfiltered fluid poems, short stories and prompts on love, sex, relationships and life. I also review haircare, skincare and other beauty products. Instagram: grungefirepoetry fleekonabudget Facebook: grungefirepoetry
See all posts by Sharlene Alba →