Skincare, Self-Care and Self-Love
Second Place in Holy Grail Challenge
I could have gone out, had a good time, probably had too many drinks, but the one thing I will never not do is do my skincare routine and my skin thanks me for it.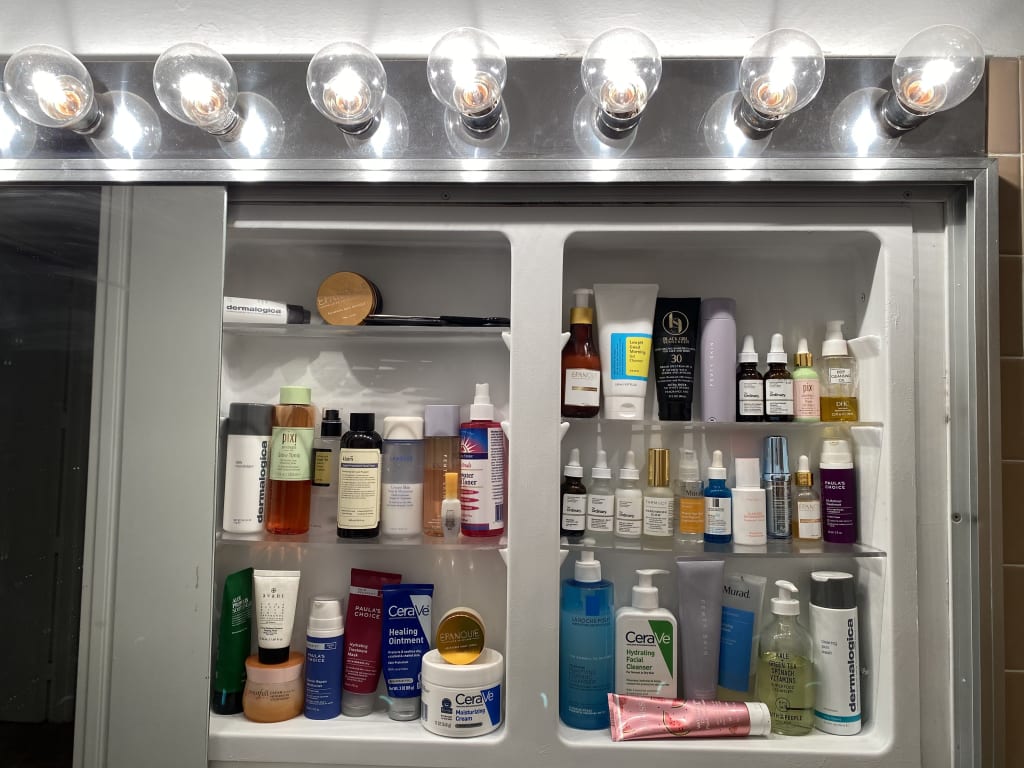 "Forgive yourself for not knowing what you didn't know before you learned it." ― Maya Angelou .
Apple cider vinegar.
St. Ives apricot scrub.
Toothpaste.
These are some of the things that I have had to forgive myself for putting on my beautiful skin.
I didn't have much of a skincare routine until 2018. I religiously washed my face every night before I went to bed with my Dove body wash. Still, I didn't moisturize my skin as I should have, because I didn't want my skin to look oily, but guess what? That dewy-moisturized-glowy look is very in.
It wasn't until last year that I developed my signature makeup look. If you see a bespectacled redhead with striking blue eye makeup and glossy lips, there's a high chance it's me. My holy grail makeup products are: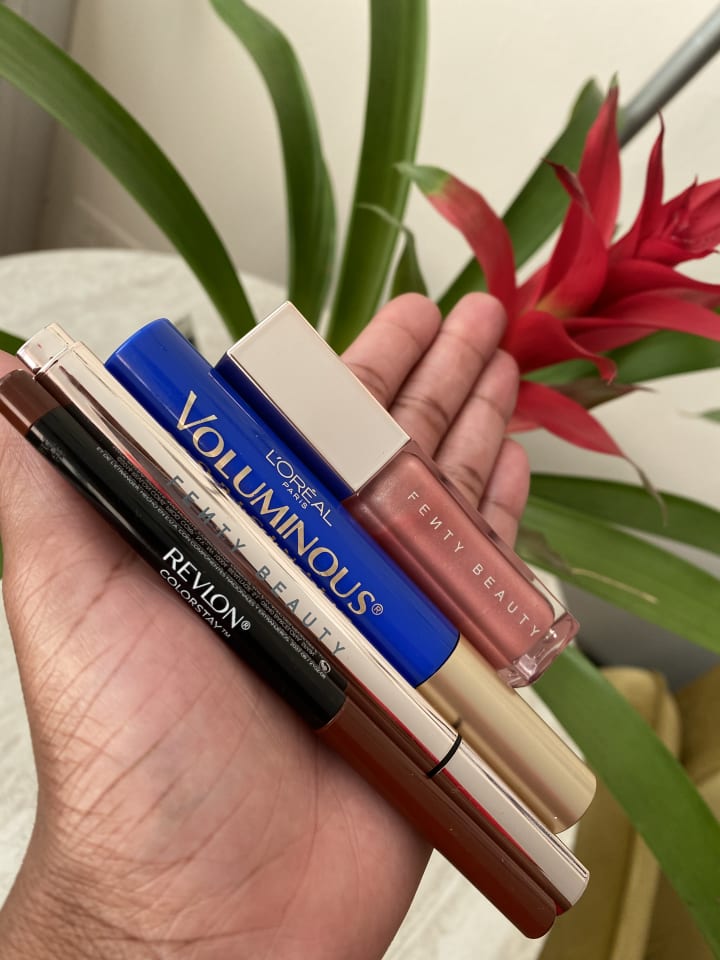 A few years ago, my friend moved to Vietnam, and she was documenting her skincare routine on Twitter. I noticed that she was practicing the elaborate 10-step Korean skincare routine, and her skin was like glass! Undaunted, I decided to venture into this as well, and I'm glad that I did.
As part of my journey to improve the appearance of my skin, I began following 4 Black estheticians on Twitter, Nai, Sean and, Tiara & Ashley. With their help, my skin has evolved drastically.
Today, I am a self-proclaimed chemist.
Hyaluronic acid, Mandelic acid, Niacinamide, Salicylic acid, these are some of the names you'll see in my skincare lab.
With my new knowledge of chemistry, I know that retinol used with AHA/BHAs is a recipe for disaster and that oil is the best product to cleanse the skin because oil dissolves oil. I use DHC's Deep Cleansing Oil to double cleanse my skin, especially on days where I've had to leave the house and wear sunscreen. It's a must-have product for all skin types, yes, even you with oily skin.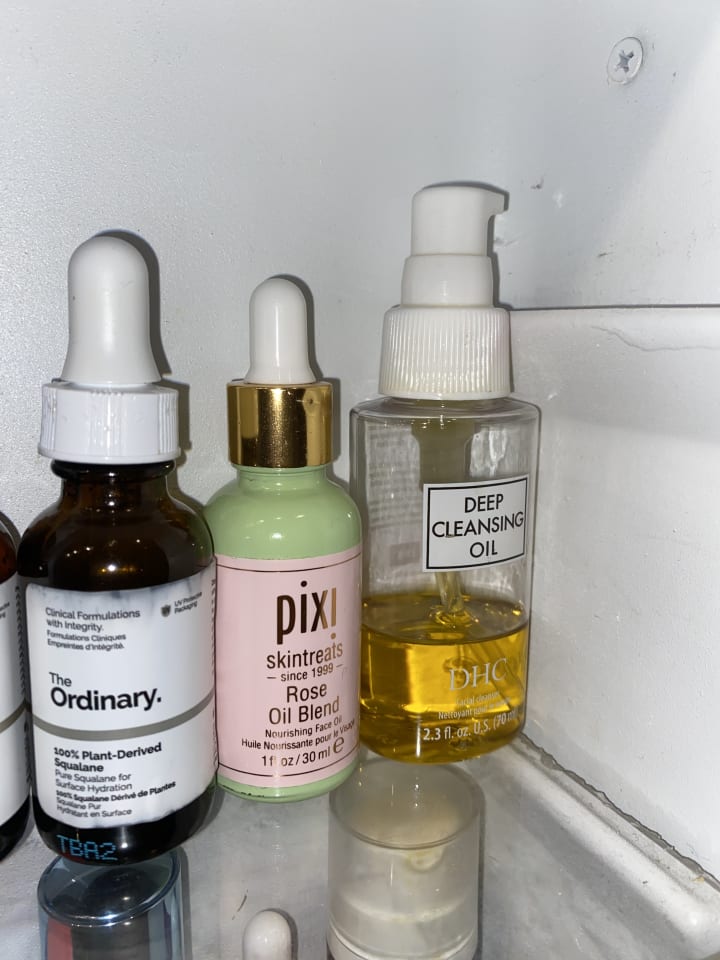 My skincare cabinet is arranged based on what the products do. I have a row for toners, both hydrating and exfoliating- another for cleaners and a third for moisturizers, gels and night creams. Serums and acids take up another row and lastly, a row for oils and sunscreen.
"I'm way too black to burn from sunrays" – Kanye West.
I learned quickly to ignore this because skin cancer doesn't care what race you are. Sunscreen is absolutely essential. It has done so much to treat my hyperpigmentation and fade dark spots. I do not step out of my apartment without 2 fingers of Fenty Hydra Vizor SPF or my Black Girl Sunscreen. Compared to other sunscreens I have tried, these two were made with Black people in mind, they melt into the skin leaving no white cast, and they give a nice dewy look that I love.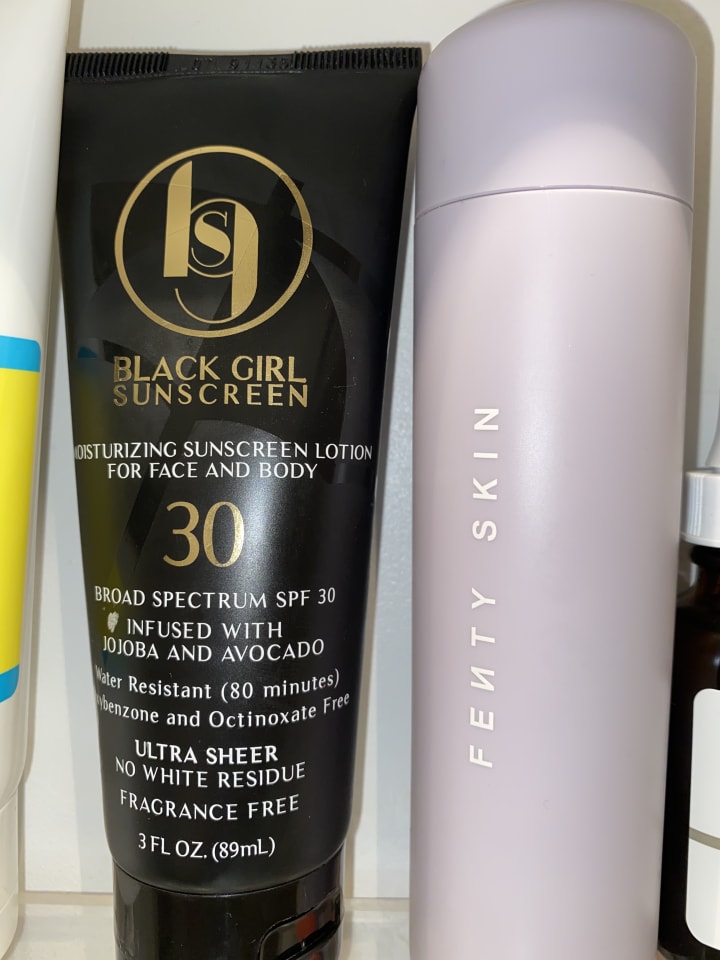 Due to the Coronavirus and living in quarantine, the products I can't do without are,
1. Heritage Store's Rosewater Toner
2. Peach and Lily's Glass Skin serum
3. CeraVe moisturizing cream, because moisturizing is the best thing you can do for your skin. And of course, sunscreen for the days when I have to strap on a mask and leave the house.
My skincare routine is set up to target various skin concerns, so on different days, I use different products. I have oily skin, blackheads, hyperpigmentation and I'm prone to the occasional pimple breakout. Here are some of the products I use, I hope this helps someone out there.
On Sundays, I use my Pixi Glow Tonic Glycolic Acid, followed by Niacinamide and Mandelic acid by The Ordinary. For the next step, I apply a moisturizer and seal it in with an occlusive, I use either CeraVe's Healing ointment or The Ordinary's squalene oil. I highly recommend CeraVe's healing ointment, I rarely go to sleep without applying some on my face. It also helped with healing my numerous tattoos as well!
On Mondays, I wash my face with my La Roche-Posay cleanser, tone with rosewater then I apply Murad's Rapid Age Spot and Pigment Lightening Serum. This is a top-notch product for me, I noticed visible fading of my dark spots, and I highly recommend it for anyone who has similar issues. I top off my routine with my moisturizer and CeraVe Healing Ointment.
On Tuesdays, I use products from a lady I follow on Twitter called Epanouie. She is a Black woman, and I believe in her products because no one understands the skin concerns of black women better than black women. I have had great results with her Epanoiue, so I use the Hydratant milk cleanser, Pumpkin AHA mask, Blemish Spot Treatment, and I top it off with the Régénérer Night Crème. I can't do without the Epanoiue night cream, it's another holy grail product of mine.
I was very hesitant to start using retinol in my face, but after much research, I found a routine that worked well for me. I begin by washing my face with the CeraVe hydrating cleanser, apply a layer of The Plant Base's Hyaluronic Acid, I let my skin dry and then use Paula's Choice 1% Retinol, Repair Moisturizer and top it off with a hydrating treatment mask.
Thursday is Dermatologica day. I use the Clearing Skin Wash, this cleanser contains Salicylic acid which battles pimples, it's my go-to product for when unwanted zits pop up. Although I don't use physical exfoliants on my face because of their harshness, I do use Dermatologica's Daily microfoliant, I find it to be very gentle on my skin. Finally, I use their multi-active toner, apply two coats of moisturizer because I do feel like the cleanser strips my skin, so I make sure my skin is very well moisturized and then seal it all in with Pixi's Rose oil.
Fridays are Fenty Fridays and Fridays are all about hydration. I use the Fenty Total Cleans'r, it smells so good. I know the fragrance was an issue amongst the skincare community and customers, but it doesn't bother me at all. After cleansing, I tone with my skin with Fenty Fat Water which I love love love! My skin gobbles it up, and I love how moisturized it looks and feels once it's applied. Fat Water is a must-have for everyone's skin. For the next step, I apply eye cream to my entire face, then another layer of moisturizer, and round up with Squalene oil.
On Saturdays I use my Youth To The People Superfood Cleanser, it's my favorite product, especially on days when I oil cleanse. Next, I use Laneige cream skin toner and moisturizer, follow up with COSRX Snail Mucin Power Essence for that added layer of moisture. And call it a night with Avant's Renewal Sleeping mask and CeraVe's healing ointment.
I go to sleep every night with skin so moisturized that its glows. Because the skin repairs and heals while we are asleep, I make sure that I have all the products it needs for that rejuvenation process.
This is my framework, but I switch out certain products depending on the situation of my skin. From time to time, I will wear sheet masks because they feel good and are very hydrating, but I've had a little less patience for them lately.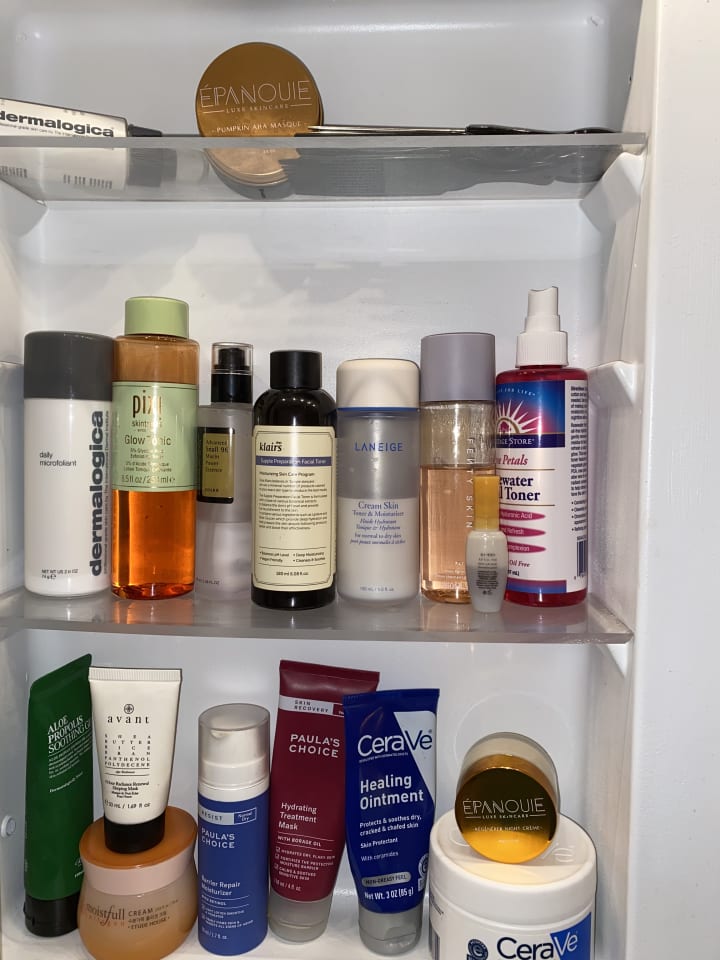 Paying more attention to my skin; not just my face has been an excellent self-care and self-love journey for me. Skincare is about dedication, it's about patience, it's about understanding your body, it's about trial and error. Skincare is about being healthy and working towards that is very rewarding.
I enjoy my skincare, and because I am someone who loves a routine, I don't miss it. I could have gone out, had a good time, probably had too many drinks, but the one thing I will never not do is do my skincare routine and my skin thanks me for it. I am religious about it, and I preach it.
According to Sean Garrette; Skin therapist and Fenty Skin global ambassador, the goal isn't to have perfect skin, it's to have healthy skin.
Also, drink gallons of water and eat food rich in Vitamin C.