SHHH! THE EX SEPHORA EMPLOYEE IS ABOUT TO TALK
Almost 4 years with one of the top beauty retailers in the industry. Here's what I can't live without.
SEPHORA
Is an experience
& so are the products
Wether you're a novice or beauty guru there's something for everyone.
I'm here to pretty much give you a virtual tour of all my top 3 favourites & must haves from every single "world"; skincare, colour & fragrance. A 360 tour if you will, and we're gonna go in that order. So buckle up grab a tea, snack & open up your Sephora app to get your cart ready. We've got new knowledge & holy grails to acquire.
SKINCARE
I hardly had much of a skincare routine when I started those many moons ago. NOW my daily routine has easily become a 7 step process. Also YES, most of the time you absolutely get what you pay for. Skincare is an investment but also a form of self care. If you want that makeup to look BOMB you'd better have that routine target all your main concerns.
To my dismay I was stuck having to use clean and clear products for almost two & a half weeks cries. I was not impressed, my skin ended up with more texture, dryness & redness. Thanks for nothin.
The one product that's truly transformed my skin
#1 Dr. Dennis Gross Alpha Beta Daily Peel
I can honestly say, I've never seen a product do what this daily peel does. I remember even within the first few uses I could already see & feel the difference in my skin.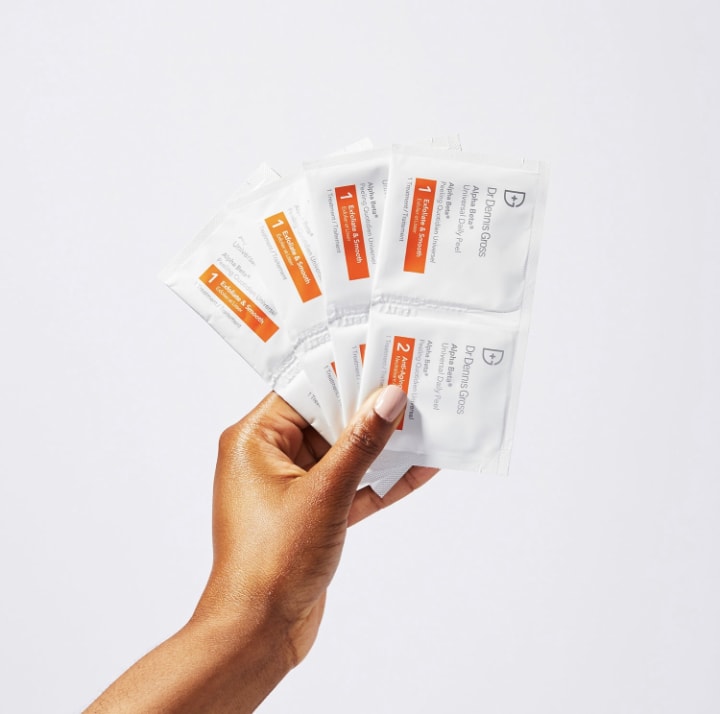 This patented two step peel is a replacement for your toner and also has AHAs & BHAs. This is a daily treatment, especially if you intend on seeing & keeping your results. With the exfoliating AHAs & BHAs in this daily peel REMEMBER to wear your sunscreen during the day. This step can be implemented AM or PM. With the gentle daily exfoliation this two step peel is also going to fast track the rest of your routine for optimal results.
How? Daily exfoliation ensures no dead skin cells, AHAs work above the skin & BHAs work below. With the gentle exfoliation that's happening, the rest of your skincare products & their ingredients are going to penetrate deeper into the skin.
What does it target?
Dullness
Uneven skin tone
Uneven texture
Pores
Fine lines
Wrinkles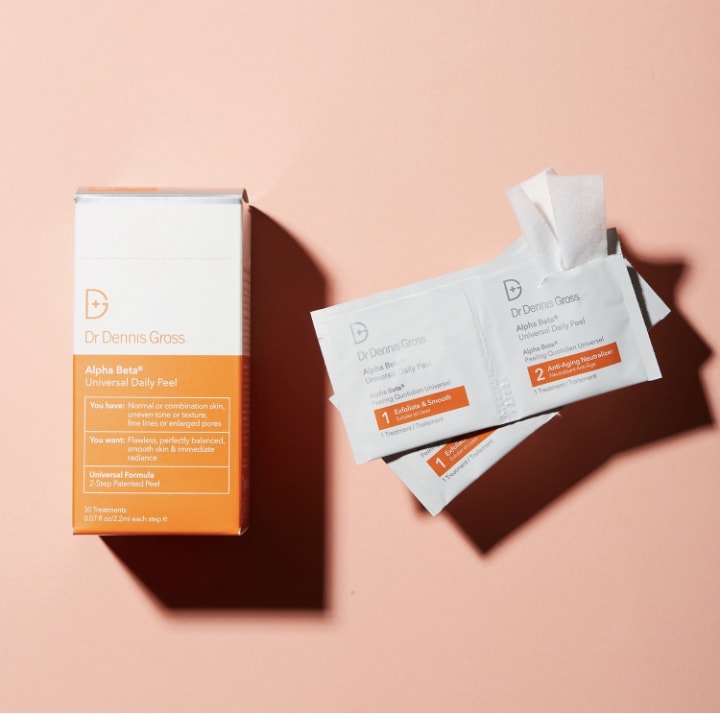 I love that this daily peel is available in three different levels so that no matter what your skin type, this product is available for you! Ultra Gentle formula for more sensitive skin types, this specific formula has only three gentle acids. Universal contains 5 acids & Extra Strength contains 7 acids.
I've had clients that don't want to commit to the 30 pack treatment right away which is completely fair. But no worries, these peel pads are also available in a 5 treatment mini size as well.
I promise you, you're gonna get hooked on these.
You're welcome
Other favourites to check out from this brand
- Vitamin C+ Collagen Eye Cream
- Hyaluronic Marine Meltaway Cleanser
#2 FARMACY Green Clean Makeup Removing Cleansing Balm
I don't think I've ever wanted to eat a cleanser more than this one, that's how yummy it smells. It just melts into the skin with minimal effort, barefaced or full glam I've never loved a cleanser more than this one. This cleanser also has won an Allure Best in Beauty award. This isn't a favourite for no reason!
One thing that's always stood out to me about this product is how my skin feels immediately after using it; soft, supple & hydrated.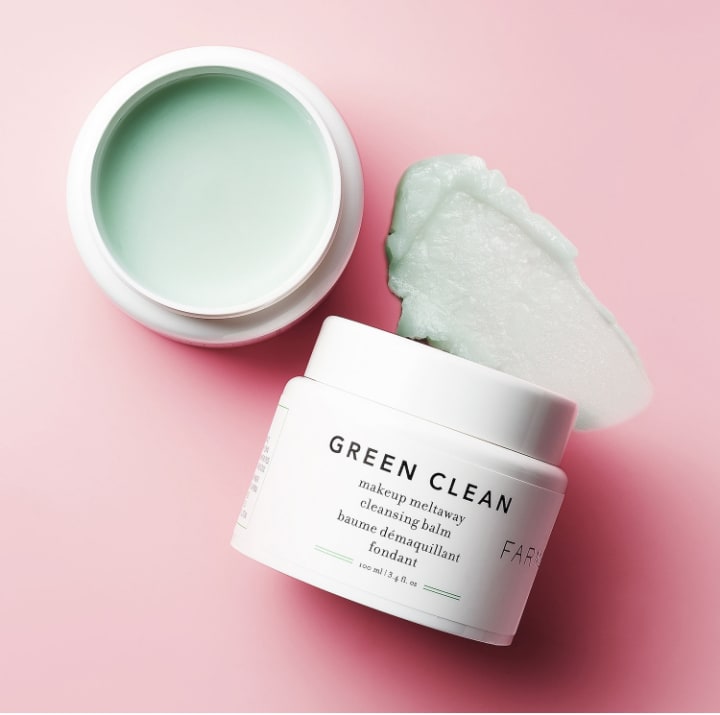 What does it target?
Dryness
Dullness
Uneven texture
Green Clean ingredient call outs
Sunflower & Ginger Root Oils: Melts even stubborn makeup (including long wear) without stripping or drying skin.
Turmeric & Moringa Extract: Helps remove impurities, sunscreen residue, & fight the effects of pollution
Papaya Enzymes: Naturally exfoliate pores
This sizeable cleanser is also available as a travel size option.
Other favourites to check out from this brand
- Honey Drop Moisturizer *Lightweight, suitable for all skin types
- Honey Potion Mask *Best suited for dry skin types
- Honey Grail Face Oil *Rich, deep hydrating oil
#3 Drunk Elephant Protini Polypeptide Moisturizer
I've tried a handful of moisturizers & I don't remember being as upset with ever finishing one like this precious gem.
Think of this moisturizer like a one of the most expensive Booster Juice smoothies. We've got a protein moisturizer, signal peptides, growth factors, amino acids, & pygmy waterlily to visibly improve skins tone, texture & firmness.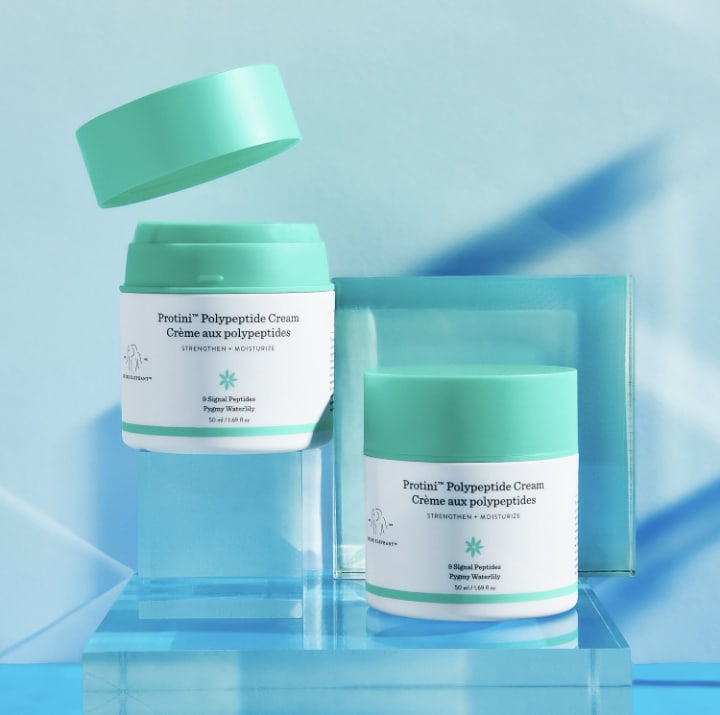 The component is another reason this is a holy grail for me. The easy pump makes great for travel & hygienic purposes, as well as a mixing plate if you like to cocktail your skincare.
Protini Ingredient Callouts
Signal Peptide Complex: Nine signal peptides bind moisture to skin, visibly plumping, firming & restoring bounce
Pygmy Waterlily Stem Cell Extract: Source of antioxidants, nutrients, soothing, calming & effective in supporting healthy & youthful looking skin
Soybean Folic Acid Ferment Extract: This B Vitamin plays a role central role in maintaining youthful skin. Skin is thirsty for folic acid, especially after exposure to sun.
What does it target?
- Dryness
- Dullness
- Uneven texture
- Loss of Firmness & Elasticity
COLOUR
From "no-makeup-makeup" to a full glam these favourites are sure to make your routine a dream come true.
I can go from applying a 15 minute face, 1 hour face & even a whole whopping hour & a half. Where ever I'm going, whatever I'm doing & depending on my need to create *which is most of the time* that's usually always minimum of 10 products.
My favourite thing about the art of makeup is with more practice, we evolve.
'Gettin a little philosophical here Andrea.
But it's so true! I can look at how I used to do my makeup 4 or even 5 years ago it's completely different, & so are a lot of the products & brands I use. The more you play around & experiment the easier it is to figure out what else you like & don't like. How to feel the most like you.
#1 Makeup Forever Underpainting Palette
One of my all time favourite "all in ones". The amount of clients I've shown this product to - countless. This seemingly small cream palette packs a punch & is sure to make your complexion routine that much simpler.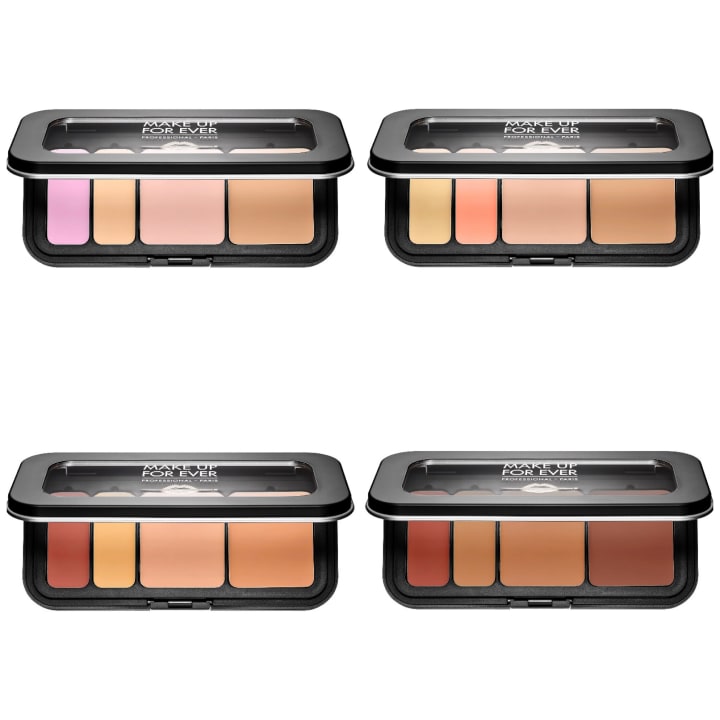 This is the only cream palette I've come accross *at least in Sephora* that comes with both colour correctors & concealers. Colour correction is essential with the expectations of having a flawless complexion. This cream palette is extremely easy to use wether with a detailed brush, beauty blender or even a quick application with fingers.
Colour correcting does 80% of the work whereas your foundation or concealer will do the rest of the 20%. By evening out the skin tone right off the bat, you'll find yourself using less product & with a much more natural application.
Your concealer can also be doubled as an eyeshadow primer, colour correcting on the eyelids can be done as needed to ensure maximum colour payoff from your shadows.
Other favourites to check out from this brand
- Ultra HD Foundation *lightweight, medium coverage, natural finish
- Aqua XL Liners *longwear pencil liners
#2 Velour Lashes
I never used to wear lashes. There used to be a time where the idea of them seemed ridiculous. How wrong I was. Wanna take your look from 85 to 100?
LASHES.
Even without a drop of makeup on your face, they instantly open up the eyes & can make you look done up or simply elevate your look even further.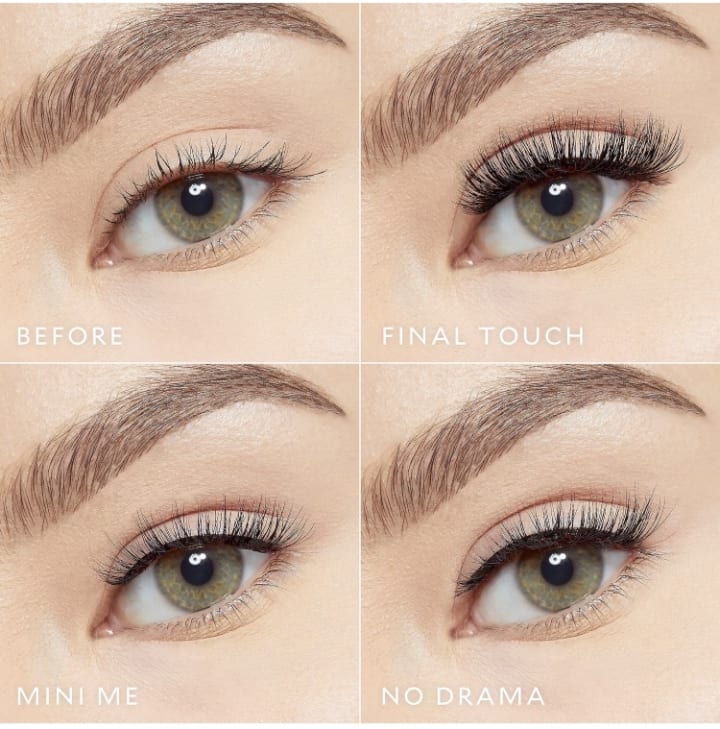 Every lash is handmade & handcurled, with that in mind like a snowflake, no pair will be identical to each other. So look nice & hard when picking out a pair.
Nowadays with having half your face covered most of the time, I know personally I haven't been bothering with foundation or lipstick very much. Dressing up the eyes with lashes is the best way to make your statement, no matter how loud or quiet you want that statement to be.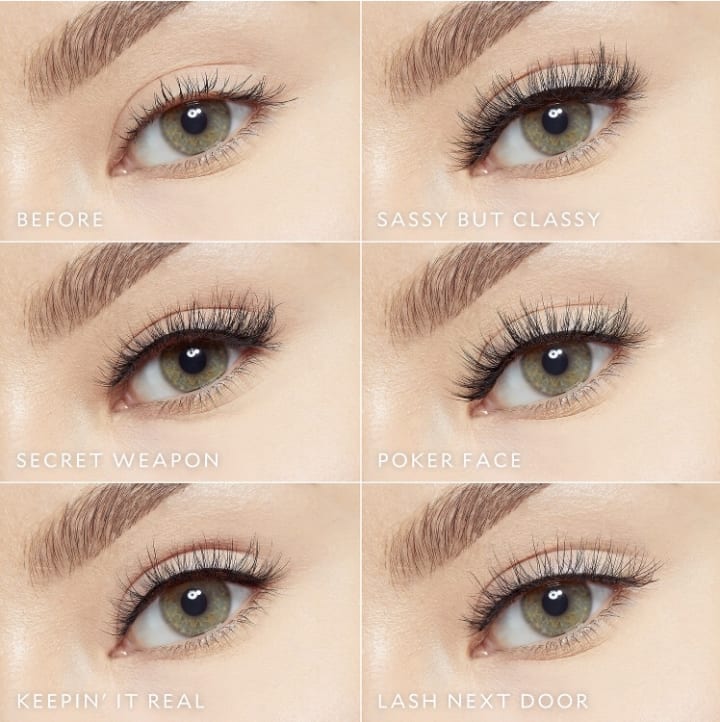 Velour carries multiple collections varying from simplified & natural to sultry & glam.
The before & after pictured below is an obvious difference, the lash instantly defines the eye & also creates more balance with the complimenting brows.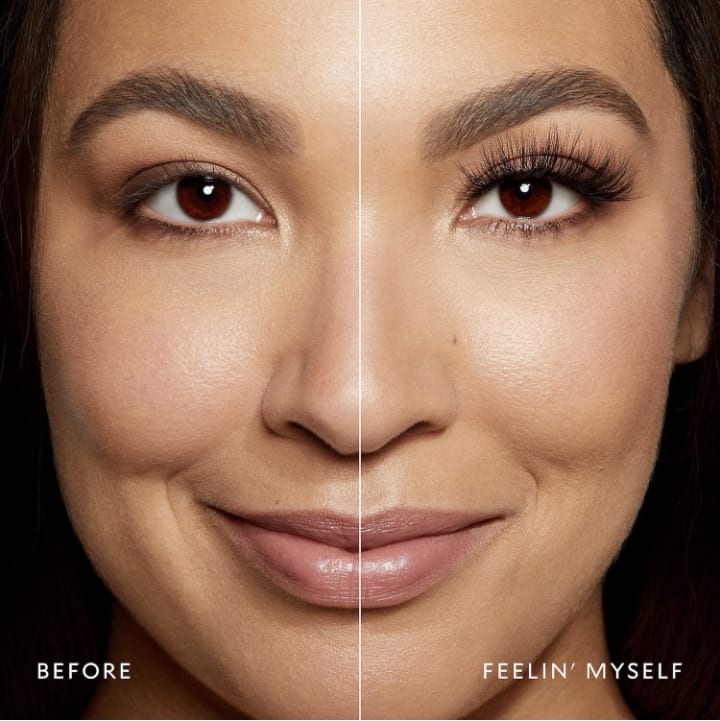 My personal go-tos & easily the most repurchased style of lash I've ever bought. Fluffy, sultry, & glamorous. If you want a style that even more extravagant than "Feelin' Myself" I'd recommend the style "SHE-E-O".
Other favourites to check out from this brand
- Lash Adhesive
#3 Pat McGrath Labs - Sublime Skin Highlighting Trio
Let me get one thing straight here especially If you're unfamiliar with Mother. Yes, that's her nickname & she rightfully earned it.
This brand. Is so much more than a brand. I wish Mother would come up with her own name to call her products. What do you call a range of entantalizing products created by one of the most influential makeup artists in the world?
Her products are like owning a piece of art. Looks, colours, & finishes that have all graced runways and countless Vogue covers - now - they're at the tips of your own fingers.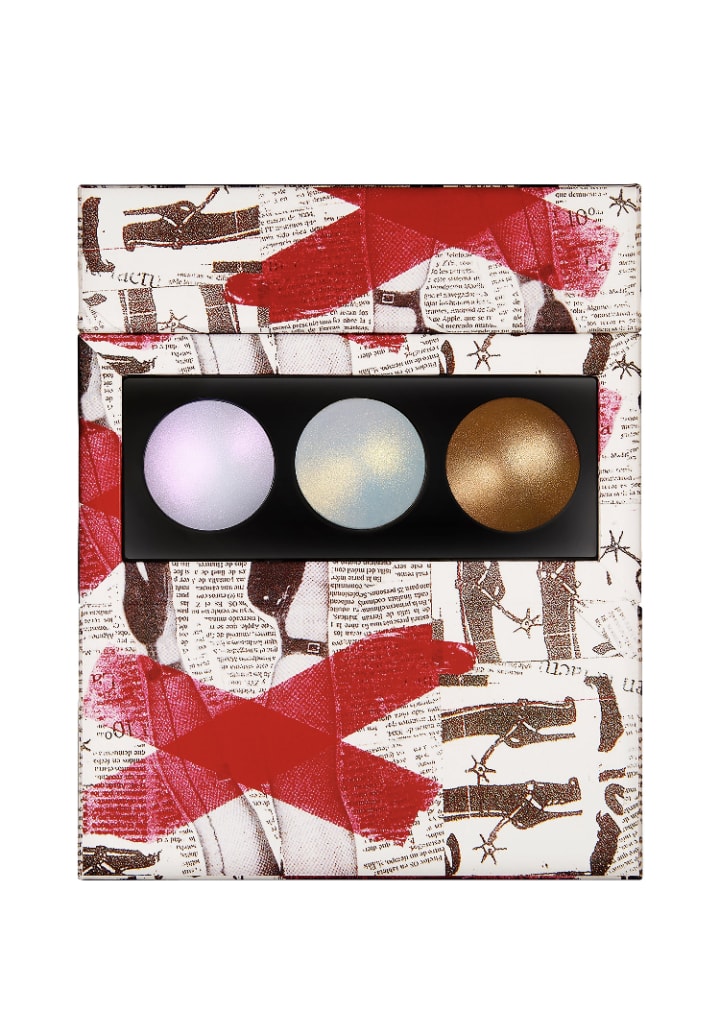 I highly encourage you to read the full description of this highlighter on the Sephora app. It'll be the sexiest thing you've read in a long while. That I promise you.
Looking for a little more UMPH with your highlighters? This one is the one. When I first bought this trio I was under the impression that I could only use the first two shades, considering I was relatively pale at the time. Wrong
Any skin tone can be caressed by this revolutionary trio. When layered together these surreal shades that radiate pure light create a gorgeous gleam. When backstage at fashion shows or on set Mother herself likes to take a brush & vigorously mix all the shades together, it's the only way I wear this highlighter now & I can't see myself using any other one.
Unless she comes out with another trio..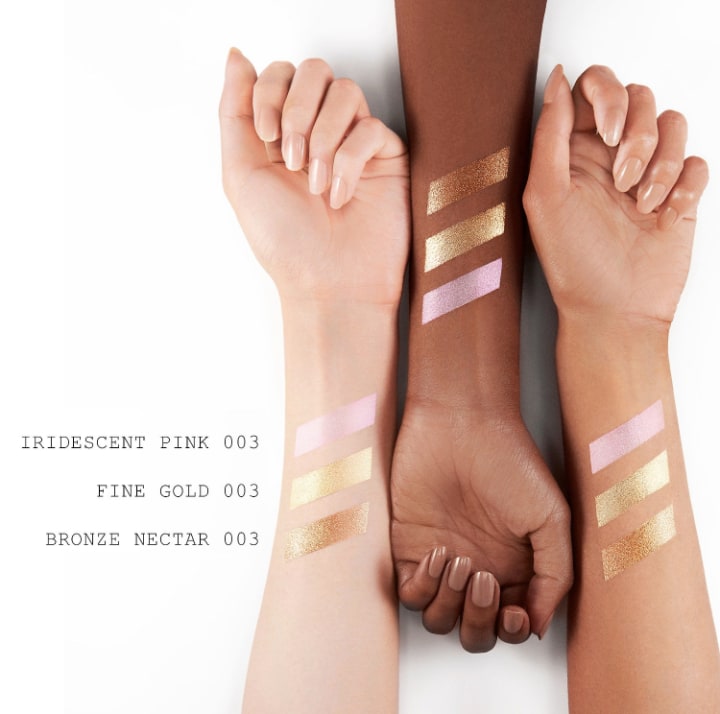 When applied on the eyes, OOF. Even a top a black winged liner, or in the centre of the lips.
Even talking about Mothers products makes me want to put on a whole face & play.
I'll leave the rest for you to fantasize about.
Other favourites to check out from this brand
- Sublime Perfection Foundation *Sheer to medium coverage, natural finish
- Mothership V Palette
BONUS #4 Because I can't help myself, you have to know about my favourite eyeshadows.
#4 Melt Cosmetics
This indie brand deserves so much love. The texture, pigmentation, & blendability of these shadows are so beautiful. This brand puts together colour stories that never make me want to stop playing.
*Caution, you maybe forced to play with colours*
That's not a bad thing though...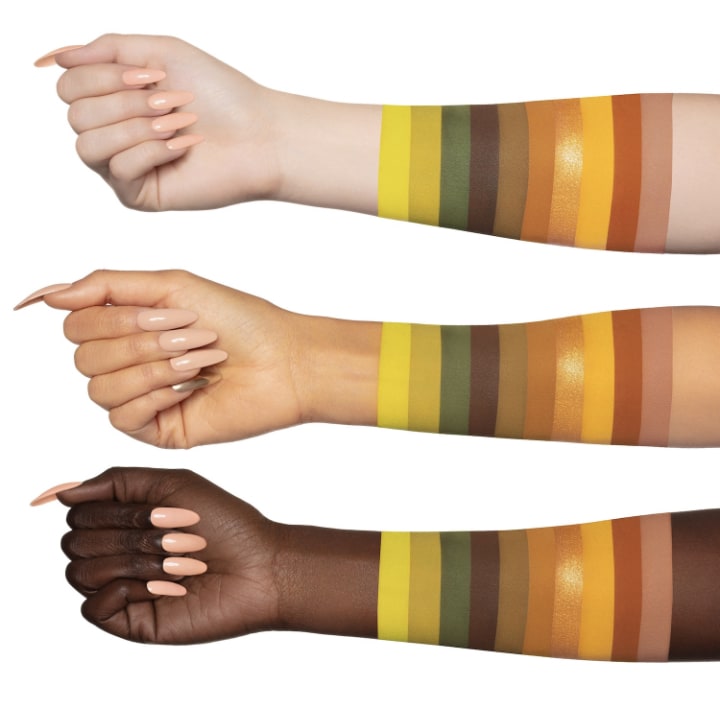 Another amazing thing about this brand is that the creators and founders, Lora & Dana are directly involved with the creation of their products. From the concepts, promos, video content, everything. Nothing but their own blood, sweat & tears goes into their products & it shows.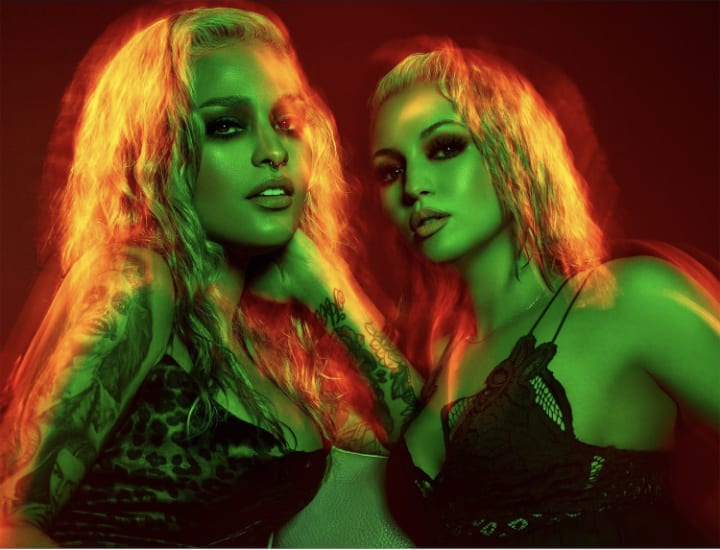 Being in the industry & around so many new products constantly it can get underwhelming time to time, except for this brand. I'm always on the edge of my seat wanting to know what's to come next from this brand.
Another thing to note, whenever I pull out my Melt palettes, I don't usually find myself having to pull much else from my stash. There can be times where I've got 4 or even 5 palettes out to create one look. Not the case here, I'll definitely combine the brands palettes together but the colour stories are put together in a way that I never feel like I'm missing anything.
FRAGRANCE
Fragrance is such a special way to complete your look. It evokes emotions, memories, & -one of my favourites- compliments. I've gotten to points with some of my signature scents that, that's exactly they become. When someone says "Everytime I smell that, all I think of is Andrea." Then I go - "Hell yeah."
My taste in fragrance has changed so much over the years, & being surrounded by frangrance made me hold a new appreciation for it. I try to really allow a scent to sit with me, smell each delicate note flowing to the next.
Most of the scents that I'm drawn to are Ouds, anything that is warm, musky, firey, & considerably different.
Basically,
I really don't like smelling like everyone else.
I'll share my top 3 brands & then we'll get more specific with my personal loves that I rotate regularly.
Most, is not almost all of these frangrances and their remaining collections are unisex
1. Tom Ford
2. Maison Margiela - Replica
3. Juliette has a Gun
#1 Tom Ford - Ombrè Leather
The first few times I smelled this fragrance, all I allowed myself to smell was the leather. There are other notes in here, promise.
Once I had it on my skin, it instantly became my new favourite scent. I've never smelled anything else like it. The way it sweetens up on my skin, just furthers the intoxication.
Scent Type: Woody Spices
Key Notes: Black Leather, Cardamom, Patchouli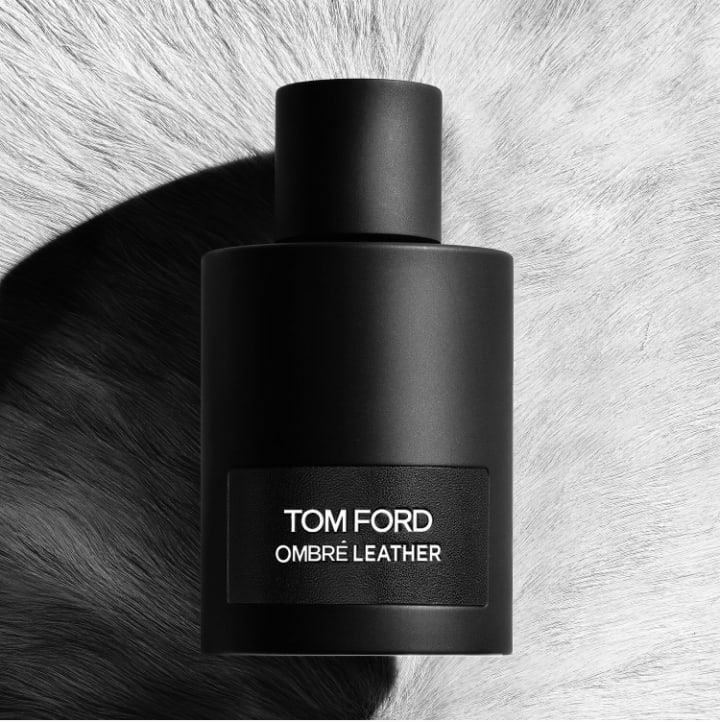 Want to smell expensive, dignified & intoxicating? Tom Ford. The ingredients and notes found in Tom Ford scents are the highest of quality beyond measure. These fragrances smell like no other.
One of my favourite ways of describing this specific scent, & even the Tom Ford brand rep loved it - like having sex on a leather couch. You're welcome for the visual but really - the intensity, vulnerability, sensuality. That's what I feel when I wear this fragrance.
Wear Ombré Leather for a day I dare you.
Other favourites from Tom Ford
- Metallique
- Black Orchid
#2 Replica - By the Fire Place
I think I've gone through at least 3 bottles of By the Fireplace, this fragrance alone is also a top seller from their whole collection.
Maison Margiela is a haute couture brand, even the labels on the fragrance bottles are supposed to mimic their sizing labels found on their clothing.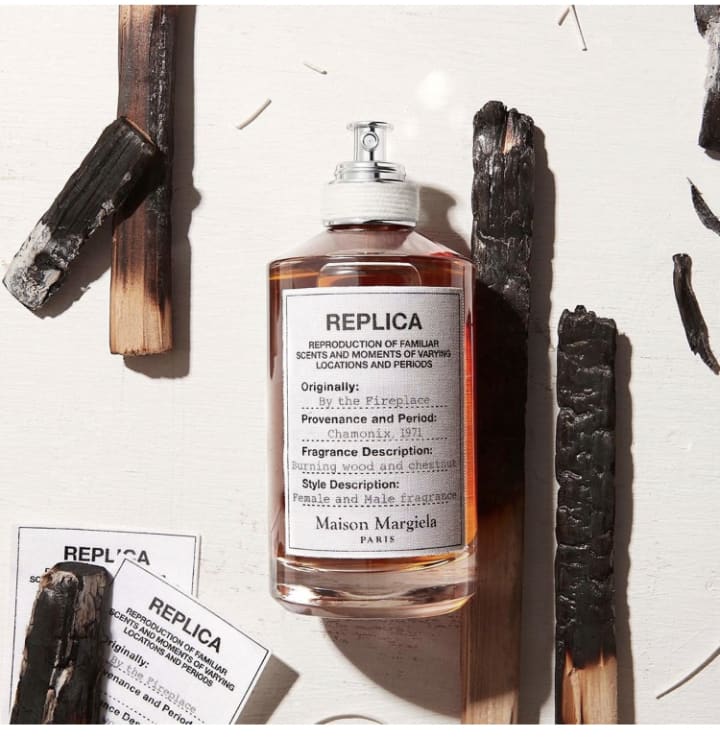 What I absolutely love about the fragrance labels is that each scent gives you both a very specific place & period & a description of the scent. These simple yet thoughtful descriptions connect you to the fragrance that much further. Storytelling with fragrances is half the fragrance right there. Memories, places, & feelings they can all come to the surface with one quick smell.
Scent Type: Warm & Sweet Gourmands
Key Notes: Clove Oil, Chestnut Accord, Vanilla Accord
Other favourites from Replica
- Jazz Club *layers beautifully with By the Fireplace
- Beach Walk
- Whispers in the Library
- Under the Lemon Tree
#3 Juliette has a Gun - Moscow Mule
If you know me, then you know that this is one of my favourite cocktails. Like the drink, this citrusy, floral & woodsy scent is just as refreshing. Don't worry though the more doses of this won't make your start seeing double, or triple.
A lot of clients are under the impression that with this brand, because of "Juliette" being in the name that this aray of fragrances are specifically women's. Not the case, the brand name itself was inspired by Romeo & Juliette. I bet you're wondering "okay, & where does the have-a-gun part come in?" The gun is a metaphor, let the fragrance be your weapon of choice.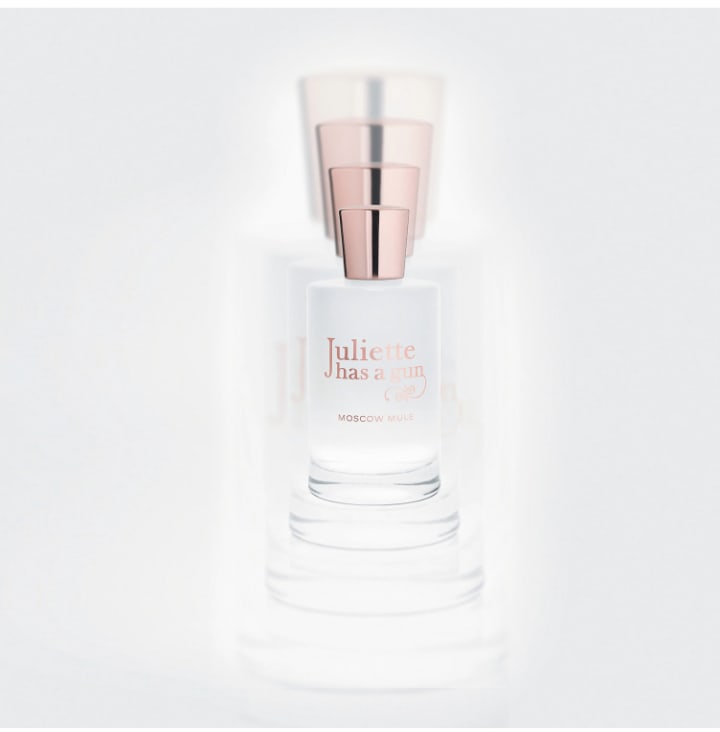 Scent Type: Citrus & Woods
Key Notes: Ginger, Lime, Jasmine
Other favourites from Juliette
- Another Oud
- Lady Vengeance
- MMM...
And that. Completes our tour. There was a time I never used or tried any of the products I listed. They became my favourites because I gave them a chance. I allowed myself to see the results, wether I had to be more patient with skincare results, or how I felt about a frangrance. Giving new products or new experiences a chance are the only way you're going to find your new holy grails.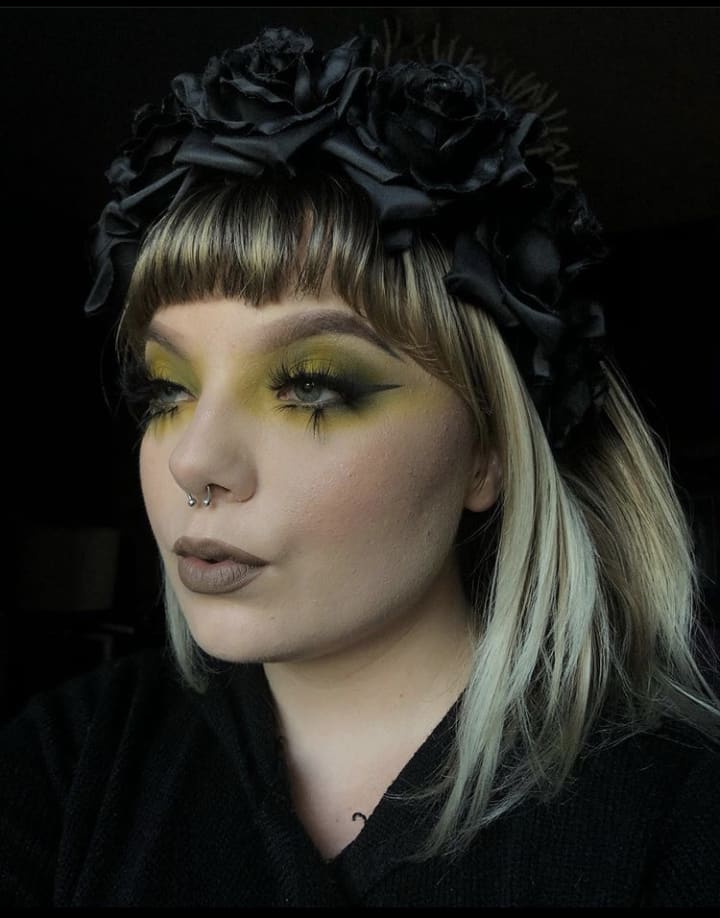 *Four Twenty Eye Shadow Palette I'm Eyes & Feelin' Myself lashes