Revolutionize Your Skincare Routine with HiMirror, the Smart Beauty Mirror
Mirror, mirror, on the wall, who's the smartest of them all?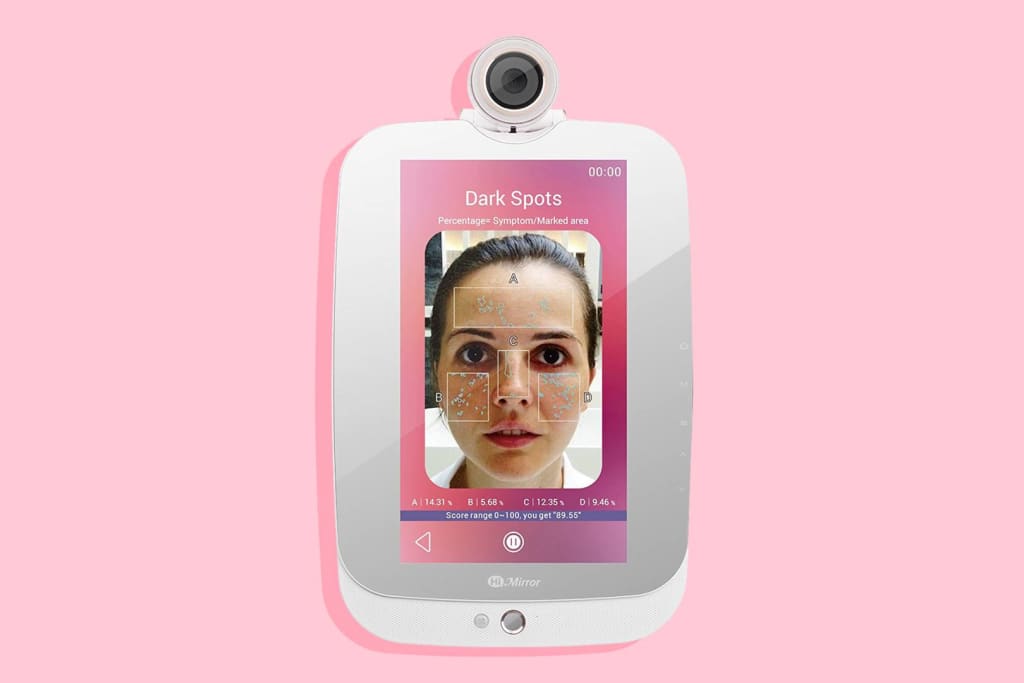 My skin gave me a lot of grief, especially around my shoulders. I literally lived a life where another day meant another breakout—and honestly, I was so over it.
For the longest time, I tried just about everything on the market to try to tame my skin. I tried getting lotions. I tried cleansing my skin with coconut oil. I tried getting some medicated stuff. I even tried scrubbing away at my skin.
Nothing really seemed to work, and I was pretty close to giving up. However, a little early Christmas present from my mother helped me overcome my issues.
That present? It was a mirror.
Did I mention that I hate my breakouts with a fiery passion? I'm not sure I fully emphasized it well enough. I *really* loathe my skin, to the point that I actually broke down in tears over the phone with my mom when I had a nasty breakout happen right before a shoot.
I think she actually got sick of hearing me moan and whine about my skin. She bought me the HiMirror and told me that it might help prevent breakouts in the future. Perplexing as it was to hear of a mirror prevent breakouts, I decided to take a look at it.
It soon became clear that HiMirrors aren't normal beauty mirrors at all.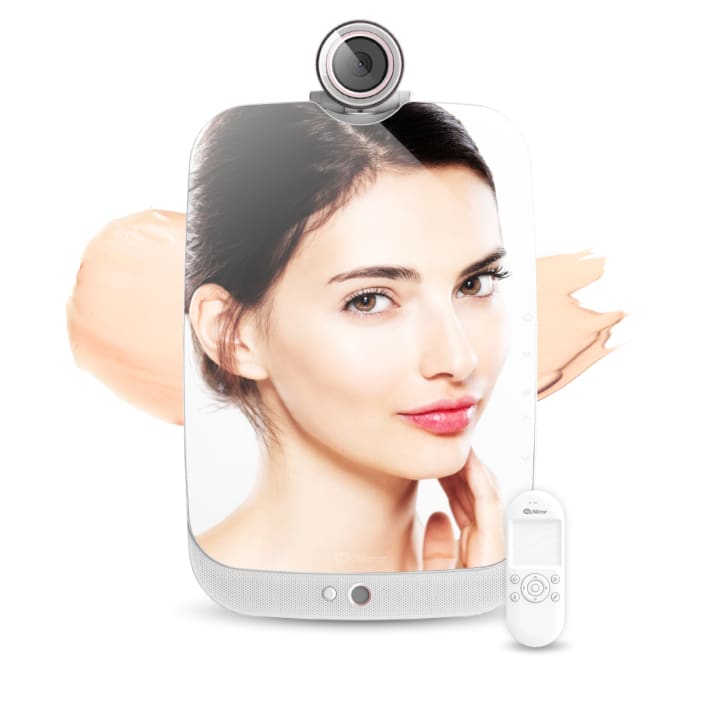 When you hear the term "beauty mirror," you probably have a pretty stereotypical vanity mirror in mind. You know what I'm talking about—the small desk mirror with lights surrounding it. Maybe it has another side that magnifies things too, right?
HiMirror doesn't really have any of that. At first glance, it looks like a standard mirror with a camera on the top and a speaker on the bottom. It also comes with a remote.
The HiMirror has a slew of smart tools that are geared to help people improve the quality of their skin, including a built-in skin analyzer that takes a look at eight main factors impacting skin quality—including dark circles, pore size, wrinkles, and discoloration.
After analyzing your skin, HiMirror will impart customized skincare tips and give you the chance to start setting specialized goals for your skincare routine.
Oh, if you're curious, it can also magnify up to three times your standard mirror sights, so little details will never get missed again.
The app itself is really nifty if you're a person who wants to access skincare notes on the go. If you have a HiMirror that you're using for workouts, you can also download the HiFit app to help you track your progress.
Being able to link up your HiMirror to your phone has one awesome ability: Mirrorcast. You can cast live videos through your mirror! How cool is that?!
Navigating is a cinch.
If you're like most people, you probably get a little worried about touching mirrors because of the chance of smudging them. That's why HiMirror comes programmed with several different ways to navigate through your mirror's software.
You can use gestures, voice commands, or your remote control to move through the different services. No more smudges!
Are you the type of person who needs to keep tabs on your skincare routine? I sure as hell was, and I also really needed some advice on how to take better care of my skin in general.
HiMirror works well in that regard, primarily because it has a special skincare "station" that allows you to track your routine, watch videos relating to skincare, and track the products that you use to keep your skin looking fresh.
The videos are super educational, and even have themes to them. It's a lot like "skincare college."
Makeup application is also a breeze.
Old school makeup mirrors would be considered "fancy" for having lights that varied in brightness and tone. HiMirror takes it to the next level by having a very wide spectrum of different light tones that you can choose from. You can get default daylight tones, sunset tones, candlelight tones, and more. All you have to do is change it up when you want to see how you'd look in varying degrees of light.
To make your look totally perfect, HiMirror also has Makeup Studio, which shows you what your makeup will look like before you put it on and teaches you how to apply the makeup to ensure it does.
HiSkin is HiMirror's unique skin quality tracking sensor, and it's seriously impressive. It tracks everything from hyperpigmentation to moisture levels, and gives you feedback on what's working well for you.
All you have to do is press a sensor up against your face, and HiSkin will do the rest.
You get to see your skin's changes over time, as well as closeups of your forehead, eyes, cheeks, and other parts of your face. Using HiSkin, you can figure out whether your routine is working—or if that new facial cleanser is hurting more than it is helping.
If you're a fan of Alexa, you're going to love HiMirror.
It wouldn't really be a "smart" piece of technology without a little AI compatibility, would it? HiMirror is compatible with Alexa. If you're low on your favorite cleanser, you can just tell HiMirror to order it for you. Convenient, much?
Finally, I'll admit that I love the media center.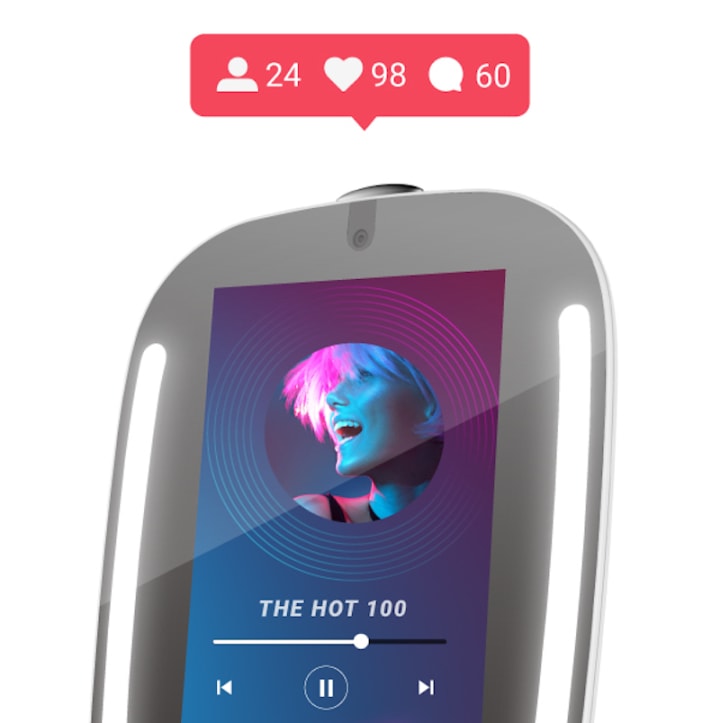 HiMirror may have helped my skin with its awesome data-based guidance, but that's not all it's been doing. I've been using it to play music from Spotify during my workout, enjoy videos from YouTube, and just tinker around with entertainment.
I'm a huge fan of HiMirror, and I honestly never thought I'd say that. This mirror is truly the smartest of them all.