Rebecca's Promise
A review of Rebecca's Paradise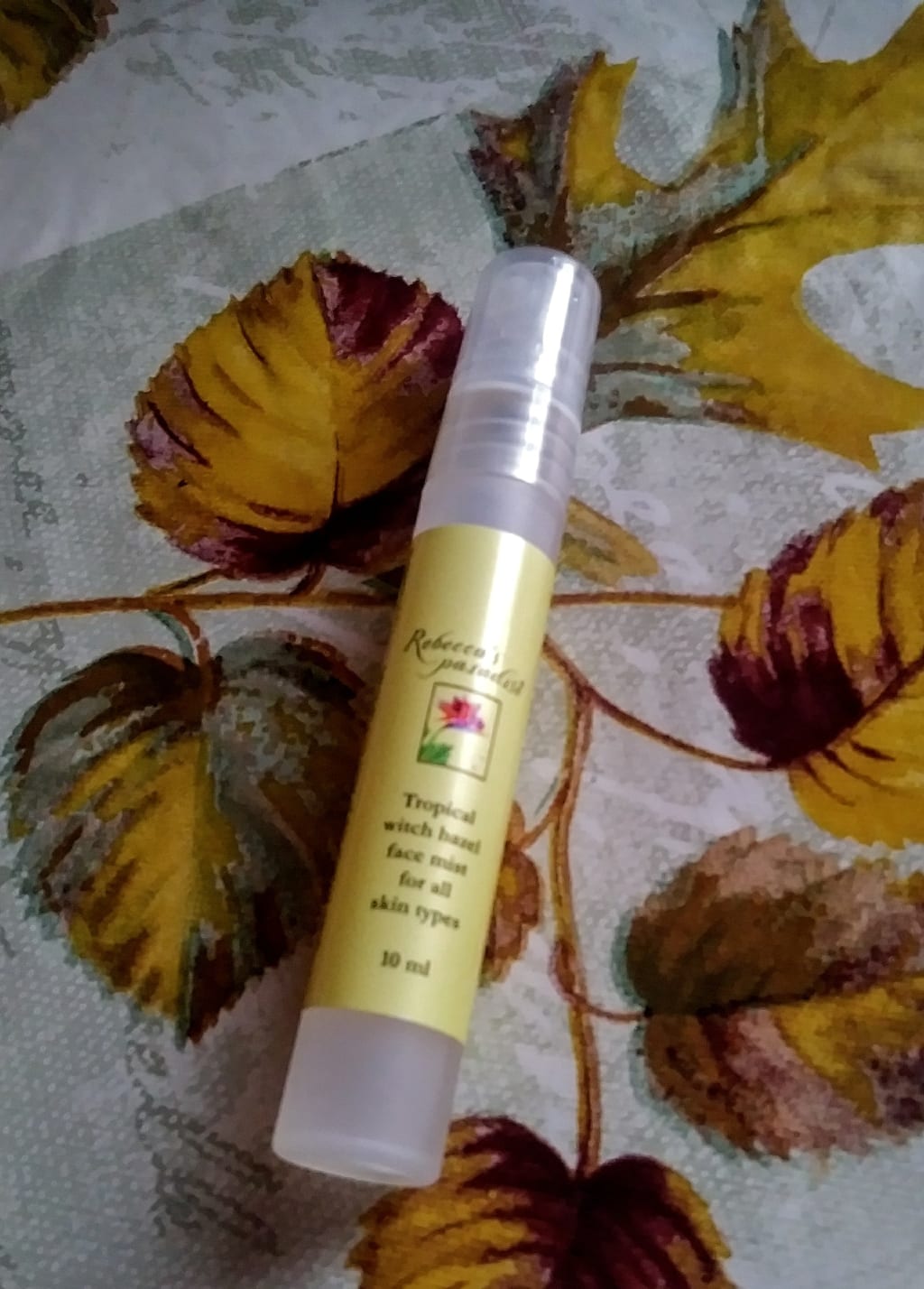 Rebecca's Paradise is a small company based in Pamona, New York that makes high quality all-natural skin care products. I recently had the pleasure of coming across... a Rebecca's Promise booth at a local farmer's market and spoke with the woman behind the dream, Rebecca herself. We got to talking, and she explained all the different products that she'd brought. I listened. Most of them were moisturisers, which was all well and good, but my skin had never been particularly dry. When I asked if she had anything for oily skin, prone to breakouts, she recommended witch hazel.
Listed below is the website for Rebecca's Paradise, should you wish to buy something from there after reading this review. Rebecca herself can also be found at a number of farmer's markets near Pamona, NY, including the Pearl River Farmer's Market where I ended up running into her.
Full disclosure, after talking with Rebecca, I did get a steep discount on the small bottle of witch hazel if I agreed to let my image be used to promote them on social media. Even with that sponsorship, I am trying to remain objective as I write this review. I actually did like the product, though it isn't perfect.
The only real downside, at least for me so far, has been that it hurts like a bitch if sprayed on an open cut. Of course with witch hazel being a natural antiseptic, I suppose I should have expected that, but I sprayed it on a cut on my armpit that I got shaving. That was a terrible idea. If you do end up getting witch hazel, don't spray it on open cuts if you aren't ready for the stinging. Of course the cut ached less afterwards, so it probably helped, but it sure stung. Take heed.
The only other potentially negative thing I could say is that, so far, it hasn't completely cleared up my acne, although it has improved somewhat. I've only been using it for a week though, so I feel like the jury's still out on that one. Still my experience has been overwhelmingly positive, despite this.
The witch hazel facial mist is super refreshing, and smells rather nice as well. It also makes me feel less sweaty, which is a nice bonus in the summer time. The real benefit is in the way it made my skin feel. The first time I sprayed it on my face it felt nice, but strange, and I couldn't put my finger on what exactly I was feeling. Then it hits me about halfway through work that day—that it was the lack of oil. My face tends to get kind of gross and oily throughout the day, but the witch hazel was stopping that, at least for a few hours. I kind of wished I'd brought the bottle to work so I could spray my face again. That's the one other downside, the fact that one has to keep applying it every few hours.
In conclusion, I would recommend getting witch hazel facial mist from Rebecca's Paradice if you have oily skin. It's not perfect, but it will reduce the amount of oil which in turn, will help keep your foundation from wearing off, and it will help at least a little if you have acne. I personally wouldn't mind paying full price to order another bottle from the website when this one is used up, and I might try Rebecca's Paradise hand cream in the winter when my hands get chapped, because I know that stuff from this company works.
skincare
About the author
A young fantasy and science fiction author native to the northeast of the United States of America
Reader insights
Be the first to share your insights about this piece.
Add your insights