New Dread Life
Dread Momma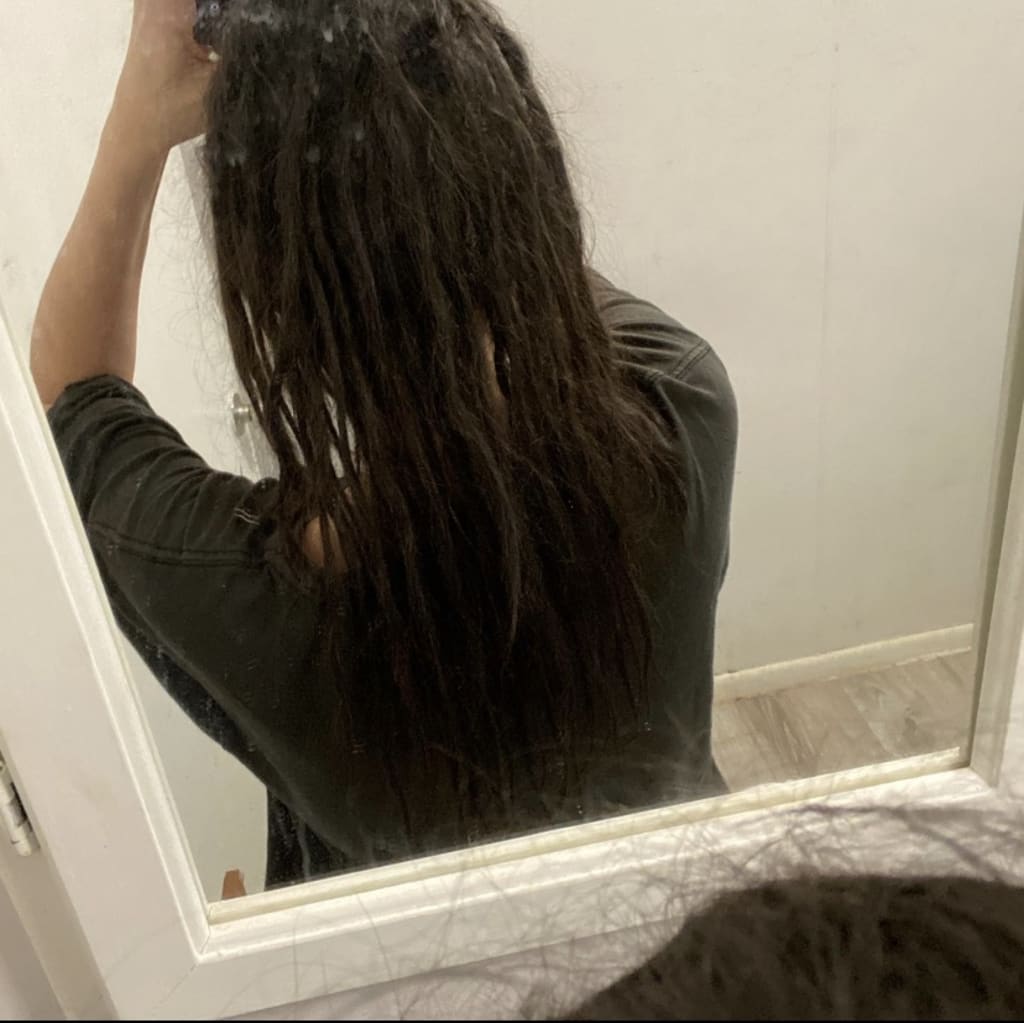 Start of my dread journey.. Three days old here
Hello Y'all, I am going to write about our dread journey and life path here. My hair has fallen on the top and I am going to add extensions and I have two children as of right now that want theirs done.
I started this journey in hopes my energy, anxiety, and depression. I twirled my hair to the point it would break and no matter what I couldn't stop. The split ends went all the way to my scalp and I had enough and wanted a change, and one that was huge. I have had my dread babies for a month now and I am in love with them. There times I still catch myself trying to twirl the hair but it is not as easy. Yeah, one nervous tick I guess you could call it down.
The stress of worrying about what my hair looked like and how I would try everything under the sun to fix it. Nothing helped which had a lot to do with me still breaking it off. Well, that part is over and I can love on my hair as well as add whatever color I want. For years the only thing I have wanted was bleach blonde hair and the one time I tried it at home; it was a fail. It never stopped me from wanting it though lol and now with dreads I can add color, beads, and embroidery thread to decorate them.
In the month that I have had them I think life has been better. There has been less arguments in our household and I definitely let more roll off my shoulders. Life is to short to bicker about the small stuff, so I do feel it has helped a lot with my overall mood. I have always been spiritual since childhood and I have found myself walking back towards the right path and believing again. My husband believes in a higher spirit but we have different opinions here and that's okay. It sure gives us a lot to talk about at the end of the night.
So, I did want to talk about the rumors of not washing dreadlocks and people are dirty. That's not true for my family or most of the people that are in my life. Example, I wash my hair every three days the same as before and it helps knot up (I think) maybe I should wait longer but there is really no rule of how long you should wait. If you was before your hair is locked though it will come loose or apart in general and you will have more loose hairs
Okay, it looks like I started to jump around a little bit and wanted to get back on track.
We have five children and two of them want to start their journey with me and I love the idea. A family of dreads... Yasssss! The thing my youngest son, I think his hair is to short to start them right now. There is a friend of my husbands sister that will do our daughters hair and I am thankful for that. That should get started next week I hope. I will definitely add pictures so you can follow along with us.
One of my oldest sons hair is perfect for dreads and I wish he would get them. He doesn't want to do anything with his hair right now and he has a huge Afro. We condition it and use oils regularly to keep it from drying out. At some point if you guys would like to know, I can add his hair routine with the oils and shampoo he uses. He takes care of his hair that's for sure.
So, I hope you want to come back and read more about our journey and our lives. There are big changes still coming for all of us. I will add photos of different events.
Next post will be the method of making my dreads and the other methods available. I will also add in the oils that would be great to pick up as you start your journey.