Mayraki Professional Is Making Salon-Quality Hair Treatments Available at Home.
This all-natural, vegan hair care company proves that professional hair treatments can be accessible to all.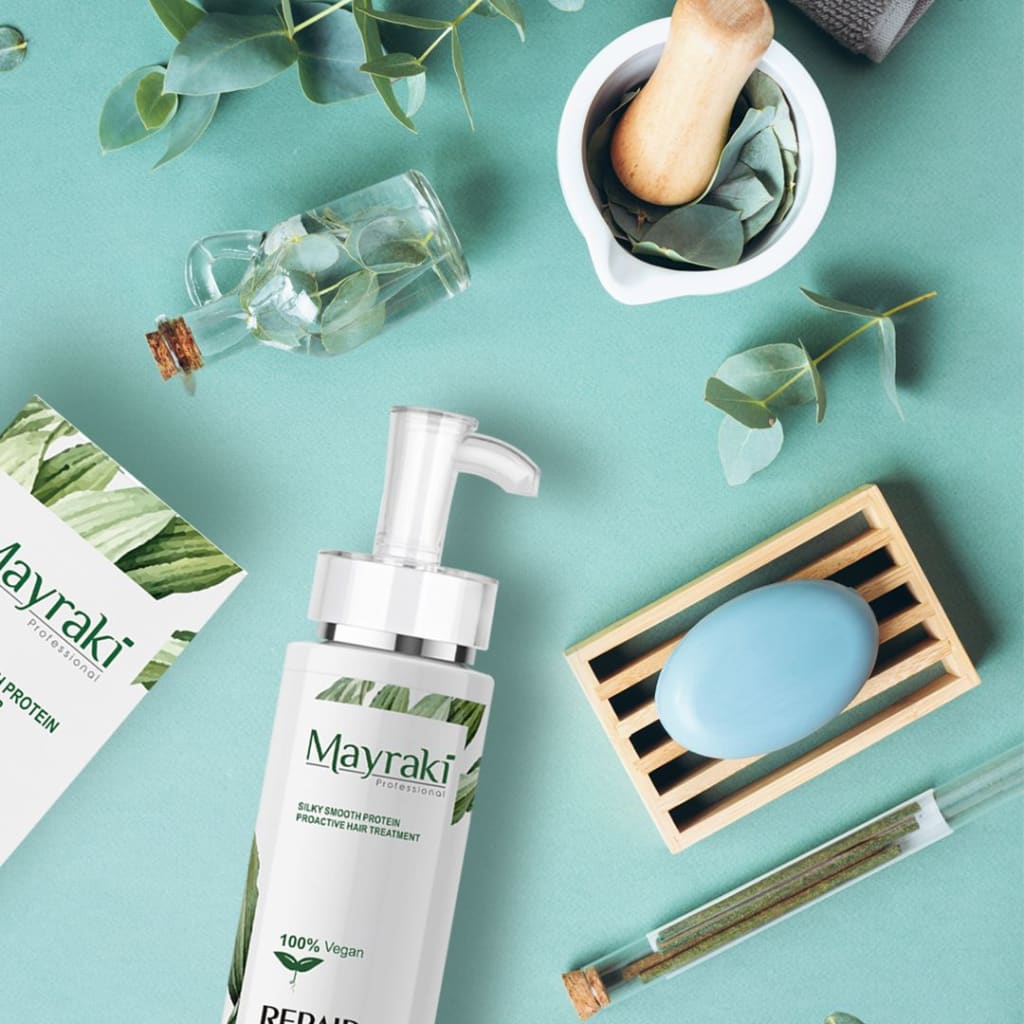 Mayraki Professional, a hair care brand launched by a group of hair professionals, herbalists, and chemists, is thrilled to introduce their new line of hair care products to the US market. These hair care products combine all-natural ingredients with the latest science and technology, making salon-quality hair treatments available from the comfort of home.
Based on the principles of conscious production, Mayraki Professional uses only organic, science-proven ingredients, maintaining 100% vegan and cruelty-free products.
"The name 'Mayraki' draws inspiration from the Greek word 'meraki' which means 'to leave a piece of yourself in your work'. From day one, we at Mayraki committed to this principle, combining the most advanced knowledge in natural hair care with the latest scientific research," - shares Sunardi Tan, Director and Co-Founder at Mayraki Professional.
Mayraki Professional steers free from using parabens, sulfates and silicones in their products, giving preference to fully-organic components. It took their team ten years of research and development to come up with their unique formulas to both strengthen and care for natural hair.
First commercialized in the 1950s, parabens are found in numerous personal care products, and even some groceries contain a measurable amount. Even though a single exposure to these chemicals may not be harmful to a person's health, a continuous exposure may result in elevated risks of breast cancer and reproductive problems. Another common personal care ingredient, sulfates, is known to cause extra dryness, itchiness and redness to sensitive scalps. These issues may lead to hair loss and thinning hair. A third concerning ingredient, silicone, can be hard to wash out of the hair, forming an invisible layer coating each strand of hair, preventing moisture from penetrating.
On average, an American woman uses around 12-16 beauty and hair products each day - which means they are being exposed to over 200 chemicals on a daily basis. Keeping that statistic in mind, along with the realities of the widely-used damaging ingredients, Mayraki Professionals created several lines of organic, all-natural products, each addressing specific hair problems: itchy scalp/dandruff, hair loss, white/grey hair, frizzy ends and lifeless hair.
"Our team of in-house scientists, herbalists and hair professionals has been conducting rigorous research for nearly a decade, perfecting formulas for all our hair care products. We wanted to make sure that every single ingredient benefits the beauty and health of natural hair. We combined traditional medicine with modern science, creating several patented Mayraki ingredients in a conscious, sustainable and cruelty-free business process," - continues Sunardi Tan, Mayraki Professional Director.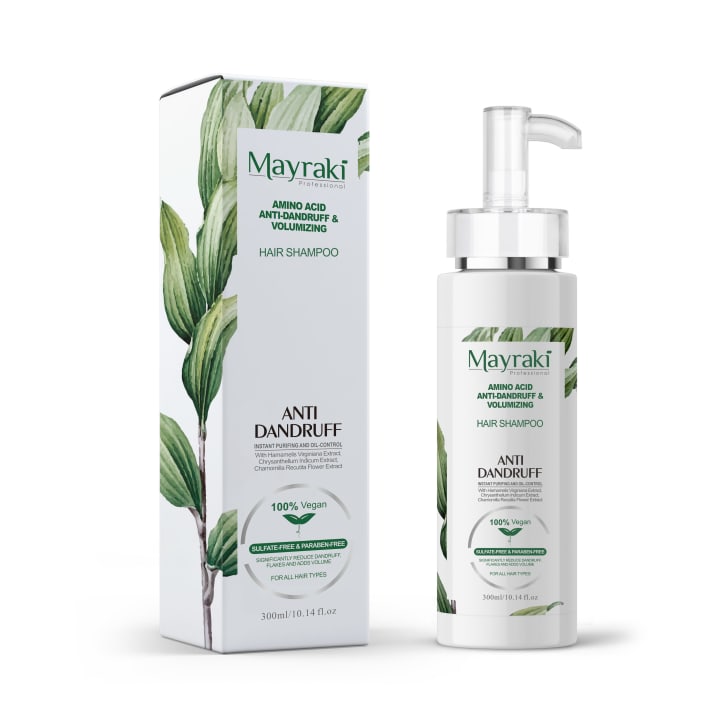 For scalp issues like itchiness or dandruff, Mayraki Professional created anti-dandruff shampoo that purifies the roots where buildup occurs, and nourishes the scalp and each strand with the power of 15 amino acids. Enriched with Hamamelis Virginiana Extract, Chrysanthellum Indicum Extract, and Chamomilla Recutita Flower Extract, it nourishes the hair and gets rid of excess sebum. This shampoo is ideal for heavy product users that also use hair styling agents which cause buildup, as well as for those with fine, oily hair.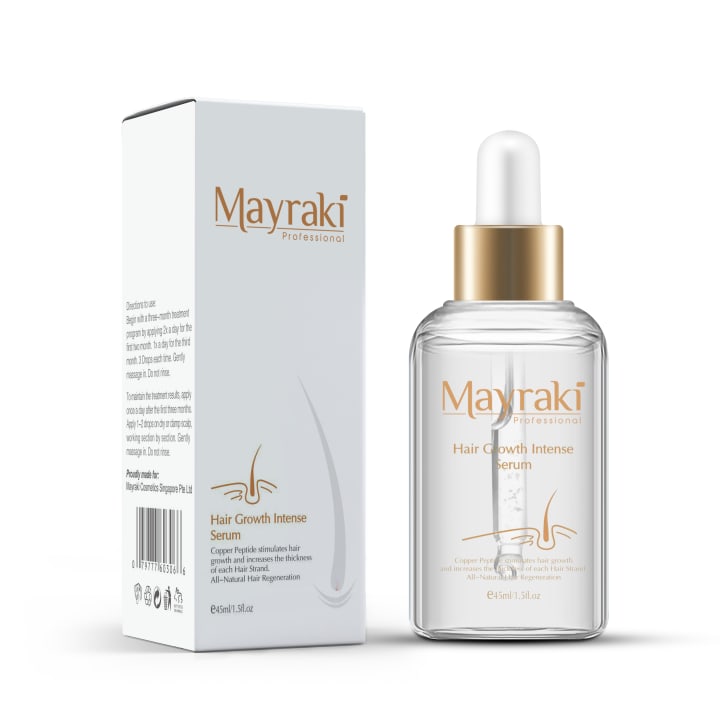 Hair loss is one of the most common hair concerns. According to a 2014 survey by the International Society of Hair Restoration Surgery, approximately 35 million men and approximately 21 million women in the United States suffer some type of hair loss. Since Mayraki Professional products are already stripped off any harmful chemicals, they help preserve natural hair health. If a person has already started experiencing hair loss, Mayraki Hair Growth Serum Intense, infused with copper peptides and all natural ingredients, works to maximize hair growth and minimize hair loss. Its unique formula is based on three key ingredients. First, ginger essence, which contains antiseptic properties and encourages hair regrowth while promoting nutrient absorption in the scalp. The second ingredient, Sophora Flavescens, is a potent treatment agent for hair growth stimulation. The serum also includes Platycladus Orientalis Extract, a traditional herb used to treat baldness and hair loss.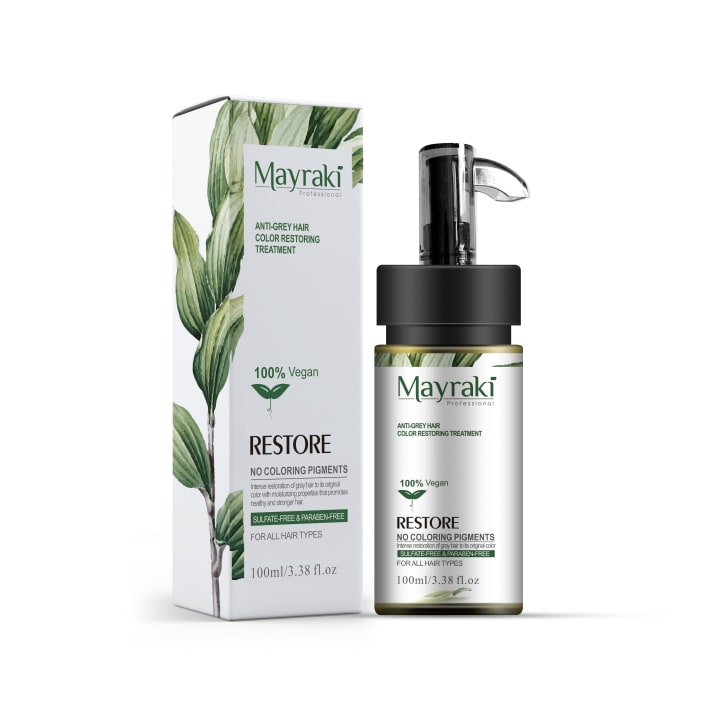 For those who want to preserve their natural hair color, Mayraki created the revolutionary Anti-gray Hair Color Restoring Treatment. The formula uses the power of the latest hair care technology to restore gray or white hair to its original color and nourish the hair from within.
Mayraki's patented ingredient activates melanin production at the bulb and helps stimulate the natural pigmentation of hair during regrowth. The hair is then re-pigmented and restored to its natural color within just several weeks.
2020 has shown it is the time to slow down and reconsider our lifestyle, both in how we care for our bodies and for the planet. Choosing natural, vegan hair care products is a conscious choice towards natural hair health.
Reader insights
Be the first to share your insights about this piece.
Add your insights