Mario Badescu Enzyme Cleansing Gel Review
Why the best-seller really is the best!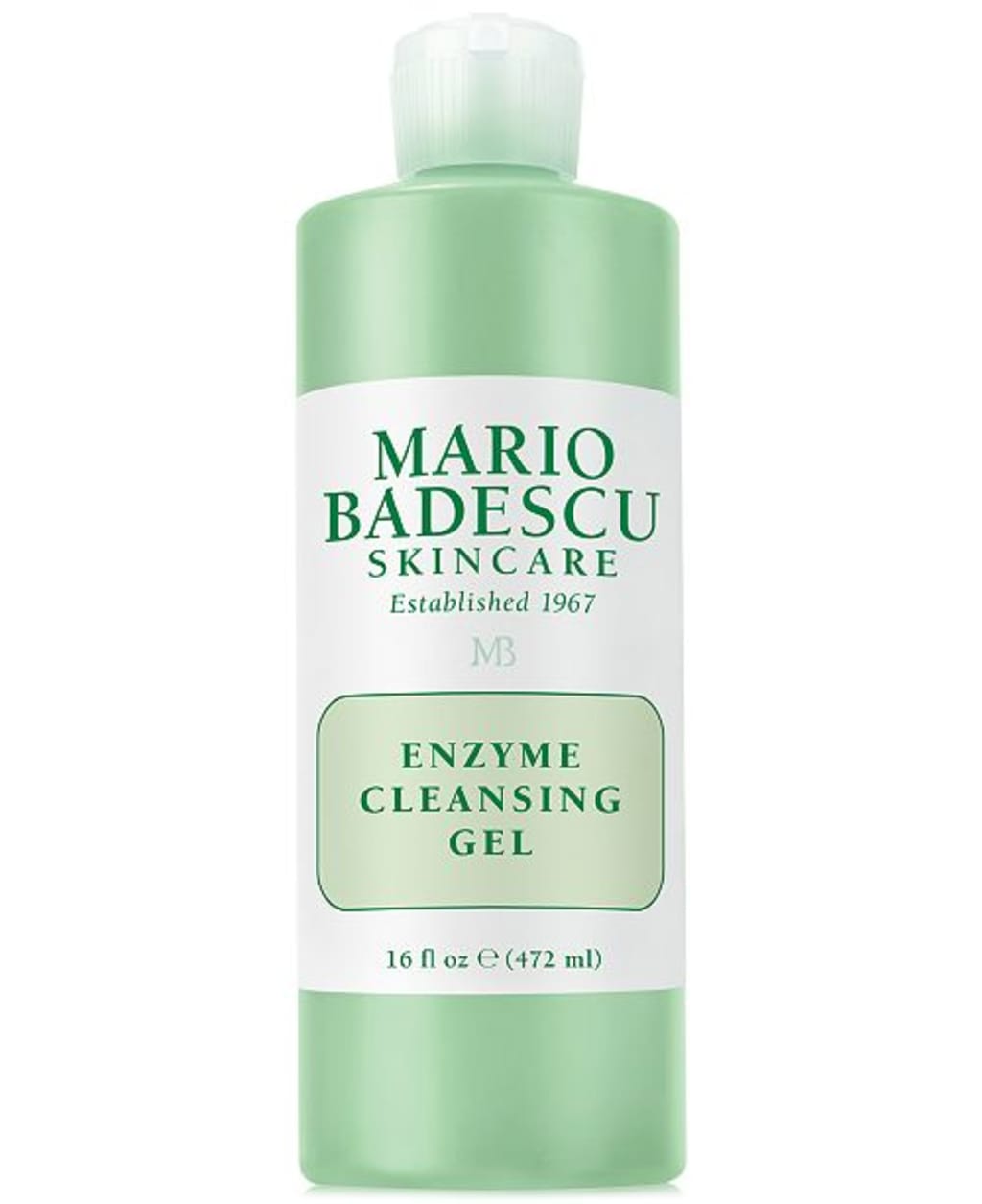 I've been using this cleansing gel from Mario Badescu ever since I got it as a gift in my stocking for Christmas a couple years ago. It's a best-seller on the Mario Badescu website, and for very good reasons! For way too long I had been wondering why my problem skin was not clearing up, and why my skin always seemed irritated, even though I was washing my face daily. As it turns out, I didn't know that my over-exfoliating was causing the problem. Since I was using an exfoliating wash everyday, instead of just a few times per week, my skin wasn't really improving like I wanted it to. I very quickly realized that I needed to get a face wash that would be gentle on my skin for everyday use, and my mom bought this cleansing gel for me on a whim. I've never been happier with a product than I have been with this one!
The Enzyme Cleansing Gel comes in a conveniently sized bottle with a very substantial amount of product. A little amount goes a long way; my 16 fl oz bottle lasted me about a year! The gel itself is a very pretty mint green color, and it is incredibly soft and soothing. It's a gel cleanser, so it doesn't foam up or exfoliate, but rather goes onto the skin very smoothly. I was so used to foaming cleansers and thick exfoliators, so at first I was skeptical about just how well this gel would clean my face and help my problem skin. Thankfully, I noticed my skin feeling much better within a few days!
I have used this product consistently for about two years now, and I genuinely could not be any happier with it. The bottle is small enough to take on the go, and with the flip-up nozzle, I never have to worry about product spilling out. It's geared towards all different skin types; I have combination skin, and this cleanser has done a great job with keeping my face feeling super soft and healthy. I always make sure to use plenty of moisturizer after washing my face as well, to keep my face feeling even more hydrated. I personally recommend Younique's different day/night creams because they have boosters that fit your personal skincare needs, but your favorite moisturizer will work too! It took me too long to realize that there isn't just one product that will fix everything about your skin, and that pairing great products together will get me better results than just choosing one.
I 100 percent will always recommend this product to anyone looking for a great face wash. I've gotten my mom and sister hooked on it, as well as some friends! I have definitely tried other products similar to this cleansing gel, but I always find myself coming back to the Mario Badescu gel. I really don't think you can beat the value for the price! It's only $14 for the 16 fluid ounce bottle, and one bottle has lasted me about a year. That sounds like a no-brainer to me. I've always been very frugal with my purchases, and I thought that I had to spend a fortune to get great skincare products that would actually work, which was very discouraging to me. Mario Badescu's Enzyme Cleansing Gel is one of those great products, but you don't have to spend a fortune to get it! If you're looking for a smooth, soothing face wash that is soft on your skin, works for all skin types, and won't break the bank, this is definitely the product for you.
skincare
About the author
photographer with a knack for writing, passion for food, and a craving for adventure.
Reader insights
Be the first to share your insights about this piece.
Add your insights