Lifestyle for Lustrous Hair
Lifestyle for Healthy Hair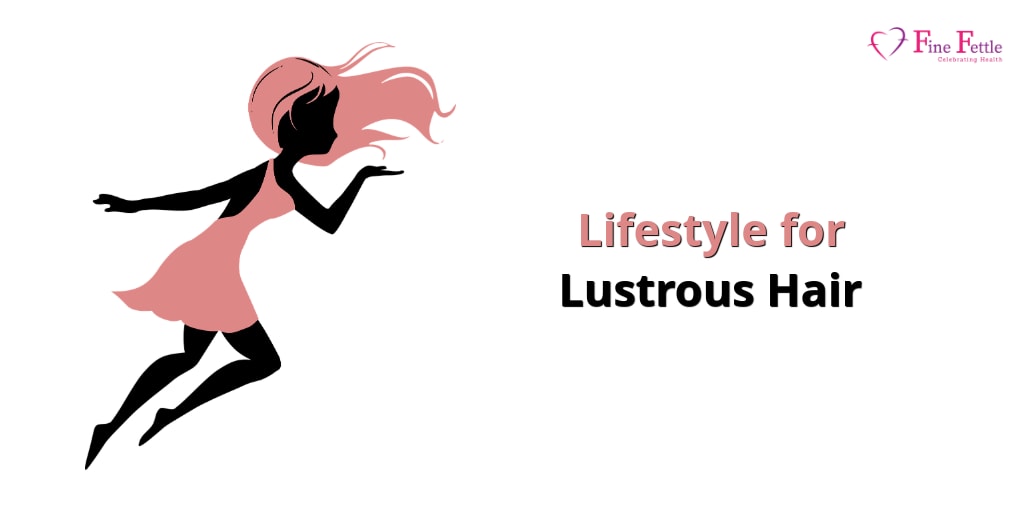 If there is one problem that daunts almost all men and women of this day and age it is the health of their hair. We are either looking for a way to preserve the health of our hair or to restore it and give it some healthy strength and shine. Thus, it is safe to say that most of us are looking out for a remedy or method to solve this prevalent issue.
We have researched, heard, and tried various remedies that have ended up proving to be nothing more than just false techniques and methods that cause more harm than good. This can be disheartening to a lot of people to go further and look for other real remedies. Some people end up going for really extreme techniques that could cause some other side effects to their bodies.
In Fine Fettle, we have for you well researched and proven methods and practices, that are not harmful to your hair or your physical health but present you with the best results once implemented. Natural remedies can go a long way when it comes to hair revitalization and also hair growth. In our health and wellness blog, you can gather various natural and organic ways to facilitate hair regeneration and to put an end to hair loss.
How to care for your hair:
1. START FROM WITHIN
Nothing we do externally by spending on expensive treatments and products will have any effects at least in the long term if we keep consuming unhealthy foods that can negatively impact the health of our hair. For a start, we need to take charge of our diet and make better choices. So which food can stop hair fall?. Food that is rich in protein, biotin, iron, zinc, omega-3 fatty acids, omega-6 fatty acids, vitamins A, C, and E are dominant components that promote hair growth and to achieve lustrous hair.
2. CREATE AN ARMOUR
Our hair is susceptible to damage and breakage due to factors like harsh pollutants in the air or overexposure to sunlight. We can, however, follow some simple natural routines to protect our hair and retain its shine. One best way is to apply honey to your hair with coconut oil or egg and let it sit for 15 minutes and then rinse. Another magic remedy is gram flour with coconut oil. If you follow this method religiously then you will be able to see the frizz and damage in your hair reducing to a large extent.
3. SMALL TWEAKS
Combing and brushing our hair is a part of our daily morning routine and it has turned out to be a mundane activity that we pay almost zero attention to. Every time we run a comb through our hair it is important to make an effort to do so gently without tugging and pulling at our hair that could end up breaking our pulling out hair from its roots. We need to brush or comb in the direction of our hair growth to promote blood circulation to the hair follicles. It is also best to avoid combing wet hair.
4. SHAMPOO
We need to choose our shampoos based on our hair type and ingredients in the product instead of blindly falling for advertisements that feature the celebrities we like. Our hair type could range from oily to dry and we can find products with contents that are needed for different hair types. Some harsh chemicals to be avoided in general include sulfates, parabens, synthetic fragrances, alcohol, polyethylene glycol, formaldehyde, and synthetic colors to name a few. There are various shampoos with essential oils, biotin, aloe vera, and other natural ingredients that should be sought after for your use.
5. BEDDING
If you have extreme hair fall or damage or even if you want to prevent such things then it is important to stay prudent about the cleanliness of your pillows. It is advisable to wash your pillowcase at least once in three days. To avoid damage, if possible, it is better to use silk pillowcases but if that is not feasible then a soft pillowcase that does not cause friction needs to be used. This is very important for people experiencing dandruff and breakage issues.
6. EXTRA CARE
We need to stay one step ahead and adopt necessary healthy techniques that shield and rejuvenate our hair. Whether it is covering our hair while travelling to protect our hair from the wind or the sun's UV rays or reducing the amount of heat applied to the hair during the styling process, it is up to us to remind ourselves of the responsibility we have to make better choices if we want to see our hair becoming naturally stronger and buoyant.
In our health and wellness blog, we would like to tell you that instead of repeating the past cycle in the name of restoring your hair if you take a step back and look at what is the best way to provide the nourishment required for your hair to recover itself through natural methods then you will be surprised to see how your hair after consistent care gets its gloss back.
hair
Fine Fettle, a health and wellness blog is filled with tips and methods to help you find ways to shape your lifestyle in a way that can ultimately make you more energetic and lively to match your life activities.