Kate Moss Through the Eyes of Mario Sorrenti
Exploring the ideas of love, lust and obsession.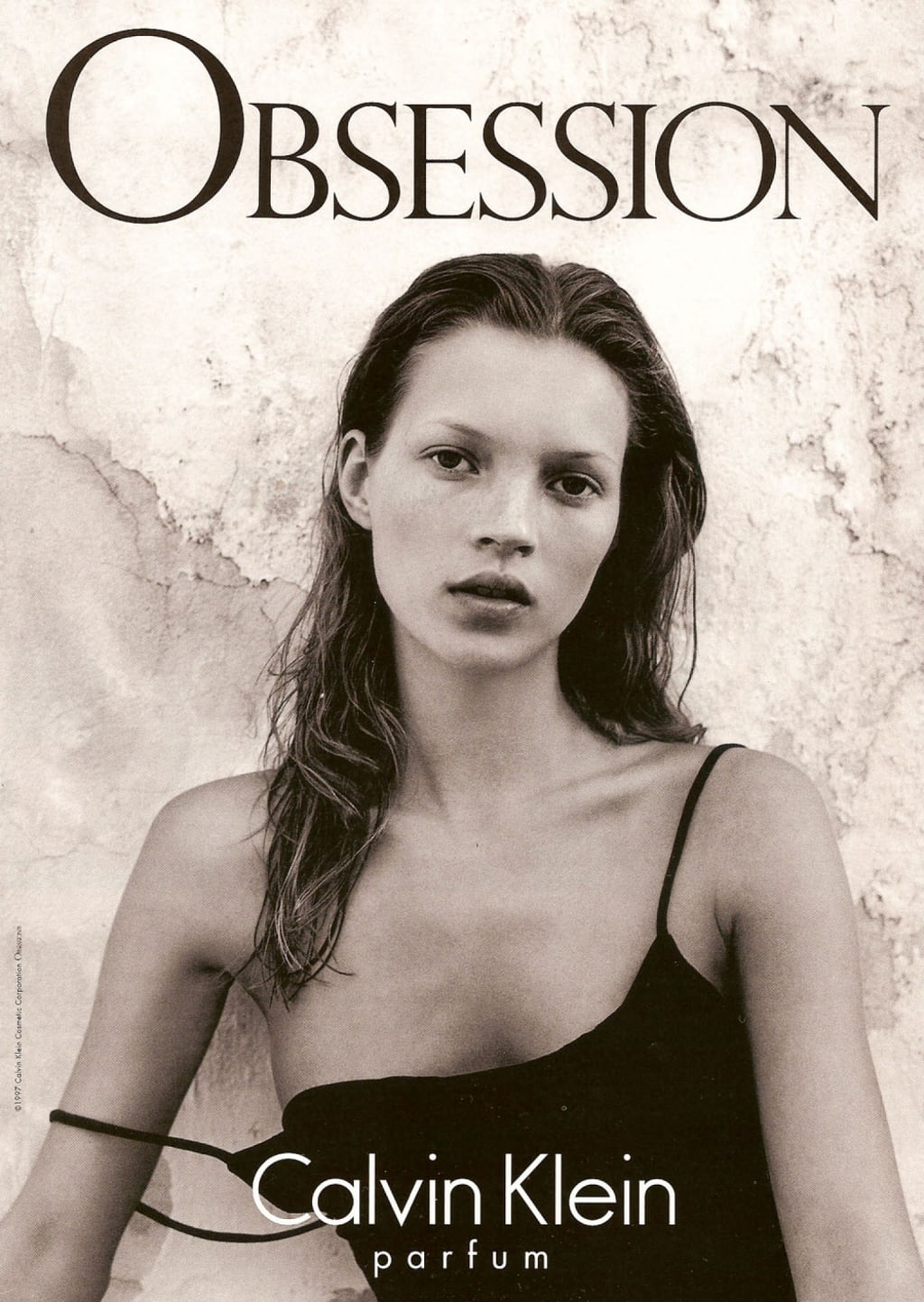 A shot for the fragrance campaign Obsessed for Calvin Klein shot by Mario Sorrenti in 1993
Obsession is an idea or thought that continually preoccupies or intrudes a person's mind. When Mario Sorrenti first met Kate Moss on a modelling job in 1991 he said "I remember sitting next to her and feeling like my heart was going to stop; her beauty overwhelmed me." Kate Moss describes their relationship a little differently, she says. "I'd wake up and he'd be taking pictures of me. I was like, 'F**k off!' In this article, I will analyse the photos they produced together as a couple and discuss whether the relationship between Kate Moss and Mario Sorrenti was true love, lust or obsession.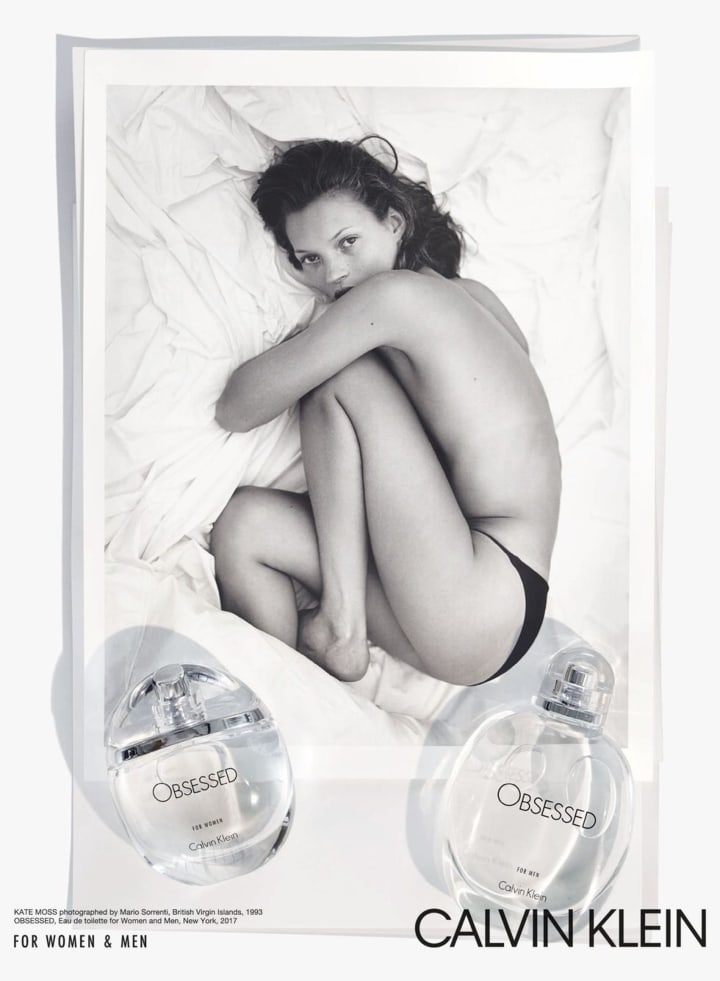 The first photograph is one of the many photographs taken by Mario Sorrenti for the fragrance campaign "Obsessed" by Calvin Klein in 1993. The high angle showcases the powerlessness of Kate Moss. The foetal position only highlights the vulnerability of Kate. Her facial expression isn't longing but rather slightly petrified. One of the signs of obsessive love is seeing your partner not as an equal but rather as an object. This photograph does show Kate as passive and the viewer of the photograph is staring down at her. It's hard to say whether Mario saw Kate as an object and as this photograph was taken for a perfume campaign called "Obsessed" the photograph could have been posed to look that way. I do think it is interesting that most of the photos Mario took of Kate were from a high angle where he would be looking down on her.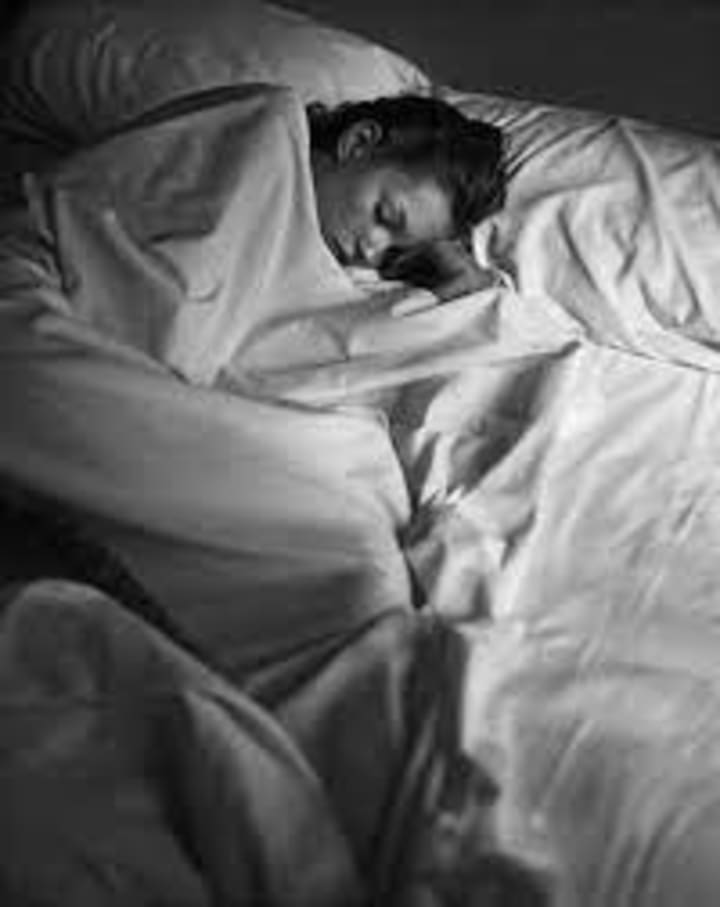 When you see your loved one sleeping you think about how peaceful they look, what they might be dreaming of and how to exit the room quietly without waking them up. There might be an urge to take a photograph of them but it can be resisted. This second photograph was published in Mario Sorrenti's book titled "Kate" which include 50 previously unpublished photographs of Kate Moss. One of the signs of obsessive love is a lack of boundaries and this photograph, although beautiful, shows a lack of boundaries. This photograph does not seem to be posed and it genuinely looks like Kate is deep in sleep. I believe respecting your partner's privacy is the cornerstone to a successful relationship. I don't believe Mario was always respectful of Kate's privacy in his quest to get the perfect shot.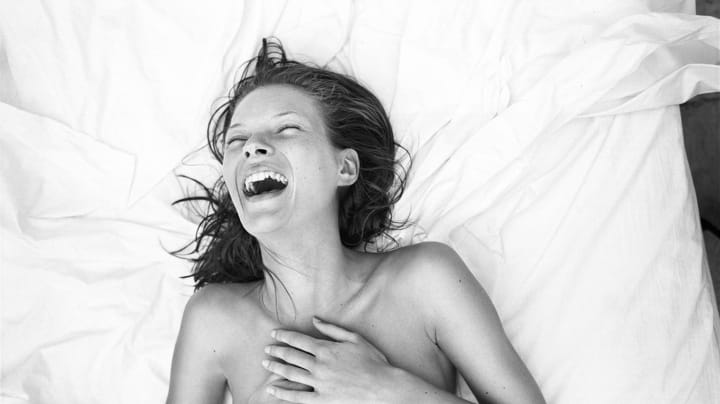 This is one of the few photographs taken by Mario that shows Kate happy and laughing. The others have a melancholy nature to them. Kate and Mario met when they were young and shared many happy memories and I do believe that they did make each other happy for a time. There are many fun and romantic stories from each of them talking about the first blushes of love. It is hard to analyse relationships from afar and to guess why the relationship broke down or whether or not it was toxic but ultimately people come together for a reason. I believe that Kate and Mario had a lot in common they both worked in fashion, loved to party and bonded over photography and they did make each other happy for a while.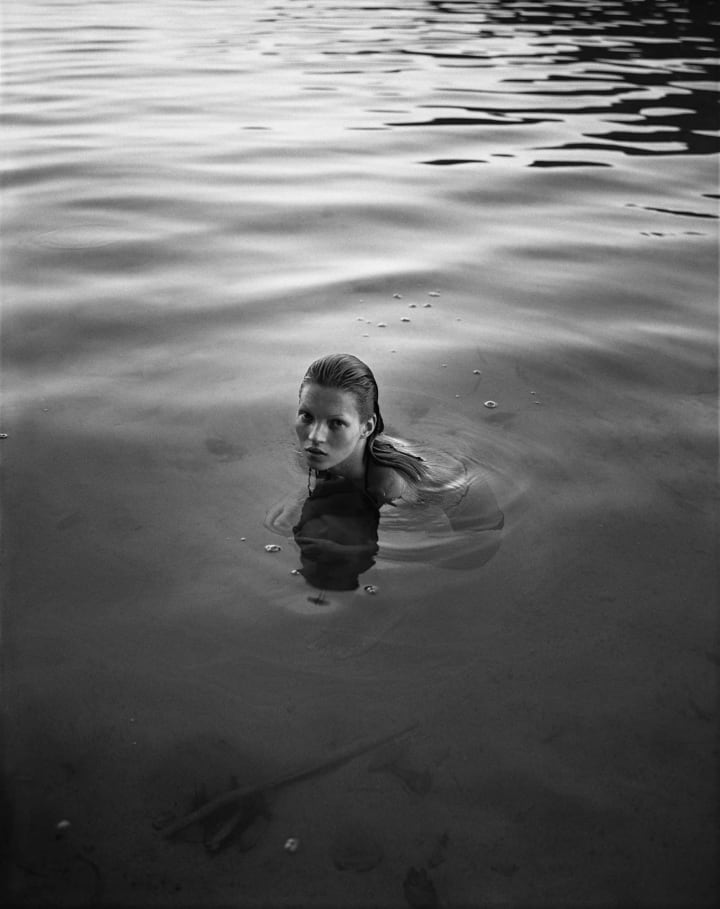 In this photograph, Kate looks like an enchanting mermaid and her sultry facial expression would set a ship off its course. This is one of my favourite photographs as it encapsulates Kate's beauty without the intense focus on her slim body. During their relationship, Mario seemed to be focused on getting the perfect shot of Kate and for me, this is the image that has the most artistic value. It is seductive without being pornographic as it hints at Kate's naked body submerged in the water. The use of black and white makes the water and Kate look otherworldly which holds the viewer's attention.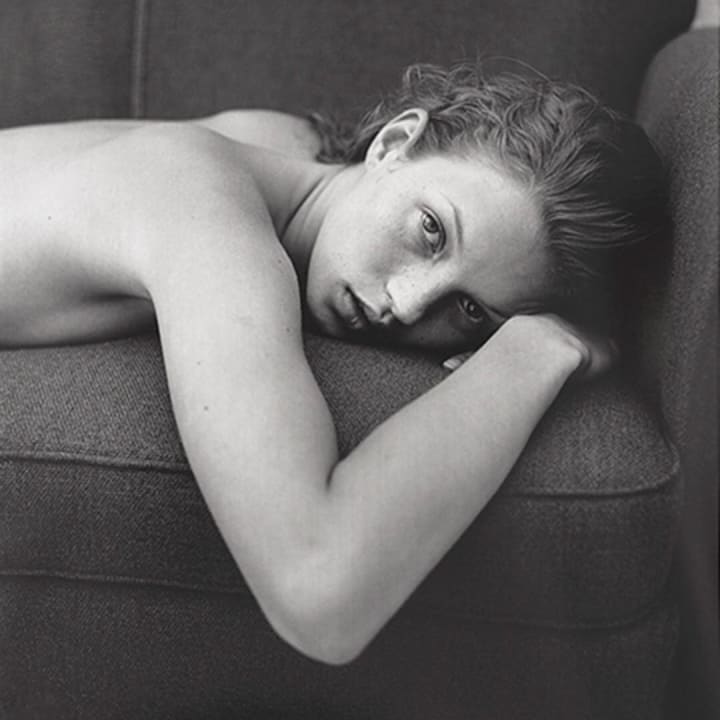 This close up of Kate's face highlights her fatigue and I wonder if that is due to her discomfort from being photographed constantly during their relationship. The vulnerability that Kate shows in photographs is what often holds the viewer's attention and is what I believe has led to her success. However, this fatigued look in the photograph is a little unsettling and I wonder about her health. Kate Moss once said, 'I got tired of feeling like Dracula. I wanted to see some daylight, and not just at six o'clock in the morning.' This photograph embodies that quote for me. Part of being in a healthy relationship is also being healthy yourself both mentally and physically. I think that Kate and Mario's relationship revolved around work and maybe didn't always prioritise rest.
It is reported that Kate Moss and Mario Sorrenti ended their relationship due to the pressures of their mixing personal and professional lives. They both remain on good terms and when Mario Sorrenti published a book of photographs he had taken of her during their relationship, called Kate by Mario Sorrenti, Kate Moss was gracious enough to attend the release party. What's interesting about the book is that it was actually Mario's wife's idea to have him publish the intimate photographs. Whatever Mario and Kate had whether it was love, obsession or if they were just overcome with lust, there has always remained a sort of admiration for each other in regards to their work and their combined contributions to the fashion industry.
Reader insights
Be the first to share your insights about this piece.
Add your insights