Jeffree Star Cosmetics Mini Review
Velour Liquid Lipstick, Skin Frost, and Eyeshadow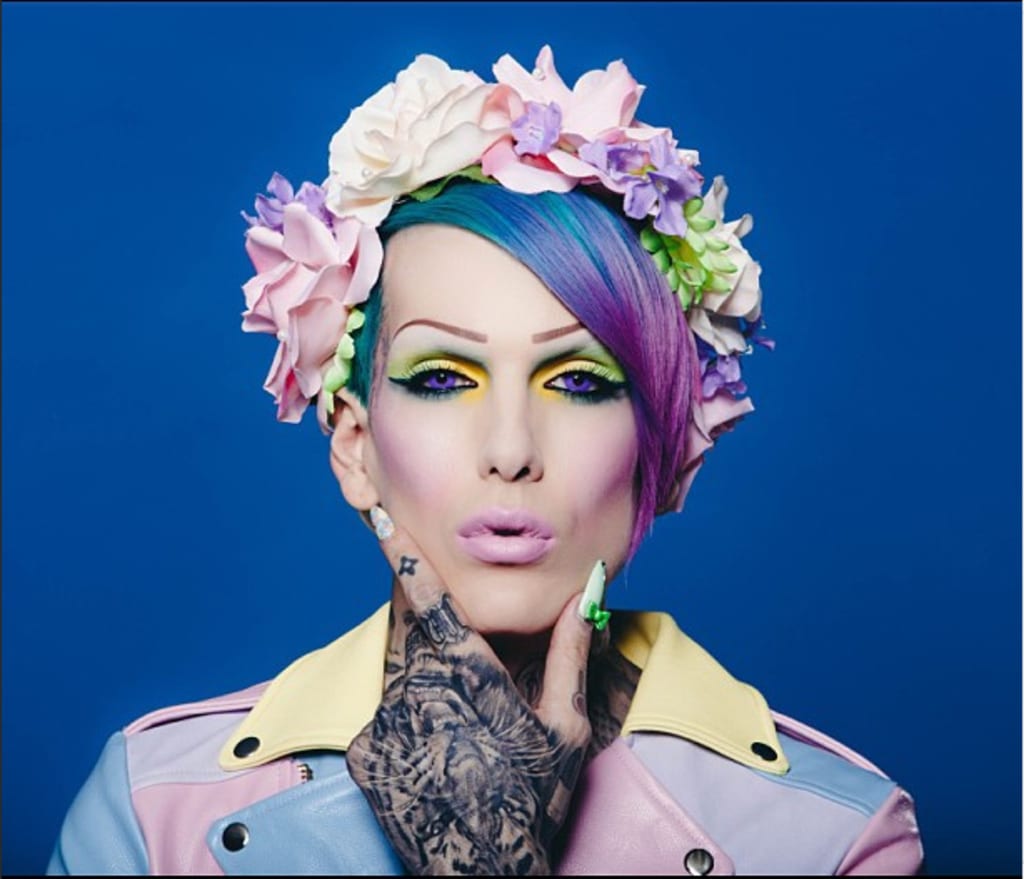 Jeffree Star Cosmetics
So, as my first post on here, I am here to talk about Jeffree Star Cosmetics, what I love about the brand and my review of each item they personally sell at the moment (cosmetics only).
In total, in my personal collection of Jeffree Star Cosmetics, I have over 50 velour liquid lipsticks, 12 skin frost highlighters, 10 lip ammunitions, two eyeshadow palettes, and 4 lip scrubs. So let's start by talking about the infamous velour liquid lipsticks…
As I personally own over 50 shades, I think it is safe to say I have a range of colours; going from nudes, reds, pinks, oranges, blues, and even black. I believe the only shade he has not made is grey (if only we could dream!). As a formula, I would safely say it must be one of the best liquid lipstick formulas on the market! The lipsticks have one of the strongest pigmentation I think I have ever used. With an easy one swipe, it doesn't take long to have your lips looking full and beautiful in seconds. Even the darkest of shades and the lightest of shades only take one swipe for full coverage. As a liquid lipstick, I find they are extremely long-wearing and not one shade, I personally find, bleeds either. You could wear them from early hours of the morning to late hours of the evening and realistically only have to touch it up once in the day. Even when drinking my morning coffee, and eating my breakfast to drinking water throughout the day, and eating my meals, as well, I find myself only reaching for the lipstick once in the day. Honestly, there have been times I have used a lipstick and forgotten to take it to work or on my outings and even after all of my meals, it doesn't look half bad, to ignore the fact I have touched it up, and no one will really notice it. Overall, on the velour liquid lipsticks, I would have to say they are the best on the market and will definitely give some companies a run for their money.
Next, let's talk about another famous item by Jeffree Star, but for all the right reasons. The 'Skin Frosts.' Now the first thing I would love to mention is the price to the size of the product. You are paying $29 for what must be the biggest pan out there for highlighters and if there is a bigger pan for the same price, then by all means let me know. For the price, quality, and size of the product, I find it hard to believe that people don't like them. With a wide range of colours and shades that can suit every skin tone, — you have pinks, golds, whites, blues, and even lavender — I believe there is a shade out there for everyone to love and enjoy. The pigment, again, is out of this universe and I feel it requires no touch-ups what so ever! You can legit apply them in the morning and still be glowing and flawless right up till bed time. A definite ride-or-die product I will forever use, and I am a highlighter junkie! If I had to personally pick a shade, I would have to say it would be the Eclipse shade. Shame it is limited edition!
The two eyeshadow palettes he has released, which are called 'Beauty Killer' and 'Androgyny' are probably two of the best eyeshadow palettes I have used. The pigment and the formula for these eyeshadows are perfect! The buttery, creamy formula allows you to blend and define any eye look you are looking to create. Whilst these palettes aren't perfect for the most everyday look, they are definitely a staple in my collection for any looks I create, and allow my imagination to run wild! With the most stunning glitter/shimmer shades that do not hurt the eyes and the most blendable matte shades, I would 100% recommend these palettes to anyone.
Finally, I have four of the lip scrubs I feel we need to talk about! Now the four flavours I personally own is the strawberry, gingerbread, blue raspberry and the watermelon. I must say, they are the most tasty sugar lip scrubs, I believe, to have hit the market! Given the fact the strawberry one was my first flavour, I did not use anything else until he released other flavours I would enjoy. With two upcoming now in the new Winter 'Star Family' collection, I just had to add this in. They are dense enough that you don't get sugar all over yourself. Plus, they really do work! I find a lot of lip scrubs can be a gimmick, however, these are most certainly not!
product review
About the author
23//Welsh//Working Full time//In love with makeup, cats and coffee//
Reviews on Makeup and Games to be posted.
Reader insights
Be the first to share your insights about this piece.
Add your insights