Is Tea Becoming The Coffee Body Scrub Of Hair? Here's Why Tea Is Now An Essential Step In My Hair Routine.
I never knew that tea could do this for my scalp and hair.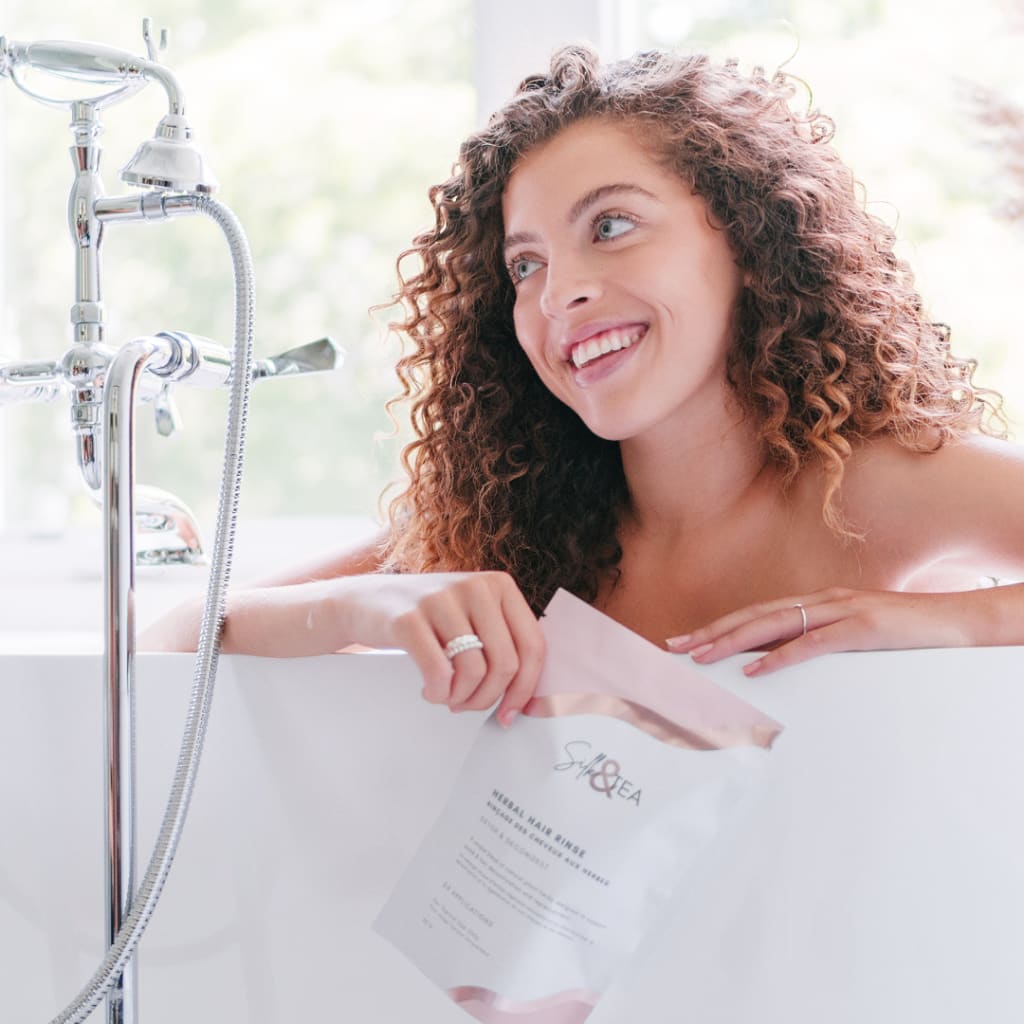 For as long as I can remember, my scalp and hair suffered from serious dandruff, dryness, and inflammation along with puffy, untameable dry ends. After spending a questionable chunk of my paycheque on 'special' shampoos, conditioners and hair masks, and even experimenting with some items found in my kitchen, I realized the problems I faced with my scalp and hair would be an ongoing challenge in my beauty routine.
What seemed like a weekly ritual to surf the web for the 'secret' hair hack to put my scalp and hair problems to rest, I stumbled on an article that wrote about using tea for hair. Thinking I had already exhausted every natural remedy out there, this one posed some interesting benefits I had never heard about. Reading on, I learned that tea actually contains some of the most powerful and effective benefits for the scalp and hair.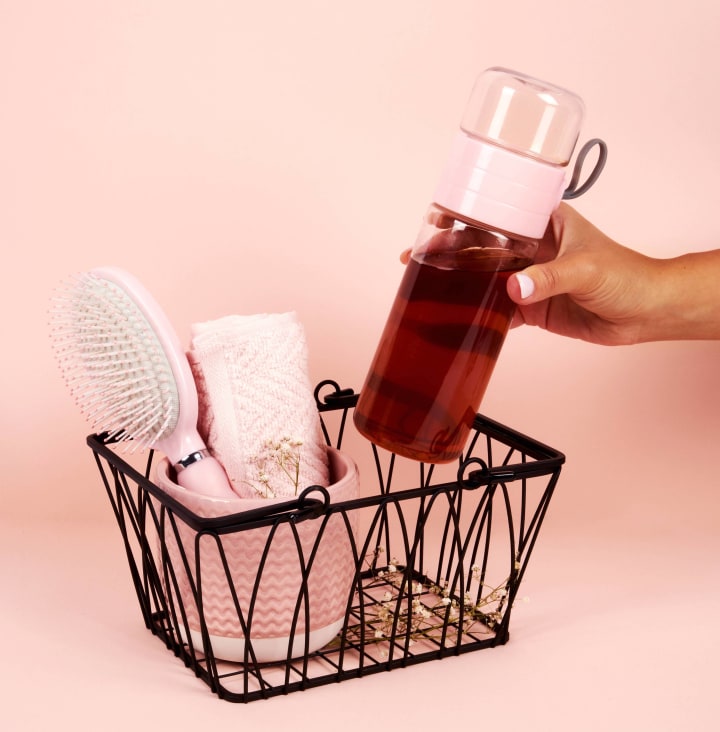 TEA RINSING FOR HEALTHY HAIR
After learning about tea containing some of these incredibly powerful vitamins, minerals, antioxidants and amino acids, I realized that a hair tea rinse could potentially be exactly I needed to fix my oily, dandruff-prone scalp and my dry ends. Silk&Tea was a brand that stood out to me as the only company offering Hair Tea Rinses treatments as an easy-to-use and convenient hair care system.
HOW TO USE A TEA RINSE
Silk&Tea has made it easy and convenient to add tea as an essential step in your hair care routine. The uniqueness of their products is not only reflected its overall design, but in their ingredients as well. It only requires 15 minutes to prepare before showering, requires no washing out, and leaves zero residue behind. With someone like me who failed on multiple attempts to remain consistent with a hair oil regimen, a no-washing-out policy and oil-free solution was music to my ears. Any follow-up drying and styling techniques are welcome, so no need to swap out or throw out any of your favorite hair care items - Feel free to blow dry, air dry, mousse-up or oil up your hair after!
Their Hair Tea Rinses are made with 100% natural plant herbs, made with zero additives or preservatives of any kind. One of the most unique features I found out that their completely natural ingredients are preserved by the inner lining of their packaging - protecting the potency and longevity of the product. Their packaging is recyclable along with each of their tea treatments being suitable to compost. There is nothing short of true thoughtfulness when it comes to innovation and sustainability with this brand.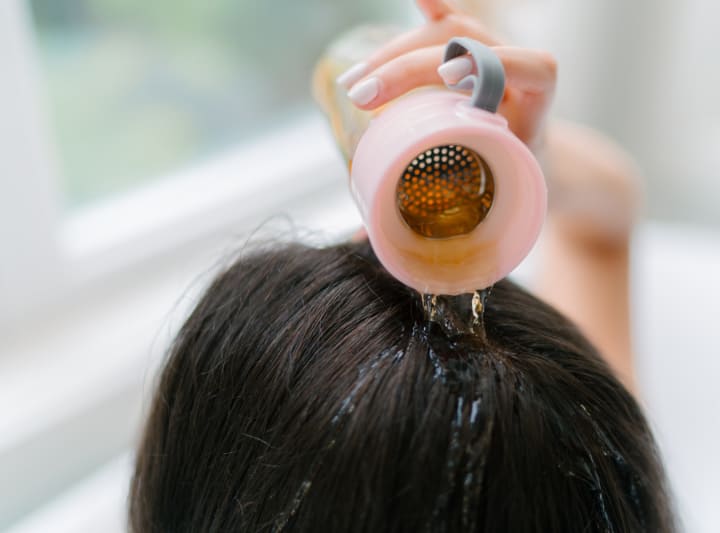 INGREDIENTS FOR A TEA RINSE
What I learned is how important it is to have the right balance of ingredients with a tea rinse to avoid your scalp and hair from becoming dried out. Silk&Tea's blend of ingredients contain some of the most nourishing combinations of plant herbs that avoids causing any sort of dryness. Each of their tea rinses include 11+ pure plant herbs. Some of which includeMoringa, Rosehips, Nettle, Parsley, Eucalyptus, Calendula, Everlasting Flower, Hops and more. The vitamins and minerals found in many of these ingredients include Vitamin C, Vitamin A, Iron, Zinc, and so much more. Their website provides a full breakdown of what each ingredient is intended for, and what particular benefits they provide the scalp and hair.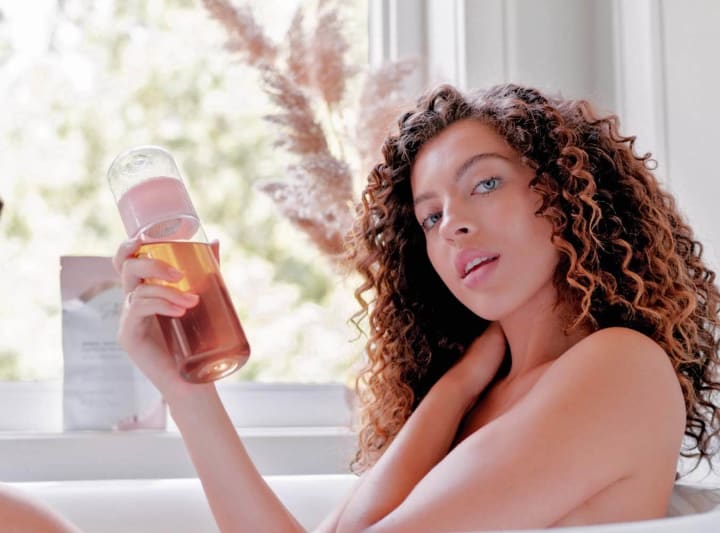 THE BENEFITS OF A TEA RINSE
Now that we've covered how easy it is to incorporate Silk&Tea's Hair Rinses into your weekly hair care routine, here's the many benefits of why their products are the secret to the hair of your dreams:
FRIZZ CONTROL: That's right - you can actually help reduce frizz even if you don't put loads of oil in your hair! The frizz can be prevented and controlled with the help of some super hydrating and moisture-boosting ingredients such as Comfrey Leaf and Rosehips. These vitamins-rich ingredients are both excellent for maintaining and protecting the hair's natural moisture barrier along with infusing the hair with Vitamin C and omega-6 fatty acids, which are essential to stronger, more defined and revitalized hair.
LESS BREAKAGE: Breakage, dryness, and brittle feeling hair is tough to fix. But with tea, you can actually help restore and repair those broken and damaged hair strands thanks to the formula's super hydrating and restorative properties. When infused, the Rinse's liquid actually penetrates right into the strand surface to do its magic! Nettle, Moringa, Calendula and Parsley have essential amino acids that work to help build up those weak and broken hair strands. When those super powerful ingredients are extracted into water to create this nutritious infusion, your hair will it drink right up. Depending on the level of breakage and dryness you're experiencing, you can start feeling the difference even just after a few applications!
HAIR GROWTH: Want to guess the hair hack to support healthy hair growth? You got it. TEA is KEY when it comes to supporting hair growth and helping prevent hair fall. There are so many incredible and powerful herbs that help stimulate the hair follicles while at the same time, blocking the DHT hormone that causes hair loss or hair fall. There are some key players when it comes to plants and herbs to support hair growth and prevent hair fall. And luckily, Silk&Tea has included many of them in their special Hair Tea Rinses.
The key ingredients that help support hair growth include: Nettle, Moringa, Dandelion Root, Fenugreek, Parsley, White Oak Bark, and more! What makes these powerful herbs perfect for aiding in hair growth? Many of them contain high amounts of iron, silica, and Vitamin B12, all of which supporting strengthening and stimulating the hair follicles. At the same time, these herbs have antioxidants that repair the follicles, creating an ideal environment for new hair to grow while helping block the DHT hormone that contributes to excessive hair fall. So don't be surprised if your hair starts becoming longer, fuller, and more lustrous (but we're not complaining!!)
LESS OIL: One of the most unique features of a Tea Rinse is its astringent properties that helps break down bacteria and buildup mostly caused by sweat, dead skill cells and leftover product. This can be done without any harsh scrubbing or exfoliating. For those with oily hair, this is key in order to help control oil overproduction - ie. super greasy hair! With Silk&Tea, its Herbal Hair Tea Rinses contain antibacterial and anti-fungal properties that help prevent and break down this buildup and bacteria that may be contributing to oil overproduction on the scalp. This contributes to creating an optimal environment on the scalp, which then helps healthy hair grow and flourish!
SOFTNESS & SHINE: There's one thing that occurs with Silk&Tea's Hair Tea Rinses, and that's getting tons of natural softness and shine. Once the scalp and hair are fed these incredible, nutritious Rinses, it can help the hair achieve natural softness and shine, even WITHOUT aftercare products! That's because of its ingredients like Hops and Marshmallow root that contain Vitamin B and unique proteins that help tighten the hair cuticles, enriching the hair to feel and look shinier, softer and silkier. It's incredible that an oil-free solution can support natural shininess by actually helping repair and restore the hair strands themselves for long term hair health.
HOW TO BEGIN YOUR TEA RINSING JOURNEY
Luckily, adding a tea rinse into your weekly hair routine is as simple as it gets. You can pair your tea rinses with your wash days or even apply it to unwashed hair. Depending on your scalp and hair type, you may see your hair become less frizzy, more defined, fuller and shinier even with just a few applications. One thing is for sure is that I'm not quite sure what I was doing to feed my hair with the nutrients it needed before I started using a tea rinse. With a soothed scalp, stronger and fuller hair, I can thank Silk&Tea for helping my hair get in op-tea-mal shape!