Indulge a Little
How to Have a Spa Day at Home That Doesn't Break the Bank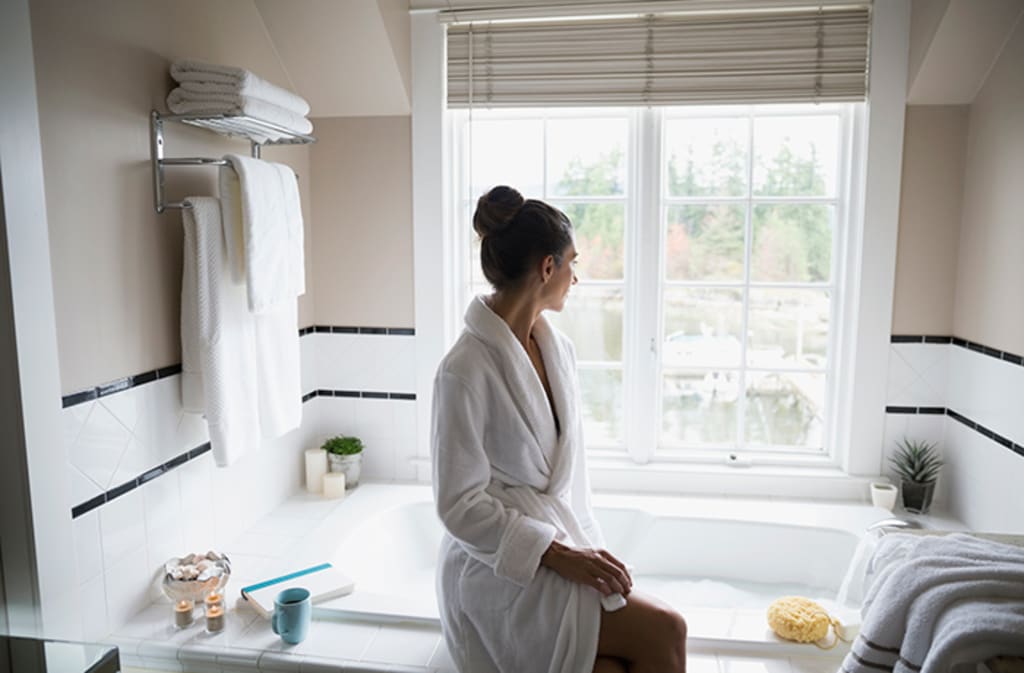 Who doesn't love a spa day? But let's be honest, a full day of pampering can drain your wallet just as quickly as a trip to Macy's and since you're in public you have to look cute before and after right? So what's the solution, an at home DIY spa day. You could even get your best girlfriends together and throw a PJs and pampering party, but I'd probably narrow down the steps if there are more than three people.
I like to have a full uninterrupted spa experience, complete with snacks so I always plan my spa days ahead and do some prep work a day or two before. I like to clean my bathroom, living room, and kitchen top to bottom 1 -2 days before, so they are clean and relaxing the day of.
I also go to the store and get my snacks the day before which typically include string cheese, deli meat, and fresh fruit. I do on occasion also pick up a bottle of wine and I'll pick up anything else I don't already have at home that I'll need for my spa day.
Disclaimer this article is not sponsored by Mary Kay, but as a former consultant and customer for life, I know the products well and love the results they deliver. I have linked to a consultant who was on my team when I was active in the company, but you can easily look up a consultant in your area to try out any of the linked products for free, be sure to ask how you can take those products home free too!
Stretching or Yoga: I like to start my pampering day with a relaxing exercise that helps me clear my thoughts and preps my body for relaxation and pampering.
Hair: I love starting my treatments with a deep conditioning hair mask. There are tons of DIY masks on the internet, and plenty of great options at the store. Personally, I just like to apply extra virgin olive oil or coconut oil. I start in the middle of the hair shaft and work through to the ends of the hair fully saturating the hair. Then I use a comb to evenly distribute the product and bring it closer to my scalp. I have naturally oily hair, especially at the root, so I avoid putting oils directly on my scalp. If you have a dry scalp, you may see better results by putting the product directly on the scalp and working it through to the ends of the hair. Then I just put my hair up in a high bun and leave it until I'm ready to wash.I do this first for two reasons. One, I'll be applying a face mask, so this keeps my hair from getting stuck to the mask. Two, the longer I can leave the product in my hair the better it conditions my hair. Since I do use a lot of heat, color, and styling products and I'm only doing this monthly or biweekly as I have time I want to get the maximum benefits possible.
Face Mask: I vary my face mask depending on what results I'm looking for. I always start by using my favorite cleanser and gently patting my face dry with a soft towel. Next, I apply my mask using a flat synthetic brush or my fingertips. Below are the masks I use to achieve different results. Now is when I enjoy some of my tasty snacks and watch an episode of the show I'm currently binge watching.
Fingers and Toes: After snacks, I like to give a deep moisture treatment to my hands and feet. For this, I swear by the Mary Kay Satin Hands Collection I apply the Protecting Softener liberally to my feet and pull on fuzzy socks or tie a plastic bag around my feet to keep the product on, then apply it to my hands and put on vinyl or latex gloves. I also apply the softener to rough dry areas like knees and elbows. I let this set in while I watch another episode then wash it off by applying the Hand Scrub to my hands and feet then rinsing with warm water.
If you're still with me, kudos to you! You will thank yourself for it later. And yes I realize this is a high maintenance routine, that's why it only happens once or twice a month. So let's continue...
Dry brushing/Shaving: Next I use a dry brush to buff any dead cells from the surface of my skin. I work in an upward circular motion, moving toward my heart. Dry brushing helps to exfoliate the skin, decrease cellulite, and increase circulation. Then I shave to get that awesome silky feeling, you know the one! I love using my blades from Dollar Shave Club because they give me a great shave and last through several uses. Plus they don't cost the leg I'm trying to shave! I usually do this in my bathroom, sitting on the side of the tub without running the water, with music on and a candle burning. I love this Three Wick Candle from Bath & Body Works, but any calming scent like vanilla, lavender, or sandalwood will give you a great spa feeling.
Shower: It's totally personal preference at this point whether you choose to take a bath or shower. Personally, since I have oil in my hair and a mask on my face I prefer a shower. I keep my music and candle going, and often turn up the heat to really get the room steamy. I add bath enhancers like fizzies, salts, and/or bubble bath for a bath or a shower steamer. Before running any water over my hair I massage a clarifying shampoo like Paul Mitchell Tea Tree Shampoo into my scalp to start breaking up the oil I've applied. Then shampoo and condition as normal, you may need to shampoo a second time to remove all the product depending on what mask you've used in your hair. I like to finish my shower with a mix of a moisturizing body wash and an exfoliating scrub.
Skin Care: While my hair is wrapped in a towel I start on my skin care. I target my specific skin needs by applying Night Solution to tone and tighten my skin, Replenishing Serum +C to lift firm and moisturize my skin, and Timewise Moisturizer to lock in moisture for up to 10 hours. I make sure to bring these down onto my neck and chest as well. I finish caring for my skin by working Hydrating Lotion and body butter to moisturize my skin from the shoulders down. Mary Kay also has a new collection of Body Care products if you're shopping with your consultant, but I have not used these yet since they have just launched.
To wrap up my treatments, I blow dry my hair and polish my nails. I always use a heat protectant and spray in conditioner before blow drying, and use alcohol to remove any product residue from my nails before polishing.
Now it's time to go back to my show and lounge in my comfy robe with my snacks! Enjoy this indulgent spa day without breaking the bank, or having to leave home.