I washed my hair with beer for a month
the best way to get healthy hair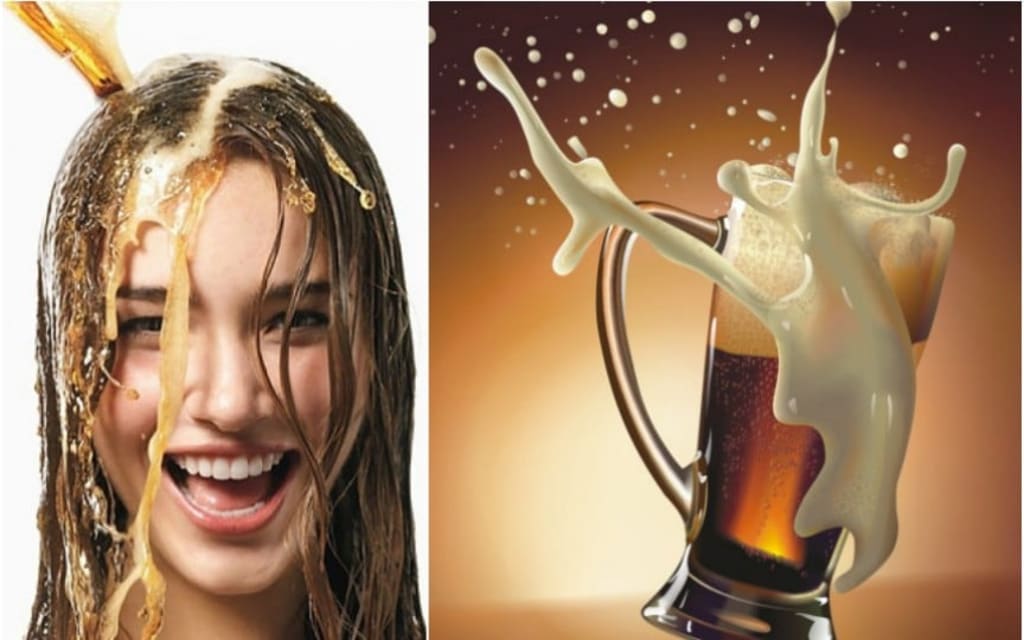 Catherine Zeta-Jones admitted that she maintains her hair with honey and beer. It may seem strange that an actress who can afford absolutely any cosmetic product uses such a simple and natural solution to have healthy hair.
Although she had a $ 5 million contract to be Elisabeth Arden's image, Catherine prefers the natural approach when it comes to beauty.
Starting from its revelation, we have gathered some recipes for hair care that have beer as their main ingredient. It doesn't matter what brand of beer you use as long as it is made from hops and malt and does not contain dyes or additives. Don't worry about the smell. It disappears after a few minutes, as the hair dries.
Why does it work?
The proteins in malt and hops strengthen the hair and repair it.
Minerals nourish the hair and tone the scalp (magnesium, potassium, phosphorus).
The B vitamin complex, especially biotin (B7) also called "beauty vitamin", stops hair loss, helps hair growth, balances the scalp and prevents dandruff.
Maltose makes the cuticle smooth, giving the hair shine and volume.
Beer recipes for hair care
Solution for rinsing hair with beer and vinegar
Mix 30 ml of water with 30 ml of blown beer. Add two teaspoons of apple cider vinegar and 4-5 drops of rosemary essential oil for fragrance and scalp stimulation (optional).
If your hair is very greasy, add the juice of 1 lemon to the mixture. Apply this composition on freshly washed hair and gently massage the scalp for 2-3 minutes. Rinse with lukewarm to cold water.
Hair mask with beer and honey
Strain half a ripe banana, add an egg and mix. It would be best to use a blender to get a paste as fine as possible. Add 100 ml of blown beer and 1 tablespoon of honey, stirring constantly. Apply on hair and scalp, wait 30 minutes and then wash your hair with a mild shampoo. If you do not have bananas and eggs at hand, mix only 100 ml of beer with 2 tablespoons of honey.
Rinse your hair with beer
Heat the beer a little and pour it carefully on your hair after washing your head. Leave it on for a few minutes and then rinse your hair with lukewarm water. If you do not want your hair to smell of beer until it dries, then rinse it with a chamomile infusion.
Beer shampoo
Bring to a boil over low heat 250 ml of beer. When it has dropped to a quarter, let it cool. Mix it with a mild shampoo or shampoo base.
Beer balm
Mix 200 ml of lukewarm beer with 1 teaspoon of jojoba oil. Apply the mixture on the hair after shampooing, leave it on for 15 minutes and then rinse with lukewarm water.
Hair fixative
Pour beer into a spray bottle and use it on damp hair before styling it. Store in the refrigerator for up to 2 weeks.
Because it's party season, don't miss the opportunity to try these recipes using the beer you find the next morning in bottles and glasses scattered throughout the house.
What beer to choose for your hair?
The best choice will be freshly filtered beer, without filtration, without pasteurization and various additives that extend the shelf life. Today this can be bought in every city and even in a big village.
But that doesn't mean you can't use bottled foam from the store. The vitamins and minerals it contains are not destroyed during pasteurization. But in this case, give preference to the unfiltered - in it there are more useful substances.
Masks
Masks are a very effective way to restore hair that is "tired" of ecology, stress, improper care and its beauty and shine. First, some general tips:
Before use, remove the excess gas drink by pouring it from glass to glass.
Then warm to body temperature so that it works better.
Apply the mask on clean, washed and dry hair.
Leave on the mask applied for 15-20 minutes. Put a plastic cap (bag) on ​​your head and wrap it in addition with a towel.
Rinse the mask with clean, warm water after exposure.
It is not recommended to use dark beer on the right hair, it can change their color to darker.
For a lasting effect, use masks twice a week for at least a month.
Beat the mixtures containing oil, honey, etc., using a mixer for even mixing.
After washing my hair with beer for a month, I noticed a big difference between "before" and "after".
I personally have very oily hair, it falls out every time I comb or wash it and I often find hairs around the house. However, after using beer for a month as a mask, my hair has volume, I only noticed 2 times hair loss after the bath and it is no longer oily at all.
hair
Communication and public relations student, Moldova
Instagram profile: maria.ostasevici;
mother of two awesome Dobermans.
BEST VERSION OF YOURSELF- THAT'S TRULY EPIC
Receive stories by Maria Ostasevici in

your feed