I Tried Dermstore's BeautyFIX Subscription Box, and Here's What I Thought
Can BeautyFIX really give you the makeup fix you're craving, or is it a broken promise?
Subscription boxes. They're everywhere, and they all promise to give you awesome products at a fraction of the price you'd pay for them a la carte. They have become one of the most popular ways to learn about new products, and as a makeup enthusiast, I've always been curious about them.
Though I've seen the ads for subscription boxes for ages, I never quite had the interest in taking the plunge until fairly recently. However, things changed when I learned more about BeautyFIX.
I took a look at Dermstore's BeautyFIX and just had to give it a shot. The great reviews it was getting, along with the cute box design and awesome price tag, made it worth a try. It seemed like a great service, so why not, right?
I waited with bated breath as the post office delivered my first package. Curious about what I got, or whether BeautyFIX really delivers on its promise? I was, too. That's why I decided to review every bit of the box I got.
Here's what I think everyone should know about BeautyFIX's program...
The BeautyFIX® by Dermstore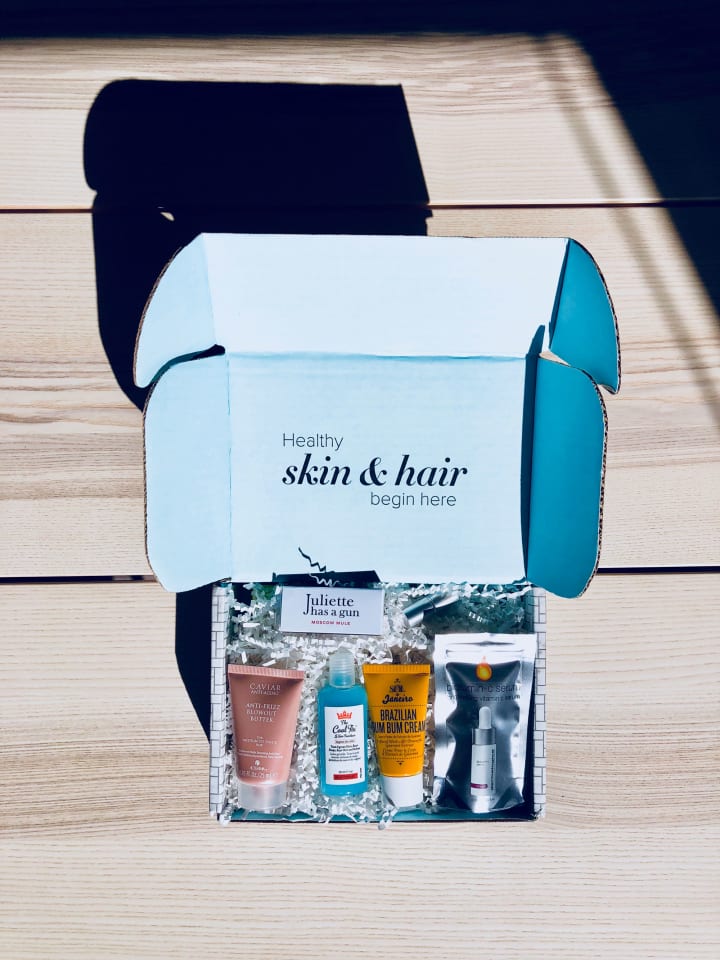 BeautyFIX is a monthly subscription box featuring curated assortments of makeup, skin and hair care products hand-selected by beauty experts. It's meant to help you learn about new products and give you a "try it before you buy it" offer.
The box costs $24.95 a month, or $34.95 for a one-time purchase.
Rating the Products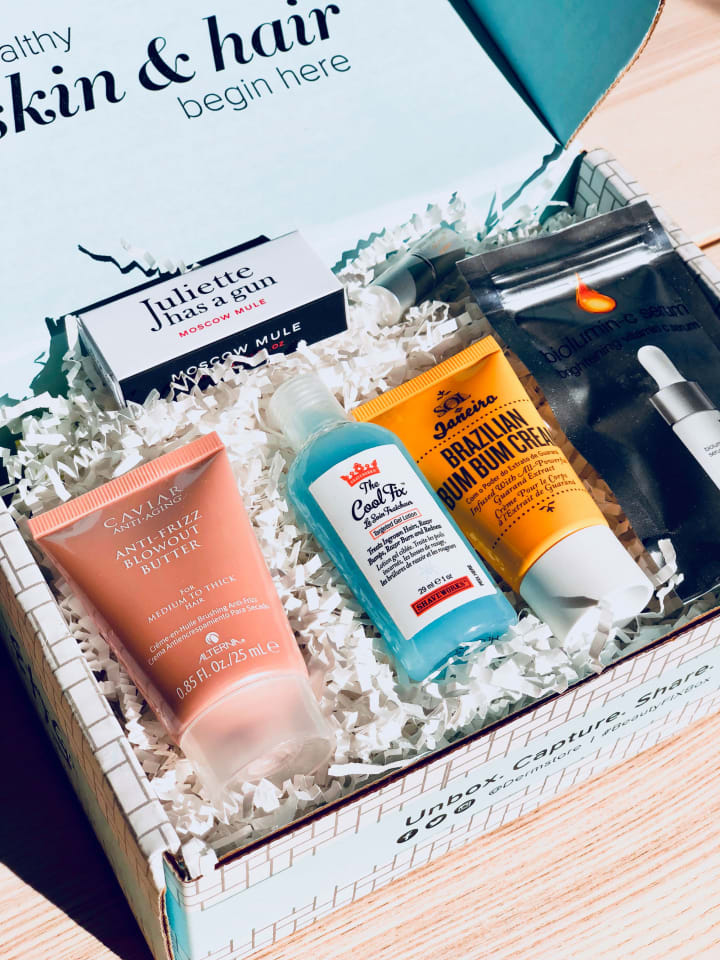 There were eight products in my subscription box. I tested each beauty product for at least seven to ten days and here's what I thought...
Got a full-size! Retail Value is $65! Win!
The Colorescience's award-winning mineral sunscreen brush is unlike anything I've ever seen before. I was so excited to try it but as soon as the brush hit my skin, I was in utter shock. The brush is SO hard. I was really, really disappointed. So I've been using it with a different brush and the powder is pretty good.
The ingredients work together to reflect and prevent UV rays from infiltrating your skin and causing painful burns. You can throw it in your purse, gym bag, or glove compartment. Take it anywhere and everywhere for an effortless sun protector.
Key Ingredients:
Hyaluronic Acid Powder for added hydration
Iron Oxides provides blue light protection and shade match
Vitachelox® formula provides antioxidant and pollution defense
InfraGuard formula offers an infrared defense
Zinc Oxide and Titanium Dioxide provide physical, non-chemical sun protection
Key Benefits:
Provides environmental protection against UVA/UVB, pollution, blue light, and infrared radiation
Convenient, easy-to-apply, portable brush
Can be used alone or over makeup
A hydrating and antioxidant-rich formula, still 100 percent chemical free active ingredients
Antimicrobial bristles help protect the brush and keep it fresh
Water/sweat resistant for 80 minutes
This perfume obviously inspired by the most-loved cocktail, Juliette Has A Gun's Moscow Mule Eau de Parfum will certainly have you longing for a refreshing cold drink in a copper mug.
At first, I thought this fragrance was kinda manly, but it really grew on me. It's citrusy, flowery, and woody too! This perfume has the perfect scent for summer. It's light, fresh, and lasts for quite a while (at least three to four hours).
Key Ingredients:
Top Notes: essence of ginger, lime, & bergamot
Heart Notes: apple essence, extreme amber, sandalwood, iso e super
Bottom Notes: ambroxan, ambretolide, norlimbanol
"I had in my mind the idea of a fragrance that evoked the vibrations and euphoria of the famous Moscow Mule cocktail. A fresh and exhilarating composition that associates ginger with copper. These two elements inspired me for both the bottle design and the formula: ginger the model featured in the campaign and her mysterious red hair color. Copper because the cocktail is usually served in copper mugs." - Romano Ricci, Brand Founder
Ugh, LOVE this. Bio-LuminC Serum from Dermalogica fights imperfections, targets damaged skin, and restores vitality. Put this on under your lotion for all-day smoothness.
If you want to reduce fine lines, hyperpigmentation, and free radical damage, this serum is for you! The vitamin C and hyaluronic acid formula is designed to brighten, firm, and create a more radiant complexion.
Key Ingredients:
Ascorbosilane SP: a highly stable vitamin C derivative is complexed with Silicium, which helps it penetrate the skin to maximize bioavailability and strengthen skin's natural defenses.
K3 Vita C: a next-generation form of vitamin C, particularly effective at reducing production of melanin (the culprit behind age spots, melasma, and hyperpigmentation).
Peptides: boosts collagen production and protects against collagen degradation. Effectively firms skin and reduces the appearance of fine lines and wrinkles.
Lactic Acid: accelerates cell turnover to reveal smoother, brighter skin with reduced fine lines and wrinkles. As a secondary benefit, the newly exfoliated skin is more readily able to absorb active ingredients.
Sophora Japonica Flower Extract: stimulates the skin's internal anti-oxidative defense system, returning it to a calm state after experiencing oxidative stress.
Key Benefits:
Evens skin tone and reduces brown spots
Renews the skin's surface
Prevents and corrects free radical damage
The name speaks for itself. The Cool Fix immediately calms your skin and cools razor burn caused by waxing and shaving. I use this gel lotion on my most sensitive areas like my bikini zone and underarms and it worked wonders! Post-shower and shave, just rub some on and literally no more ingrown hairs or razor bumps!
Key Benefits:
Glycolic acid: exfoliates to lift away dead skin cells and allow hairs to come through more easily
Salicylic acid: kills bacteria and provides surface exfoliation to reveal brighter skin
Phytic acid: dissolves dead skin cells so trapped hairs can be freed from the top layers of the skin
Mediacalm: complex instantly soothes skin and reduces redness on contact
YESSSSSSS. I absolutely love this lip balm. I'm not a huge lipstick person so I was kinda iffy about this product but it is seriously the best. The color is light which is perfect for me because, like I said, lipstick is not my thing. Also, (OMG) the smell... it's so sweet and delicious, I cannot stop reapplying!
LipDrink has soothing relief and hydration from a blend of waxes and oils creating this silky consistency that leaves your lips supple, soft, and flawlessly hydrated. It also has titanium dioxide which provides broad-spectrum protection from UVA and UVB rays while the antioxidant powerhouses green tea extract, and vitamins C and E shield your lips from environmental irritants. Plus it smells and tastes like candy. What else could you ask for?
Another full-size! The retail value is $49, so having this alone means you're getting more than what you paid for the box. Not a bad look at all.
The Nia 24 Sun Prevention 100 Percent Mineral Sunscreen SPF 30 is amazing. It hydrates your skin, protects from sun exposure, and helps prevent further sun damage. You can wear the lightweight lotion under makeup and it won't leave you feeling greasy or oily like most other sunblocks. A drop of this stuff goes a long way, so be sure not to over apply the lotion and really rub it in as it may leave a slight tint.
The sunscreen has titanium dioxide and zinc oxide to provide the skin with complete protection. The Vitamin E in it promotes healing and nourishes the skin with antioxidants. It is fragrance-free which is perfect for someone like me with super sensitive skin. This sunscreen is also oil-free, paraben-free, and dermatologist approved. LOVE LOVE LOVE IT!
Nia 24 is a niacin-powered skin care line dedicated to preventing, repairing and fighting the visible signs of sun damage. Nia 24 by Niadyne features the patented niacin molecule, Pro-Niacin™, which allows niacin to penetrate the deeper layers of the skin to stimulate DNA repair. This unique formula helps to rebuild the skin's barrier from the inside out, which reduces the appearance of hyperpigmentation, fine lines, and wrinkles, and also improves the skin's texture and tone.
Oh, ma gosh. I don't know how I lived without this product my entire life! The Caviar Anti-Frizz Blowout Butter has ingredients designed to restore softness, smoothness, and shine to dull locks by intensely hydrating each strand. I have curly, frizzy, thin hair and this stuff is freakin' magic. I would recommend this stuff to anyone and everyone. Seriously, it is a must-have for frizzy hair.
Key Ingredients:
Camellia Oil: rich source of Omega-6 fatty acids and antioxidants that restores hair's natural sheen, forming a barrier against environmental pollutants, with repairing and treatment benefits to soften and make hair more manageable.
Abyssinian Oil: provides high level of conditioning and shine without adding weight.
Avocado Oil: moisturizing and deep conditioning agent rich in nutrients such as Vitamin A, B, D, E, proteins beneficial for nourishment
Caviar Extract: contains amino acids and Omega-3 fatty acids that help smooth the hair shaft and increase shine.
WOAH! If you haven't tried Sol de Janeiro Brazilian Bum Bum Cream, then you are seriously missing out! This is the softest, smoothest lotion that I have ever tried. It also smells unbelievable, like pure heaven. It is infused with Amazonian fruit-derived antioxidants, coconut oil, and cupuaçu butter.
It's an extremely hydrating body lotion, as it works to relieve dryness and lock in moisture so you can look and feel amazing! It's absolutely addictive; I use the cream mostly on my thighs, belly, and stomach right after the shower, It creates an all-over gorgeous glow and tightens your skin to perfection.
Key Ingredients:
Coconut Oil: melts easily into your skin to soften, condition, and moisturize
Cupuaçu Butter: full of fatty acids, phytosterols, and polyphenols to lock in moisture
Acai Oil: an antioxidant powerhouse that leaves skin looking and feeling more supple, resilient and replenished
Mica: peachy particle flecks that give off an irresistible afterglow
Guarana: Rich in caffeine, it supports natural circulation, boosts energy, and smooths skin.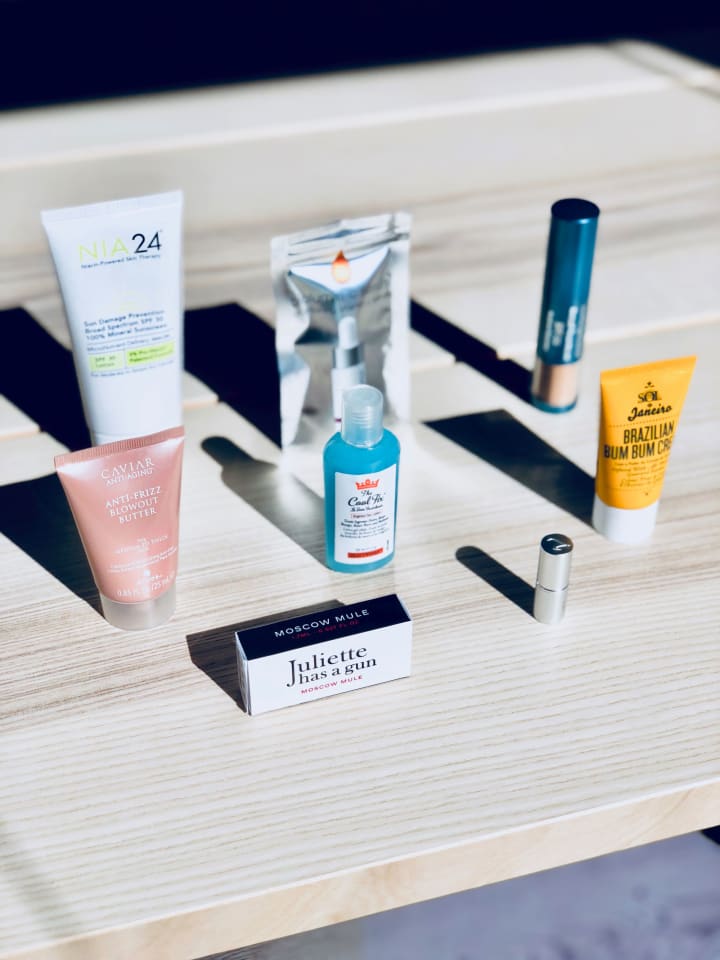 In Conclusion...

The hype surrounding the Dermstore BeautyFIX box is well deserved. The quality and uniqueness of the products included greatly exceeded my expectations.
BeautyFIX has allowed me to experience new brands and products that I have never heard of or been dying to try. More importantly, it's done it without me having to spend hundreds of dollars to do so.
Sign up now for this must-have beauty box before the monthly subscriptions run out—and they always do!
product review
About the author
Social media consultant and avid lifehacker. I spend most of my days curating Pinterest, Tumblr and Instagram. "A picture is worth a thousand re-blogs."
Reader insights
Be the first to share your insights about this piece.
Add your insights