HOW TO MAKE A GLYCERIN TINCTURE
Using plants to make edible medicine and concentrates!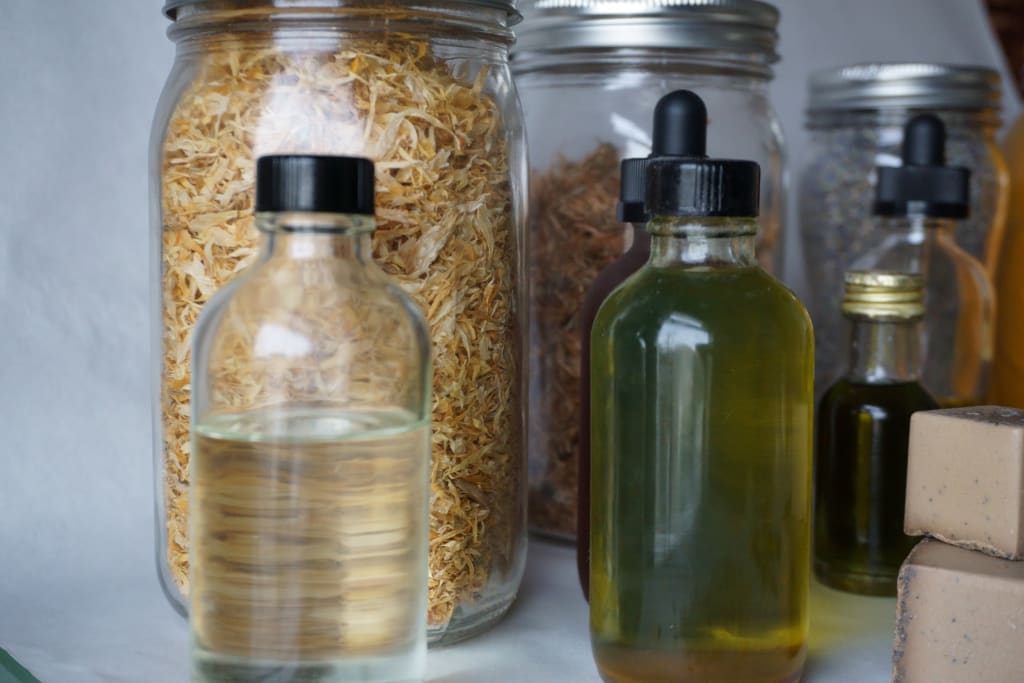 There are many ways to use herbs as medicine or for beauty - tinctures, whole plant matter, a poultice, tea, infusion, decoctions, etc. One of my favorite ways to use plants is making a shelf stable tincture. This way, you can add your remedy to many mediums, or even take on it's own.
In this blog, I'm going to review how to make a glycerite with fresh or dried herbs, and how to use them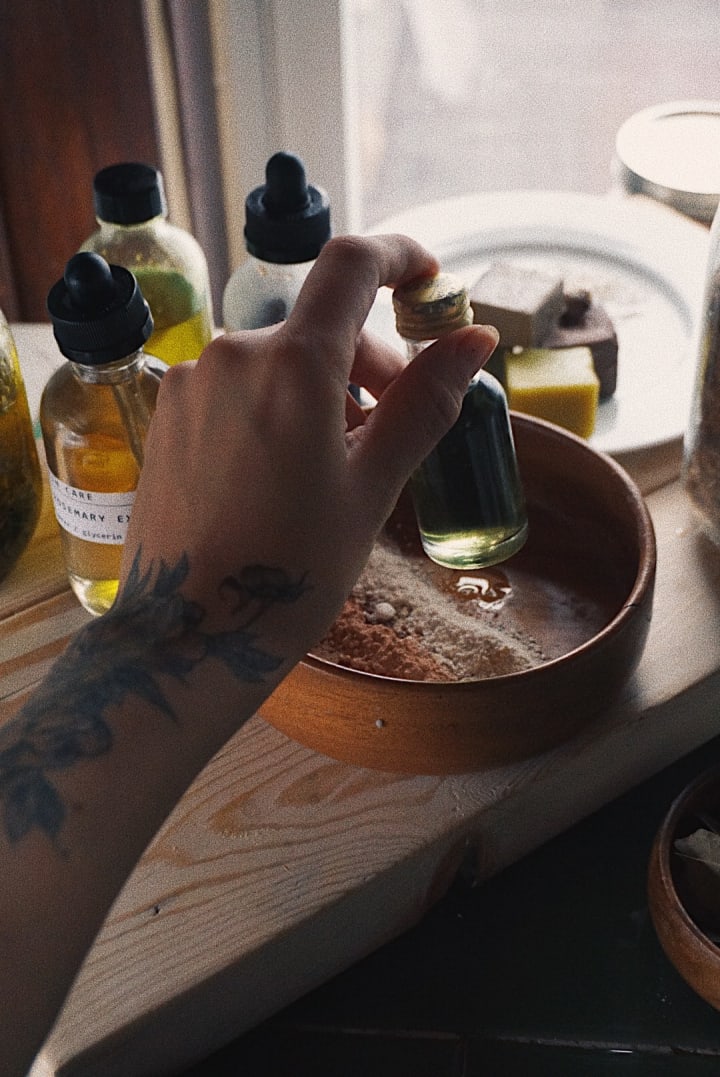 I love glycerites - essentially concentrating the medicinal benefits of a plant. Glycerine tinctures are a great way to preserve a plant for medicinal use, or for skin care, food and flavoring. You can add this to drinks, recipes, a bath, a face mask, a cleanser, anything!
The glycerin tincture is a great alternative to the grain alcohol based solutions - especially for skin care since alcohol is irritating. You can make this recipe two ways, cold and hot.
Cold Infusion - Soaking herbs in solution for 1-2 weeks.
Hot Infusion - In heat safe jar place in double boiler slowcooker for 4 hours (or on a stovetop, on medium heat).
All of the ingredients should be super easy to find from your local grocery store, I got everything at Down to Earth in Honolulu.
INGREDIENTS / MATERIALS
- Vegetable Glycerin
- Distilled Water (try not to use tap or filtered water to reduce likelihood of contamination, mold and yeast growth, all of which can be very dangerous!)
- Herb of your choice (Calendula, Lavender, Rose Buds, Licorice Root, Turmeric)
- Alcohol (optional) at a 10% concentration to preserve * glycerine naturally preserves but if this product is going to be on the shelf for long periods of time, exposed to heat or moisture, then add the alcohol to be safe - i like to keep Everclear or grain alcohol on hand for this
- Cheese Cloth for straining herbs from glycerine
- Funnel (optional)
- Lots of hand towels + sink access!
How to make your own Herbal Glycerite Tinctures
1. GATHER THE INGREDIENTS + MATERIALS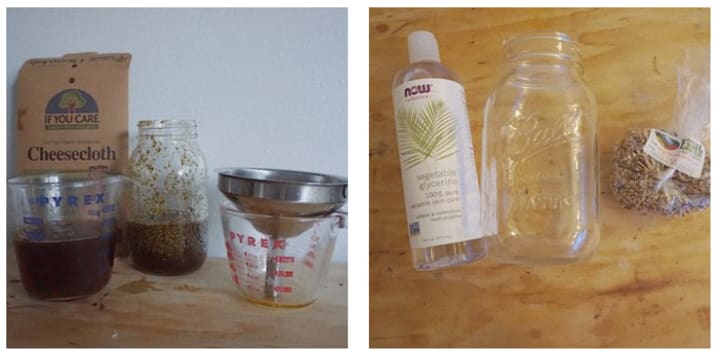 2. ADD THE HERBS TO THE JAR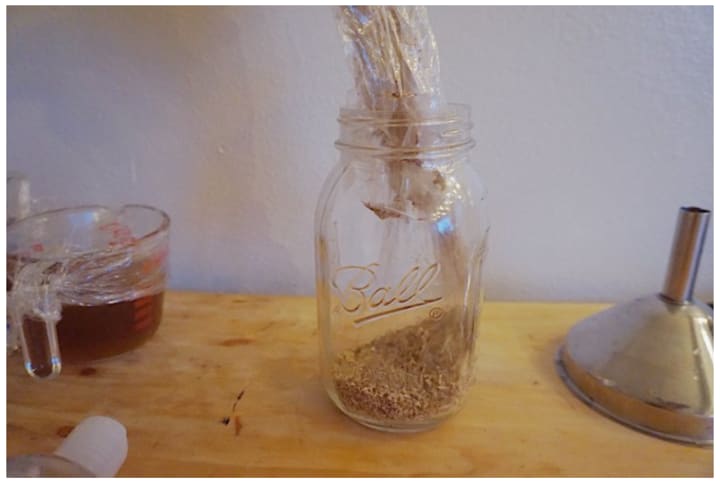 3. MIX THE GLYCERIN + DISTILLED WATER IN A 3:1 RATIO (3 GLYCERIN : 1 DISTILLED WATER) + ADD TO JAR, MAKE SURE TO FULLY SUBMERGE THE HERBS.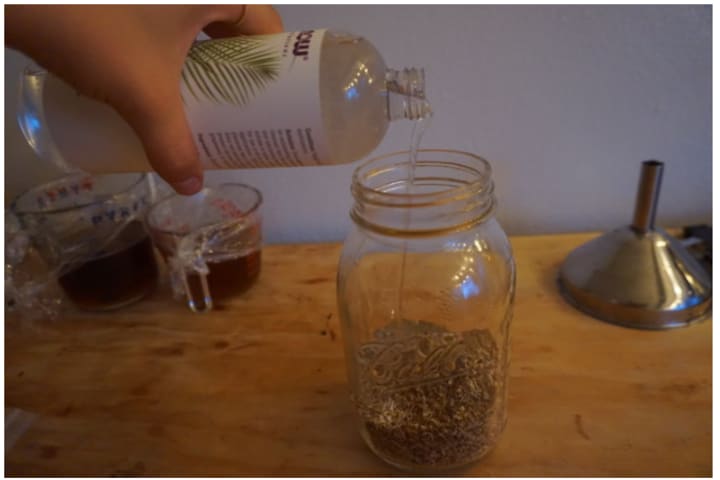 4. CAP + SHAKE THE HERBS - MAKE SURE TO AGITATE AND SHAKE THEM UP DAILY IF YOU CHOOSE TO DO THE COLD INFUSION METHOD.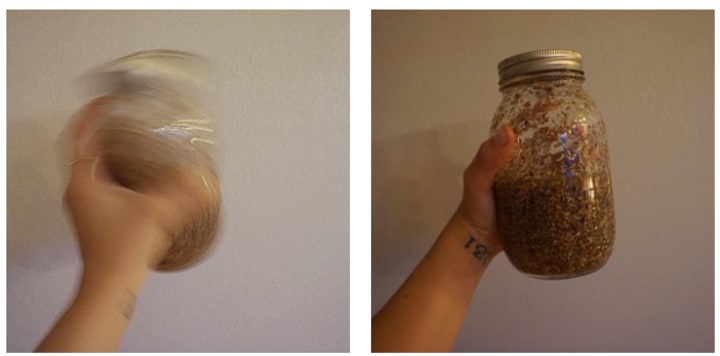 5. LABEL IT! WRITE DOWN THE NAME OF THE HERB, DATE, RATIO OF INGREDIENTS (3:1 GLYCERIN TO WATER WITH HERB NAME).
HOW TO STRAIN YOUR TINCTURE
1. USE A CLEAN BALL JAR, A FUNNEL AND CHEESECLOTH!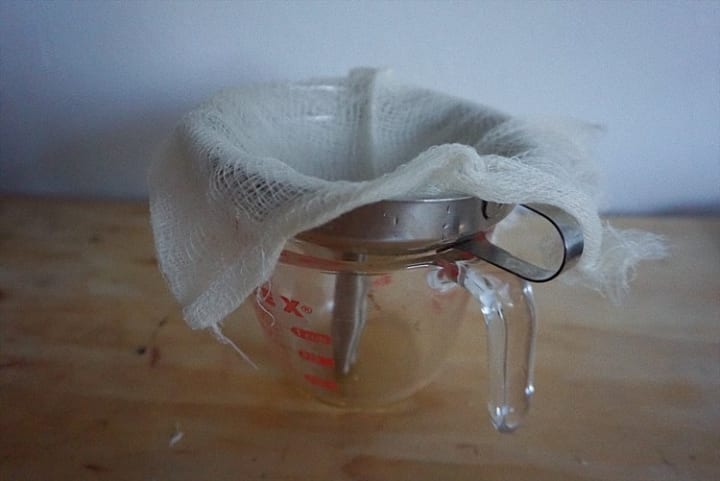 2. PLACE THE CHEESECLOTH IN THE FUNNEL FOR STRAINING - POUR THE INFUSION (DEPENDING ON THE HERB IT MAY BE THICKER AFTER INFUSION) ONTO THE CHEESECLOTH - IT WILL NOW SLOWLY STRAIN THROUGH TO THE JAR.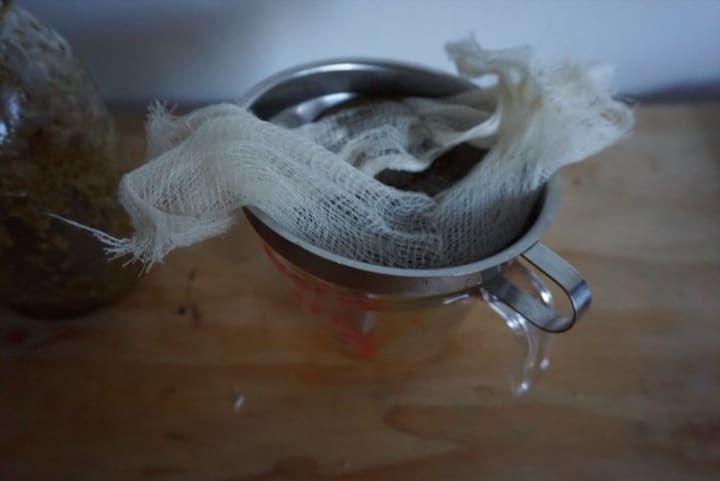 3. IF IT GETS STUCK OR WONT DRAIN, FOLD THE SIDES AND LIFT THE SATURATED CHEESECLOTH JUST A BIT TO WORK THE INFUSION THROUGH.
4. THE HERBS ARE NOW READY TO BE COMPOSTED OR THROWN AWAY - OR YOU CAN TURN THEM INTO A BODY SCRUB IF THEY ARE GRANULAR!
5. POUR THE HERBAL GLYCERITE INTO A DRY GLASS CONTAINER OR DROPPER BOTTLE AND USE THIS INTERNALLY IN FOOD / DRINK RECIPES OR AS A FACE MASK / CLEANSER BOOSTER!
How to Use a Glycerite in Skin Care
Glycerites are skin safe herbal extracts, because they often don't contain alcohol, or if they do it's around a 5-10% concentration so it won't damage the skin. Glycerine is also a sugar, so it's mildly warming and exfoliating, aiding in product absorption.
I love pairing these glycerites with my cleansers or to add to a clay or botanical mask (a couple of drops!). generally glycerin is a mild ingredient, it's a cleansing + toning emollient, so it draws moisture to the skin and helps remove excess dirt + oil - essentially it's gently cleansing without being a detergent. due to its cleansing properties, it could be drying when it's overused - so if you are cleansing with glycerin make sure to tone and moisturize after use.
What kind of glycerites are you interested in making? Get creative!
diy
About the author
Holistic Esthetician, Environmentalist, and Owner of Ny'Ala, a small batch herbal beauty company.
I write about sustainability, herbal remedies, natural beauty, wellness and healthy good.
Reader insights
Be the first to share your insights about this piece.
Add your insights