Fighting the Mask-ne!
A few tips on how to keep your best skin while we still fight this Virus.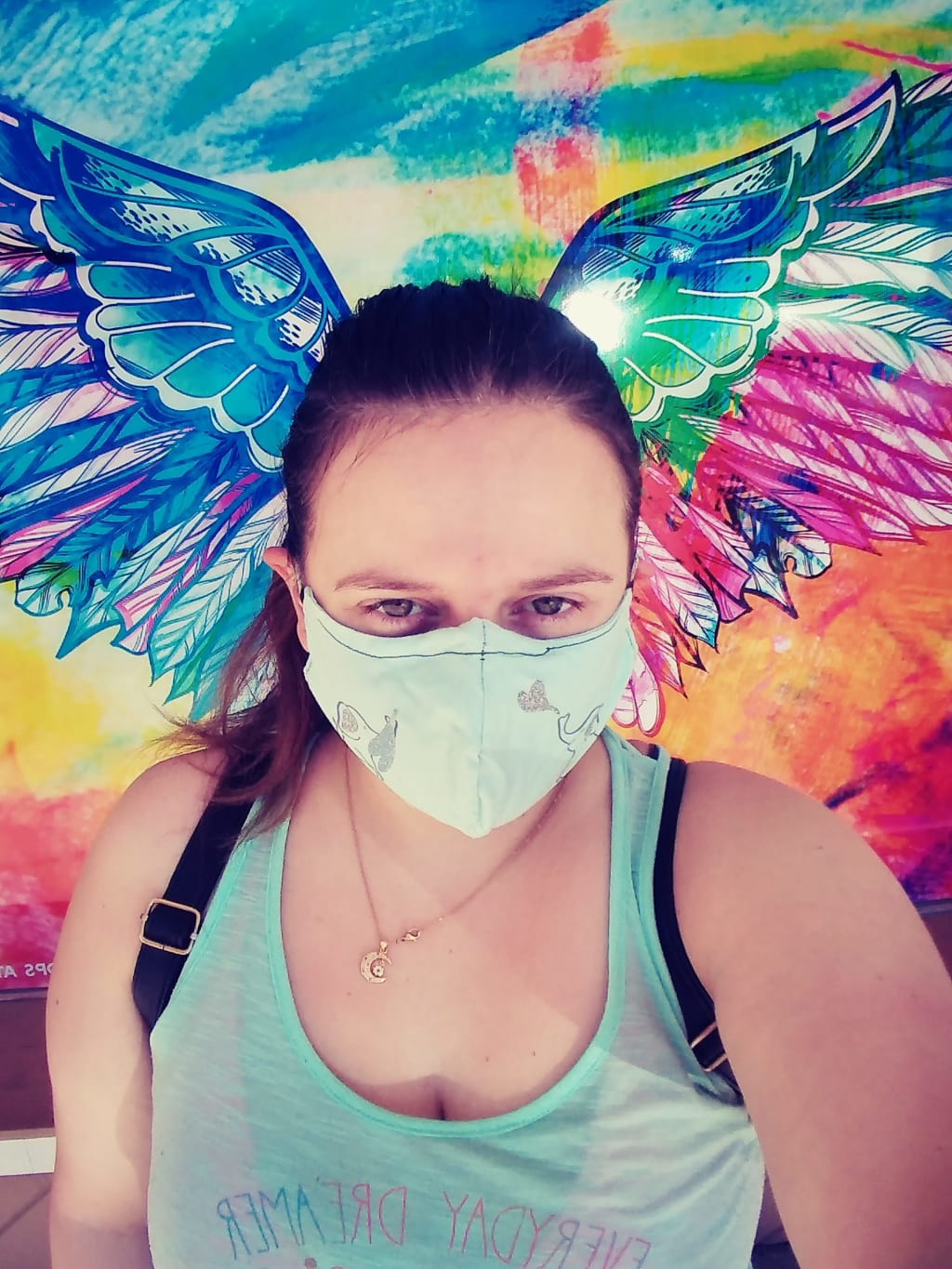 Face masks are a part of our new normal. They allow us to protect those around us during this difficult health crisis. Wearing them is a small yet important part we can do to take care of, and show kindness to our fellow human beings.
However, with this new necessary normal, a reminder to some of their awkward teenage years, has arrived too, acne breakouts.
The bright side: We are basically all dealing with this. Also, wearing your face mask covers up the offending breakouts!
I know these bright sides are not necessarily the most comforting to most, so here are some tips I have found to get us all through this time:
Oil Blotting sheets or Tissues
Keep some of these in your car or bag.
When you are able to safely remove your mask, use a blotting sheet/tissue to blot the entire mask-covered area. This will get the sweat and/or oils on your skin off before they can sink into your pores
Wash your face when you get home.
If you have just spent a long amount of time in your mask, don't wait until before bed to wash your face. Get all that gunk off sooner with a gentle cleanser, witch hazel or other astringent, or even just water. It might just keep you healthier too if you are one of those who can't stop touching their face.
Skip the Make-up ( or at least on the lower half of your face)
If the bottom half of your face is gonna spend the day covered, why waste time and money on applying makeup to it. Also, make up tends to be one of the leading blockers of pores as it coats your skin. Let the bottom of your face go au naturale and just focus on the top if you are going out. Play up those eyes!
Exfoliate
Make sure that you are getting all that extra build-up off and out of your pores so they can breathe. Usually, the rule of thumb is to exfoliate only 1-2x a week dependent on your skin. Be sure not to skip this step, or overdo it, as that can actually make your skin oilier. Chemical exfoliates are great as they are safer and kinder to your skin. Always, Always follow up an exfoliate with a moisturizer or hydrating gel!
My Favs:
Truly Starface Jelly Sleep Mask- This overnight mask is a nice gentle exfoliate. Plus a little goes a long way ( available at Ulta or here)
Bliss Jelly Glow Peel- Nice and gentle. You can literally see the dead skin and gunk coming off your face with this one. (Available at Ulta, CVS, Target, Walgreens)
WASH YOUR MASKS!!!!!!!! Or use disposables.
You should be doing this to protect your health anyway, but it is extremely important for your skin too. Any bacteria or residue left in your mask is gonna settle onto your skin the next time you wear it if it is not washed!
Don't touch your face!
I know the second someone tells you not to do something, suddenly subconsciously that is all you want to do. And I know that we don't really realize how much we touch our face, without even thinking. I am definitely guilty of this. But just try to be more aware, and avoid it. It will keep you and your skin and your body healthier.
Treat your skin
Do a face mask (the fun kind) Sheet, peel off, or clay it does not matter just show that skin some love.
Keep up with a normal skincare routine. Any serums, oils, moisturizers you use normally may provide a protective barrier on the skin that could protect you from things that cause you to break out.
Blemish Patches
These are great if you have a breakout already or one starting. They are made of hydrocolloid, the same material as blister band-aids. Hydrocolloid is a material that absorbs fluids, therefore these little patches draw out that oil and gunk in the breakout, also while protecting your breakout from being picked at. These little wonders take time to work, usually 6 hours or more, so it is best to use them at night. However, they can also be worn all day. They come in fun shapes like stars, hearts, and for the CBD lovers, little leaves. You can also get them in clear patches that disappear right onto your skin to wear during the day.
Some great brands I recommend are
Truly - has heart-shaped, stars, and CBD infused ones that are shaped like leaves ( available at Ulta or here)
Tony Moly Minions- come in heart-shaped patches (available at Ulta or here)
Starface- are shaped like stars and come in a handy little case that includes a mirror. The stars are available in a variety of colors, including a rainbow set from which the net proceeds go to humanitarian charities. (available here )
Rael- offer clear patches for conspicuous daytime wear. (available on Amazon or here )
These tips have all worked so well for me, as long as I keep up with them. Consistency is always the name of the game when it comes to skincare.