Essential Oils for Hair
The Natural Way to Get Healthy, Shiny, Jealousy Inducing Hair!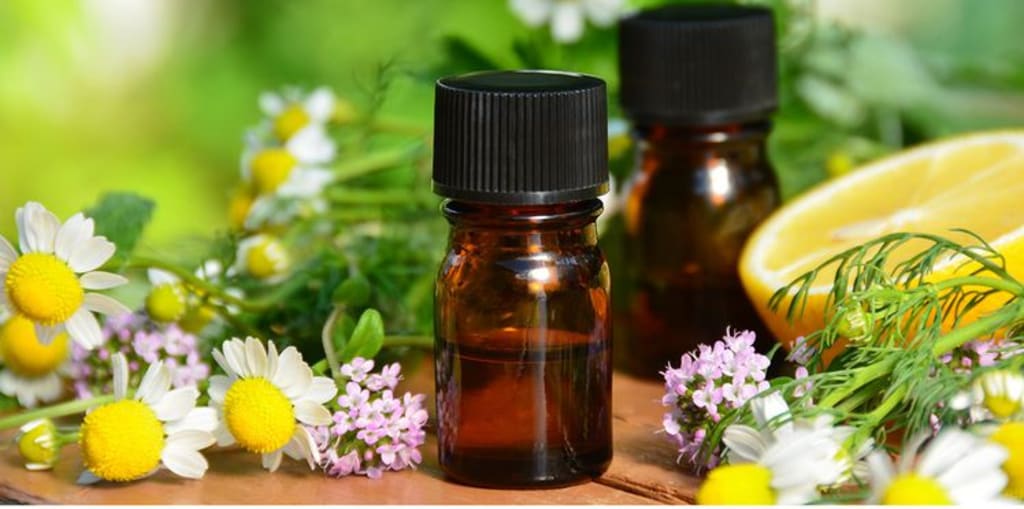 Essential oils have a lot of great uses in all aspects of life. From cleaning to hair care, the possibilities are endless. Today though, we'll be focusing on hair. Essential oils can help your hair and scalp in wonderful ways, all while being completely natural - no chemicals needed here!
A couple things to know before we get started include: Always dilute essential oils. Add them into a carrier oil such as coconut or olive oil, etc. Straight essential oils can burn your skin, so this is a vital step. Pick high quality essential oils for the best pay-off. The brand doesn't matter, just do your research and look at reviews. Always do a test patch somewhere like your arm when you use an essential oil for the first time. A small reaction on your arm is better than just slapping it on your scalp and having your entire head react.
Great, now that we've got that all out of the way, let's gets started on some different oils and their benefits!
Lavender
Let's start with lavender. Lavender is an all around super oil; it has many purposes. As far as hair goes, lavender is great for many things. Lavender oil has been shown to help hair thickness, and promote healthy hair growth. It's also great at soothing and hydrating a sore, itchy scalp. Lavender oil also has great antimictobrial qualities, allowing it to combat bacteria and fungi.
Basically, lavender oil is going to leave your scalp clean, healthy, and leave you oh so relaxed and calm.
Rosemary
Rosemary oil has been included in many hair loss remedies - from store bought to homemade. Rosemary oil can prevent hair loss and graying, as well as promote hair growth and hair thickness. Rosemary is the hair growth holy grail, and sure to be a favorite of yours.
Peppermint
Aside from smelling absolutely delicious, peppermint oil is also great for your hair and scalp. Peppermint oil is great at improving blood flow to your skin, which in turn improves your scalp health, and promotes faster hair growth. It also promotes hair growth in places where hair is thinning. Just like with lavender oil, peppermint oil also can help with dryness and itchiness.
Ylang Ylang
Ylang Ylang oil is used in a lot of perfumes because of its beautiful relaxing smell. Ylang ylang is also very conditioning to the hair. For a relaxing at home treatment mix a couple drops into your deep conditioner, lean back, and take in the smells while your hair takes in the goodness. Ylang ylang is also believed to prevent and stop split ends and breakage in your hair, as well as reduce hair loss and thinning. A great multi-purpose hair oil!
Chamomile Oil
Chamomile oil is a great natural conditioner for your hair. When added to a carrier oil or your conditioner, it leaves your hair shiny and silky soft. Chamomile oil can also protect your hair from some of the damage inflicted by environmental pollutants. So if you want clean, healthy, shiny hair - this is the oil for you.
Geranium Oil
Geranium essential oil has a nice flowery scent to it making it an enjoyable oil to use. Geranium oil is one of the best oils for strengthening your hair and making it strong and healthy. This oil is also great at removing impurities and product residue from the hair and scalp, leaving it clean and ready for the day, color treatment, or whatever your plans are. Geranium oil is one of the only oils that can help dandruff that is caused from either too little, or too much oil. Its ability to treat both kinds of dandruff and neutralize the problem makes this oil great for people who want to help their dandruff in a natural way.
Juniper Essential Oil
Juniper essential oil has a lovely fruity smell to it, making it a great oil to mix. Juniper oil is great for overly greasy hair, and helps strengthen brittle hair. This is another oil with antiseptic properties, helping with various scalp conditions. It also tightens the hair follicles, preventing hair loss.
Final Notes
There are many essential oils out there to try out and use, but these are the most popular ones for hair. You can mix multiple oils together until you get the perfect blend for your hair. Enjoy trying out these natural remedies and discovering your best hair!