Discover A Small Business: Sanara Skincare
Sanara Skincare's founder, Rebekah Jasso Jensen, pays homage to her Latin American heritage through her skincare line that she developed after dealing with Psoriasis for 15 years
Sanara Skincare was developed by founder Rebekah Jasso Jensen after she had dealt with Psoriasis for 15 years. She describes what it was like when she initially received her diagnosis at 16, "I swear with my reaction you would have thought I was given a terminal diagnosis. The doctor looked at me in shock as I was balling my eyes out".
For anyone who has dealt with any kind of skin or health issue, even ones that might be considered 'minor', know that it can be scary, upsetting, overwhelming, and sometimes a combination of all three. After many years of dealing with Psoriasis on her own, Rebekah decided to take skincare into her own hands, literally. She and her husband sold their dining room furniture, and her kitchen became her test lab. After 3 years of researching, testing and discovering, Sanara was born.
Looking back to her Latin American roots,
Rebekah felt a pull from her ancestors to dig into her roots to find the right natural ingredients that had been used for thousands of years. She pondered questions such as, which oils soothe? What ingredients don't irritate?
She wanted to develop a skincare line that was luxurious and relaxing and that could be enjoyed by everyone, even those with sensitive skin. It was important that these ingredients were natural, high quality, safe, and plant-derived. 100% of the ingredients in Sanara skincare are also vegan and cruelty-free. She partnered with a team of experts to carefully put together the final formulas that would pass the 'non-irritability' test.
Natural ingredients provide many benefits.
Not only are natural ingredients time-tested and proven effective, but they also provide a rich sensory experience. Products like Bamboo Fiber & Mango Seed Polish provide an environmentally-responsible exfoliator. Sustainable bamboo fiber gently removes dead skin cells and is less likely to tear or damage the skin. Bamboo has been found to help strengthen the skin, while the hydrating butter from mango seeds deliver powerful hydration and therapeutic benefits.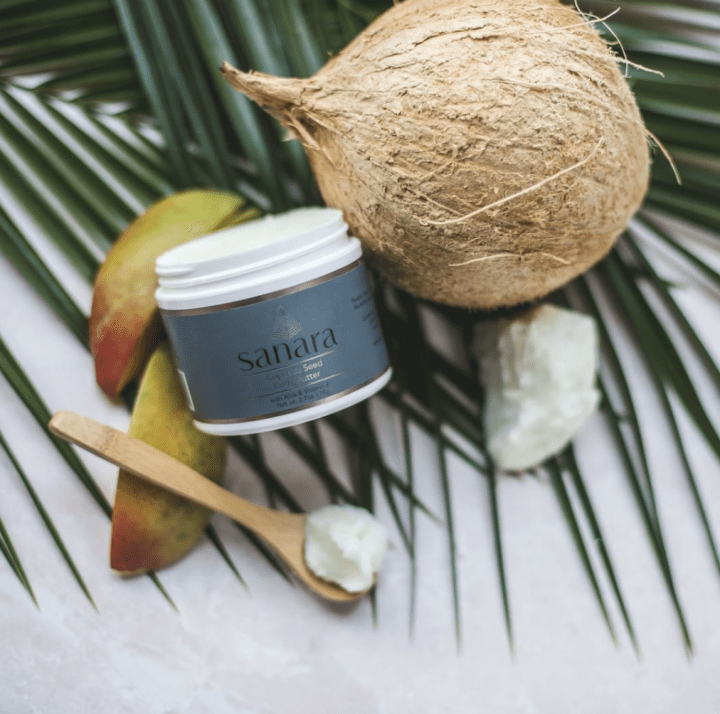 We could all use a little more self-care
The Tranquila Collection aims to do just that. This line, which includes a Chilean Rosehip Seed Body Oil with Jojoba & Vitamin E, Cupuacu Seed Body Butter with Aloe & Vitamin E, Yerba Mate Bath Soak, and the Bamboo Fiber and Mango Seed Body Polish is perfect for rejuvenating the skin and reaping the therapeutic benefits.
Cupuacu seed, which you'll find in many of the products, is one of Rebekah's favorite Latin American ingredients as well as one of nature's most powerful moisturizers. This ingredient is found in the Rain Forest and is prized for its high content of phytosterols. In cosmetics, phytosterols have been found to stimulate collagen production to keep the skin appearing youthful.
Another interesting ingredient in this line is Jojoba. Jojoba has been long used by Native Americans for it's many benefits. More recently, we've been seeing Jojoba oil used in place of typical makeup remover, as it provides a calming and moisturizing effect rather than stripping the skin of natural oils. Jojoba oil is produced from the jojoba plant, which is native to Northern Mexico, Southern California and Arizona. The oil found in the nut of the plant is actually similar to the oil our bodies produce naturally, so it is less likely to sit atop the skin causing clogged pores or irritation. Lastly, Jojoba has been found to be a 'humectant', which means it creates a seal to your skin with a protective layer, preventing your skin from losing moisture.
Plant-based, cruelty-free, vegan skincare is the future
As more and more consumers become aware of the cruel practices of animal testing, poor sustainability and environmental issues, customers are opting for businesses that support humane business practices. Sanara Skincare takes measures to ensure they are working alongside nature, rather than destroying it, to create a gentle, safe and effective skincare line that can be enjoyed by everyone.
Be sure to check out Sanara Skincare on Instagram @sanaraskincare, you can purchase direct from their website www.sanaraskincare.com or visit their Amazon shop by clicking here.