Chocolate Beauty Products – National Chocolate Day
Best Ingredient is Always Chocolate! Happy National Chocolate Day!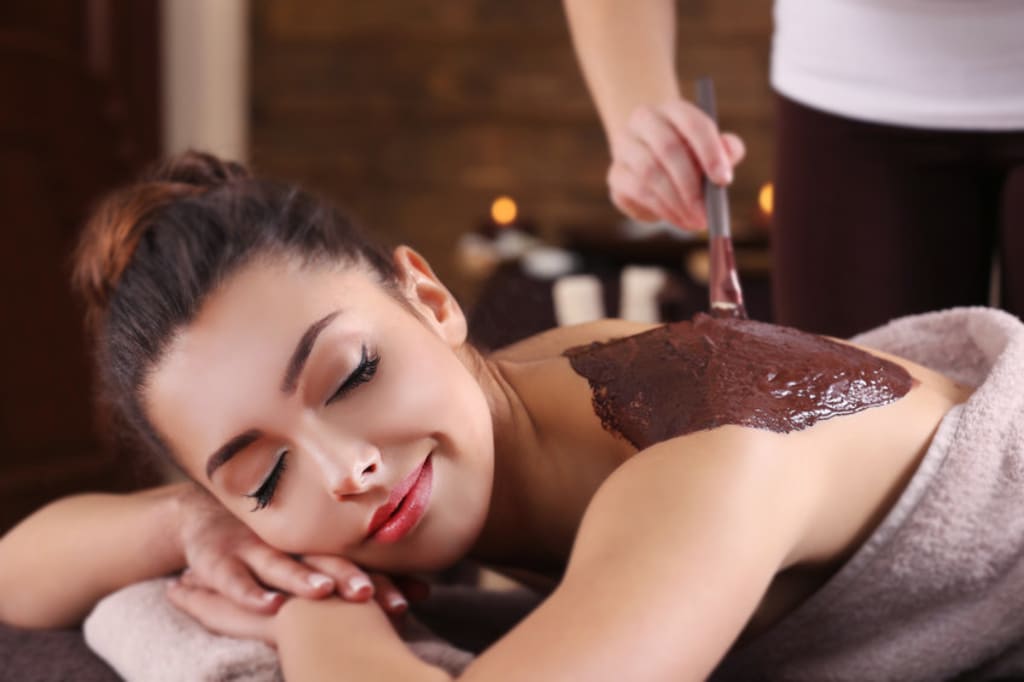 With Halloween in a few days, my Chocolate beauty products are good for you. But, more importantly, they don't have any calories! So, are you ready to indulge in sweetness today to celebrate National Chocolate Day?
Chocolate Beauty Products
Since it is National Chocolate Day today, I have some of the yummiest chocolate products for you to try. But, not to eat, but, to use to give your skin some pampering.
Brubaker 10 Piece Wooden Cabinet Chocolate Set
When you want the ultimate spa experience, this gift set includes:
- Bath Salt
- Body Lotion
- Bubble Bath
- Shower Gel
- Sponges
- Scented Roses
Moreover, this set comes in a wooden cabinet which is ideal to use later for storage. Because I bought this set in the past, I have continued to use a lot of the products included when I have a craving for chocolate but don't want the sugar.
Chocolate Beauty Products - National Chocolate Day
With the cooler weather here, why not plan a romantic night at home with that special someone? For some ideas on creating the perfect romantic night at home; be sure to check out my Date Your Mate Month post.
Sweet Temptation Bubble Bath for Adults
For date night, this bubble bath for adults has all the makings for a decadent bath treat. Infused with dark chocolate, vanilla, tobacco, and a bit of spice;' this is sure to have you both feeling rejuvenated for a night of relaxation and romance.
Chocolate Beauty Products - National Chocolate Day
Chocolate Expresso Soap
Delish and decadent, this is ideal for any choc-o-la-holic. Made with cocoa and coffee butter; this natural and organic soap will leave you feeling squeaky clean and moisturized.
Chocolate Beauty Products - National Chocolate Day
Chocolate Body Vegan Massage Oil
When you're done with your bubble bath or shower, how about finishing the night off with a massage? Luxurious, and relaxing, this massage oil is the perfect sweet ending to your date night.
Chocolate Massage Oil
Farmhouse Fresh Sundae Best Chocolate Face Mask
Not only is this mask ideal for anyone who has combination skin; but, also it is packed with antioxidants which will leave your skin with a glowing boost. So, this chocolate face mask will give you:
- A solution for acne-prone skin
- Helps improve your skin texture
- Smooth and soft skin
Also, this product contains Vitamin C and E with coconut oil which will improve your overall complexion. In addition, this product is made with all-natural ingredients.
All Natural Chocolate Mask
Hot Chocolate Sugar Scrub
Indeed, body scrubs can do wonders for removing dead skin cells, as well as smoothing and softening dry and patchy skin.
Moreover, a body scrub helps increase your blood circulation.
In the first place, this jar will last a long time and you can expect to have the following results.
Brightens your skin
Cleanses your skin
Exfoliates
More importantly, it replaces dead cell skins with healthier skin cells
Hot Chocolate Sugar Scrub
Hemera Lip Scrub in Chocolate
Of course, any chocolate lover will love this lip scrub which will satisfy your taste buds without the sugar. So, not only does this lip scrub exfoliate and moisturize your lips; but it also protects your lips from dirt, dust, and pollution.
Lip Scrub
Demeter Fragrance Cologne Spray – Chocolate Chip Cookie
So, if you love the smell of freshly baked chocolate chip cookies; you will love this fragrance. Moreover, this decadent scent has the right blend of butter, chocolate, sugar, and vanilla for a yummy scent.
And, if you're craving a chocolate chip cookie; be sure to visit my Delicious Chocolate Chip post where you will find an easy recipe to make.
Chocolate Beauty Products - National Chocolate Day
However, if you still crave something chocolate; be sure to visit my Celebrate Dark Chocolate February post for some yummy treats.
Though National Chocolate Day is once a year; chocolate beauty products can be used any time of the year.
As always, I welcome your comments on your favorite chocolate beauty products.
body
About the author
Hi - I'm Lynne Black, Founder of Fashionista Bombshell Whims!
I'm a Freelance Writer/Blogger and Published Author.
My stories and posts offer a peek into my life.
Of course, my goal is to inspire you through my books and articles.
Reader insights
Be the first to share your insights about this piece.
Add your insights