Boosting Hair Health by Olaplex 8 Moisturizing Mask
Olaplex 8 Hair Mask Review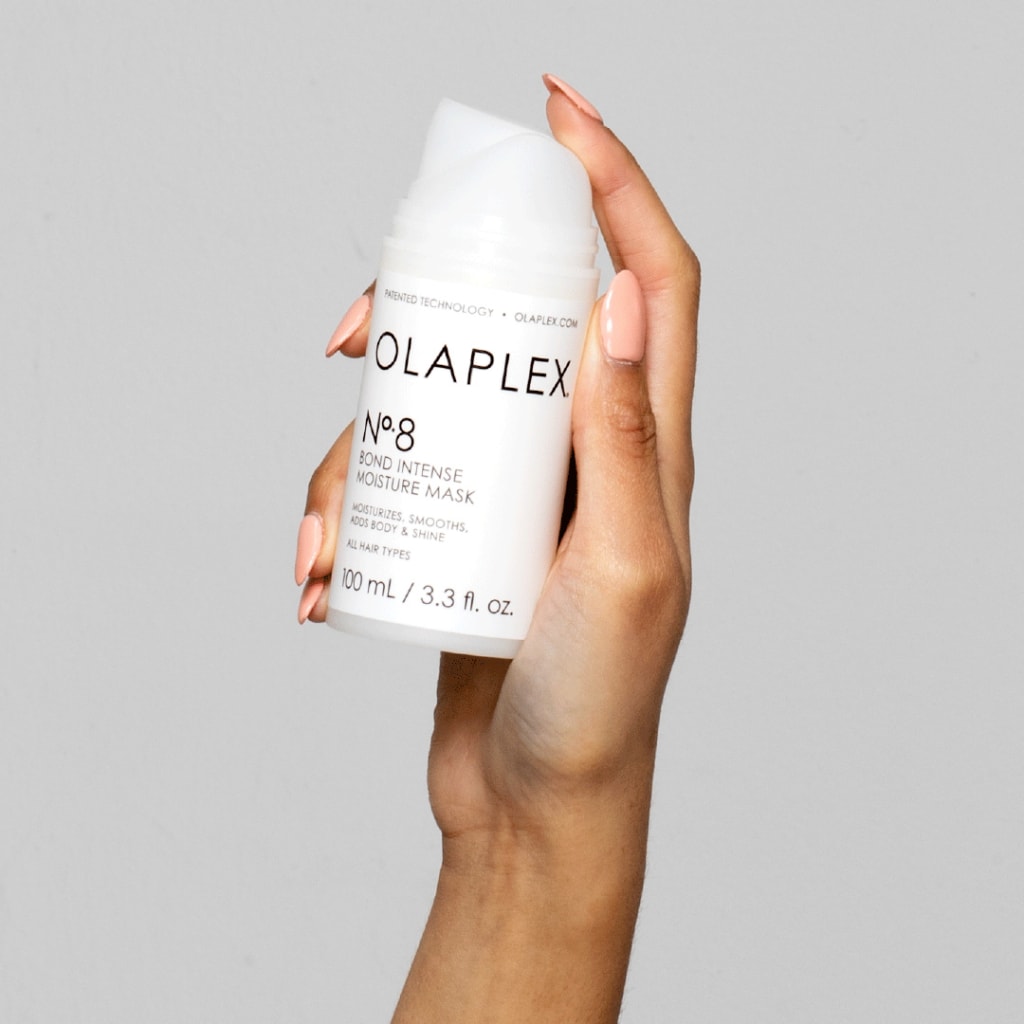 Since last year, Olaplex, the trusted brand of hair care, has been launching hair-care products for at-home therapy to the damaged hair follicles. After making a splash for intense bond-building treatment with No.0 and No.3, what comes as another hair blessing is the moisturizing mask which claims to repair brittle ends by double times shinier, four times moisturizing, and six times smoother hair. And here is all that you should be knowing to add all of the above features to your hair…
# Olaplex 8: Stands apart!
Out of other moisturizing masks what makes Olaplex no.8 special is the infusion of this brand's patented molecule- 'bis-amino propyl glycol dimaleate'. This wonder compound fulfills the requirement of keratin in the hair naturally. The innovation is rooted in amino acids, which are crucial as well as essential for sustainable hair growth. Due to its deficiency, our hair bonds begin to fall weak and as a result, you face issues like hair fall, hair thinning, and other problems that lead to dull hair.So, apart from completing the hydration of your hair, this moisturizing mask also gives them a mini-therapy. By working to restore the hair bonds, it becomes invincible and unique.Another feature that is striking is its pump design that adds ease of use.
How do you use Olaplex 8?
Shampoo and towel-dry hair.
Apply the mask evenly from roots to ends in the apt proportion. Mid-length hair might consume from 1 to 3 pumps depending upon the hair type.
Use a thick-toothed brush to spread the mask uniformly.
If you want to make the process better then wrap in a hot towel or hair turban.
Let it stay for 15 to 20 minutes.
Now, rinse, shampoo, and condition as usual.
# Many people think that a mask can be replaced by a conditioner but it is a baseless myth that needs to be debunked. Both perform different functions. The hair mask works at a deeper level as a micro-therapy and hence conditioning must not be skipped in the process mentioned above.
What all can it treat?
Chemical treatments like hair coloring, rebounding etcetera that cause dryness and frizziness.
Hair disturbance is caused due to medications or hormonal changes.
Heat exposure by heat styles and harmful sun rays.
Hair growth disturbance is caused due to stress and anxieties.
# Overuse will be harmful and will make your hair look greasy and heavy and in turn reversing its effects negatively! Once a week usage is recommended for highly damaged hair and once every 15th day to protect normal hair.
Other Follow-ups
As you must know, to gain the benefits fully, drink ample water, eat nutritious food, fruits, and nuts, and above all stay cheerful and positive. Remember that half the battle is won by an optimistic approach. Also, do not miss exercises. Engaging every day in physical activities is a must!
All in all, To overload your hair follicles with the hair protein and hydration that is perfect and pure, go for Olaplex 8. Also, if you will use Olaplex shampoo and conditioner along with this, you can reap maximum benefits of this hydration hair mask. The reason behind this is the natural and hair-safe-processing of these brands which is free from parabens, sulfates, gluten, DEA, and many other kinds of ingredients that are usually put to form a hair product but are harmful to your hair health. So, if you are undergoing dry hair problems or are struggling to find the 'hair joy' then grab the Olpalex at-home products now from springalways.com, an online store that's just perfect to shop for variable cosmetics and hair care products during pandemic days. It has stood by the expectations of the consumers and loves to sell products that are connected with the earth and nature. Also, do share your adventure with Olaplex right below!
Keep Smiling and Revive your Tresses with Olaplex 8 :)