Bessie Lee-Cappell
Game-Changing Baby Product Inventor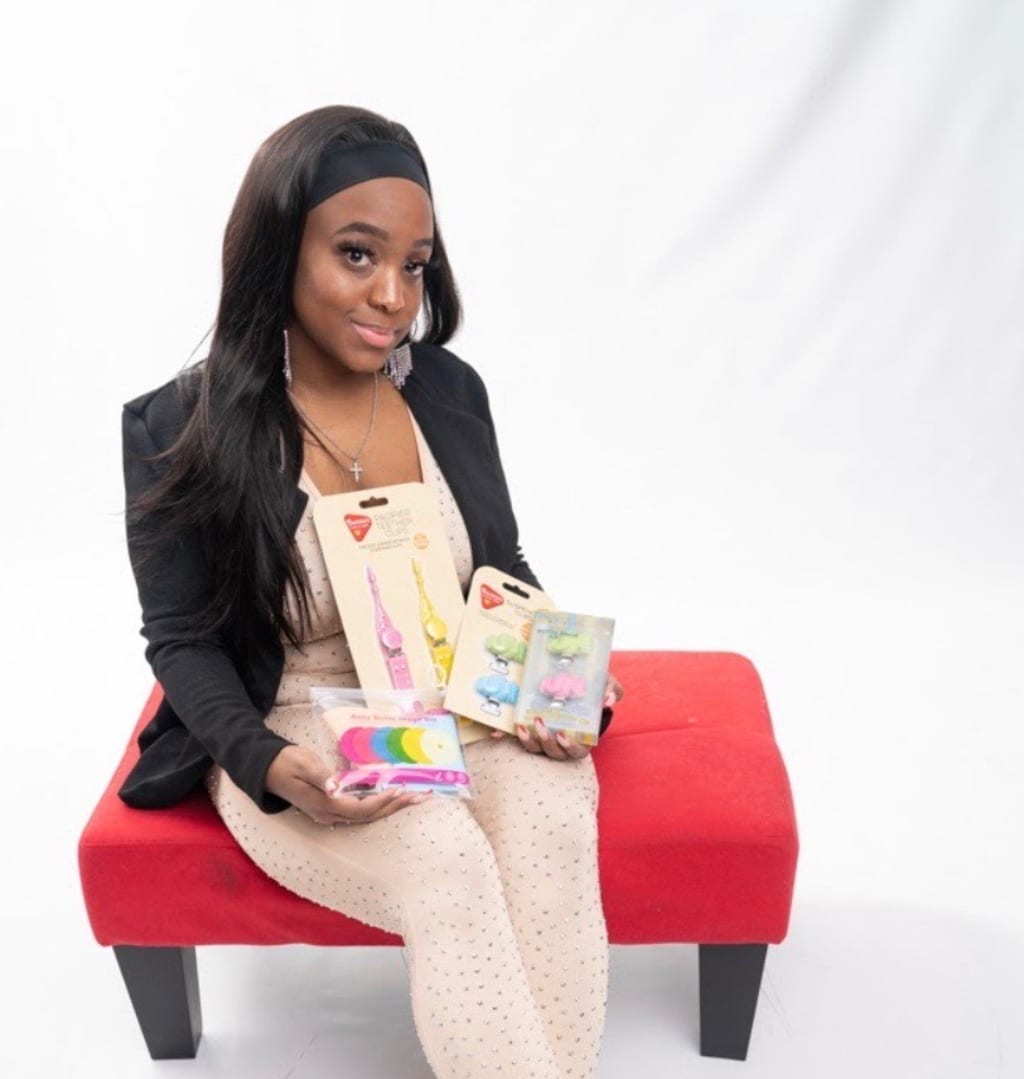 Bessie Lee-Cappell
As the founder, inventor, and owner of the Baby Bottle Brush Bib Company, Bessie Lee-Cappell was determined to be a game-changer for the baby product industry. Not only does she want to help frustrated parents, but she also wants to partner with like-minded entrepreneurs.
All of the designs reflect neutral colors to appeal to both moms and dads. They are durable, easy to use and clean, and small enough to hide away when not in use. Of course, parental supervision is recommended for all baby products for children under the age of 5. The Brush Bib is a protective silicone barrier that goes around the Bottle Brushes to prevent the dreaded "splash back."
The Pacifier Teether Clip is FDA-approved, BPA-free, and eco-friendly. It grows with baby to toddlerhood on four levels, doubles as a teether, and is made of 100% silicone to reduce bacteria and thrush. It also has the unique option of allowing the suspender clips to be changed.
The Elephant Suspender Clips are also FDA-approved, BPA-free, and double as teethers, which means having a welcome end to unsightly, chipped, and bite-marked teething accessories. The goal of the products is to make parenting easier.
Vocal readers, please enjoy our interview!
Tammy Reese: For those who may not know, who is Bessie Lee-Cappell?
Bessie Lee-Cappell: Bessie Lee-Cappell is a 32 year of African American female, wife, and mother of 3 beautiful children. I am a Licensed Social Worker servicing children and their families for the City of Philadelphia. I am most definitely a usual person. I've always seemed to be able to make lemonade out of lemons. My life has been far from "easy" however, I have successfully been able to overcome my challenges.
Tammy Reese: Describe your entrepreneur journey so far in three words?
Bessie Lee-Cappell: Exciting, Adventurous, and Challenging.
Tammy Reese: Please tell us about Baby Bottle Brush Bib Company?
Bessie Lee-Cappell: The Baby Bottle Brush Bib Company is a Baby Product company that specializes in Unique Baby Products. Our designs reflect neutral and bright vibrant colors for moms and dads. It's easy to use, durable, easy to clean, and small enough to hide away when cleaning The kitchen. The Brush Bib is a Protective Silicone Barrier that goes around the Bottle brushes to prevent the "dreaded Splash Back!!"
The Pacifier Teether Clip is FDA Approved, BPA Free and Eco Friendly. It grows with baby to toddlerhood on 4 levels, Doubles as a Teether, Made of 100% Silicone to reduce bacteria, and Thrush! It also has the option to change the Suspender Clips!!! Our Goal is Happiness It can be tough Dealing with the day in and day out of being new parents all over again or for the first time. We aim to try to alleviate some frustration by creating unique products that make Parenting a bit Easier!!
Tammy Reese: What inspired you to become an inventor?
Bessie Lee-Cappell: The Brush Bib is the beginning of an innovative life for me. Parents who have multiple children know that the more children you have the more hectic your life becomes. Having two school-aged children, a newborn who demands much of my time, breastfeeding, pumping, recovering from a C-Section, and then returning to work, all became hectic.
Many individuals know that each baby and child differs. This is especially true for my children. My youngest demanded much more attention because he was our first NICU baby. He became reliant on pacifiers and he also had difficulty latching onto my breast. Because he preferred pacifiers and bottles, cleaning/washing bottles early on became a new task for me that I was not used to.
My first two children latched to my breast without any issues. I began washing multiple bottles daily and endured the "dreaded splashback" when I would remove the bottle brush from the bottle. While on maternity leave, the splashback was a slight bother, however, when I returned to work, it became more of a bother as it was leaving water splatter stains on my blouse. I said to myself "there has to be something on the market to reduce the splashback." As a result, I purchased more expensive bottle brushes. Many bottled brushes had descriptions that read "Reduced splashback."
However, I felt as if the splashback was worse with the more expensive brushes. I then searched for barriers for bottle brushes, but could not find any. This is what prompted me to create my own barrier. I began using my baby's bibs (tieing them around the brushes), which would work, but the bibs were clothmade and remained wet. Deciding to make the barrier using a better material (silicone) became a thought. I made a couple of barriers for myself, and then a friend of mine (who was expecting her first baby) asked if I could provide one to her as a gift. I laughed at first, but then said "sure."
My friend was impressed and encouraged me to market my barrier. After she made the suggestion, I began making videos of the barrier, called the barrier the Brush Bib, and the outpour of support regarding the Brush Bib was amazing. At this moment, I knew I was on to something good.
My creativity began to take off as I continued to come across frustrations as a parent. Searching and not finding products on the market to meet my baby's needs as well as my own needs as a parent, is what inspires me to keep creating/inventing useful products.
Tammy Reese: What do you enjoy most about the work that you do?
Bessie Lee-Cappell: As a Social Worker, I enjoy helping and empowering children and their families to grow. As an Entrepreneur I most enjoy, making sure babies have safe, useful products as well as making the lives of parents a bit more convenient at an economical cost.
Tammy Reese: How has the business been during the pandemic?
Bessie Lee-Cappell: During the Pandemic my business has been a bit slow, sales as not as brisk during the pandemic. I contribute it most to the lack of networking. Prior to the pandemic, I had scheduled Expos to attend for the purpose of Networking to bring awareness to my company and our products. Because of the pandemic, all in-person networking events were canceled.
Tammy Reese: How have parents reacted to your products?
Bessie Lee-Cappell: I have received so many positive responses regarding my products. Parents have purchased and stated that they will refer my company to their friends. I have also received beautiful photos from the parents of their babies using my products.
Tammy Reese: How do you balance family and career?
Bessie Lee-Cappell: Balancing is not easy. It requires a lot of planning and scheduling. I have to carve out family time each week, which is usually Sundays when we watch movies and eat snacks!
Tammy Reese: What else would you like for our readers to know about your business?
Bessie Lee-Cappell: I would like readers to know that my business is a Small business that is doing Big things in the Baby Product Industry.
Tammy Reese: What advice would you have for aspiring Entrepreneurs?
Bessie Lee-Cappell: My biggest advice is to follow your dreams, never give up, push through the barriers and always keep your faith!
For more information please visit https://babybottlebrushbib.com.