Au Naturel: Nutty for Cocos
Natural beauty and hygiene ideas that will give you plenty of bang for your buck. Part 1: Nutty for Cocos.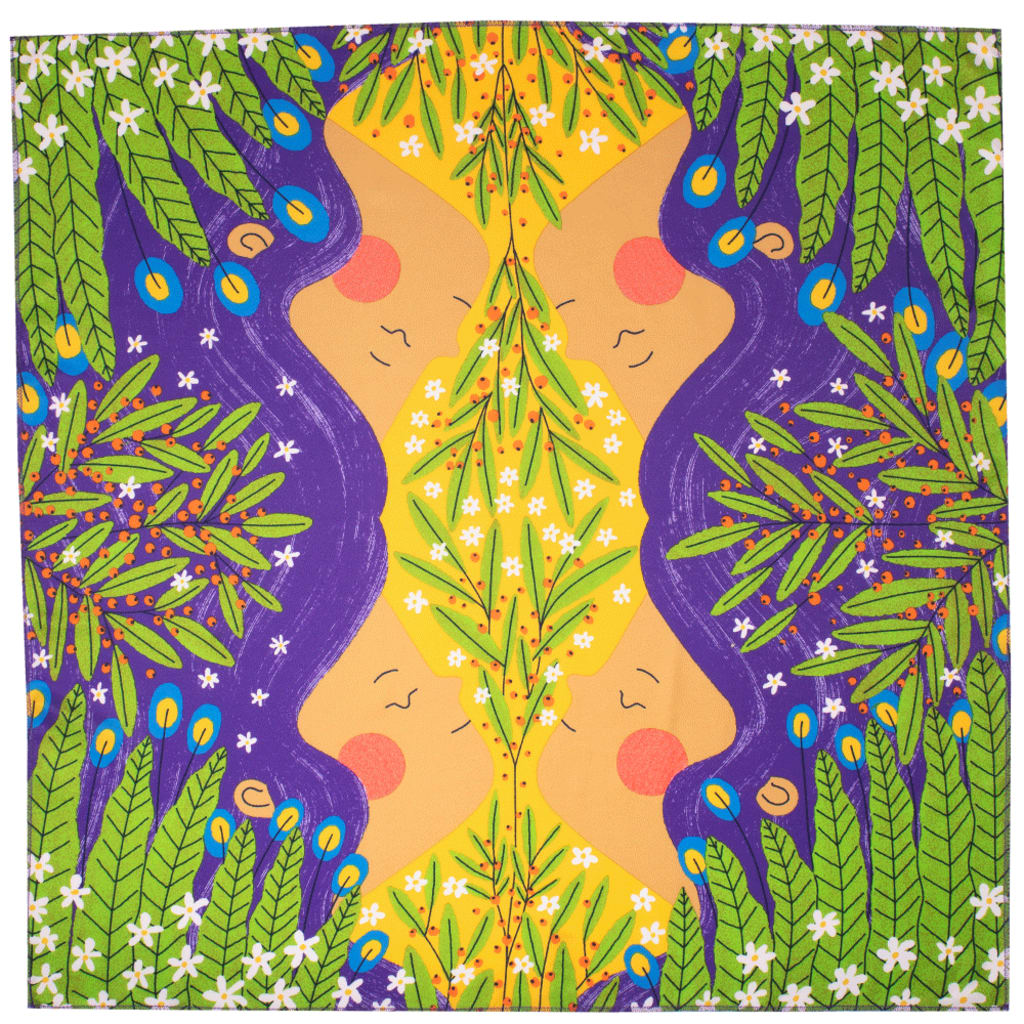 Sustainability and natural health are gradually becoming central to many people's daily routines. Our awareness of the products we put in and on our bodies is evolving, as is our understanding of the social and ecological consequences of our choices. We're shifting our focus from fads and trends to long-term, ethical and natural solutions.
Does this mean our bathrooms need to become filled with individual, expensive natural products—one for each ailment, skin-zone and occasion? Absolutely not. Don't believe the marketing that targets your conscience and your wallet; the true beauty of most natural products is their multi-faceted and broad range of benefits.
In this series, we'll examine some of the key players in the natural beauty and hygiene game, from their effects, financial and ethical costs and myriad uses.
First up? My personal favourite: coconut oil.
From the bathroom through to your boudoir and first-aid kit, coconut oil is your one-stop-shop to natural beauty and health. Harvested from the meat, or kernel, of coconuts, it's produced mostly in tropical regions. High in saturated fats, antioxidants and lauric acid, it has anti-bacterial, anti-fungal, anti-viral, anti-inflammatory and detergent properties. What's not to love?
There has been some controversy over its use in the kitchen. Scientists disagree with each other, themselves and the media hype over coconut oil's effects on your metabolism, cholesterol and fat percentage. However, in this series, I'll be focusing on the beauty and hygiene aspects of this miracle product. All I do know is that it tastes delicious in curry.
When using it in your beauty and hygiene routines, it's important to use virgin, unrefined and cold-pressed coconut oil. This means that during the harvesting and packing process, its intrinsic properties and nutrients have been maintained, and it contains no additives.
Because of its high saturated fats content, coconut oil is slow to oxidise, and therefore highly resistant to rancidification. It can last up to six months without spoiling! This means it's safe to buy in bulk, thus relieving the pressure on your wallet. It may seem like an expensive purchase at the time, but keep in mind how long it will last you and that it might replace most, or all, of your other hygiene products!
Because coconut palms are mostly native to Indonesia, the Philippines, India, Brazil and Sri Lanka, it's difficult to bypass the economic and environmental cost of transportation. Nonetheless, you can still buy coconut oil whose production respects the environment and the labourers. Look for a product that's organic, Fairtrade and produced by an ethical brand.
Without further ado, let's dive into the many and varied uses for coconut oil in your daily routines!
Skincare
Thanks to its anti-bacterial, ani-viral, anti-fungal, and anti-inflammatory qualities, coconut oil works wonders for your epidermis on top of being an excellent full-body moisturiser.
Moisturiser
Whether you struggle with chapped lips, ragged cuticles, cracked heels or simply need a daily moisturiser, you could do worse than to reach for a tub of coconut oil. Its richness in fatty acids means it's an effective moisturiser, absorbs quickly into the skin and even enhances skin elasticity. Use it on your body, your face, your lips, your hands—and anywhere in between!
Eczema and Skin Irritation Relief
Soothe burns and bug bites, and reduce the itching, inflammation and redness associated with eczema, dermatitis and other skin disorders by rubbing in some coconutty goodness.
Body and Lip Scrub
Simply combine your coconut oil with some organic coarse-grain salt or sugar, and you have yourself a deeply moisturising and exfoliating, all-natural body scrub! For your more sensitive lips, use brown sugar and honey with your coconut oil.
Haircare
Our good friend lauric acid penetrates hair shafts like no other, making coconut oil an essential product in maintaining follicle health (Was that a good enough reason to use the word penetrate?). Regular use of coconut oil on your head actively reduces protein loss from your hair.
Conditioner
Use coconut oil hot, as a pre-shampoo deep conditioning treatment (leave it in for at least one hour), or cold, as a leave-in conditioner, applying small amounts to wet hair to seal in moisture.
Dandruff and Dry Scalp Treatment
Massaging coconut oil into your scalp before going to bed deeply moisturises your roots and dermis, reducing dandruff and dryness issues. It's high fatty acid content also stimulates hair growth!
Protectant
If you're heading out into the sun, the ocean or the pool, coat the tips of your hair in coconut oil. This will protect them from these harsher environments, and (bonus!) your hair will dry smooth and untangled.
Beauty
Coconut oil has a place in all of our beauty routines, from the simple gal with the natural look to the most fabulous of queens.
Primer
Rubbing in a thin layer of coconut oil before applying makeup softens your skin, helping to make sure your face stays in place no matter how much you facepalm watching your drunk friend try and talk to strangers.
Makeup Remover
The detergent properties inherent to coconut oil mean it's unbeatable at separating and removing even the most robust waterproof makeup particles. Simply apply directly to your face, before rinsing off any excess.
Eyelash Growth
Thanks to the many fatty acids within in, coconut oil stimulates lash growth and elongation.
Buccal and Dental Hygiene
Now you're really going to think I'm crazy, but bear with me! Coconut oil can be your path to healthier gums, whiter teeth and fresher breath thanks to its anti-fungal and anti-bacterial properties—all the while tasting delicious. It also significantly reduces plaque.
Breath Freshener
Gargling a spoonful of coconut oil for 20 minutes, also known as oil pulling, clears your mouth of germs. This helps to improve the general health of your oral cavity and ensures your breath stays fresh.
Teeth Whitening Paste
Combine some coconut oil with arrowroot powder for a smile that'll blow them away!
Toothpaste
For the brave, mix coconut oil with bentonite clay for an all-natural, anti-fungal, anti-bacterial, re-mineralising, whitening toothpaste. If you want some flavour, add 2-3 drops of essential oil!
First-Aid
Wound Salve
Coconut oil's soothing and cleansing attributes will help prevent minor cuts and scrapes from getting inflamed, irritated or infected. It also boosts collagen production, speeding up the healing process.
Cold Sore Treatment
The same characteristics keep the underlying viral origin of cold sores from spreading, as well as reducing any inflammation or itching.
Bonus
Deodorant
Sweat itself doesn't have any odour, but the bacteria in our skin result in unpleasant body odours when we transpire. What natural product do we know with inherent anti-bacterial properties? Oh, wait, coconut oil! Apply directly to the stinky skin in question for a quick fix, or combine with arrowroot powder, diatomaceous earth and essential oils for your own DIY deodorant. See here for my favourite recipe:
Insect Repellant
Want a natural insect repellant that is also good for your skin? Look no further! Here's a list of useful essential oils to combine with your coconut oil and a helpful recipe:
Nutty for Cocos
What's the moral of the story? Marie Kondo your bathroom: you only need one product to fulfill all your needs! Okay, maybe not entirely, but coconut oil is definitely the superhero of your natural beauty and hygiene habits. I also love smelling of coconut oil. Sigh. If only I could marry coconut oil.
Stay tuned for more natural products that will revolutionise your bathroom!
organic
About the author
Student of Life, thalassophile
Multi-national polyglot
Books, outdoor sports, arts and crafts, food and wine/cocktails
Reader insights
Be the first to share your insights about this piece.
Add your insights