Attention Lushies! Top 5 Holiday Season Products Everyone Should Try
As a lush employee, I've tried them all. If you're obsessed with Lush and all things good smelling, I've got some recommendations for you to pick up from your local Lush shoppe this holiday season!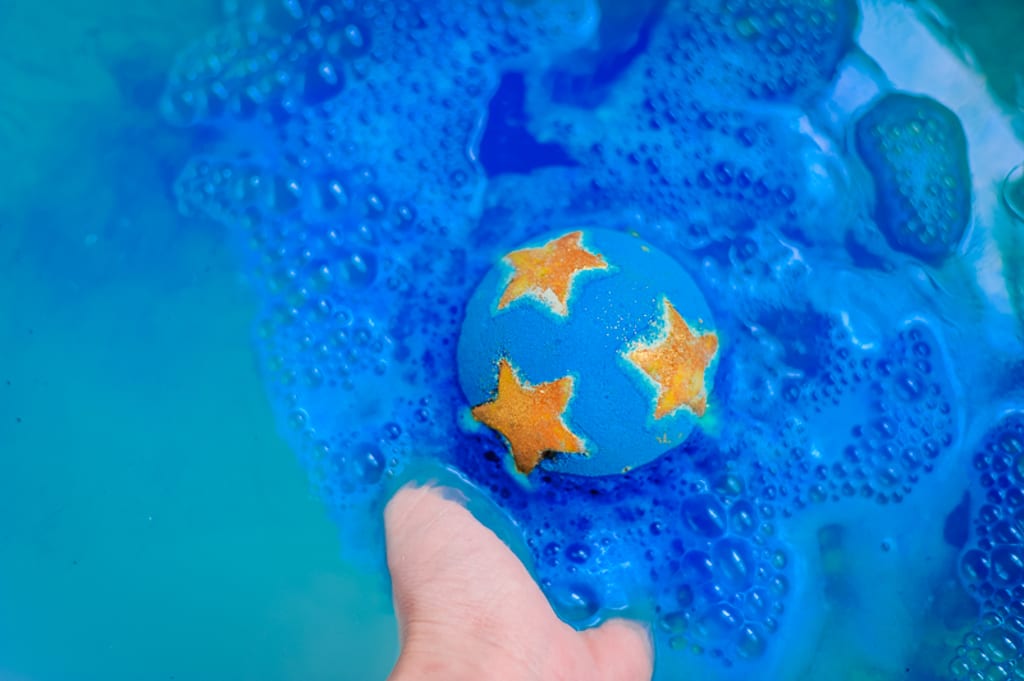 Photo: butdoyoulush.com Shoot for the Stars Bath Bomb
I love lush! Who doesn't love Lush? Here's a company that's really making big strides in the world with their ethical campaigns, fair trade policies and, of course, their fantastic products that'll make you smell great and feel fantastic! Lush puts its money where its mouth is and actively works to clean up our oceans, prevent excess of plastic and other waste from sitting in landfills for thousands of years and fight animal testing in the most aggressive ways possible. As a proud part-time employee for Lush Cosmetics North America, I've tried them all, and I can tell you that this year's holiday products not only take the cake, but adds a nice creamy layer of fair trade organic cocoa butter on top with a pinch of plastic free lustre!
I'm too elated to find out that not only will shower bombs (Yes, that's right, shower bombs) will be making their way from the UK to North American shops just in time for black Friday, BUT the goddess bomb will also be making an appearance as well. All too often do I have customers coming into my shoppe feeling super disappointed that they don't have a bathtub to share in bath bomb fun. IT SUCKS, I KNOW; but besides our other shower goodies such as the shower jellies and scrubs that'll make your entire body smooth, clean and smelling like you've just taken a long walk through a field of fresh lavender and chamomile, we have our impending shower bombs, and boy are these going to be great.
A shower bomb will have a similar composition to a bath bomb, with skin softening baking soda and delicious cocktails of essential oils. However, this product will bring your shower time to the next level with fizzy fun that'll lather up and give you all over clean that smells so fresh, so clean.
As far as the new holiday line, I must say I'm impressed! Here are my top 10 recommendations for this holiday season:
1. Luxury Lush Pud Bath Bomb
I am so happy this holiday staple has returned for yet another holiday season. This bath bomb is so uplifting with its fruity cocktail of citrus essential oils. Sweet Blackcurrant is underlined with deliciously fragrant bergamot gardenia and cypress oils to create a truly mood lifting bath. Top it off with some super skin softening and moisturizing cream of tartar, and it's the perfect bath to keep your skin looking and feeling great during the cold winter months.
2. Sleepy Shower Gel
Now I'm going to be honest, I wasn't psyched to hear about this product because I'd gotten so attached to the Twilight shower gel—which has been a holiday season exclusive up until now. However, being a huge fan of the Sleepy body lotion, I thought I'd give it a try. If you're a fan of Twilight, you know about its bold combination of Lavender and Tonka absolute oils, layered with sweet ylang ylang oil. Sleepy broke those rules with a soft and subtle blend that's perfect for a pre-bed shower. Sleepy brings together lavender oil as well as lavender flower infusion with Tonka absolute, blended with oak milk for a creamy, moisturizing lather that'll fill your washroom with the smell of sweet dreams. It also comes in a naked (packaging free/yay environment) version as well!
3. Shoot for the Stars Bath Bomb
I'm absolutely in love with this bath bomb! I am a citrus freak. I find that products made with citrus essential oils are fantastic for putting people in a good mood as well as brightening the skin for that oh so sought after glow. This bomb brings together all my faves—bergamot, Brazilian orange oil and gardenia extract and blends it into a smoothie for your skin with fair trade organic cocoa butter and creamed coconut. Holy mother of moisture! As if that's not enough, it's also choc full of almond oil which is full of Vitamin E for calm, smooth skin.
4. Holey Night Bath Bomb
If you're a fan of nice smelling things but don't find it appealing to bathe in literal perfume, this might be the bath bomb for you. This bath bomb has a delightful combination of grounding sandalwood oil with a romantic, mood enhancing rose absolute and a zesty Sicilian lemon oil. I can truly say this is my favorite new arrival of the season. The fragrance of this bath bomb is lovely but not overwhelming, and it's suitable to use at any time of the day. Just a heads up, if you're Trypophobic you might have a hard time with this one.
5. Once Upon a Time Body Lotion
I get a lot of flak from people about how much I love this product. It's not everyone's favorite, but I am absolutely obsessed with the scent and the way it makes my skin feel. Creamy murumuru butter and organic jojoba oil is packed full with apple infusion layered with grapefruit, lime and sicilian lemon oil. I practically bathe in this stuff. You can catch me at my lush store buying this stuff in bulk so I can slather it all over my body at every time of year. This fairy tale fragrance is perfect for those of you that need a little pick me up in the middle of the day or something beautiful smelling to promote sweet dreams before bed. This also comes in a naked version!
If you like what you've read, I recommend jumping the car and taking a trip to your local Lush to pick up these babies. I can tell you, these lovies sell out rather quickly! Onward!
product review
About the author
Historian, Artist, Monarchist/Royalist, TV/Netflix Enthusiast, Lushie and major Teahead.
Reader insights
Be the first to share your insights about this piece.
Add your insights