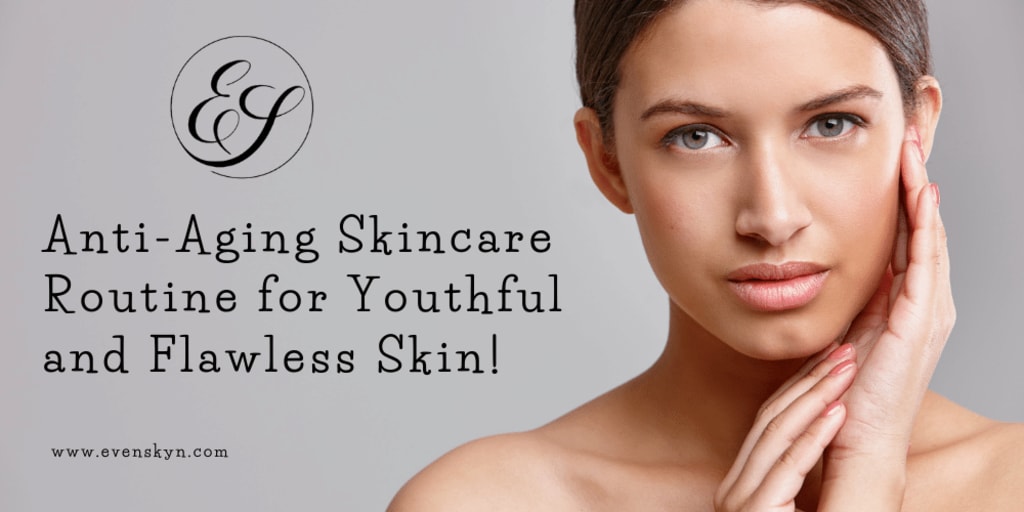 "With age comes wisdom," experience, maturity, and a healthier bank account. But, if we look at the downsides of growing old, one of the first things that come to our mind is aging skin. Wrinkles, fine lines, age spots, and other imperfections make us feel bad about how our skin looks and feels. Fortunately, in the 21st century getting the younger-looking appearance back is not a big deal. A little bit of extra care, a skincare routine, anti-aging devices, and a healthy lifestyle can make us look almost a decade younger than our age.
So, are you excited to learn more about the anti-aging skincare routine? If so, continue reading this post to learn the important aspects of aging skin and the hacks to make your skin look younger. Let's get started –
How Does Your Skin Age?
Before we jump into the skincare routine, let's quickly understand how skin ages. Our skin renews itself through the process of epidermal turnover to stay in good condition. As we get older, the cell layers in the skin remain the same, but the epidermis (the outermost layer of the skin) gets thinner. The blood vessels in the skin become fragile and sebaceous glands produce less oil which results in dry and itchy skin. Apart from it, other external factors such as sun exposure, bad habits & lifestyle, pollution, and health conditions can also result in premature aging.
The Ultimate Anti-Aging Skincare Routine
If you want to avoid or prevent aging skin, you must be armed with the right information. So, here's how you can maintain an anti-aging skincare routine –
The first step in any skincare routine is using a gentle face cleanser to keep skin clean. As we age, our skin becomes more prone to damage and irritations, so using cleansers provide a defense against irritants and allergens. Although not all cleaners are created equal, you should be careful while buying. Choose a cleanser that is natural and made of mild chemicals for the face but helps remove the damaging grease and grime.
After cleaning your face and décolletage, your skin becomes dry. As you get older, your skin starts to produce less sebum. Although this reduces acne, it also makes it easier for your skin to irritate and crack, which can eventually cause issues like itchiness and irritation. So, don't forget to moisturize the skin after cleansing.
With technological advancement now, you can find various anti-aging devices that help you treat your skin in the comfort of your home. These devices are safe for all skin types and ensure noticeable results within a few weeks. So, you can upgrade your skincare routine with a device that can help you get rid of wrinkles and promote remodeling and growth of collagen.
A good diet is a crucial part of the anti-aging skincare routine. Drink plenty of water and include fruits and veggies in your diet. Here are some tips-
Citrus fruits, bell peppers, strawberries, kiwis, and other foods high in vitamin C are good for the skin.
Include foods high in antioxidants like tea, chocolate, and grapes in your diet.
Fish and chia seeds, walnuts, almonds, and avocados are some nutrient-rich foods that help improve skin health.
Limit Alcohol Consumption and Quit Smoking
Alcohol can dry your skin, which over time, can lead to wrinkles and other aging symptoms. So, keep your alcohol intake in check. Also, if you smoke, you need to stop it. Smoking harms your health in many ways and affects the health of your skin too. According to studies, smokers tend to have more severe facial wrinkles than non-smokers of the same age.
Surprising Facts about Aging Skin
Some lesser-known facts about skin aging are –
Most people think aging begins after the 30s, but the process starts in the mid-twenties. However, the noticeable results may appear in your thirties.
With age, skin loses its flexibility and capability of bouncing back into place. As a result, facial movements like smiling or frowning can result in fine lines.
Sleeping on the side results in wrinkles on the chin or cheeks, so the best position for sleeping is on your back.
Facial cleansing is important, but over-cleanse (more than 3 times a day) results in moisture loss and aging.
Using sunscreen can reduce skin aging by 24% because UV rays are responsible for skin aging.
Wrapping Up
Whether you are 26 or 46, it is time to maintain a skincare routine. You should take proper care of your skin, just like the other organs. Remember, age is just a number, and putting in a few extra efforts can make you feel good about yourself, and you can age gracefully. So, follow the tips shared above in this post and consider ordering a device like EvenSkyn Lumo to get rid of your sagging skin. The combination of a healthy lifestyle and science-based anti-aging devices is the secret of youthful and flawless skin.
About the Creator
EvenSkyn® is a manufacturer of premium beauty devices that help with removing dead skin cells, rejuvenating aging, and helping men and women have smooth, hair-free skin.
Visit us:- https://www.evenskyn.com
Reader insights
Nice work
Very well written. Keep up the good work!
Top insights
Easy to read and follow

Well-structured & engaging content

Expert insights and opinions

Arguments were carefully researched and presented

On-point and relevant

Writing reflected the title & theme
Add your insights