Analyzation of Euphoria characters; What does it mean?
Each color has a story, and each Euphoria character has a background story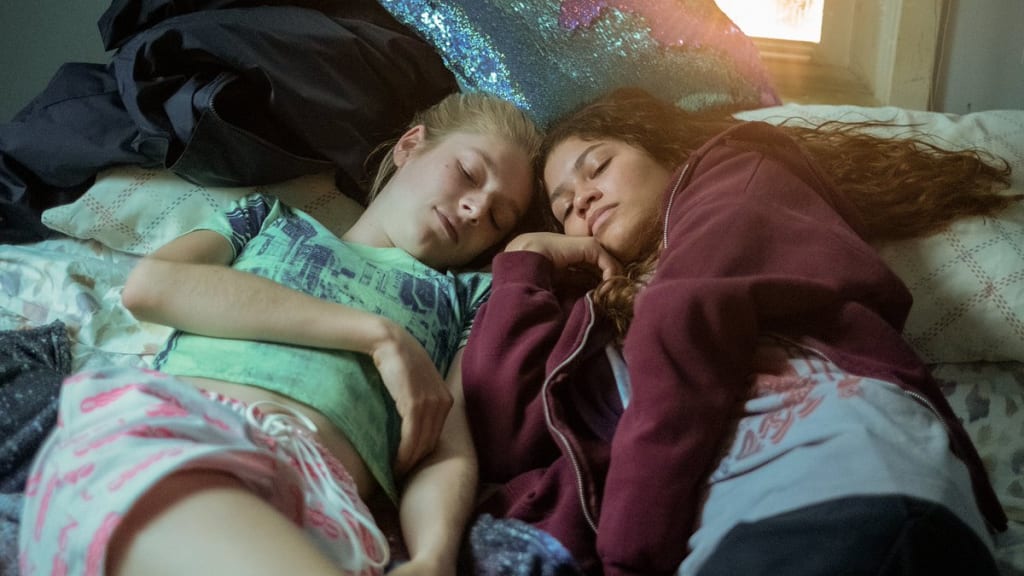 "Each makeup-wearing character has an intentional palette and style meant to propel their story lines and character arcs forward"- Doniella Davy
Makeup and color played a big part in the Tv show Euphoria. Every makeup look has a conscious emotional meaning behind it. Blue doesn't just mean blue and red doesn't mean blood and glitter doesn't always mean fun. The beauty looks and color theme in Euphoria are significant in revealing the the characters experience and the connection between their past and present.
Rue Bennett
In the beginning of the series, we learn that Rue is suffering from a multitude of mental health issues, obsessive compulsive disorder, anxiety, depression and also bi-polar. Due to her mental illness, she was given many different medications over the course of her life from a young age. This led to her disorientation and her feeling of gray.
Rue couldn't relate to children her age, she felt like she was bottled up in her own dimension, even with her mom telling her stories about celebrities who have OCD. Rue wanted to gain back the control she lost in her childhood, her dad dying of cancer, she's on the bed besides him, she tries oxycodone for the first time. It gives her relief over her internal dialogue. Her grief then manifests into the fear of loosing loved ones on a subconscious level. For her, it was never about the drugs itself, it was the addiction, numbing reality and taking back the control lost in the past. Rue's scenes are portrayed in grey.
Her face was always bare and plain, the only times she has makeup on, it's messy, just like her life. This shows in the scene when she has the gold old-glitter upside-down triangles beneath her eyes, it represented tears or sadness, like a sad clown. Detached, neutral, impartial and indecisive, all mean the color gray in psychology.
"Gray can be perceived as emotionally distant or disconnected" - Kate Smith
Rue tries to keep distance from her emotions, she wants to be as detached from her feelings as much as possible, or from her reality. Her foggy sight can't see past her addiction, she's stuck between black and white, in gray.
Cassie Howard
Cassie is a mix of baby blue and pink. With all her daddy issues and her imperfect childhood and her being sexualized at a young age, she had a feeling of blue which she couldn't acknowledge. Blue represents peace and tranquility, I think wearing blue translates to Cassey's attempt of making peace with her body, the body she always felt didn't belong to her. Cassey wants her innocence back, her child version back, you could also see that she wears blue when she was a child.
In the scene she met her father in the garage she was wearing a blue shirt. Her dad represents her childhood, the hero who guarded her childhood. But it wasn't this way until he abandoned her for drugs, seeing her hero drift this hard, she realized her hero wasn't there anymore, and she had to look for another one.
Kat Hernandez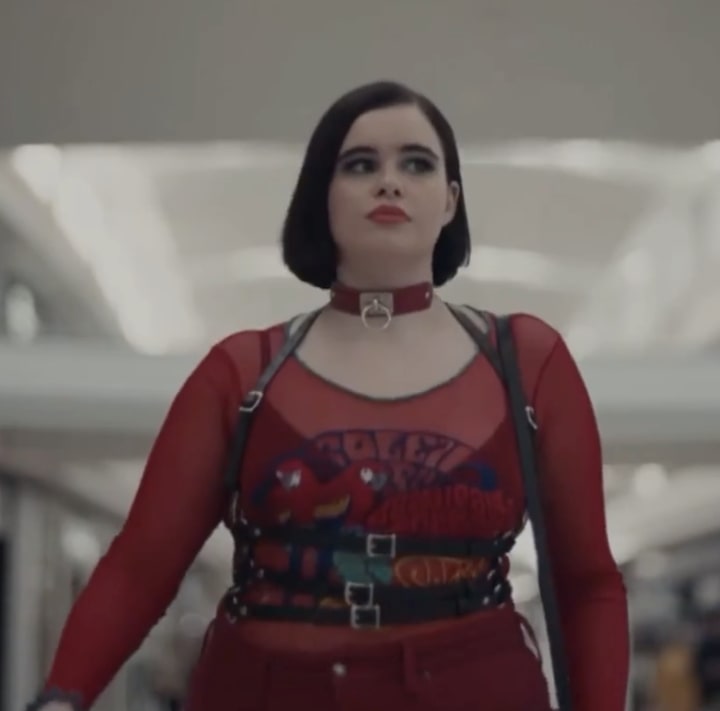 Kat strikes with her transformation throughout the series. Her new look is tough, unpolished, and, well, pretty fierce. Dark red is associated with energy, willpower, rage, anger, and badass. Kat is red and red is Kat, she decides to let go the old version of herself and introducing her new version will a lot of rage. Which she does by over sexualizing herself.
Her makeup tells a lot about this part of her story, smoldering smoky eyes, bold pops of color on her lids, classic red or deep opaque purple lip glosses, sparkly inverted crosses under her eyes for a Halloween costume. Her look was meant to be a total "fuck off to all things precious and subtle."
Maddy Perez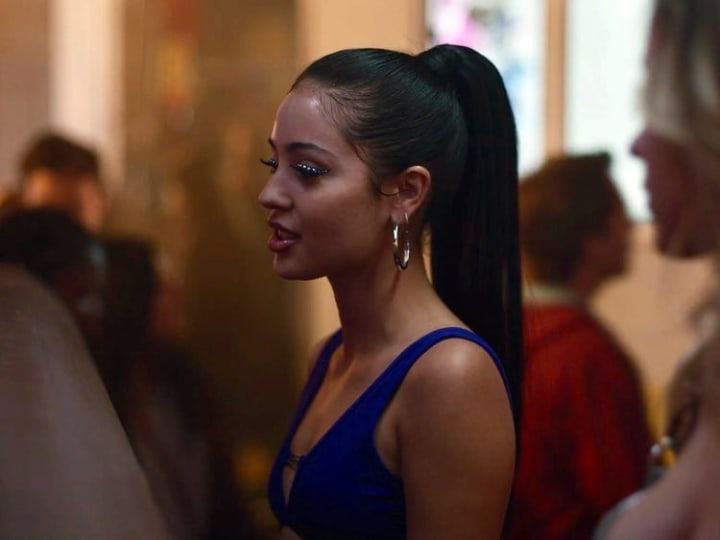 Maddy, a one-time pre-teen pageant queen was raised to be a perfectionist. Angry at her mother for squashing her pageant dreams due to "news about a pervy pageant coach", I think Nate was her new pageant contest, and this is what kept her in the abusive relationship, she was trying to win the contest.
Maddy uses makeup as an armor, an alter of a bulletproof jacket. Shimmery shadows, fake lashes, and liners. Here's the thing, white pearls symbolize perfection, beauty, and sincerity, "Maddy". Her theme color was purple, it represents moodiness and drama, screams Maddy. You get purple a lot with sexiness and sensuality which we see a lot. I might say that she's a less intense version of Kat.
Jules Vaughn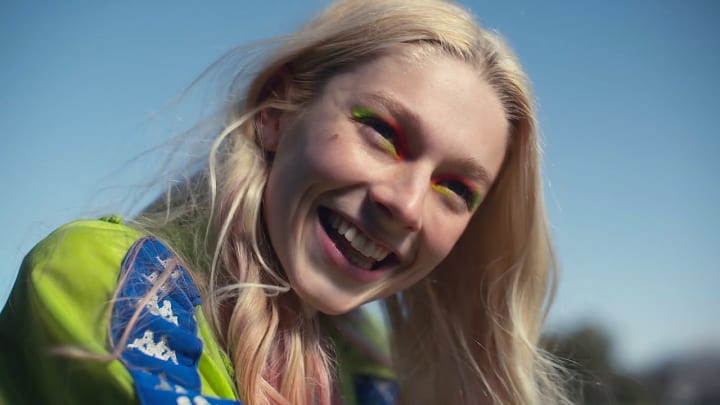 When the sun shines, Jules shines, too. Her scenes are all sunny and bright. Neons and pastels, graphic lines, abstract looks, Jules aims to transcend gender stereotypes and norms.
I think one of the biggest problems she faces is that society has completely stifled polyamorous love and expression. She is afraid of commitment because commitment means monogamy, which means that she can't explore her sexuality or her gender, and it means the social expectation of being another person's emotional anchor.
She relates to her dysphoria by sleeping with men to conquer femininity. Her looks and outfits add up to that analyzation too, sometimes it manifests as a defense mechanism.
Gia Bennett
Gia is the "I don't know what I'm doing here" character in the family. She's a pillow for Rue, in mornings and nights. Gia understand what Rue is going through, but doesn't really understand how to deal with all the misery and emotions it brings. Rue is frightened Gia will end up like her, most scenes Rue and Gia are in together, is dark and gloomy.
Rue has dragged her sister in her distress, making It harder for Gia to understand it. It's only a few scenes where we see them happy as a family, and it doesn't last for too long, not until Rue gets pulled in her addiction again.
celebrities
I'm a Freelance writer who's interested in feminism, politics, psyche, and art. .One of my biggest wishes is to write my own book in the future. For me, writing is a candle, it lightens up the dark around me.