Amazing Benefits and Uses of Coconut Oil
Coconut Oil is my go to oil for my beauty needs.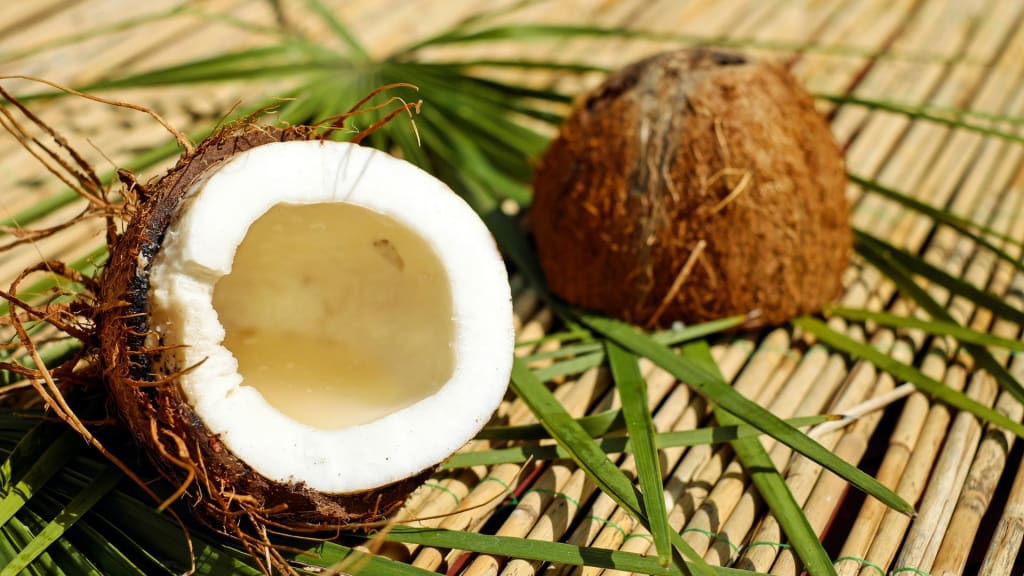 Hair
When my hair is feeling dry from all the sun and harsh weather conditions, I reach for my go to hair moisturizer; Coconut Oil!
You can use it on dry or towel dried hair. Simply place a nickel sized amount in your palms, until its warm, and begin working it through your hair. Starting near the roots, and take it down to the ends. I like to use a large toothed comb to help me work it all the way through my hair.
Leave on for 15 mins for a quick hit of shine, or leave on overnight with a shower cap on for a deep condition, that will help heal and seal the shafts of your hair.
Shampoo and condition then towel dry to see how beautiful and shiny your once dull hair is now.
Tip: I like to add a few drops of Coconut Oil to my shampoo bottle so it doesn't strip my hair of all its oils with each wash, this is good for long term use and better for people with naturally curly or damaged hair.
Five to six drops in a full bottle of shampoo should be plenty, without leaving your hair slick or oily after rinsing.
Skin
Coconut Oil is one of the best and most used oils for keeping your skin healthy and hydrated. It has antibacterial properties, that are great for acne prone skin. Its easily absorbed, so your skin isn't left extremely oily after application.
Start with a small amount, and work into skin after a shower, while your body is still wet. It will lock in the moisture and leave your skin soft like silk. It also has a natural SPF, so it will help protect your skin from harmful UV rays.
It can be used on face, and entire body. I love to put copious amounts of my feet before bed, and then put socks on over, so I wake up to baby soft soles.
If you mix it with brown sugar and/or coffee grounds, it can be used as a moisturizing exfoliant. Great for before and after shaving your legs for the smoothest legs you've ever had. Pro tip for shaving with it: keep a little cup of rubbing alcohol nearby to dip razor into to help loosen the caught up debris from shaving.
I prefer to use coffee grounds with my Coconut Oil, to help combat cellulite on my thighs, arms, tummy, bum, etc. Its an invigorating blend that will wake up your skin and have you smelling delicious.
Beauty
When it comes to beauty, Coconut Oil has so many uses! Gently massage some into your face in a circular motion, to breakdown makeup, before you rinse with your normal cleanser. Use it as an overnight moisturizer for your face.
Swish a spoon full of it around in your mouth for 10 mins, and then spit into the garbage, followed by brushing teeth regularly, for added layer of cleansing, in the technique called oil pulling. Its antibacterial and anti-fungal properties boast mouth health, and help combat bad breath.
Mix equal parts Coconut Oil with castor oil, and use a spoolie to apply to eyelashes and eyebrows before bed, to promote hair growth.
Add a few drops Coconut Oil to sugar, and use for a lip scrub to keep those kissers soft, and ready for smooching.
Fade scars by applying Coconut Oil three times daily.
Use it for cooking as well! I add it to my baked goods for a extra hit of sweetness and creaminess to my dishes. Makes my cupcakes so light and fluffy!
That is barely the tip of the iceberg on uses for Coconut Oil, so get out there and start searching for other ways to utilize this amazing product.