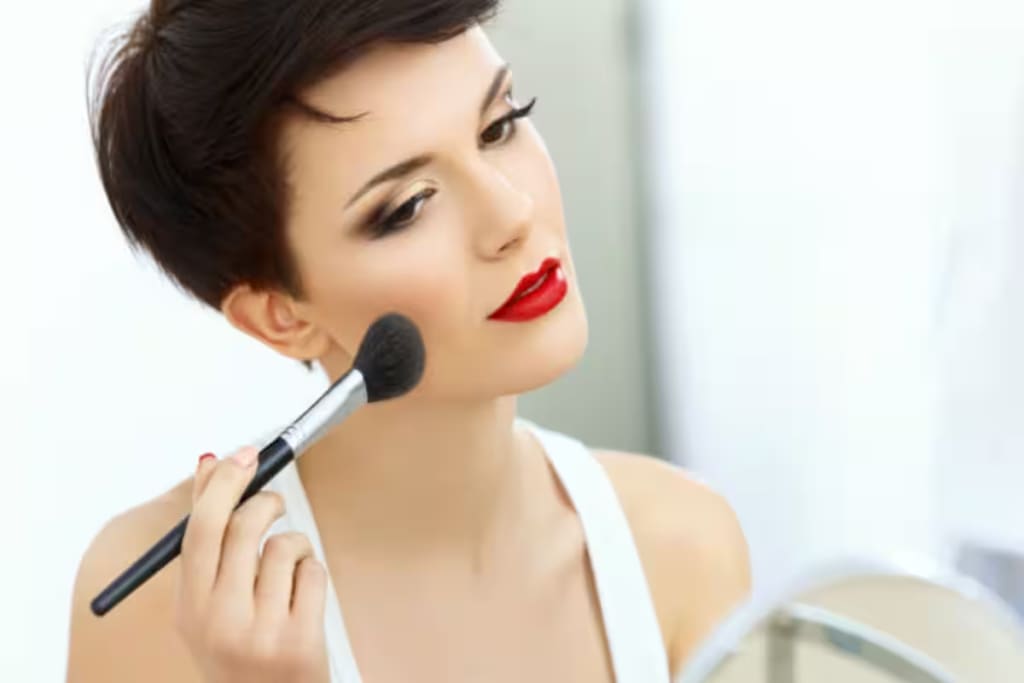 Tricks of Applying Blush
Let's be honest, a year back blush was simply swiped onto the apple of the cheeks and treated as a basic makeup must-have. Instagram is changing the game with a multitude of influencers sharing blush makeup tricks that are literally so fire! Kylie Jenner swears by her blush technique that stays for days, all that in just a bit.
Before we dive into these magical trends, let's start with the basics.
Prep, Prep, Prep Your Skin
Get your blush to seep into the skin, how? Wash with your go-to face wash and apply an optimum amount of moisturizer. That's the simplest way. Next, go for a makeup primer for that ultra-smooth base so the blush doesn't settle into your pores and other blemishes.
Pick a Shade that Compliments your Skin Tone
Not sure what shade to go for? Pinch your cheeks and know your shade! A blush that stands out never casts that spell we all desire to. Pick light shades like a light pink blush if you have a pale skin tone and go for vibrant shades like a peach or apricot if you have a darker skin tone.
A Stain Blush, Creamy Blush or Powder Blush
The best blush formula for you depends on your skintype. If you have dry skin, go for powder blush. That seems a little illogical but you will trust us in just a bit. Blush in powder form blurs your pores so so well! Plus, stains and creams can enhance your dryness instead of providing a hydrating, glowy effect. If you have oily skin, go for blush stains as a smidgen has long staying power. Plus, it'll look dewy like the dew beauty you are! For other combination skins, you have your cream blush for that fun, youthful flush!
The Right Wands or Tools for Blush
It matters what you use to apply blush. You can either dab with your fingers and blend into the skin. But sometimes that can be a little too tedious and can result in non-uniform application. In that case, go for a loose brush that isn't tightly packed to deliver a lighter blush color pay-off and softer edges. Or go for a damp sponge to really make the blush seep into the face for that enchanting natural flush.
Okay, now that we have the basics out of the way (phew!) let's hop onto IG trends.
Get that Snatched and Sculpted Look
We have Madison Beer to thank for this one when she revealed her lifted blush makeup technique in her Vogue Beauty Secrets video. Starting at the cheekbones and not the apples, swipe your makeup wand towards your temples (on the side of your eyes). Make sure you deliver more color at the cheeks than at the temples. And just to amp up the glam, take a blob of blush on your finger and brush it on the tip of your nose and glide up on the sides. Voila! You are a sun-kissed goddess!
Get that Soft, Flush Blush Look
If you're not too into the lifted look, we have the apples of our cheeks just waiting for that warm, soft flush! It's the classic smile-and-blush technique where you grab your wands and brush or dab your fave blush right in the center of your cheeks. It is cute, classy and always in trend!
The Kylie Jenner Way
Ms Jenner's MUA has revealed her go to blush technique. Get yourselves a pink tinted setting powder and dab right below your eyes. Then pick up some blush and blend where you set the powder, right under the eyes that is. Next go for the apple of the cheeks. Make them blush!
Make your Face Blush
This is a DIY for your very own Lip, Eyes and Cheek makeup! Simply choose a color from your blush palette and dab or brush onto your cheeks wherever you please. Next, use some of that blush to swipe onto your eyes towards your brow. Don't forget to line your eyes for a brighter eye makeup. And lastly dab leftover blush onto the center of your lips after applying color or gloss!
2023 and we are all set to blush the magical way! Remember to use the right setting spray to set the blush for good. Also, in case you run out of blush whip out a lipstick, dab with a finger across the cheeks, blend and slay.
Reader insights
Be the first to share your insights about this piece.
Add your insights