8 Step Skincare Routine for Summer
Dr. Harjot Kaur - The Inspiration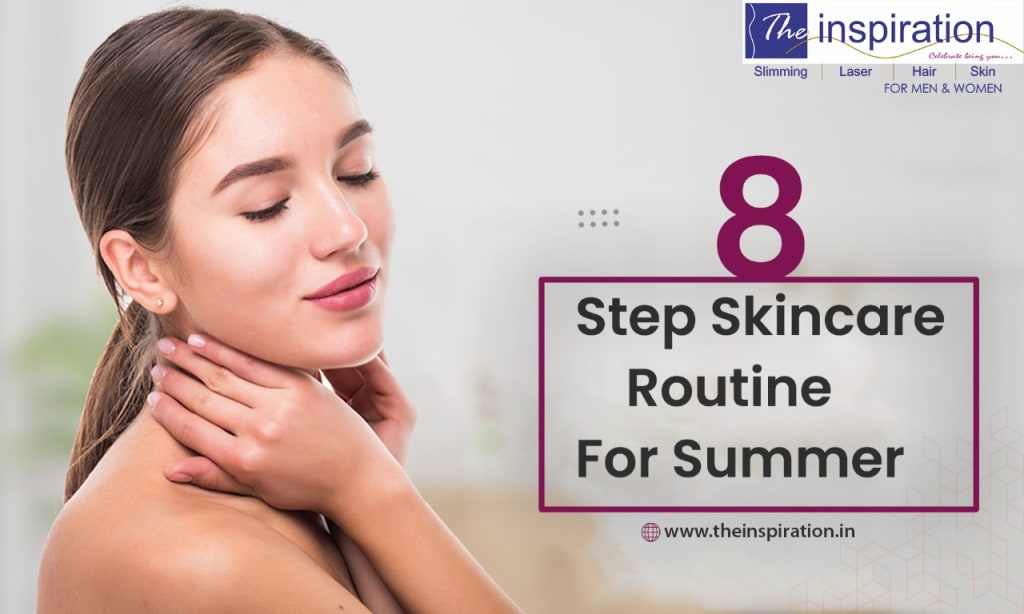 The summer season is here. Don't forget to change up your skincare routine when you're cleaning your house, sun drying your linens, and rearranging your clothes. It's critical to switch to products and an intense skincare routine that is specific to each season as the seasons change. Summer is the perfect time to switch to lighter skincare products and a simpler skincare routine after a winter of layering your skin with serums, oils, and creams. The sweltering heat is doing damage to your skin as temperatures rise by the day.
Begin by rearranging your cosmetics closet. Bring your summer items to the front of the store, where they will be easily accessible.
However, if you haven't already shopped for summer-specific products or swapped to summer skincare, we're here to help. Dr. Harjot Kaur, Founder of "The Inspiration", suggests an 8-step summer skincare routine.
1. Make sure your skin is clean.
Cleansing your skin to eliminate any dirt and grime, as well as any excess oil, is the first step in summer skincare. Cleanse your face 2-3 times a day using a mild, alcohol-free face wash that suits your skin.
2. Exfoliate gently.
We've all experienced how winter can make your skin seem dull and dry. Exfoliation is the solution to this problem. Exfoliate your skin with a gentle exfoliating scrub twice a week to remove dry, dead skin and leave it healthy, glowing, and radiant.
3. Change out your moisturizer.
Change your moisturizer from a thick cream or oil to one that is lighter and more watery. When the weather warms up, the face holds more water, thus using water-based cosmetics is a must. Applying a moisturizer to your skin protects it from the sun and helps your foundation last longer.
4. Say yes to SPF
It is essential to protect your skin from the sun's rays in order to keep it healthy. As a result, in the summer, a good sun protection factor is needed. Never leave the house without one on. Whether you're going out in the sun or not, apply SPF 30 sunscreen to your face, neck, and hands after hydrating your skin.
Note: You can choose a dual-purpose moisturizer that provides both moisturizer and UV protection.
5. Make use of a good facial serum.
Summer is the best time to buy a vitamin C-based face serum. You may dab a few drops of face serum between your moisturizer and sunscreen for extra skin protection and to reduce hyperpigmentation, fine lines, and blemishes. Collagen formation is also boosted by it.
6. Upgrade your Cosmetic Products.
Change occurs not only from using the proper skin care products in the right method but also from utilizing clean and updated items. What better time to improve your vanity box than over the summer? Brushes and products that aren't clean can contain a lot of bacteria, resulting in blocked pores and dull skin. Every few days, sanitize your makeup brushes. Brushes may be cleaned using a brush cleaning spray or with normal hand soap and then dried with a blow dryer. Clean up your vanity box this summer by throwing out old products and replacing them with newer, more relevant ones.
7. Keep yourself hydrated.
Last but not least, the MOST IMPORTANT step in summer skincare is to drink plenty of water. Drinking water is necessary during your training and running time, as well as while managing your home and work schedule. It hydrates your body and regulates your body temperature.
8. Protect your skin from sunlight.
When going outside in the sun, don't forget to carry your sunglasses and an umbrella or a wide-brimmed hat. This protects your skin from harmful UV rays. Wear clothing that covers your skin and protects it from tan or sunburn as much as possible.
Reader insights
Be the first to share your insights about this piece.
Add your insights