7 Tricks to Preventing Hair Loss
Hair loss is normal. Here are some tips to help prevent it.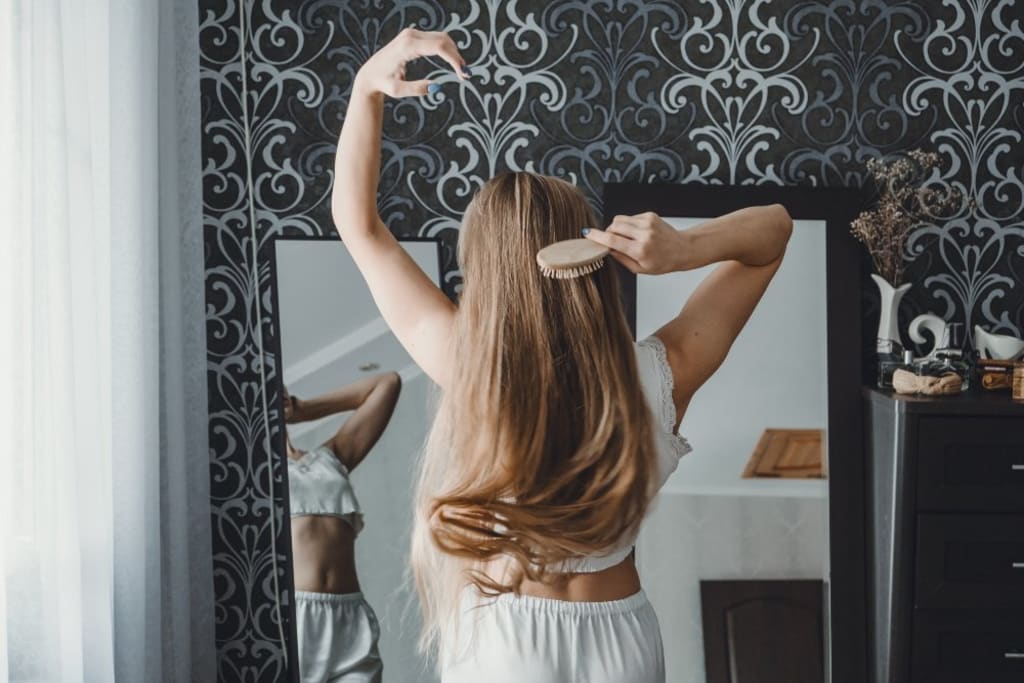 My Image Source: Envato
Hair loss can be caused by a variety of conditions, including genetics, poor diet, high levels of stress, and physical strain on the hair shaft which pulls it from the follicle. Additionally, the condition of your scalp can make it harder to grow new hair as it falls out. Shedding is normal; not growing it back is not.
1. Fresh Produce
A diet high in fresh produce, particularly greens, is very good for your skin and scalp. If you like to follow a particular plan, consider incorporating the Mediterranean diet into your life. You'll enjoy lots of healthy salads, low fat and lean meats, and legumes. Make sure you also boost your intake of citrus fruits, from oranges and grapefruit to tomatoes, to boost your Vitamin C intake.
2. Protein
Everyone has their own protein needs. If you are vegan or vegetarian, you may struggle to get enough protein and notice some hair loss over time. However, every diet can be altered to include more protein, including
nuts and beans for vegans
eggs and dairy products for vegetarians
poultry and fish for carnivores
Keep a food journal to track how often you include protein in your diet, and if your protein goes up but your hair continues to thin, discuss your concerns with your doctor.
3. Massage
Scalp massage feels wonderful and can stimulate hair production. Depending on your preference, you can use a scalp massage tool, dry massage your scalp with your fingertips, or massage your scalp as you shampoo. If you prefer a dry massage, consider using a bit of corn starch to remove the excess oils that may be stimulated by the massage. Brush your hair thoroughly before the massage to avoid creating tangles, then brush it again to remove any remaining corn starch.
4. Essential Oils
You can also massage your scalp with a bit of olive oil and a drop of cedarwood oil. Olive oil has a natural antibacterial quality that can help get rid of scalp irritation or painful bumps or cysts that crop up if your scalp is producing a lot of oil. Once you've massaged, you will need to shampoo once you've worked the oil through your hair. To fully condition your scalp, wrap long hair against your scalp and cover with a plastic shower cap to let the oil sit for ten minutes.
5. Light Therapy
Light therapy can be used to kill bacteria and to stimulate your hair follicles. A laser hair growth cap, paired with a topical product that neutralizes the hormones that cause permanent hair loss. These caps are also commonly used by people who have had hair plug transplants. This therapy is designed for healing. However, more is not better. You will want to follow all the instructions that come with the cap and stay within the time limits.
6. Silk Wraps and Pillowcases
If you have long hair, you may wake up to hair tugging against the pillowcase or other bedding. If you don't like to sleep in a ponytail or a braid, consider getting a silk pillowcase or using a silk wrap to reduce physical stress on your hair. To make sure that your scalp isn't under pressure all night long, never go to bed with wet hair. Use your fingers to loosen tangles in the morning, then a wide-tooth comb, then your regular brush to reduce hair loss in the detangling process.
7. Prescription Products
For effective hair protection with a prescription, you need an accurate diagnosis. For example, menopausal women experience hair loss, so oral contraceptives may help. An antihypertensive vasodilator should stop current loss and may promote new hair growth. There are many prescription topicals that can reduce further hair loss and promote follicle stimulation. If you keep these products in your home, make sure to follow all application instructions; some of these products can be dangerous for pregnant women and children.
The diet that grows healthy hair will also protect your skin, gums, heart and brain. If you notice your hair thinning, discuss your concerns with your physician quickly. The sooner you get on top of whatever is blocking new hair growth, the sooner it will fill in.
Reader insights
Be the first to share your insights about this piece.
Add your insights