5 Go-To Products for Skincare From LUSH Cosmetics
LUSH is a cruelty-free cosmetic store known mostly for their bath bombs, but they have a much larger range people should dive into.

The LUSH logo
LUSH Cosmetics is one of my all time favorite stores. Most people know them for their colorful and beautifully scented bath bombs but not everyone knows they also have some other awesome products like shampoo bars and face cleaners.
All of LUSH's products are handmade and their ingredients are fresh. On all the bottom of all their packaged products, it lists the ingredients and who made the products. Occasionally, celebrities will come in and help so you may find their names on some items.
There are two versions of ocean salt: original and self-preserving. Self-preserving ocean salt is my favorite product I think I have bought.The main difference that I have seen is that the original is a bit more abrasive so I feel like it's much more helpful for the rough patches of skin on your knees and elbows rather than the delicate skin on your face. SP ocean salt contains lots of butters like mango and avocado butter so it moisturizes while it exfoliates. It also contains lime infused vodka which helps tone the skin and clarify.
It comes in two sizes. The small is $21.95 while the large is $37.95. You only use this product 2-3 times a week so you'll get a few months worth of uses out of it.
This was one of the cooler products I have found. Aqua Marina has calamine powder and organic aloe vera gel to help calm red and irritated skin. It also has carrageenan extract which comes from a type of seaweed but it's moisturizing for the skin. Aqua Marina is great for combination skin like mine. I always feel extremely clean after I use this (it smells great too!)
The small version $12.95 and the large is roughly $29.95. This cleanser is a little strange to use. You take a small amount in your hand and mix it with water to create a paste. You can then either leave it on your face as a mask or rinse it off right away.
Before shopping at LUSH, I had never really paid attention to toner water and what it does. Toner water basically helps the skin absorb moisture easier. Breath of Fresh Air feels like the name implies. This toner water contains refreshing sea water and organic aloe vera gel to help calm troubled skin while carrageenan extract adds a little umph of moisture. You simply spray this on after you wash and dry your face.
A 3.3 fl. oz bottle is $10.95 and the 8.4 fl. oz is $22.95.
Grease lighting is a nice, refreshing zit-zapper. It's full of fresh thyme, rosemary, and tea tree infusion to help with the troubled spots while fresh grape juice is added to restore moisture and aid absorption of other ingredients. A little lavender oil is in there too to help calm your skin.
This bottle costs $15.95, but all you need is a little pump to cover all the spots.
Imperialis is facial moisturizer I have fallen in love with. A little goes a long way with this product, so I'm really able to get my money's worth. Imperialis has extra virgin olive oil, fair trade organic cocoa butter, and shea butter to seriously moisturize your face. It's also made with lavender infusion to help encourage your dry skin to produce more natural oils.
This only come in one size for $26.95.
Fun Fact: The black pots are recyclable!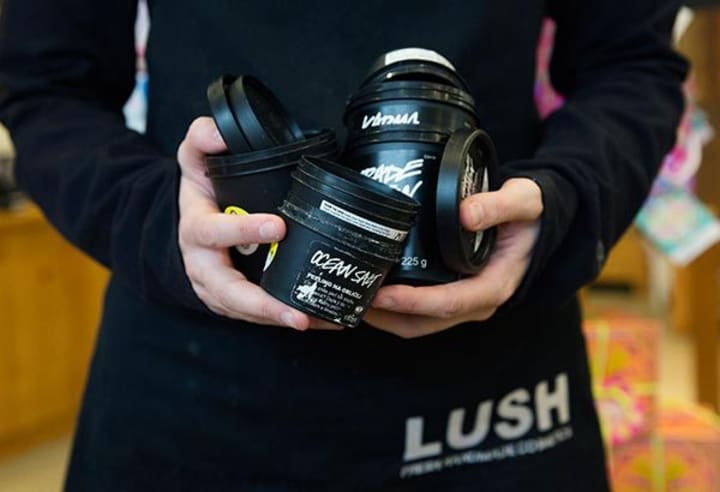 A lot of customers don't realize that the black pots a majority of the products come in and be brought back in the store and be exchanged for a free fresh face mask! The only catch is that you have to have five and they must be cleaned out.
If you think you may enjoy these products, visit a store today and request a sample!