4 Tips for Growing Strong, Thick Hair During Every Stage of Life
Change is a constant in a woman's life, including her hair, and I'm here to educate you on how to care for your transforming hair at every stage of life.
From a young age, I can remember loving the fact that I had long, shiny hair. Keeping it consistent rendered my hair unimportant. I always cherished this physical trait, but I had taken it for granted all my life. I'd dye it a lighter shade of blonde every other month. Almost every day, I'd blow it out and grab whatever hair supplies were nearby. I would even forgo conditioner on occasion. In retrospect, I'm shocked it didn't start thinning sooner.
When my hair began to thin out, I had to refocus my attention on it and rethink my relationship with not only my hair, but also with myself. It made me realize how much I relied on my hair to feel more confident and be able to express myself.
Although I can't pinpoint the exact moment my increased shedding started, I do remember when I noticed it. I was focusing on caring for my beautiful new daughter, feeling a bit scared and unsure about the ropes of being a new parent and the state of the world at the time. Before seeking treatments for what I discovered was postpartum hair thinning, I found out about Nutrafol Hair Growth Supplements. This discovery turned out to be my lifesaver!
I learned that postpartum hair thinning typically occurs when new mothers are already stressed, adjusting to life with a baby, and healing physically. Not to mention, I was feeling the effects of being nutrient deficient from both childbirth and breastfeeding.
I admit that although I was aware of postpartum hair thinning, I had no idea how serious it might be. My hair had thinned out all over and I had to completely change the way I styled it.
For me, having nice hair is a big part of my identity as a woman. Styling my hair helps me feel feminine and unique, which is why I struggled greatly when I started to lose it. It doesn't help that female hair shedding is rarely discussed, and that postpartum hair thinning occurs at a time when women are already dealing with a lot.
In motherhood, you give up so much of yourself to support your children. Our hair remains one of the few things we still have that is solely ours, so it's only right that we work to care for it as best we can. Here is how I was able to put my hair and overall wellness first throughout the hardest years of my life.
4 Tips for Maintaining Beautiful Hair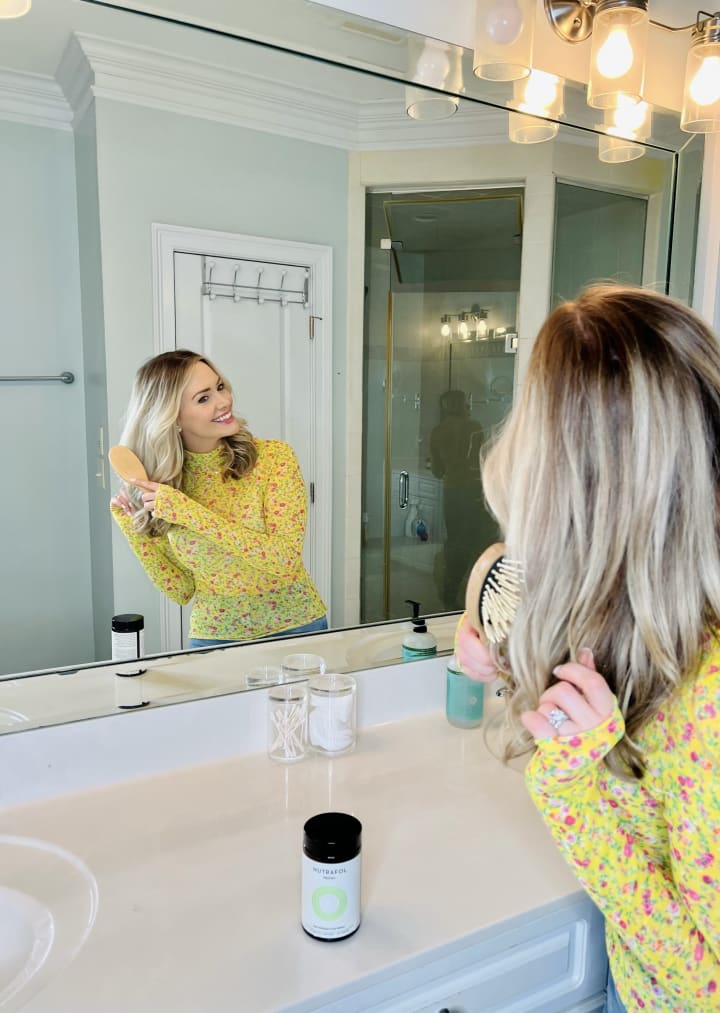 Be Honest About Hair Struggles
Postpartum shedding is a normal and anticipated occurrence. Meanwhile, talking honestly about your hair shedding with loved ones and close friends can help. With so much emphasis on the new infant, the worries of the new mother are sometimes overlooked. Talking with others, particularly other mothers who have experienced hair thinning, is extremely beneficial.
Don't Be Afraid to Look for Hair Help
When looking for solutions for my thinning hair, I found Nutrafol, a brand that offers a variety of hair growth supporting products. I decided to try Nutrafol's Women Hair Growth Nutraceutical, a daily hair growth supplement that has a blend of botanical components and vitamins to support healthy hair follicles, and experienced amazing results.
Nutrafol has three separate supplements for women tailored to their evolving needs based on their life stage and biology.
When I was experiencing postpartum hair thinning, I definitely could have used a support system like the one that Nutrafol provides for that period of life.
Made of natural ingredients, Nutrafol's clinically effective supplements are designed to address thinning hair in a variety of ways. The highly concentrated botanicals promote fuller hair at every step of the development cycle.
I love that the physician-formulated supplements for women are tailored to your specific stage of life. Packed with vitamins, minerals, antioxidants, and plant extracts, the Nutrafol formula is designed to replenish your nutrient storage and address the causes of thinning hair.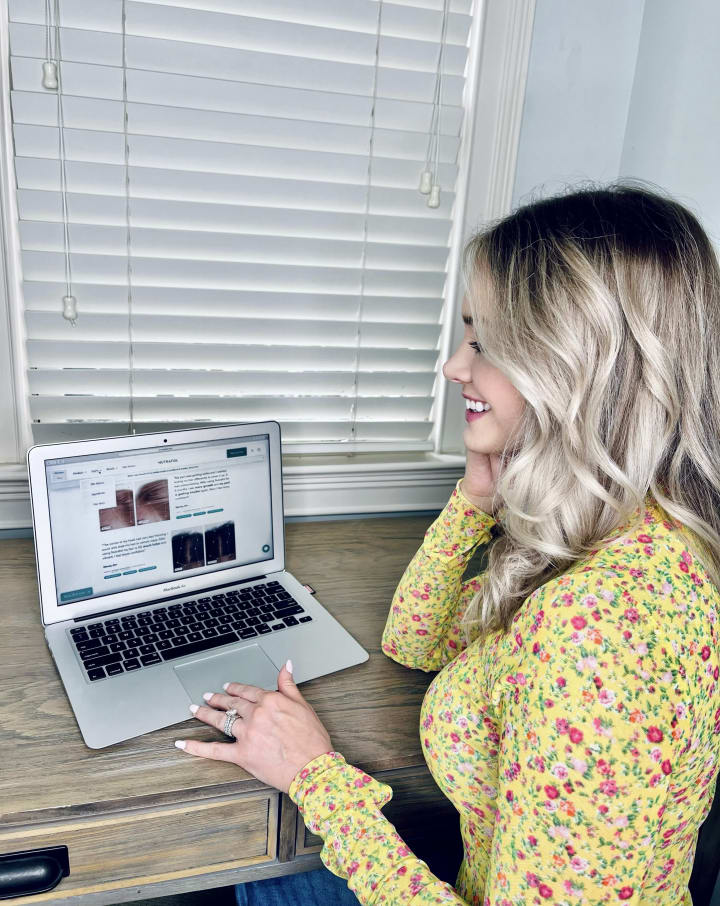 Since beginning my journey with Nutrafol, I feel empowered knowing that I'm taking daily steps towards my dream head of hair.
Specially Formulated Styling Products
Choosing your styling products properly is another key step that is frequently forgotten, and something I neglected to consider when I first noticed my recent hair shedding. But I've now discovered Nutrafol, a line of science-backed hair health products that promote stronger hair.
I'm finally seeing some nice hair days on the horizon after six months of notably thinner and thinner strands. I can blow-dry and style my hair without leaving the sink covered in shed strands, and some days I even prefer it. Nutrafol reminds me that patience is essential: it can take three to six months to detect a change in shedding and growth. However, the journey can only begin once you speak up and seek assistance—you are not alone in this.
Change Your Routine to Fit Your Changing Hair
Like the rest of your body, your hair changes dramatically throughout your life. You may have had tight ringlet curls as a child that eventually turned into gentle waves. As part of our identity, this can be an emotional transformation for many of us.
Over the years I have found that changing how I style and treat my hair is an important way of managing changing hair. For example, when I had to style my postpartum baby hairs, I began using cold air when drying my hair and styling cream in order to get my hair lay down flat.
To combat thinning hair, I added Nutrafol Women's Core Supplement to my daily hair care routine. It's as effortless as adding 4 pills to the daily supplements that I already take to stay healthy.
Putting Hair Health First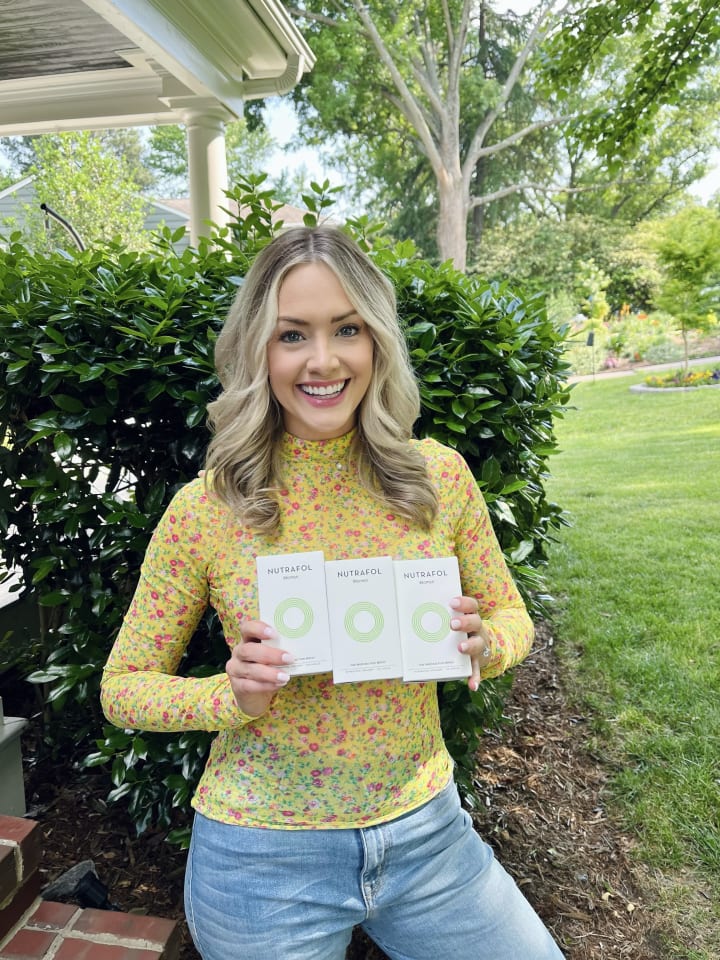 Whether you're a new mom, a mom of teenagers, or not a mom at all, it's always important to focus on your wellness and mental health. What many people don't realize is that hair health can have a big impact on both of those things.
If your hair is important to you, don't hesitate to make it a priority to take care of it.
About the Creator
Hello! My name is Jenna Cooper, and I am a reality tv personality, but more importantly a mom to an amazing little girl and a mini pig. I enjoy sharing my lifestyle/beauty, fitness/heath, and family favorites with my wonderful followers!
Reader insights
Nice work
Very well written. Keep up the good work!
Top insights
Easy to read and follow

Well-structured & engaging content

On-point and relevant

Writing reflected the title & theme
Add your insights