4 Nail Art Designs That Literally Anyone Can Do
The best part of rocking an awesome manicure is hearing people say, 'wait, did you do that yourself?'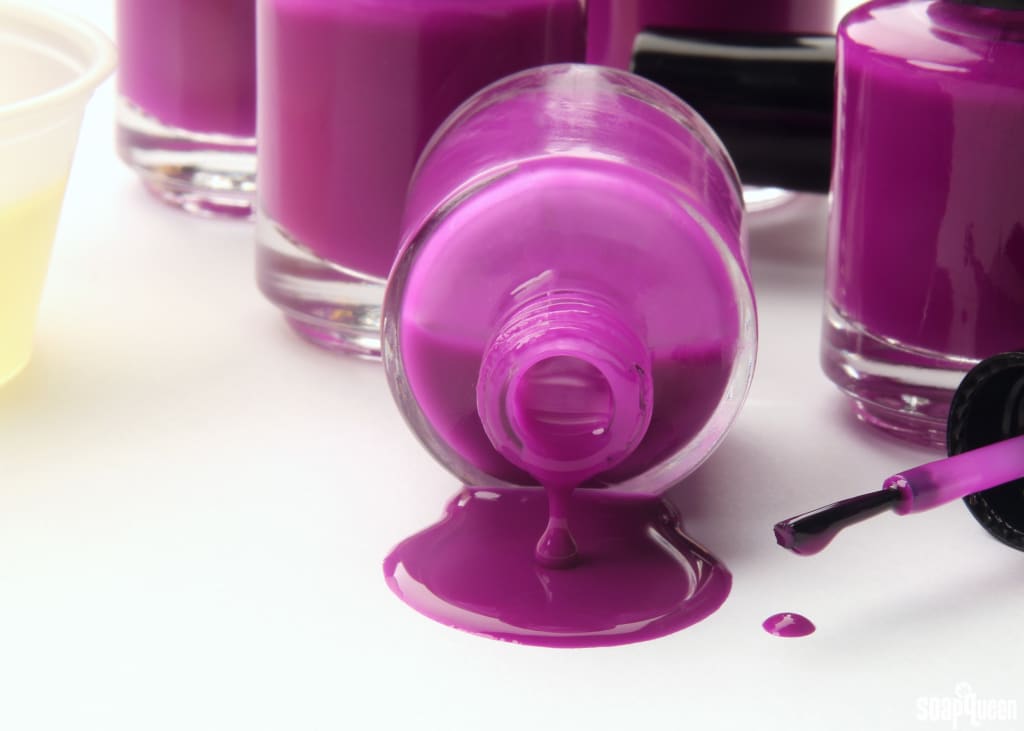 I'm the kind of person who always has their nails done. I never pay for manicures, and I constantly have people ask me how I got my nails to look so great! But my big secret is, while I'm great at painting my nails basic colours, I'm actually terrible at nail art. You wouldn't know it, because I'm often rocking a nice gradient (my favourite, because they're SO easy), or some other basic style. Here are five nail art designs that you can do if you've never picked up a striping brush in your life.
1. Polka Dots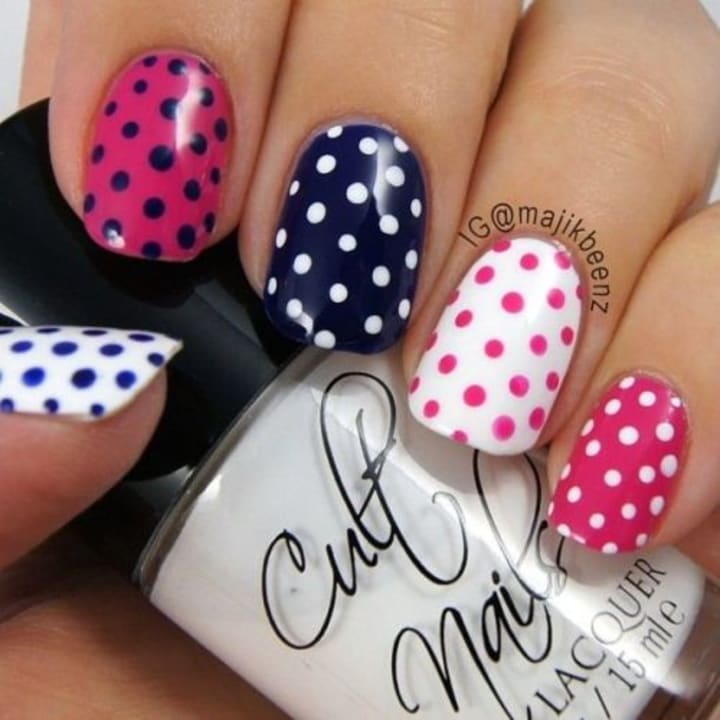 This is the first design I ever figured out how to do, because it's so simple! You can buy a dotting tool online from a drugstore or make one yourself (using the back of a pushpin, bobby pin, or a toothpick if you want something smaller). Start off by painting all your nails one base colour, and then pour a tiny amount of your dot colour onto a piece of paper. Dip the dotting tool into the poured-out polish, and make polka dots on your nails as you wish! One thing that's great about this is if you don't have a lot of time, you can just add polka dots to one nail for a fun accent. You can get fancier with it too, using different sized dots or spacing them out in a fun pattern!
2. Gradient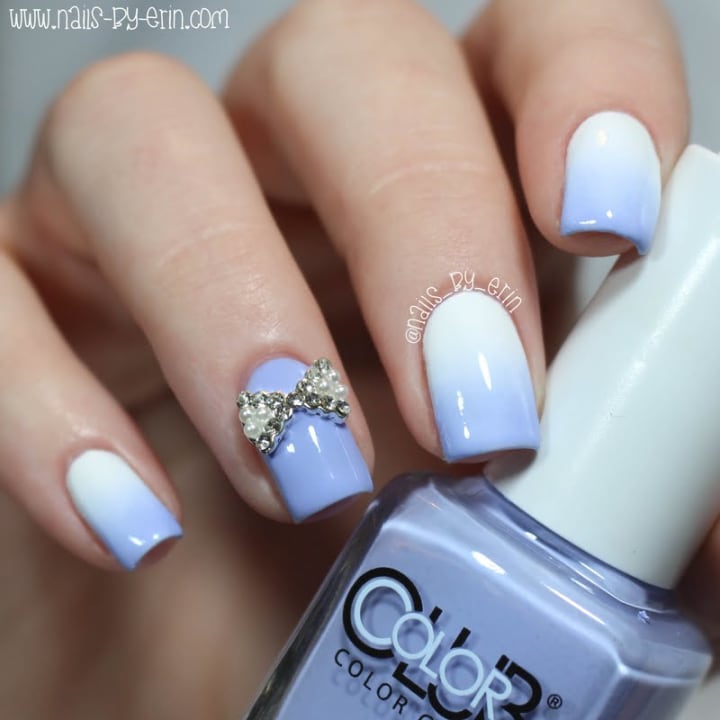 Like I said, I love gradients because once you've gotten the hang of them (which won't take long), they're basically fool proof. You'll need disposable makeup sponges for this (I get mine at the dollar store). One important thing for this one is you're going to want to use two colours that are either both pretty dark or pretty light. If you use one very pale colour and one very dark colour, the dark one might overtake the light one. Start off by painting your nails the colour that you'll want as your bottom colour. Then, sponge the top colour on. Start by sponging the top colour halfway down the nail, and then add a second coat sponging higher up, and so on. You'll need to clean up the skin around your nails to remove all that nail polish! It'll look bumpy, but once you add a top coat, it'll smooth right out into a beautiful, shiny gradient!
3. Half Moon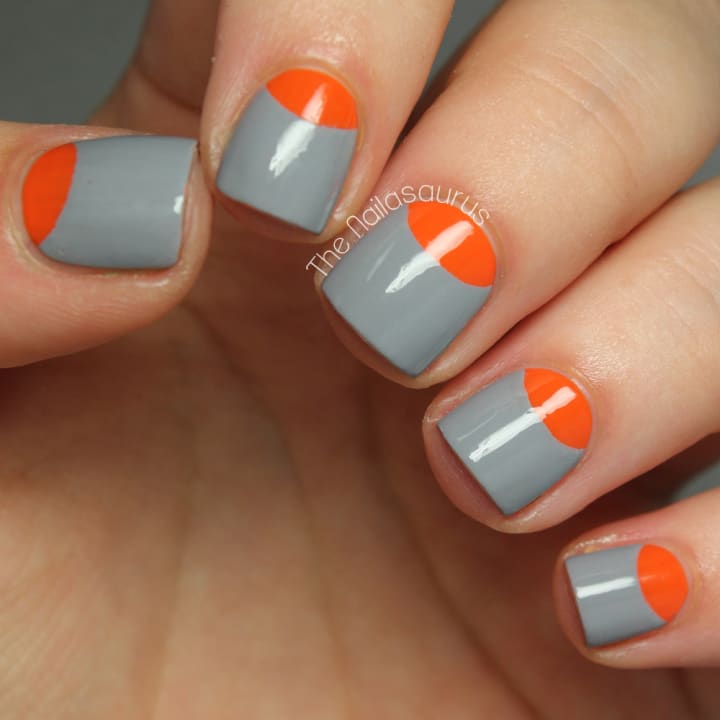 These manicures are very easy and very popular. You'll need hole-punch reinforcers for this (or you can purchase circular or half-circle nail vinyls). Pick the two colours you want to use. Start by painting all of your nails the colour that will form the bottom, moon-shaped part of the manicure. Add a quick-dry top coat, and wait for the manicure to dry COMPLETELY. I personally recommend waiting a few hours to be completely sure! Then, put the reinforcement stickers over the bottom part of your nail to form your half moon. Paint the top colour over the top part of your nail, and peel off the sticker while it's still wet! I recommend using a lighter colour for the bottom part and a darker colour for the top part, so that the darker colour covers the bottom colour completely.
4. French Tip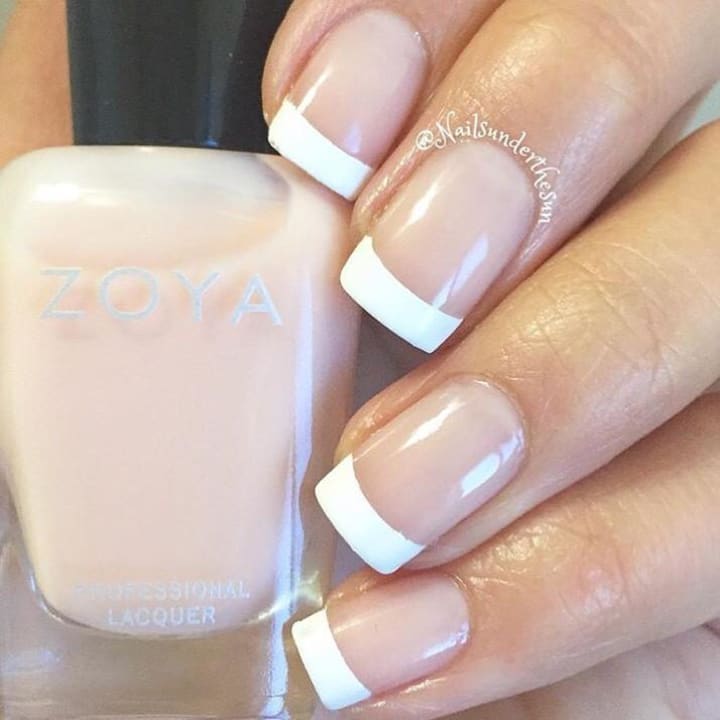 French tips look tricky and so fancy, but they're actually super simple! You can buy French tip stencils at most drug stores, or even use scotch tape. Start by painting your nails a sheer, pinky-nude colour. Then, once it has COMPLETELY dried (again, a few hours might have to pass!), add the French tip stencil to the top part of the nail, outlining where the white part of your French tips will start. Paint the top part white, peel off the sticker while it's still wet, and ta-da! Beautiful French tips. Add a top coat to seal it all up.
And there you have four designs that will help you impress everyone you know. The best part of rocking an awesome manicure is hearing people say, "wait, did you do that yourself?" There's literally nothing better.